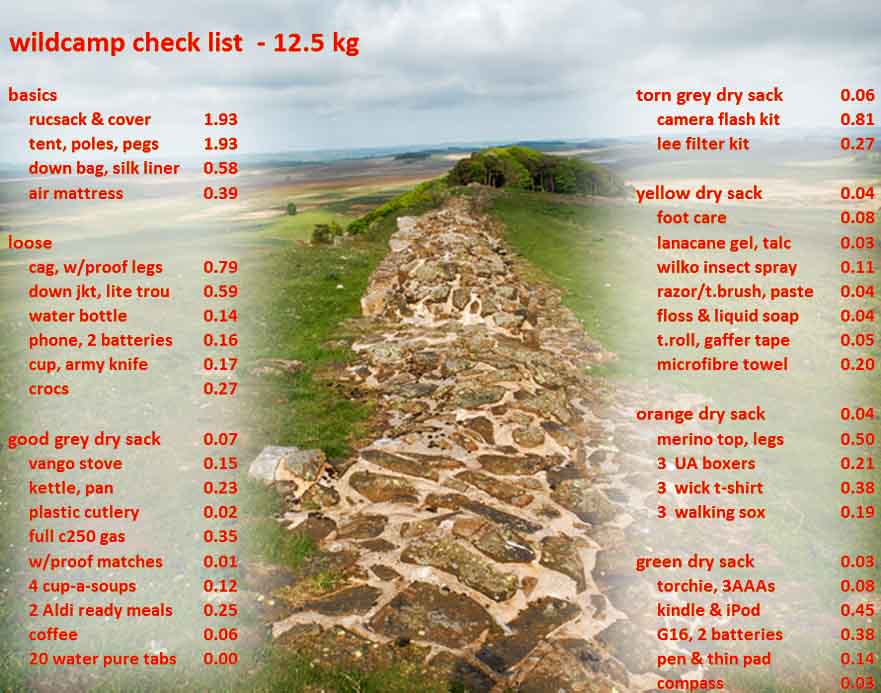 In ten days time, September 15, I fly to India for a month in Rajasthan. I was last in the state – most of it never under direct British rule – in 1974, despite fabulous memories of its people as I hitched 1400 miles from Delhi to Goa on interstate trucks decked to the rainbowed nines with icons of Krishna, Shiva and the rest of the gang. Meanwhile I take a train tomorrow to Stratford on A, arriving mid afternoon for £10.90. That's with senior railcard. Old codger's bus pass takes me gratis to Chipping Campden, start of a Cotswold Way that zig-zags a hundred and two miles to Bath. Me, I'll finish at midpoint Stroud to get the train home for an eye watering £15.70 on the Saturday evening, my railcard expiring at midnight. That gives me four nights and four and a bit days to walk fifty miles on mild terrain, with four full days left over for countdown and final prep for Jaipur and beyond.
Thrilled as I am about India, wild camping gets me just as excited. There's a real buzz to not knowing where you'll lay your head come nightfall, though flexi planning and Google Earth are good for the soul too. They aid the shortlisting of pitches truly out of sight. I'm also fired up by not knowing the Cotswolds and, since I won't be back from India till late October – and don't do winters – this'll be my last trek of 2016.
As a break from exposing ruling class devilry I want in this post to share a few top tactics for top tacticians of tently trespass – hints and tips, as John Shuttleworth might say, to make your wild camping glitch free and squeaky clean (ish) on the ethics front. And what better organising principle than a run through my kit?
Total weight

I'm not as strong as I was, and while I often carry over thirteen kilos – bringing Jasper adding a kilo in dog food – never want to top fifteen. That's my upper limit of comfort. I can go fifty miles in two days with that if the going isn't harsh but my shoulders don't like it and prospects of foot blisters go up. Plus, getting the pack on and off at that outer limit hurts, deterring stops for the fun stuff. Like taking snaps, paddling brooks, gathering berries and doing unnatural things with sheep.
Weighing ten kilos, Jasper is capable of carrying at least two in comfort. You can  get canine packs but the cognoscenti say durability and quality of fit vary immensely. Advice, anyone?
Basics
I could halve
rucsack
weight to a kilo but I'd also shed £300. In any case my sack, bought in 1990 and no longer made, was a star find: word online is it's never been bested on durability and ergonomics. That last is just as important. With a less well designed rucsack my comfort zone weight of 13-15 kg would have to be revised downwards.
The late 20th century saw huge strides in outdoor gear design. An expanding market – on the back it has to be said of greater car ownership – repaid the R & D spend. New materials with lower weight to strength ratios didn't hurt either. If I ever raise my game to, say, five trips a year I'll deem £300 fair trade for a kilo off my back.
That's a big if, though, chained as I am to the 24/7 duties of calling time on imperialism.
An even pricier way to shed a kilo is the Nemo Hornet, a cool £403.25 on Amazon. My Quechua Quickhiker tent cost £90 at Decathlon but is now a tad north of a ton. It weighs just under two kilos and comfortably houses me, pack and the K9. Last month in Wales it shrugged off hour on hour of driving rain, with winds gusting to 45mph. If it ain't broke, don't fix.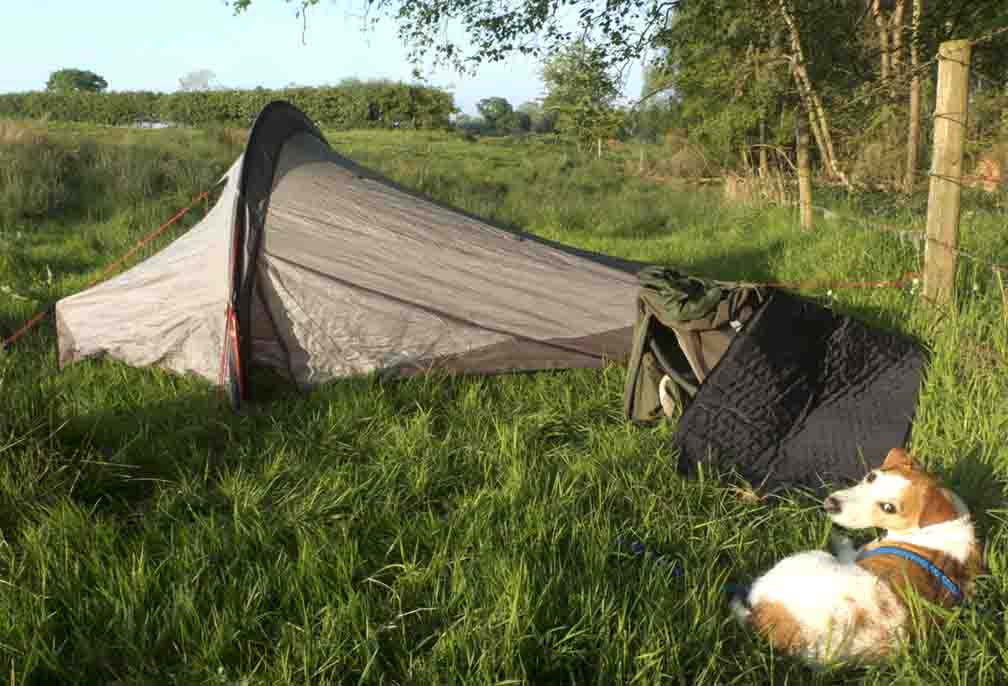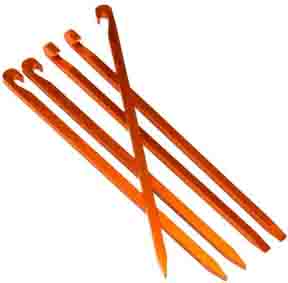 My main concession to tent spendthriftery has been to swap a dozen 19 gm pegs for light alloys at 9 gm each. They cost a tenner but have a splendidly hi-tek orange glow I could not resist. Maybe I'll go berserk one day and spend £35 on titaniums @ 1gm but, as you see, the law of diminishing returns kicks in big time, reducing bangs per buck to levels unacceptable to all but the propellor-heads – they know who they are  – who cut handles off toothbrushes, snip rucsack strapping down to the last millimetre and count out matches with Eb Scrooge parsimony.
Leave the tent bag at home.
I did  push the boat out on sleeping. My £200 on a down bag was not for more warmth but less weight. Used to sleeping raw, I woke shivering the first night of Hadrian's Wall, where I trialed the bag. (My old one, synthetic filler, is half again as warm but four times the weight and five the volume.) All weight intensive frills are ditched: both ends open and close by draw cord, the bag a narrow tube you pull on like an outsize body sock. Too hot? Open the foot end. Too cold? Put on another layer. I now sleep in merino thermals, down jacket to hand, and all is well.
My liner is acker bilk. In sun or wind I can wash through, hang on a tree and have dry in twenty.
Time was I'd shun air mats as effete. No more. I coughed up £40 for 390 gm of sinful cushion power in a mat that supports torso but not legs. Blows up in a jiffy. In the morning I bear down with vigour and venom to expel every last cc of air and use two hair bands nicked from Charis to keep it rolled tight. At home I store inflated on wardrobe top. Deflated for long periods, air mats fare badly, perished fabric upping your chances of finding a puncture on night one of the next trip. Not the worst that can befall, I grant you, but seldom cause for boundless joy either.
NB – hair bands, like gaffer's tape, are the camper's WD40. Both can fix broken kit, both hold flash gun to tree branch or horn of tasered cow. Hair bands double as sex toys, gaffer tape – I wrap 30cm round my biro – as elastoplast. Both are packed with nutrients: eat with confidence in an emergency, washed down by lashings of ginger beer.
Loose kit
The rest of my kit is bagged up in dry-sacks except where I need quick access and/or they won't come to harm if wet. Waterproofs need to be top hole. Sell crack to schoolkids. Cheat at cards. Rob gran for the readies but do not, do not for any reason, hit the trail with sub-par raingear.
Less obviously, waterproof leggings must not only deliver, and be as light as modern materials allow. They also need to slide with consummate ease over boots, gaiters and whatever else you wear south of the belt line. If a hassle to get on we procrastinate; especially in that fine misty rain Blighty specialises in, its ability to soak to the skin underrated till we're soaked to the skin.
My pair are gaucho style for easy donning. Side zips, with press stud back-up, allow opening as high up the leg as decorum permits; ace for sun-rain, sun-rain days. They also roll up as shorts, though you wouldn't want your mates catching you at it. Speaking of shorts, I almost always walk in them and often leave even my lightweight trou at home. But long pants aren't just for warmth. Last summer in the fens I had to do half a mile on a barely used right of way overrun by nettles of towering, Wyndhamesque menace. On with the nether rainwear and Rob's your rel.
Cold is seldom an issue but, if needed, merino long johns under waterproof leggings morph into keks of Arctic calibre.
My down jacket cost £40 in TK Max and weighs 280 gm. It's too warm much of the time but the BK when, sweating from steep climb, the sun that fried your brains all the way up chooses this moment to piss off as a stiff northerly gathers force. It's a fetching powder blue and I wouldn't part with it for twice what I paid – it's here today and gone tomorrow with TK Max. (Heat loss in summer comes from wind and rain, so a skin layer of wicking t-shirt, mid layer of this jacket and outer layer of cagoule is all I have ever needed.) The phone, wrapped in dog poo bags (unused), I switch on once a day to instruct my stockbroker and check the FTSE online. Crocs, IKEA knock offs at £4 and weighing 270 gm, are for stepping across rocky stream beds and flinty tarns for pre-devotional ablutions. Yeah, in the buff: Church of the Great Outdoors.
And that's it on loose kit
Good grey dry-pack
I got my set of four sacks, colour coded and fully waterproof even when immersed, for £30 on Amazon. They not only keep my clothes and electronics bone dry in all weathers but the colour coding saves grief beyond measure when searching for items. That last is conditional of course on having a system and sticking to it. On this I'm a slow learner, forever coming up with brilliant revisions to the plan, only to forget my brainwave in hours. Day 5 on Hadrian's Wall saw me frantically retracing three miles, to my night 4 pitch, for that down bag. It wasn't there. Three miles back to my hidden rucsack and I'm tooth-combing it until – the memory now flooding back, clear as gin – I've worked my methodical way to the orange sack I'd that very morning allocated as its new home, releasing for other duties the two carrier bags at rucsack bottom. Six miles as needless as they were distraught. Stick with the plan, Stan!
My Vango stove does all I need, folds to the size of a fag packet and weighs 150 gm in a plastic box with room for waterproof matches. 250 gm gas cans are a bad choice when 100 gm cans do me several days of coffee and fast cook meals, but I got a job lot for a song on eBay. Pan and kettle are redeployed from my too, too heavy trangia stove.
Grub: cup-a-soups for quick and tasty lunch, filled out with diced chorizo or even a bread roll if I've passed a town. Aldi ready cooks aren't bad for main meal but, depending on variety, want six to fifteen minutes of cooking; upping fuel requirements. Best are pot noodles, including fiery equivalents from Chinese supermarket. (But shun if low on H2O. The MSG begets raging thirst.) Noodles, btw, leave pasta in the dust on cals per gram. Fish? Sure, poached …
Did I just mention water? It's heavy and in Britain abundant. Why tote it dawn to dusk? I pack purifier tabs so tiny the ten packs don't even register on my electronic kitchen scales. I fill my litre flask with beck or tarn water as needed, add a tab – two if it looks dodgy – and wait half an hour. Packs a swimming bath pong but the taste is hikers' nectar.
Torn grey dry-pack
I'm not sure how I acquired this dry-pack but the tear is near the top. Since the sacks are only waterproof after you've folded the top down three turns (more if there's slack after squeezing air out) the rip is irrelevant. I use it to house a flash gun and radio trigger, and a filter kit that allows me to stop light selectively; ace for landscapes, where skies usually throw back more light than ground does. Such luxuries are enabled not only by lightweight outdoor kit but by the fact I now leave, with no small reluctance, my SLR and two main lenses – together weighing over 8lb – at home. More later on this.
Orange dry-pack
Next size down from grey, orange holds clothes. Skinwear is critical, as I learned in the fens. Blazing heat and dehydration (chlorine deals with microbes but not pesticidal toxins leeching into dyke and river) brought livid weals to armpits, where the straps of even my prized rucsack began to chafe viciously. A heavy load – I'd yet to renounce that 8lb of grown up camera kit – added to my ordeal, with groin chafing to pylon the agony. Culprit? King cotton. I now wear wickable synthetic t-shirts from Decathlon @ £4; side benefits being lower weight and speedier drying. I also now wear UA (Under Armour!) boxers, the discerning trekker's underkeks of choice. Amazon prices yo-yo a bit but stay within the £10-15 range (and you can often shed three quid by choosing a different colour). Stump up. For day in/day out schlepping, cotton is rotten.
Socks matter. You want cushioning, wickability and fast drying. Not changing socks daily, more often on hot days with high mileage, leaves an open goal for blisters. Of which more in a mo.
Yellow dry-pack
A size down from orange, yellow holds medical and toiletries. Note the footcare kit. Don't assume you won't get blisters. You will. I don't care how many miles you can chalk up blister free, once a week with a day-pack. An extra 15kg on the back, day in day out, increases exponentially the downward pressure. Blister pads and bursting needle (I've used a thorn at a push) are non negotiable. But here's my killer find. Superdrug – who really should pay me for the plug and my repurposing  genius – target this gem at the 'girl about town' but it's the best thing I know for when ball of foot transmits warnings the manliest trekker ignores at his peril. You pull away a covering film to expose the surface, adhesive and suitably contoured, of a 3mm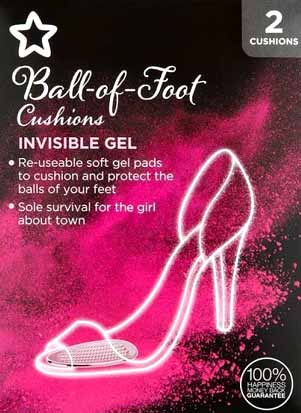 gel pad which – much to my surprise when, more in despair than expectation, I first tried these beauties – stays in place. Better yet they peel off for nightly wash, and still stick like glue in the morning. And the one after.

Bridging the gap between foot and total bodycare is talc. Better, bring Lanacane powder – big Sainsbury stores do it. It's pricy at the side of talc but brags that it's six times more absorbent. Apply little and often to foot, armpit and privy nooks and crannies. Should such prevention fail, Lanacane also do an anti-chafe gel whose efficacy I can vouch for.

A third the cost of rival products, Wilco insect repellent packs lighter and sees off the midges.

Toiletries: for a week's trip I take 2 toothbrushes, with paste, but don't top 3 gm. How? Travel in Asia, where even cheap hotels lay them on. Their flimsy construct, and tiny tubes of paste, are irresistable. I come back with armfuls. My tiny plastic vial of liquid soap is from a Premier Inn. I should mention the razor. Purists don't shave but at my time of life the result, trust me, is not darksome designer stubble. I use a disposable and bring a spare plastic guard. My yellow bag sports two tiny nicks, also mercifully close to the top, after losing a guard on Hadrian's Wall. I dare say it's there now, stoically awaiting relief by a 9th Legion that marched out of Lincoln in 53 BC and will doubtless be turning up any day now.

Green dry-pack

My smallest. Torchie's a head torch – you have to be sixty at least to get the allusion. It's ultra lite; pun intended. I sometimes think the LED revolution as significant as the digital. Especially when bright eyes of distant rabbit shine back at me like glassily backlit beads. Kindle and iPod are luxuries paid for by sacrifices elsewhere. Ditto pen and pad, for when the muse looms open armed, on lonesome fell or dew specked meadow. Also good for train spotting.

My compass is seldom needed for hard core navigation but tells me, when I pitch for the night, where sun will rise. Handy for dawn shots with no unpleasant vacating of tent, or even sleeping bag. But I did get out for this 5am shot of a disused quarry on Hadrian's Wall. Only just though, snapping away a metre from the tent, bare feet drenched in dew soaked grass till icy numbness drove me back to bed.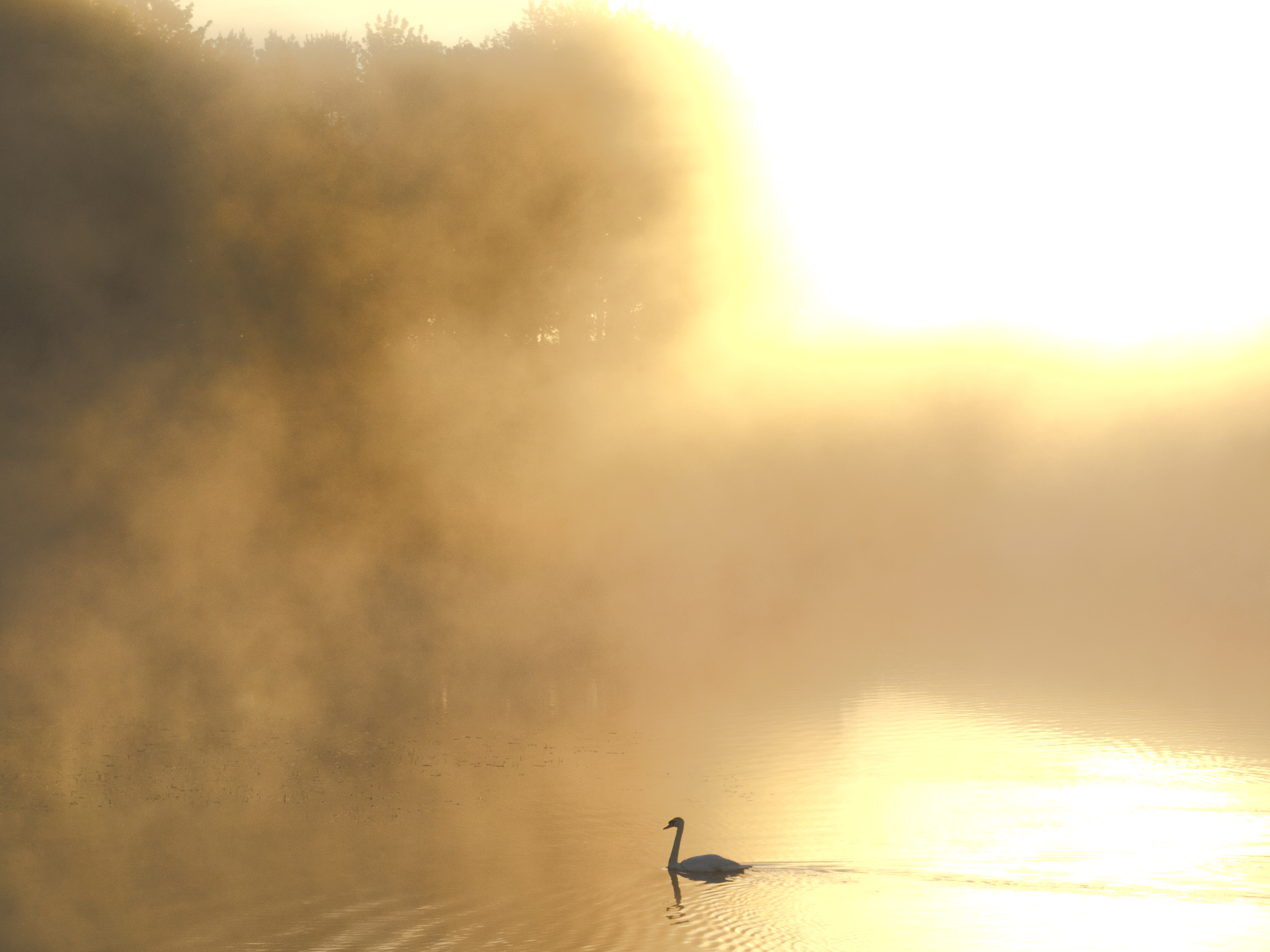 A small magnifing lens, set in the compass base, also has its uses. Rubbing two sticks together, whenever you want a brew, gets tiresome, don't you find?
Then there's the G16 Powershot and spare battery. A step down from 7D and L-series lenses, for sure, but still giving control of aperture, shutter and ISO, and at 380gm it's a fraction of the weight. I paid £180 to a Hong Kong dealer, the G17 having just launched at £550. It supports my radio transmitter in the hot shoe to fire a remote flash, while an adaptor takes my filter system, discussed above. I'm one happy geek, Deke.
Last words
Don't fret over camping illicitly. Embrace your inner nomad. Leave nothing behind and, as karmic payment, pick up other folks' litter. That's enlightened self interest by the way. It lifts the spirit, where you'd otherwise spend the hour in glum meditation on the human condition.
Steer clear of humanoids when pitching for the night. Dog walkers can turn up out of the blue, though mostly they'll keep a respectful distance. Be up and away with the lark.
Walking poles – bewildered by the choice, and range of prices, I'm getting there.
Boots – I no longer use 'em but do pay a fair bit for good walking shoes. Much as I love my walking sandals, again not cheap, I find them too hard on the sole with that extra weight.
I've bought a tiny fishing rod with miniscule reel. It folds to the size of chopstick and golf ball, and weighs 150 gm. With line, two lures and weights, I'm up for hooking perch or trout for the pan. Watch this space!
May all sentient beings gain enlightenment.