Skiddaw from Keswick, mid morning on Thursday, December 29.
Skiddaw and Keswick, from Hope Park.
Skiddaw and Hope Park from a Derwentwater jetty.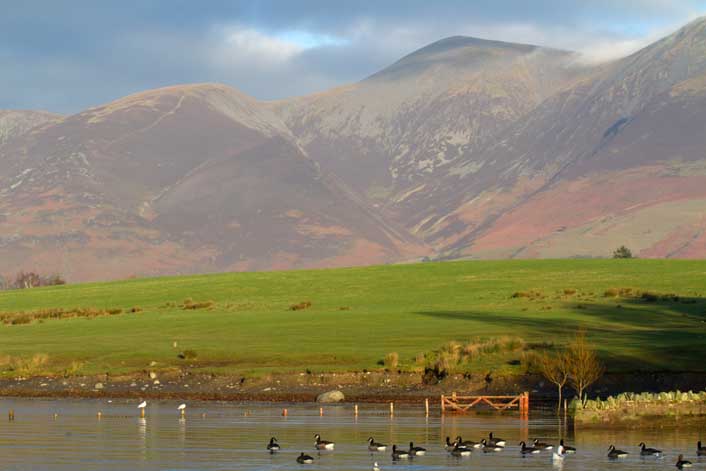 From Hope Park, looking south-west across Derwentwater to Cat Bells (left), Grisedale Pike (right) and Causey Pike (centre left).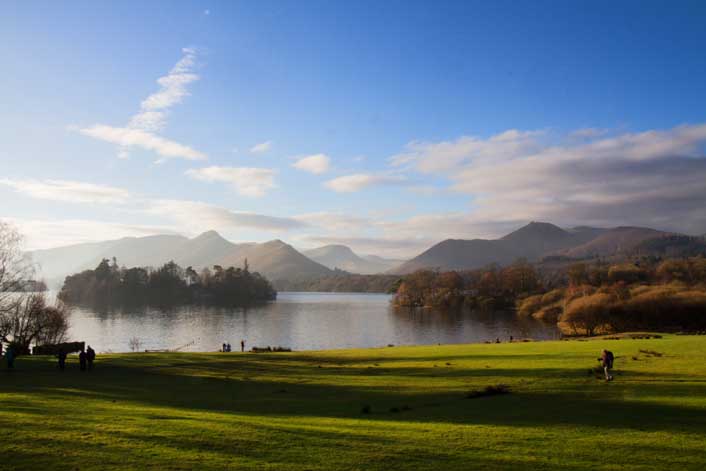 I first saw Derwentwater in the summer of 1963, aged ten. Mum had died that April and we'd soon be in a childrens home. Dad hired a motor boat the evening we arrived at Keswick Youth Hostel. With the late July sunlight refracted in the spray – Richard Of York Gave Battle In Vain – my eyes drank it all in as only a child's eyes can; all this beautiful water, all this mountainous magnificence. I doubt my transcendent state lasted more than a few minutes but they're among the happiest of my entire life. I've been in love with the lakes, these parts especially, ever since.
Six summers later on my first solo visit, aged sixteen, I'd blithely assumed I could get a youth hostel bed without prior booking, a lake district mistake you only make once. After I'd tramped to and been turned away by every hostel in miles, including top of Honister Pass at midnight, a farmer caught me shivering in a bus shelter at Rosthwaite. He insisted I use his caravan, free of charge, where I cooked perch caught at Dock Tarn: bony but, from that pristine water, beautiful eating. Two years on, camping with a pal, I sloughed off my s-bag one night to nip to the lake and untie a boat, this being Borrowdale, for a moonlit row; the only time I had Derwentwater to myself. I was there too in February 1977 when Keswick Council auger-drilled the frozen surface to declare the ice thick enough for cars. I had no car but did hike across to the island with Bruce, another pal; the wintry midday sun warm enough to let us bask in t-shirts the same day, in the lee of rocks below Watendlath as families below ran and slid, sledged and snowballed, inches above the dark and deep. Next day we played togger on Buttermere. So many memories here. So many of them special.
On and around a Derwentwater jetty.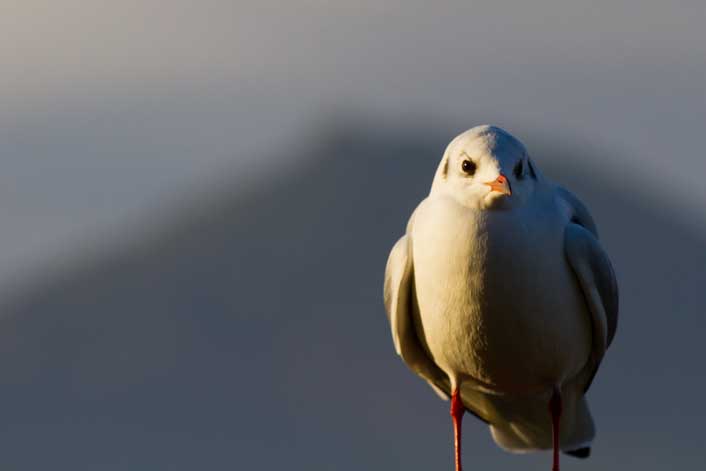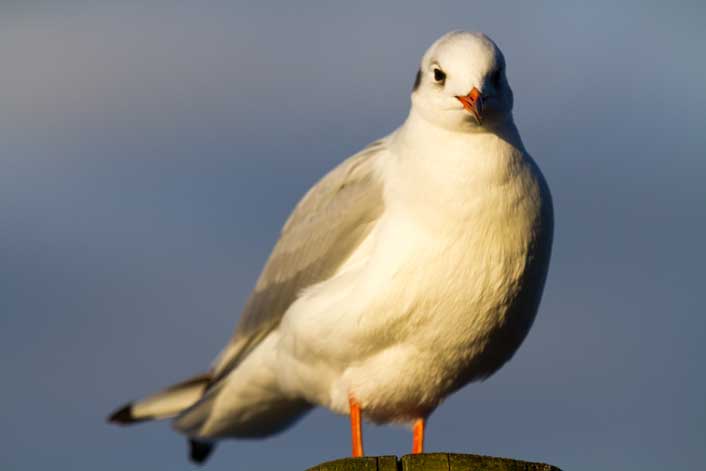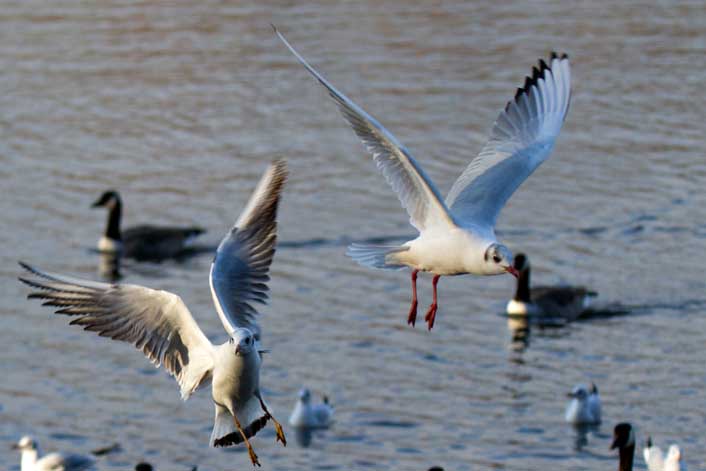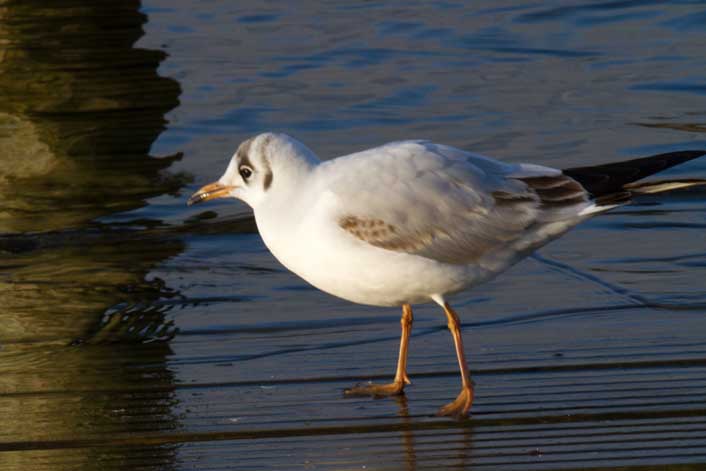 The view foreshortened by 200mm focal length, looking down Derwentwater past Grange in Borrowdale to Scafell in the distance.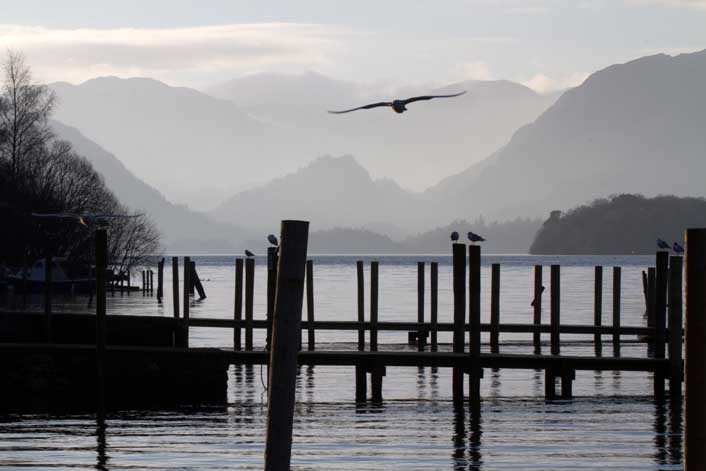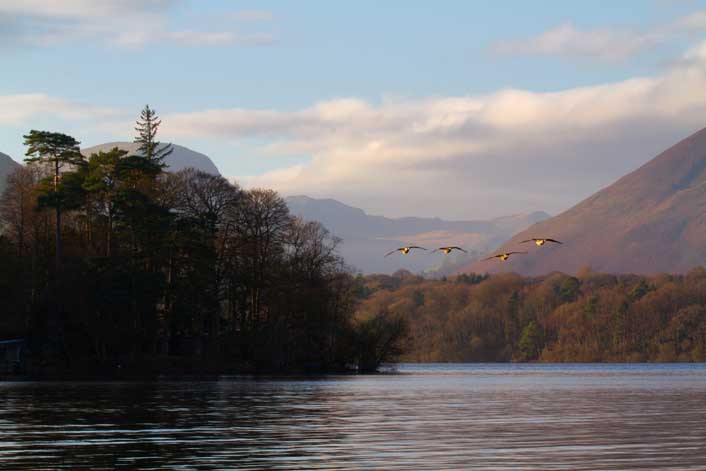 Crags like these define the eastern edge of Borrowdale to draw climbers the world over.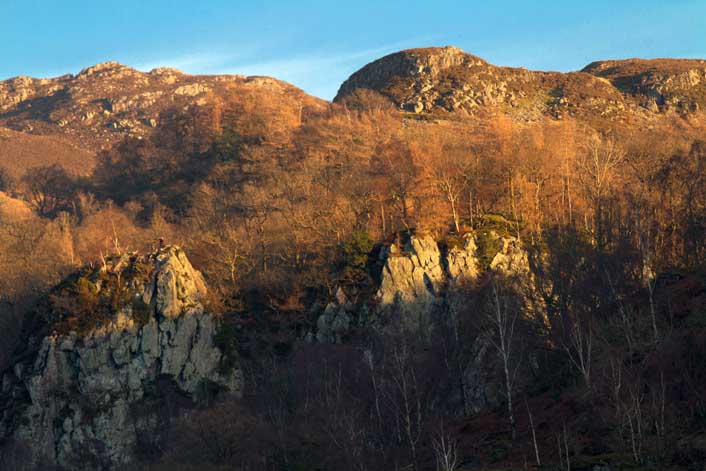 Coffee at Booths, then bus down the valley to the south east shore. I took wide angle (17:55mm) shots across and up the lake from the car park of Lodore Falls Hotel, then changed back to my most cherished lens, an L-series telephoto 70:200 f/2.8  IS II and the last word in optic promise.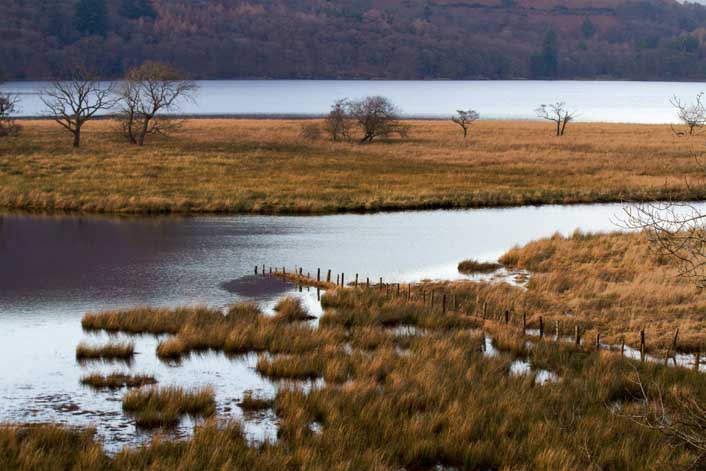 Forty minutes on, Skiddaw's glassy reflection warmed by the late afternoon sun on a leeward sheet of lake three miles to the south, I took this shot then thought to switch back to wide angle. That's when I discovered the lens was missing from my bag …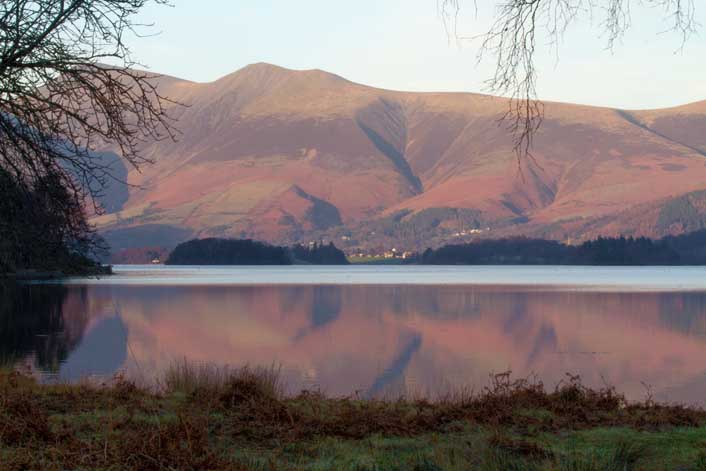 … I had  to have left it at the hotel car park, half a mile away, but even as I hurried back the light on the lake was irresistable. A grand's worth of optics would just have to wait a little longer. Or not. Though glumly anticipating the hit to my kit, and already musing on whether to replace or upgrade, I halted several times for shots like these …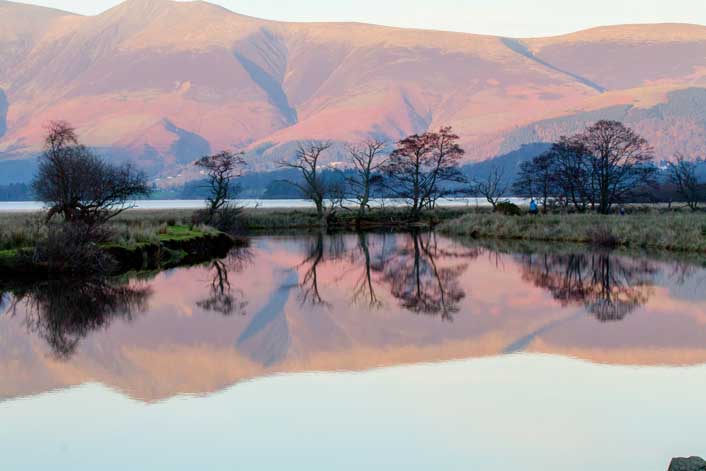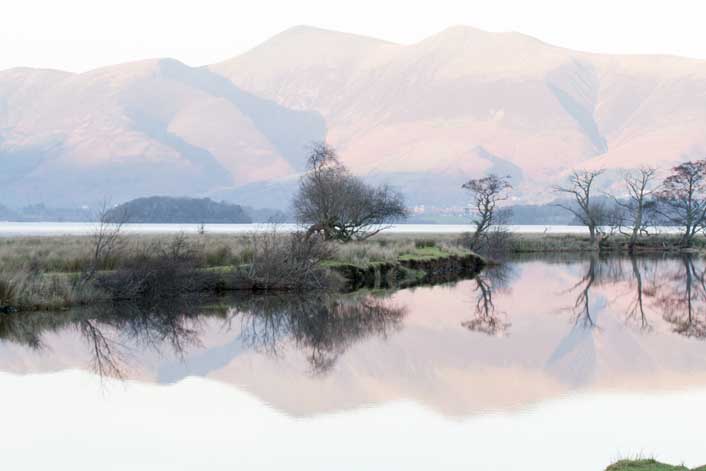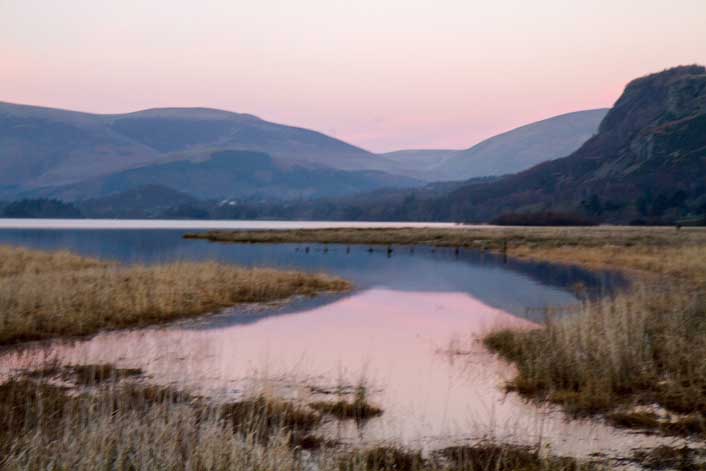 Back at the hotel car park, light fading fast, I made for a breeze-block wall at the far end; a real eyesore that had had me wondering whether funny handshakes overrode due planning process around these parts. But in lieu of a tripod, its level top had enabled narrow apertures and low ISO, with consequent exposure times too slow for handheld shots. Folks came and folks went, car doors swung open and car doors slammed shut, but on that wall, hiding in plain sight, sat the black dumpy bulk of one Canon 17:55 f/2.8  IS lens in need of an owner. Over my shoulder, discreetly muffled by the west wind, I heard the Jeeves-like cough of my guardian angel.
It was close to dark. With an hour to go before the last bus from Seatoller stopped outside the hotel at 17:15, a pint of Jennings Cumberland would round off to perfection another satisfying day in the sweet embrace of life.
Happy new year to one and all!