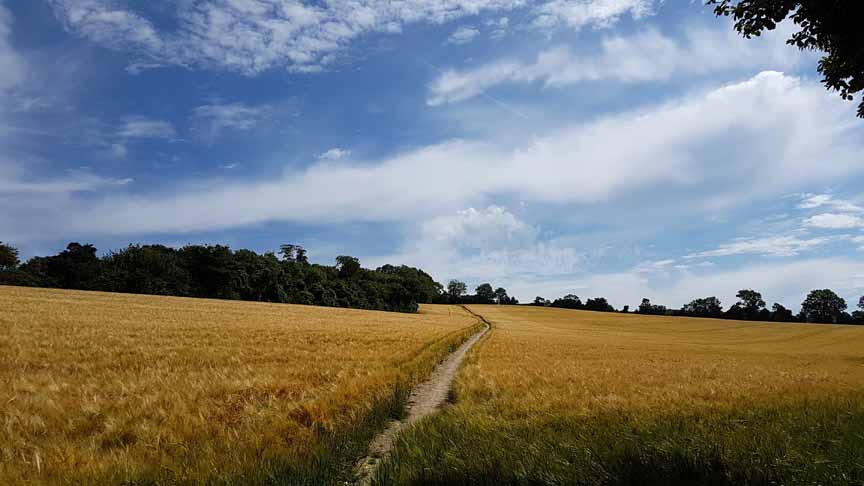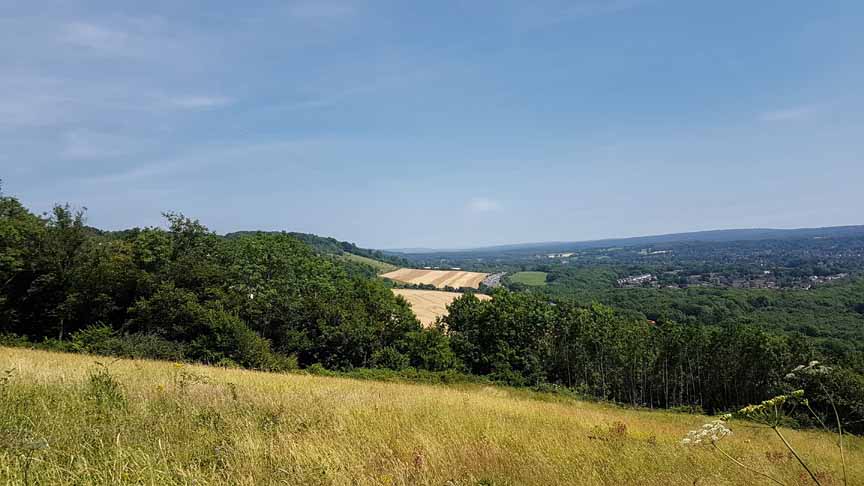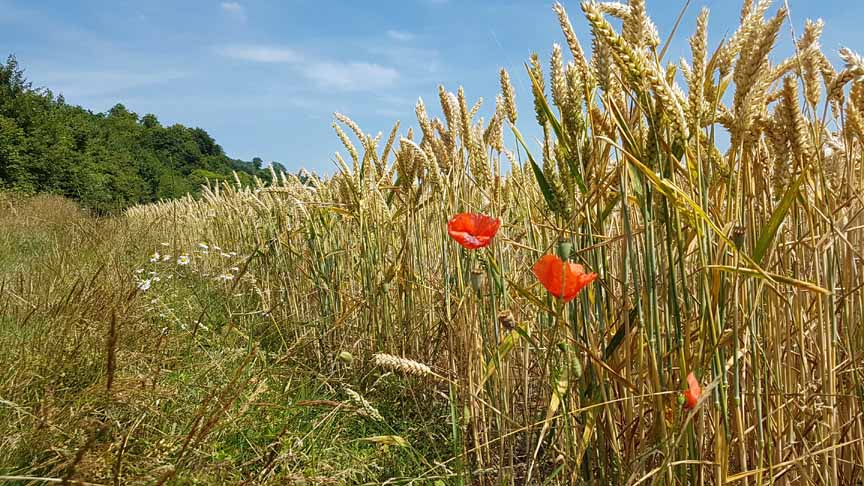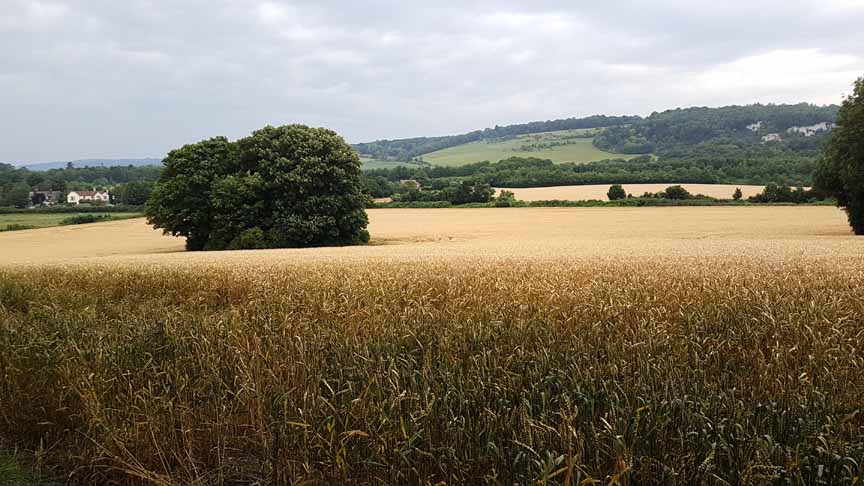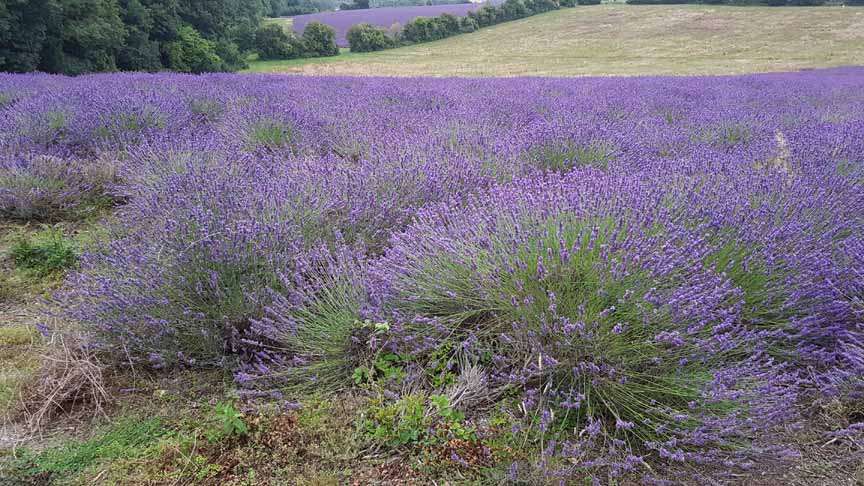 The North Downs of Kent and Surrey, like the more beautiful South Downs of Hampshire and Sussex, are predominantly chalk. Highly porous, their streams are few and far between but here and there, where chalk lies above clay, a small swift river cuts across the valley floor. At Otford you can catch the Darent on its way to the Thames; at Hollingbourne the Len as it rushes to join the Medway by the Bishop's Palace in Maidstone.
Otford … Hollingbourne. Such names get my attention. Wild camping the North Downs Way last week, water very much on my mind – I carry no more than I have to – placenames featuring 'ford' or 'bourne' speak loud and clear. With chlorine tablets in my pack, pretty much any river or stream will give me potable water in thirty minutes. Chances are I'll also get a decent wash.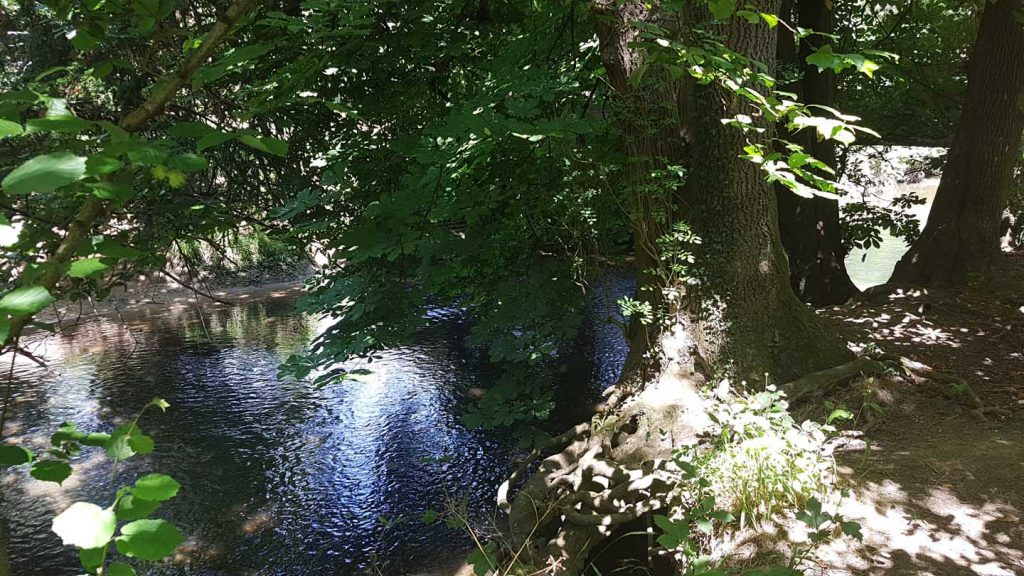 And so it proves in Hollingbourne on Friday morning. On a deserted but immaculate bankside of lawn, fruit trees and bench shielded from view by one large and downward sweeping willow, I launder, bathe, talc, don sensuously clean clothes, spread those newly washed over branches windswayed and sunlit, fill flask and spike with chlorine pill. I eat eccles cake and make coffee. Refreshed and caffeinated, I'm back on the trail in an hour, clothes almost dry and draped over rucsack for that finishing touch.
To enjoy camping you have to like problem solving, and that applies threefold to wild camping. Things you take for granted at home – getting water, making a cuppa, washing or shaving and above all finding a safe place to lay your head at night – consume much time and energy. That's only a negative to a mindset that divides the day into necessary but tedious chores on the one hand, 'living' on the other. Shed that mindset and savour the pleasure in making a cup of tea in wind and rain, having walked for miles before happening on the water. You don't believe me? Try it.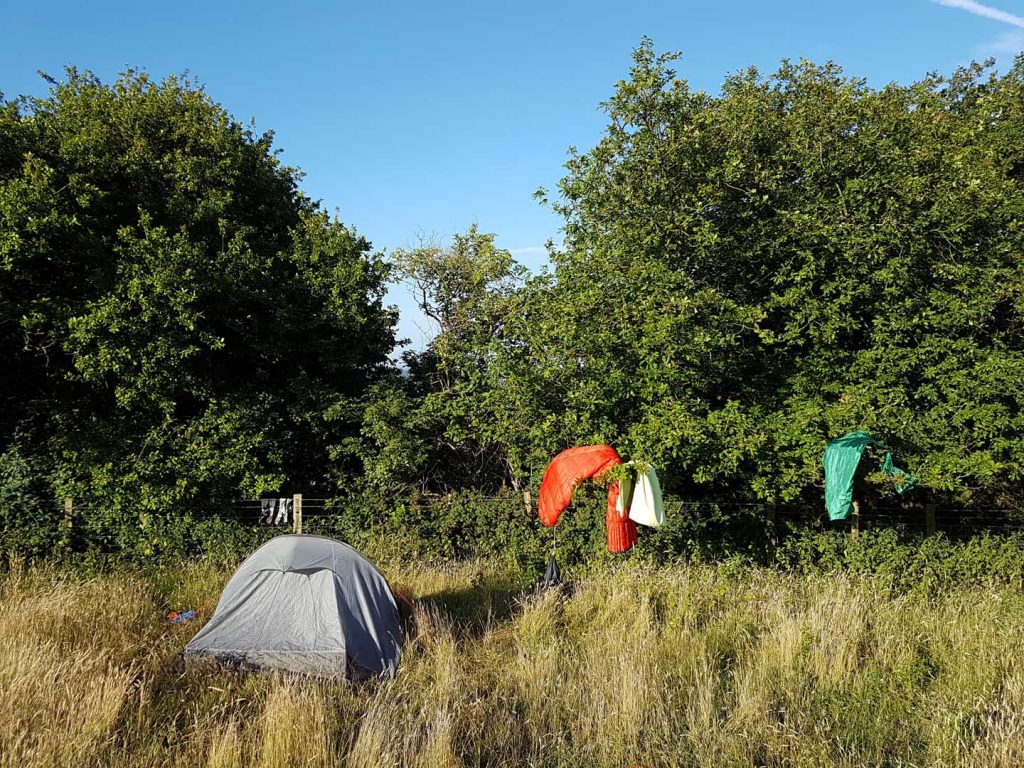 I set out from Farnham on Sunday, July 15 with Richard, a pal of forty years standing. That night we pitched at Newlands Corner, near a car park but hidden from view. Just as well. Boy racers turned up around midnight, I guess from nearby Guildford, to roar up and down that car park. Though a bare hundred and fifty metres away, tents cannily pitched behind a gorse bush could not be picked out by their headlights. After less than an hour they left and did not return.
In the morning we each had a shower. Over the road from the car park a lock-up cafe offered outside tap and bucket. It even threw in a shed perfectly placed – space behind to doff kit and hold two gallon bucket above head – to spare the blushes of commuters on the A25, fifteen yards away and even at seven am busy enough to make its crossing a tricky affair. Tuesday's wash was at a cafe in Merstham, Wednesday's at public loo in Wrotham, Thursday's at Mikey's Diner near Maidstone, Friday's in the Len as indicated, Saturday's at another public loo – with hot water – in Charing. As Clint urges in Heartbreak Ridge, improvise and overcome.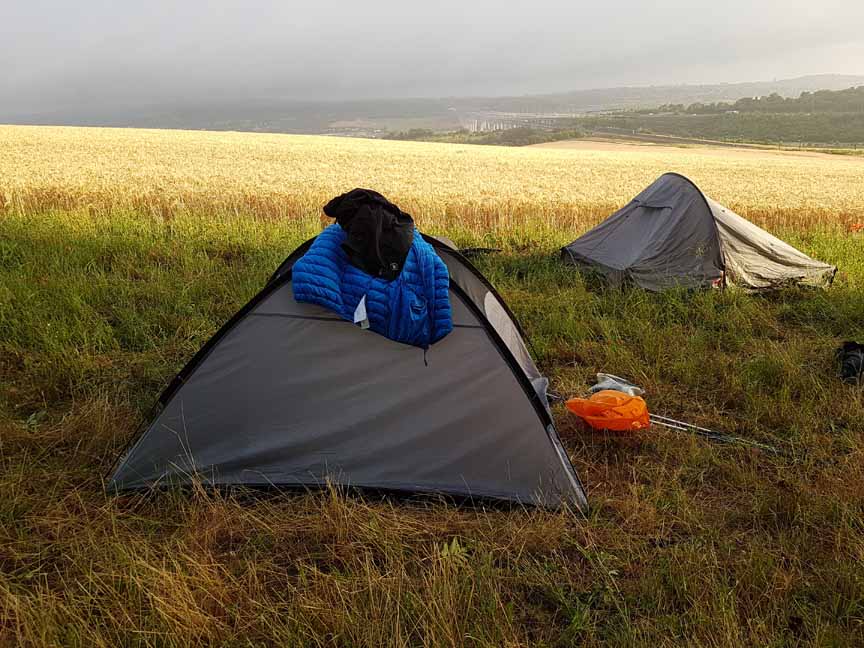 Above is our Wednesday night camp. We'd had meal and pint at the White Swan, a friendly pub in Cuxton just outside Rochester. It was getting dark when we hit the road to cross the Medway on a pedestrian lane of the bridge carrying the M2 – and fully dark when we found a pitch by a wheatfield with sweeping view of bridge and motorway. Rain started as we struck camp in the morning, at first mixed with sunshine to give us this: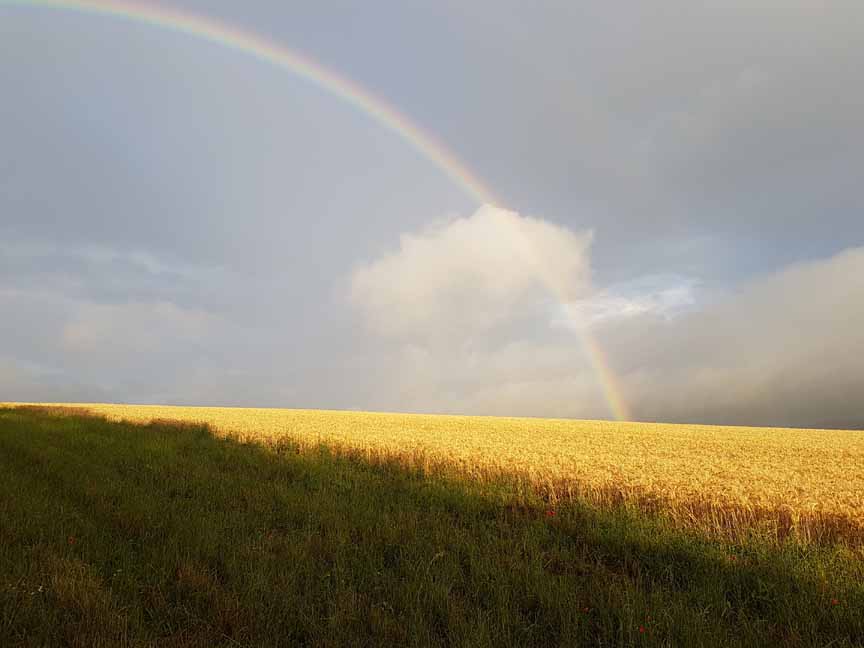 Richard had by now struggled with blisters on each foot for two days. I'd pierced and treated both the day before, resulting in some improvement but with heels still tender he wisely chose to withdraw. After breakfast and, for me, full wash in the baby change loo at Mikey's Diner on the roaring A229 above Maidstone, he and labrador Duchie headed into town for train home. I got myself a soaking later that morning but found a great pitch by night (see above, my clothes airing on tree and fence). By now I had to slow down. We'd been averaging seventeen miles a day but I had my own train to catch, also from Maidstone, on Saturday. I had to ensure that by Friday night I was no further east of Maidstone than would allow me to get back by bus in the morning for my 13:03 to Burton on Trent. That final point proved to be Charing, some ninety miles on from our start at Farnham, though you can add at least another fifteen for the times we lost our way or otherwise deviated from the NDW.
A word on these pictures, all from a Galaxy S7 phone capable of shooting Raw files as well as jaypegs. I'd taken the extraordinary step of leaving my Canon Powershot G16 at home as part of a wider trade-off – camera weight for that of two portable chargers, one of them solar – driven by my wanting to use digital rather than paper maps. The G7 being allegedly able to withstand immersion in five feet of water for half an hour, it should, I reasoned, cope with rain and mist to leave battery life the only problem.
In fact I was to discover a known issue with the S7 in the shape of this error message: Moisture detected in USB port. Battery cannot be charged.  So while the phone itself may be cheerfully tossed into village pond while you make and sup a brew before diving in for it, a little moisture – in my case from being packed for a few hours near a tent dripping with dew – leaves it in full working order, yes, but only for whatever remains of its charge.
By switching off background apps and wifi, and by menacing gesture – under duress the device allowed me to recharge to 10% – I had a working camera till it finally croaked on Friday night, my walk ending the next morning. Back at home on Sunday, after night of ale in Burton-on-T, I heeded an online tip to bury the S7 in rice for twenty-four hours. It worked. I'll give the thing one more chance to do right by me – to this end I've ordered USB port protectors at £0.99 for pack of twenty-five – before doing as Basil Fawlty did unto his faithless mini. Meanwhile the solar charger, a panelled affair that folds out and can be hung by carabiners from a rucsack as I walk, appears to perform admirably. Watch this space.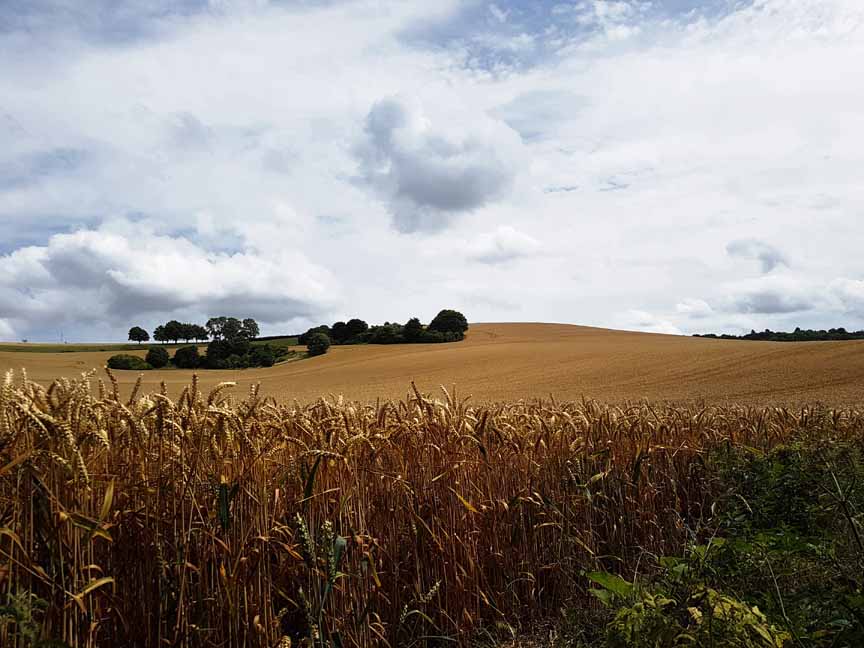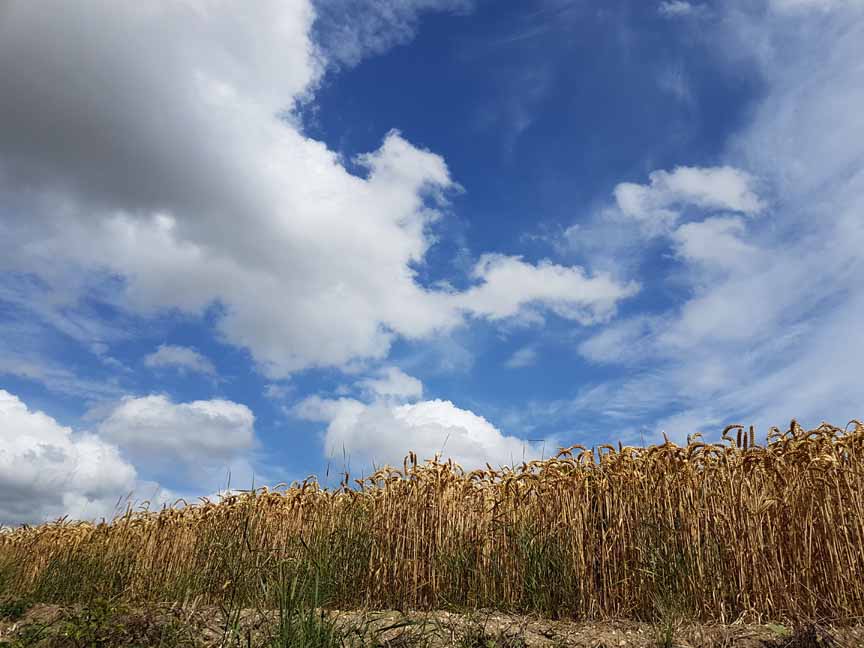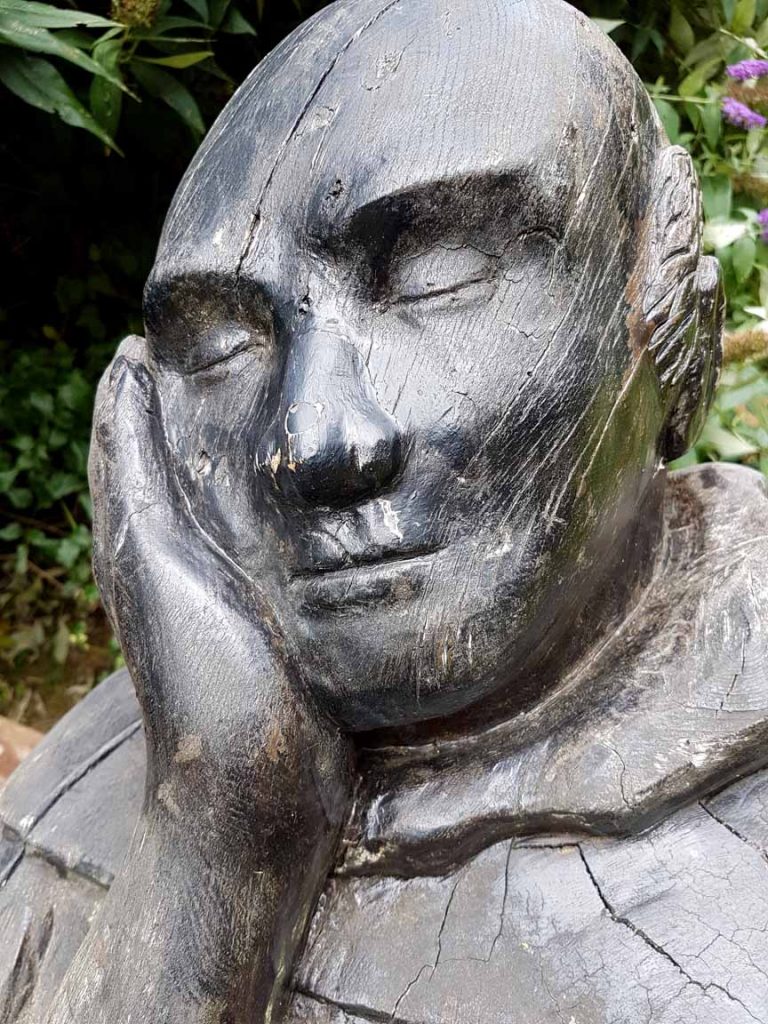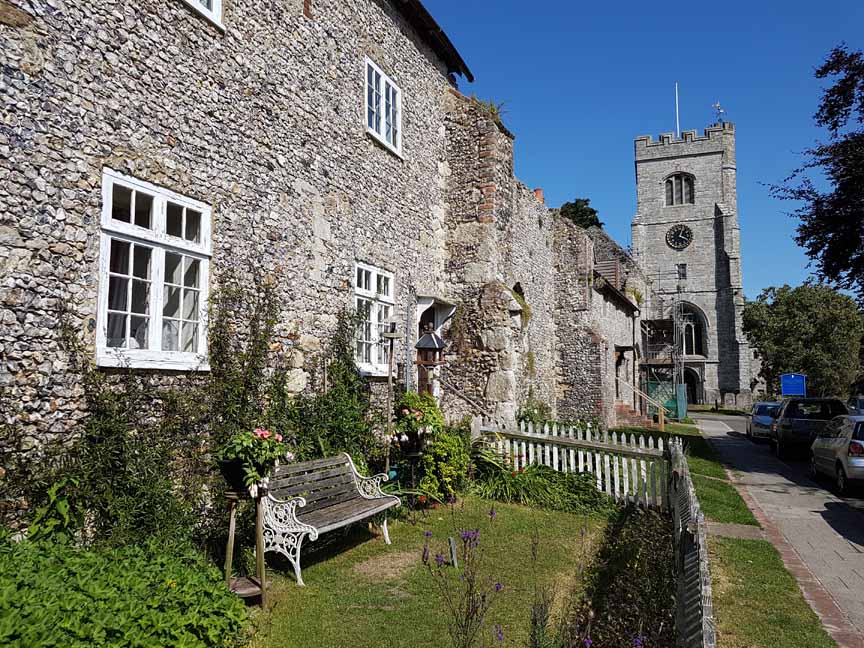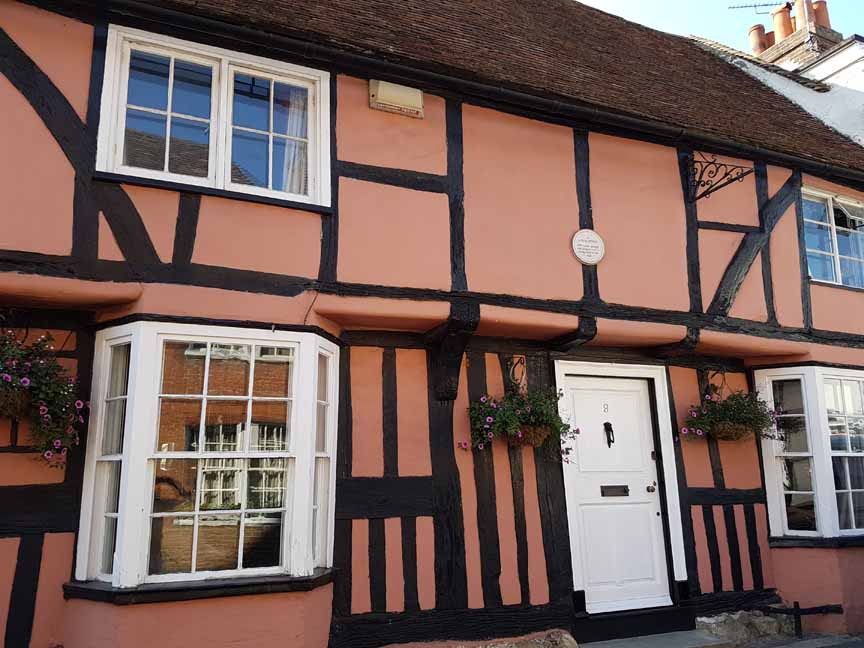 Charing was a little disappointing. Church and Archbishop's Palace are magnificent, and many of the town houses original Tudor or earlier, but the place shows signs of neglect, one being no pub. I asked a bloke my own age. All gone, he said, directing me to the Bowl Inn, two miles out of town on a ridge above the Way. I was keen, having intended to head there anyway in search of suitable pitch. Finding just the place on the way up – on sheep-grazed meadow by a disused quarry – I enjoyed a pint of Canterbury Ales (geddit?) before leaving around nine to pitch tent and cook noodles and tasty sauce made tastier with parmesan shavings. In the morning I came down into Charing, had full wash in the loo as described – shave too, the water being hot – and caught the bus into Maidstone. That evening saw me at a beer festival in Burton. It's a good life.