Professor Stephen Hawking has rattled Jeremy Hunt's cage alright. As in rattled it enough for Hunt to forget that no good ever came from mixing it with a walking talking National Treasure. It's a hiding to nothing. Did he not learn from New Labour's Phil Woolas, Minister for Borders & Immigration, who in 2009 got himself flattened when Joanna Lumley (National Treasure One) stepped into the ring for the Gurkhas (National Treasure Two)?
Great fun. But when, in a Graun piece yesterday, Hawking dished it to the Tories over the NHS the foolhardy Mr Hunt couldn't resist tweeting his spleen: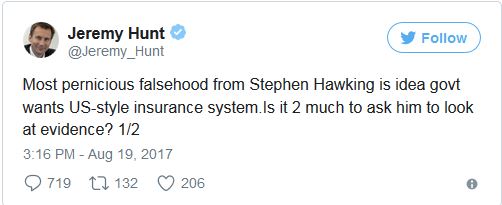 Talk about sticking your dick in a hornets' nest!
Also great fun – if you're in the mood for dark irony – is the fact Hunt's a financial beneficiary of the creeping privatisation of our NHS.
Last laugh, though, goes undoubtedly to Labour Shadow Health Minister Justin Madders for this tweet:
Professor Hawking has given us answers to many of the universe's most challenging questions, and even he can't work out why Jeremy Hunt is still in his job.