They say Housman was clinically depressed when he penned the sixty-three poems of his anthology, A Shropshire Lad. But isn't depression an entry level requirement for poets?
Loveliest of trees is the best known poem from those blue remembered hills and, along with Kipling's If and Gray's Elegy Written in a Country Churchyard, one of Britain's best loved. Being Housman, he had to bring death into it of course,1  but here – in a theme echoed in EM Forster's Howard's End and Carlos Castaneda's Teachings of Don Juan – it is a trusted friend, exhorting us to live to the full.
So, with even fewer than fifty springs in hand, about the woodlands I did go. Just this morning.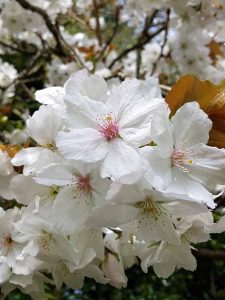 A Shropshire Lad also houses such gems as Here the Hangman Stops his Cart – though even at foot of the gallows the dialectic of death as life's instructor plays out with its"live, lads, and I will die"  – and Is My Team Ploughing.