I've just taken delivery of an inflatable kayak, the Sevylor Colorado – well reviewed by experts and owners alike, and just £274 on eBay.
It weighs fourteen-point-five kilos but that's without paddle, air-pump, buoyancy aid and (my prime motive) camping kit. That takes me to twenty-nine kilos, plus two for photography kit, and one-point-eight for a trolley, also yet to arrive.
Since mid teens I've wanted a canoe. Why did I wait half a century to bite the bullet? My dream is not of whitewater thrills, but gliding the quiet waters by, days on end, sleeping on secluded banks, my soul to restore again.
Thirty-three kilos is over twice what I take wild camping on foot. Carrying it mile after mile is out of the question, but I want to go car-free. Several reasons for that, top of the list being I don't want to have to return to point of departure: that'd negate the serendipity thing. I won't be able to carry the gear any distance, but it must be luggable between water's edge and bus, train or taxi. Hence some kind of trolley that folds for stowing onboard.
The Colorado is good for two adults and child or small dog – I've bought Jackie but not Jasper a buoyancy aid – but only by going solo will I have space for camping trips.
It came yesterday. I was out back and pumping immediately. After an hour spent figuring how pressure gauge fits Boston valves on floor and side chambers, I found a short Youtube video with all I needed to know, i.e. all that the uselessly cryptic instructions didn't tell me.
I'll have a day trip or two, then make my first camping venture an easy one: fens maybe, or Somerset Levels. With luck I'll be on Ullswater before summer's out.
*
Photography: able to carry more than when wild camping on foot, I mean to take my Canon 7D II, killer L Series 70:200 lens and small but heavy extension tube. I'll leave my wide angle at home. It's a great lens but, for my purposes, landscape shots are acceptable on my S7 Edge. It's wildlife and other pictures demanding high focal lengths where phonecams don't cut it. You can see this on images like the basking shark on Day eighteen of my Cornwall trip.
(I already have fully immersible dry sacks, and can buy more if needed, but must find a way of cushioning camera and lens. This might be as simple as wrapping in a towel.)
Also on photography, and low profile for wildlife and other purposes, the colour of the Colorado is sub-optimal. It sports nature's danger colours: black on yellow. If I go further down this path I may need to look at pricier models for anglers. Or fit camouflage netting.
*
Assembly
Remove from bag, unfold and lay out flat.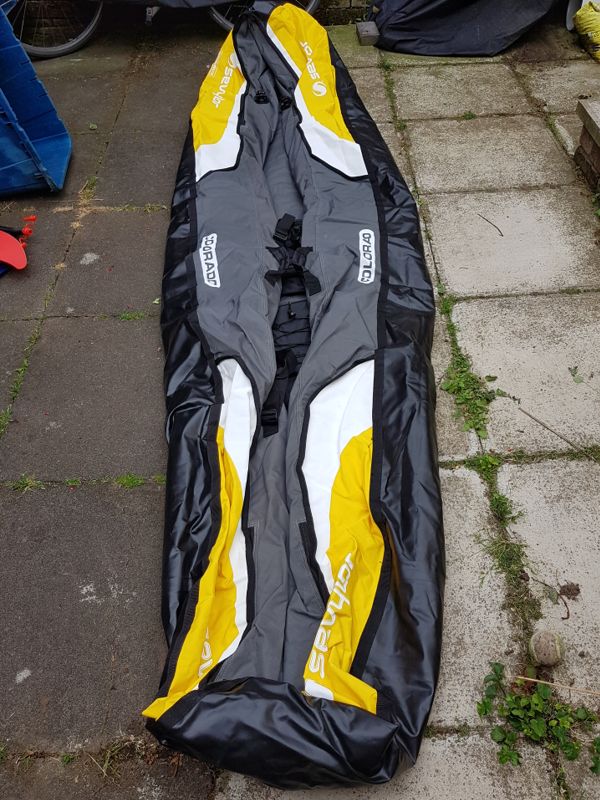 Have air pump and skeg (removable keel) to hand. Skegs are not used in shallows but improve ability to hold a straight course on open waters like lakes and estuaries. If mine is to be fitted it must be now, before inflation.
(Top tactics for top tacticians. A lost skeg for the Colorado costs £20 to replace. Trace outline on plastic chopping board, cut with hot knife and, alakazam, a spare costing £1.)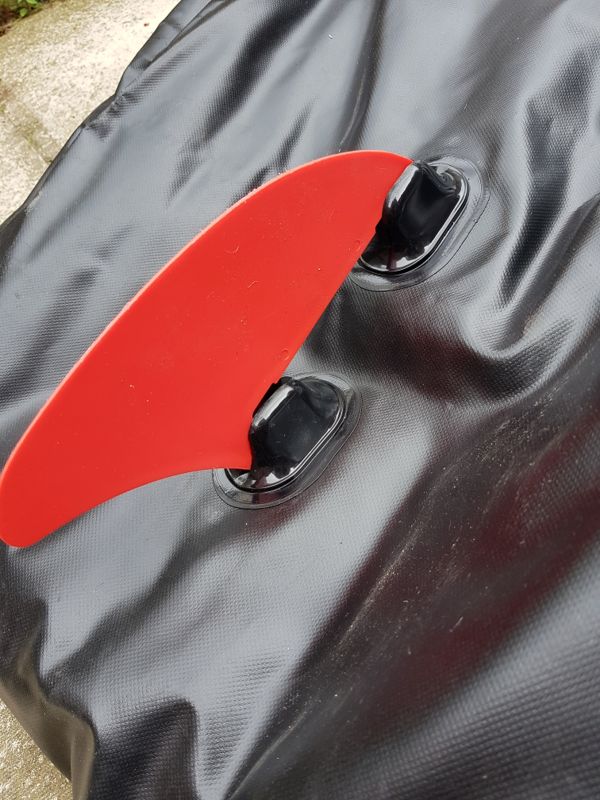 The Colorado comes with manometer, an air pressure gauge that sits between pump and valve of boat. Correct pressure is 100 millibars.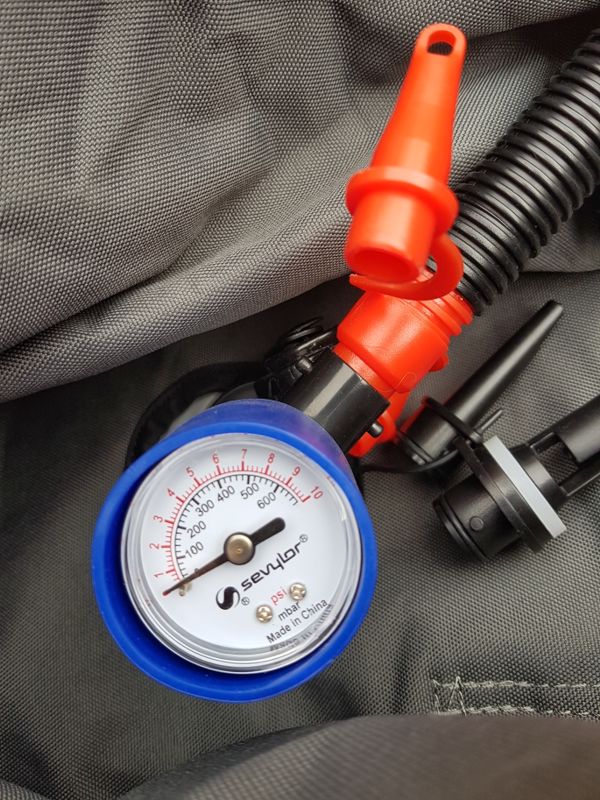 Here my left foot is applying efficient rhythmic strokes, switching to right as fatigue sets in. With three chambers to inflate, air entering only on the downstroke, I'm good to float in ten minutes – yes, I timed it.
Dogs – who needs them?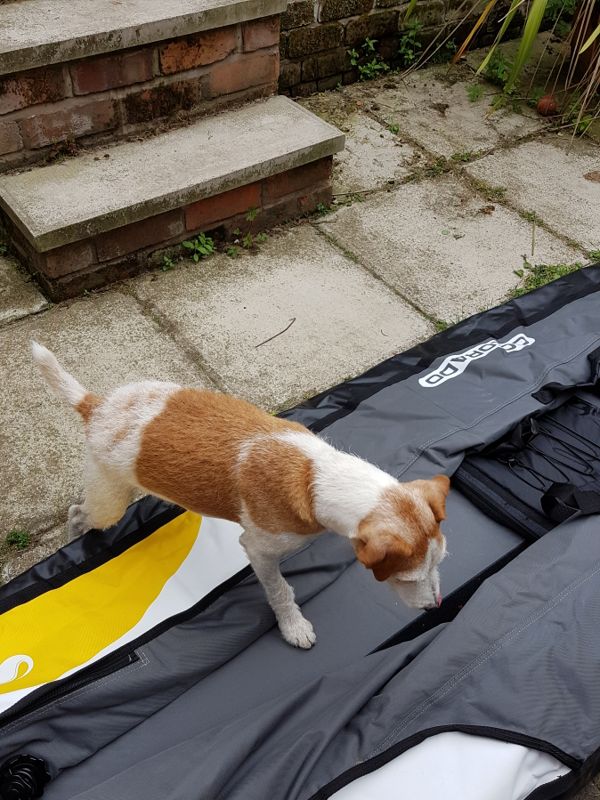 Das boot assembled …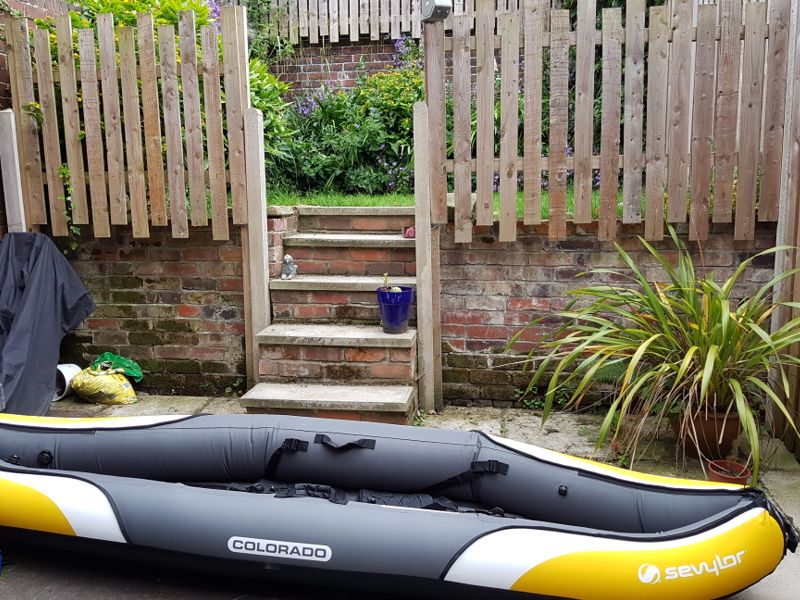 … let's add a seat. Two are supplied, each with inflatable base that attaches to kayak floor using Velcro. Mesh seat backs are held upright by adjustable straps to each side chamber.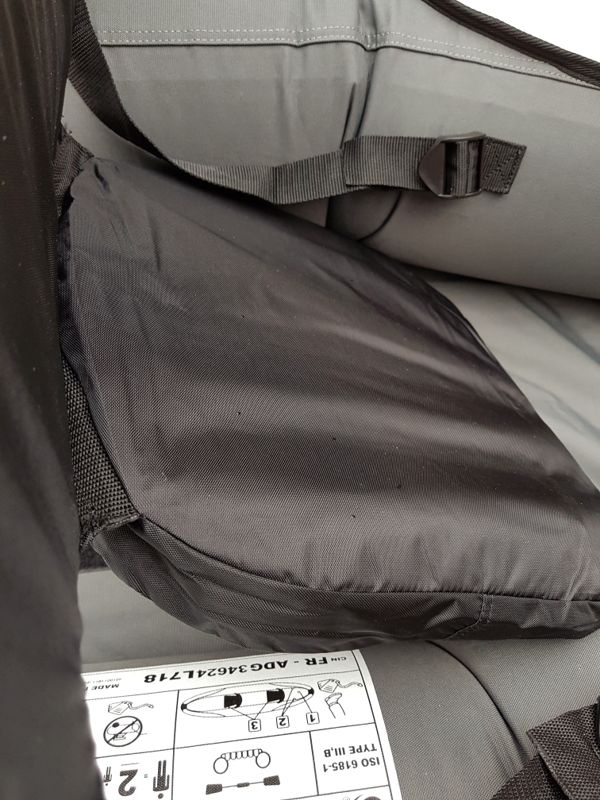 Tomorrow: maiden voyage at Manton, close to Worksop on the Chesterfield & Stockwith Canal. Here's a preview: