The fact-free traducing of Julian Assange, to whom all progressives owe an immense debt of gratitude, continues in our not so liberal media. Another sound piece from OffGuardian's Kit Knightly, writing yesterday, begins thus:
Luke Harding and Dan Collyns, writing in the Guardian, have claimed Paul Manafort (jailed former-campaign chief to Donald Trump) met with Julian Assange, the illegally detained founding editor of WikiLeaks, in the run-up to 2016 Presidential election.
You can read an archived version of their article here, just in case The Guardian "amends" their claims in the future (Update – The Guardian has already edited their article to scale back their language. Called it).
Other "news" outlets have, rather predictably, jumped all over it.
WikiLeaks have categorically denied any such meetings took place: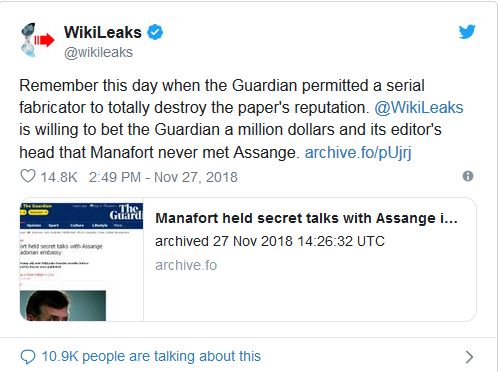 What the article says
So, is there any truth to the claims? Well, certainly not on the weight of Harding's article. There is no evidence cited, except for the testimony of anonymous "sources" …
… read the full piece at OffGuardian
Meanwhile, the excellent Jonathan Cook has weighed in on this. His own piece today, on the Blog from Nazareth, begins:
Guardian ups its vilification of Julian Assange
It is welcome that finally there has been a little pushback, including from leading journalists, to the Guardian's long-running vilification of Julian Assange, the founder of Wikileaks.
Reporter Luke Harding's latest article, claiming that Donald Trump's disgraced former campaign manager Paul Manafort secretly visited Assange in Ecuador's embassy in London on three occasions, is so full of holes that even hardened opponents of Assange in the corporate media are struggling to stand by it.
Faced with the backlash, the Guardian quickly – and very quietly – rowed back its initial certainty that its story was based on verified facts. Instead, it amended the text, without acknowledging it had done so, to attribute the claims to unnamed, and uncheckable, "sources" ….