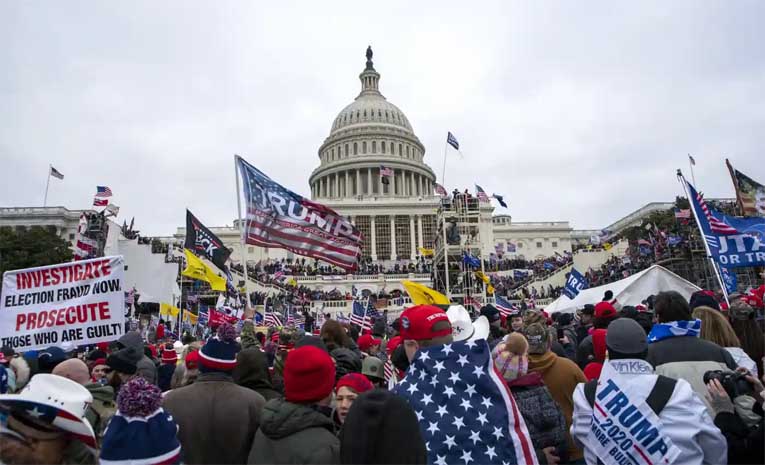 Caitlin Johnstone opens her post today:
Stop trivializing the term "coup". It's a real thing the US government really inflicts on other countries in a way that actually does topple governments and cause immense destruction. You cannot take over the US government with a small squadron of wingnuts. That's not a thing.
A coup attempt doesn't have to be successful for that term to be legitimate, but it does have to have some possibility of success. Trump has no more likelihood of being in office after January 20th than I do; he's got nothing resembling the kind of support from the military, political establishment, oligarchs and other backing he'd need to accomplish such a thing.
I hereby declare the US election invalid and I, Caitlin Johnstone, am the new President of the United States.
Have I just instituted a "coup"? Or does my complete inability to put such a claim into effect make the use of that term silly?
And now Trump has conceded. My what a funny looking coup …
Others have been making similar arguments. I deem Louis Proyect – self styled 'unrepentant marxist' – wrong on some matters, notably Syria, and loathe his ad hominem debating style. But there's much he gets right. As I was saying back in October:
Louis points out that Trump poses no fascist threat for the simple reason that such a threat can only arise where there is a communist threat. This truth can be ascertained logically. Fascism is an expensive option for capitalism, an extreme solution when not only profits, but the 'right' of a ruling class to appropriate surplus value, are under threat. And it can be ascertained empirically – as the cases of Hitler, Mussolini, Franco, Pinochet and Suharto show.
I understand the liberal media getting all frothed up about this. For one thing, bigging it up to the extent they have sells newspapers, ups audience ratings and wins advertisers. For another, liberalism has from the very start been insistent – in defiance of all the evidence of what the Bush, Clinton and Obama regimes did, and what the Biden regime will do – that Trump marks some egregiously evil deviation from the shining path taken by all previous helmsmen of the most reckless and frightening nation on the planet.
(Failure to see these truths has various drivers, none more central than media induced blindness to the fact that ours is an imperialised world, as I claim in the Tragedy of Corbynism. And that the most predatory imperialism of all, in the face of stiff competition from such as Britain and France, is the USA. These truths are quite independent of the antics of the 45th President but it sells copy and keeps up Overton Window appearances to insist otherwise.)
But when Marxist groups like the Socialist Equality Party, hosts of an otherwise excellent World Socialist Website, peddle the same claptrap it's enough to make a grown man cry. For sanity we have to turn to a rottweiler like Louis, or a seemingly non Marxist radical like Caitlin.
Still, mustn't grumble …
*