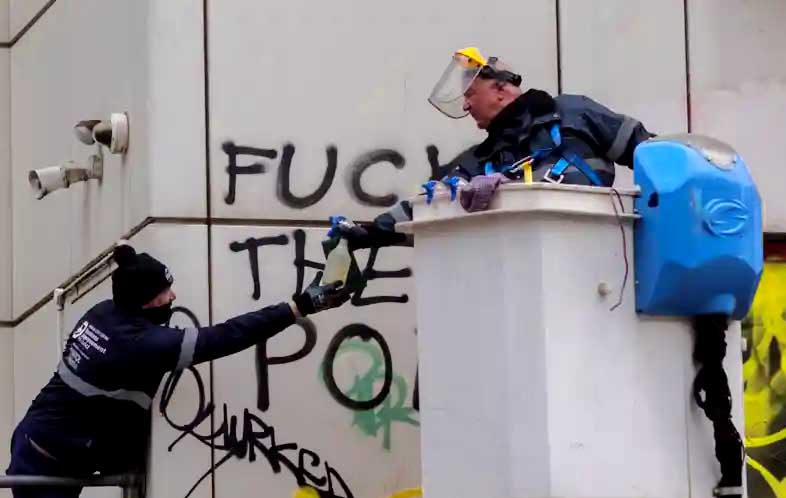 The first-past-the-post system doesn't work. Our only form of democracy left is protest. And now they're trying to take that away. Deri Smith, aged 22.
Let's start with the Police, Crime Sentencing and Courts Bill. I referred to this a few days ago, citing and summarising a good WSWS piece1 as follows:
The Bill adds to Spy Cops – Covert Human Intelligence Sources (Criminal Conduct) Act – which became law on March 1 and authorises enforcement agencies to do things "which would otherwise constitute criminality". The Court of Appeal ruled on March 9 that MI5 may legally commit serious crimes.
Just 34 Labour rebels voted against Spy Cops. Keir Starmer had meant to whip the party to abstain on the Police Bill too. Only in the wake of Clapham Common did he switch to a stance of token opposition to a bill certain to pass regardless.
Such legislation was borne of the XR protests of 2019, and pursued with greater urgency after the international George Floyd protests last summer – "which the ruling class recognised as anticipating a far broader eruption of class struggle".
That post notes Labour's dithering over the Bill. Only now, with passage onto the statute books a foregone conclusion – and events at Clapham Common having stirred the kind of widespread unease even Keir Starmer's eviscerated party could not be seen to ignore – does it offer token resistance. In a moment we'll see a small but telling sign of Labour's cowardice (or worse). For now, here's Jonathan Pie in six minutes of characteristically high octane musing on what the Bill has in store for us.
That was a week ago, on March 17. By the night of March 21, images and video beamed across the world's screens were showing peaceful protest, over this power grab in the making, morph into one of the most violent riots Bristol – no stranger to civil disobedience – has seen.
Que pasa?
Must we be swivel-eyed conspiracy theorists2 to marvel at the timing? How neatly it serves as demonstration of the need for precisely such a thing as a Police, Crime, Sentencing and Courts Act!!! The convenience for TPTB can hardly – swivel-eyed coincidence theorists excepted – be ignored.
With that in mind, here's a far from swivel-eyed Dan Astin-Gregory, a man who, incidentally, has made a name for himself at the sane end of lockdown opposition. Now we see him pacing the streets around New Bridewell police station, the morning after, with a few hard questions.
*
Let me close with that "small but telling sign of Labour's cowardice". Here's Labour's Shadow Education Minister, Toby Perkins. Having come out in support of the police response at Bristol on Sunday night, he then had cold feet. This we're used to. For want of principled opposition to the dismantling of Britain's welfare state, and 'our' venal wars on the global south, Labour has a constantly nervous eye on the public mood – a thing highly manipulable – as flagged by focus groups and the politics of identity.
So the MP for Chesterfield had second thoughts, or his boss had them for him, leading him to rub out the boot prints. Sadly for Mr Perkins, the likes of Politwoops excel at reversing such acts of crime scene clearance, putting the evidence right back where it belongs.
In the public domain. They work (it is alleged) for us you know!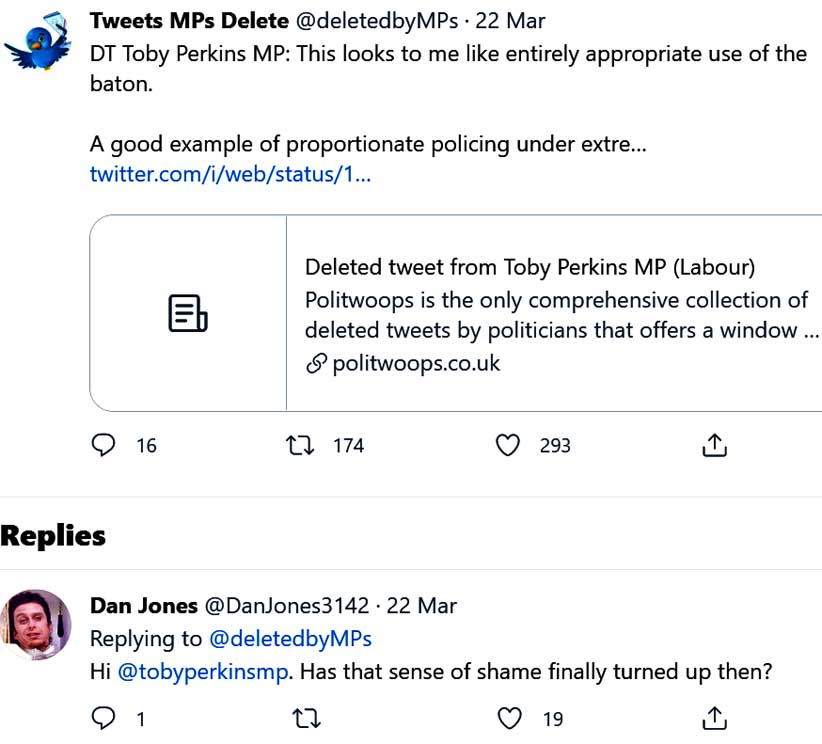 * * *
"A good WSWS piece" – my standard disclaimer kicks in here. I am neither a member of the Socialist Equality Party, which hosts WSWS, nor likely to become one. I do not share its faith – much as I'd like to – in the possibility of the revolutionary overthrow of capitalism in the West. And much as I admire Caitlin Johnstone and her withering critiques of empire narratives, I reject her thesis that exposure of those narratives – a necessary but insufficient condition of humanity's deliverance from insanity – can end class rule. I fear that our rulers, their 'open society' exposed for the sham it is, would simply fall back on naked force, for which they hold all the ace cards. (Indeed, as a raft of post 9/11 legislation attests, with Spy Cops and Police Bills but the latest additions,  this is not a thing entirely of the future and that was the point this weekend.) Not that I have a scintilla of faith in so-called parliamentary socialism either – even under social democrats less treacherous. (See my post, the tragedy of Corbynism.) Radically new thinking is needed if barbarism is to be averted for our children and theirs. Meanwhile, and more prosaically, when I cite a source approvingly the endorsement is confined to the text cited unless I say otherwise.
I don't for a moment say all conspiracy theories are by definition false, far less that all who advance them are swivel-eyed. I'm on record as saying that (a) some conspiracy theories have later been shown to be accurate; (b) others have high likelihood of being accurate; (c) still others fail elementary evidential or logical tests; (d) use of the term as blanket put-down is lazy, stupid or cynical.