Silence? What silence?
Few things are more predictable than the demonising by corporate media of 'regimes' which obstruct, directly or indirectly, the will of Wall Street. But while the general truth of this may be acknowledged within intellectual circles, its applicability to any specific target of propaganda blitz has a way of inducing localised amnesia until the heat dies down. And nothing has rattled Wall Street more than the rise, faster than foretold, of China from sweatshop for the West to global challenger of dollar hegemony.
Obama's 2011/12 pivot to Asia was continued under Trump and, as Blinken's Alaska hectoring of Yang Jiechi made clear, will continue under Joe Biden too. The media onslaught on alleged Beijing wrongdoing – an onslaught which, given Bosnia, Iraq, Libya, Syria and Yemen, and given infanticidal sanctions on Iran, Venezuela and elsewhere, is nothing if not brazen – now eclipses those on Putin, Assad and Maduro combined.1
Sadly, wall to wall propaganda does work – ask Don Draper, up on Madison Avenue. The same manipulation of fear and heart's yearning applies whether we're being sold a superior drinking experience, or tales subliminally orientalist of The Other delighting in evil for evil's sake. And to top it all, we the recipients fondly believe we arrived at our opinions all by ourselves!
Many who deem themselves critical thinkers make, at some level of consciousness, the smoke = fire equation. It helps that, in a textbook triumph of narrative over factuality, most in the West labour – this too is largely at instinctive levels way deeper than conscious reason – under two delusions. One is that we have independent media whose primary aim is to bring us the truth, the other that "we are the good guys".
*
In the relentless demonising of China, the strand pertaining to Xinjiang's Uighurs is current front runner, overshadowing tales of South China Sea 'aggressions', an undervalued renminbi, or an Upper Mekong dammed to the fury of downstream neighbours. My recommended piece today is therefore a 7,000 worder written last month by Roderic Day under the header, The Xinjiang Propaganda Blitz.
The real Xinjiang story is not so difficult to understand:

The rise of Xi Jinping and the Belt & Road Initiative posed a serious challenge to American supremacy much earlier than they were expecting, so
the US amped up their funding of terrorism in the region, as per the "Afghan Trap" doctrine outlined by [Carter's Russia hawk, Zbigniew] Brzezinski, but
instead of sending in the PLA, repeating the error of the Soviets, China reacted by building schools and vocational programs.
As a result, the US and its allies desperately pivoted to accusing them of "genocide," despite lack of evidence.

I've yet to see any evidence whatsoever challenging this basic understanding.
*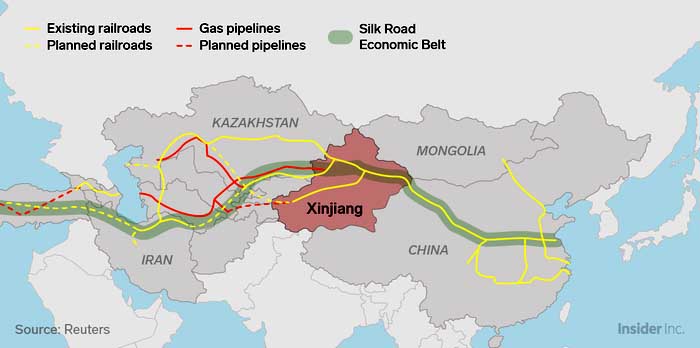 Note (a) the geo-significance of Xinjiang to Belt & Road; (b) its proximity to US occupied Afghanistan2 and Washington friendly former USSR Republics; (c) the West's long record of weaponising Islamist terror – here for instance – against its enemies.
As it happens, we learned this week of suspended death sentences handed down to two former education officials in the province. Typical of corporate media coverage is this April 9 report by the Guardian's Helen Davidson. Based in Taiwan, she begins:
A Chinese court has issued a suspended death sentence to the former directors of the Xinjiang education department for charges including writing and publishing school textbooks it said were designed to "split the country".

Sattar Sawut and his deputy, Shirzat Bawudun, were given death sentences with a two-year reprieve, while five other Uyghur men, including editors, were given lengthy jail terms, according to state media.

The date of the convictions and sentences are unknown but were revealed in a state media film released in the last week, amid a PR offensive by the Chinese government pushing back on international criticism of its abuses in the Xinjiang region.
I note that "charges including …" phrase. Why does Helen Davidson not find out what the other charges were? (Or failing that, tell us what steps she took to that end.) Could it be that "charges including writing and publishing school textbooks" also include murder, treason or incitement to the same? Assuming this journalist is honest – an assumption I'm prepared to make until I'm shown to be wrong3 – why doesn't she do her job?
I note too the dismissal of any attempt to counter Western propaganda (an oxymoron to the liberal mind) as "a PR offensive". And the assertion as indisputable fact of "abuses" for which evidence is thin and, as Roderic Day shows, reliant on pitifully few and heavily tainted sources.
In a post a month ago I wrote:
I leave room for the possibility of Bashar al-Assad being as bad as our corporate media and politicians say. Ditto that China really might mistreat its Uyghurs and Russia may indeed have serious corruption which – being over and above the legacy of Yeltsin, and Western policies in the aftermath of the fall of the USSR  – can be laid at Putin's door. All things considered, I'm minded to think such accusations false or hugely hyped but there's an outside chance they are neither.4 My broader point is twofold. One, our rulers have every reason to lie to us about such things. Likewise our media, whose business model ensures they stay on-message re matters (such as going to war, or taking down a Jeremy Corbyn) of core importance to said rulers. Two, even if allegations against states resisting the US orbit are true, they are demonstrably not why those states are demonised
On which note, and a commendation of Roderic Day's 7,000 worder – here's the link again – I'll end.
See also part 2 on the nature of China's democracy.
* * *