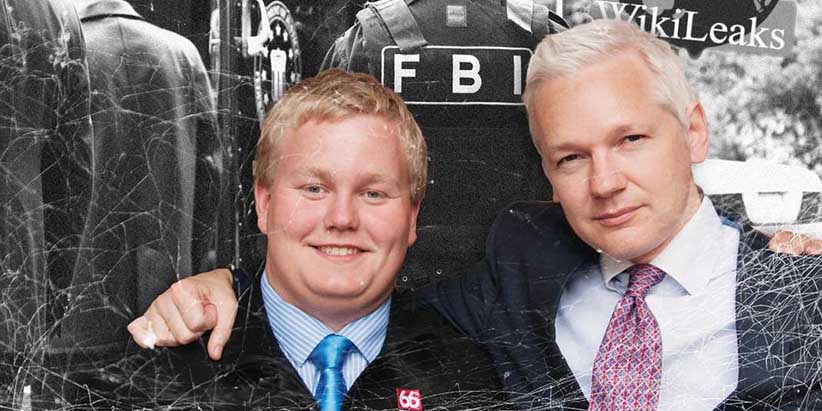 Five days ago, on June 26, the Icelandic newspaper Stundin broke a story that should have been explosive. In an interview lasting several hours, Sigurdur "Siggi" Thordarson – a key FBI witness in the US case against Julian Assange – confessed to lying on matters of material significance to that case.
The Stundin article begins:
Key witness in Assange case admits to lies in indictment
A major witness in the United States' Department of Justice case against Julian Assange has admitted to fabricating key accusations in the indictment against the Wikileaks founder. The witness, who has a documented history with sociopathy and has received several convictions for sexual abuse of minors and wide-ranging financial fraud, made the admission in a newly published interview in Stundin where he also confessed to having continued his crime spree whilst working with the Department of Justice and FBI and receiving a promise of immunity from prosecution.
The man in question, Sigurdur Ingi Thordarson, was recruited by US authorities to build a case against Assange after misleading them to believe he was previously a close associate of his. In fact he had volunteered on a limited basis to raise money for Wikileaks in 2010 but was found to have used that opportunity to embezzle more than $50,000 from the organization. Julian Assange was visiting Thordarson's home country of Iceland around this time due to his work with Icelandic media and members of parliament in preparing the Icelandic Modern Media Initiative, a press freedom project that produced a parliamentary resolution supporting whistleblowers and investigative journalism. 
These bombshell revelations should have headlined across the globe. Instead, corporate media are saying a big fat nothing. Yet again, truths out of sync with mainstream narratives on matters of greatest importance to those who rule are – when denial is impossible – simply ignored by what I called in the previous post, 'market dependent and by that fact supine media'.
The only (more or less) mainstream journalist to cover it is Amy Goodman, whose wiki profile attests to rare independence. Here she is on Democracy Now! on June 28, two days after the Stundin revelations:
A transcript, whose dissemination Democracy Now! forbids, can be found here. It begins:
AMY GOODMAN: We turn now to a major development in the case of WikiLeaks founder Julian Assange, who the U.S. State Department is pushing to extradite from Britain. Assange faces up to 175 years in prison if brought to the United States, where he's been indicted for violations of the Espionage Act related to the publication of classified documents which many say exposed U.S. war crimes.
Now one of the main witnesses in that extradition case has come forward to admit he made false claims against Assange in exchange for immunity from prosecution. The revelation came in an interview with the convicted Icelandic hacker "Siggi" Thordarson for the Icelandic biweekly Stundin. It suggests the U.S. Justice Department collaborated with Thordarson to generate the indictment for Assange that was submitted to the British courts.
U.S. prosecutors issued a new, superseding indictment against Assange in June 2020 that refers to Thordarson as a "teenager" and Iceland as "NATO Country 1" and says Assange encouraged him to, among other things, "commit computer intrusion" and steal audio recordings of phone conversations between Icelandic officials.
The Stundin article cites previously unpublished documents and chat logs showing how Thordarson falsely presented himself as a prominent WikiLeaks representative. Stundin reports that, in fact, "all indications are that Thordarson was acting alone without any authorization, let alone urging, from anyone inside WikiLeaks,".
For more, we're joined by Jennifer Robinson, human rights attorney who's been advising Julian Assange and WikiLeaks since 2010. She, like Julian Assange, is an Australian citizen. She joins us from western Australia.
Jen, welcome back to Democracy Now! Can you lay out the significance of this latest revelation and what it should mean, you feel, for Julian Assange?
JENNIFER ROBINSON: This is just the latest revelation of how problematic the United States' case is against Julian Assange — and, in fact, baseless …
*
.