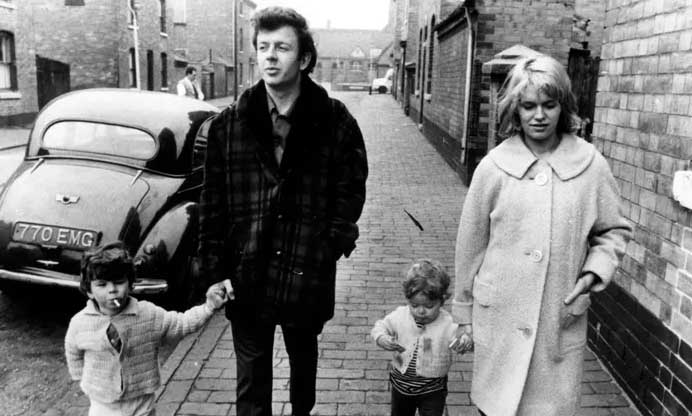 Still from Cathy Come Home, 1966
Defend Democracy Press two days ago:
Zionism has taken control of the British Labour Party. And it is destroying it!
Left erupts in anger after Starmer's Labour expels iconic film director Ken Loach
Aug. 15, 2021
LABOUR'S left erupted in anger over the weekend after film director Ken Loach revealed he had been expelled from the party.
The iconic director behind classics Kes and Cathy Come Home – as well as more recent films savaging Tory austerity such as I, Daniel Blake 1 – tweeted the news of his exclusion on Saturday:
Labour HQ finally decided I'm not fit to be a member of their party, as I will not disown those already expelled. I am proud to stand with the good friends and comrades victimised by the purge. This is indeed a witch hunt. Starmer and his clique will never lead a party of the people. We are many, they are few.
Mr Loach had been a public supporter of Labour Against the Witch Hunt, a left group which argues that the Labour right has used anti-semitism claims to purge innocent leftwingers, which was banned by the Labour NEC last month alongside three other socialist organisations.
Former Labour leader Jeremy Corbyn savaged the decision, widely seen as a reprisal for Mr Loach's prominent support of him when his leadership was under attack by right-wing MPs. Ahead of the 2019 election, Mr Loach had accused certain MPs of conspiring with the media to undermine Mr Corbyn:
They offer the interview and the MP uses the platform to undermine the leadership, they do a dance and they each understand the steps.
For his part, commenting on Loach's expulsion, Jeremy Corbyn said:
Ken Loach has made outstanding films … directed brilliant broadcasts for Labour and always stood with the oppressed.
Leeds East MP Richard Burgon slammed the "outrageous" decision, saying Mr Loach's films "expose the deep injustices that scar our society and have inspired so many."
Former Crewe and Nantwich MP Laura Smith of No Holding Back, which aims to rebuild working-class support for Labour, said Mr Loach had "done more to highlight inequality and oppression in this country than most — #istandwithkenloach." Other Labour MPs, including Claudia Webbe and Zarah Sultana, added their voices to the chorus of anger.
Left-wing journalist Owen Jones described Loach as Britain's "greatest living filmmaker" and said the expulsion, combined with the recent decision to readmit Trevor Phillips after his suspension on suspicion of Islamophobia, "tells you all you need to know about the state of the current Labour Party."
But Blairite ex-MP Mike Gapes, who defected to Change UK in 2019 and lost his seat in the subsequent election, praised the decision, complaining that the "lifelong Trotskyist" had been given "a prominent seat on the conference floor" during an unspecified Labour conference, while he had been forced to stay on the balcony.
*
For other steel city posts on the Labour Right's weaponising of the 'antisemitism' charge, see Livingstone on antisemitism … Cooked: the antisemitic Corbyn slur … Anti-zionism is not antisemitism. (More can be found using the search tool in the right sidebar.)
But what Leftists like Owen Jones fail to see is that the Labour Right's collaboration with Zionist lobbies like Friends of Israel and The Jewish Chronicle goes deeper than finding – after trying so much else 2 – a stick big enough to hurt the Party Left. On the West's unconditional support for the apartheid state, see my review of Stephen Gowans' 2019 book, Israel: a Beachhead in the Middle East
* * *
To Defend Democracy's selection from the Loach oevre I'd add Sorry We Missed You, reviewed on this site in November 2019, just weeks before BoJo's general election victory. That film explores the neoliberal reality of Britain's burgeoning precariat under conditions of galloping casualisation.
We'd seen media furores over: … Corbyn's perplexing reluctance to bomb the shit out of Syria … not shooting-to-kill terrorists for Laura Kuenssenberg … Hamasgate …  IRA funeralgate … VirginTraingate … CrapDressergate … But none had gained the desired traction. Then they struck unexpected gold with 'antisemitism'. Not because the issue was central to voter concerns – quite the opposite according to doorstep canvassers – but because it lit a bonfire within the Party. The PLP in particular. And historically the Labour Right has always preferred electoral defeat – most blatantly but by no means uniquely with Birkenhead MP Frank Field's 1987 call for neighbouring Wallasey to vote for Tory Minister Lynda Chalker – if that would rein in an ascendant Party Left.