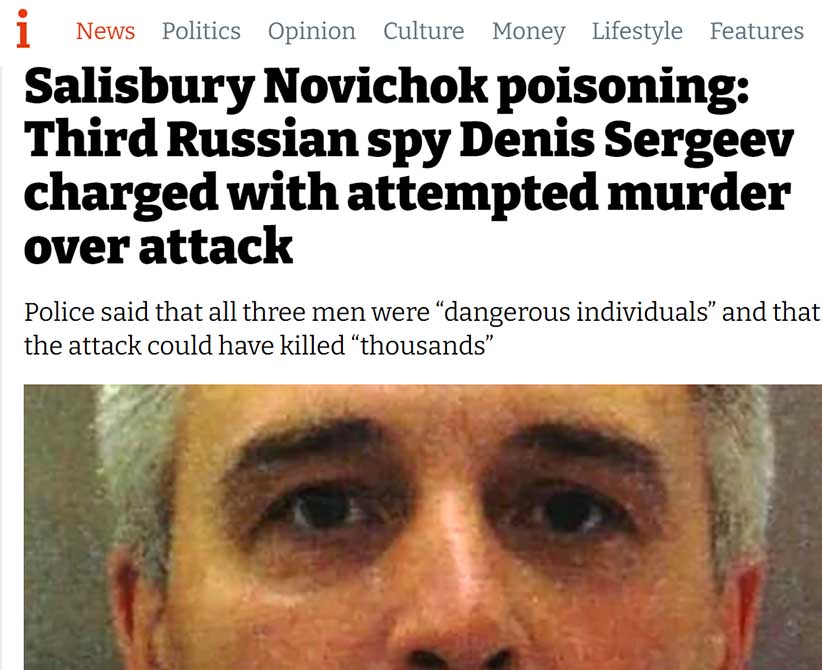 Molly Blackall's write up today in The i Paper tells us that:
All three of the suspects are believed to be in Russia, which means that a court case against them is unlikely.
I guess it does. It also leaves our media and politicians free to make up the most preposterous bollocks – in the context of an ongoing anti Putin propaganda blitz only slightly diminished by the 'pivot to China'  – without fear of its ever being subjected to meaningful scrutiny.
Meanwhile, for those seeking a little more substance on this matter, may I recommend this?
*
Since we're on the subject of both Russophobia and how ill served we are by corporate media, the GrayZone's always factually grounded Aaron Maté posted yesterday:
With Clinton lawyer charged, the Russiagate scam is now indicted
In accusing Clinton campaign lawyer Michael Sussmann of lying to the FBI, Special Counsel John Durham offers new evidence of the fabrications behind the Trump-Russia conspiracy theory.
Sussmann, until recently an attorney with Clinton campaign law firm Perkins Coie, is the second person to be charged by John Durham, the Special Counsel scrutinizing the Russia investigation.
Sussmann is accused of lying to the FBI during a September 2016 meeting in which he tried to raise alarm about "secret communications" between the Trump Organization and Russia's Alfa Bank. Sussmann gave then-FBI attorney Jim Baker documents and data purporting to show that computer servers associated with Trump and Alfa Bank were in regular contact. This was evidence, Sussmann argued, of a possible covert back channel. According to Durham, Sussmann told Baker that he was not working "for any client," and was simply passing on information that had been provided to him by "multiple cyber experts" who had come across the suspicious web traffic.
But according to the detailed indictment, Sussmann was in fact trying to plant a politically motivated scam.
The theory of a purported covert Trump-Alfa channel had been cooked up by an unnamed tech executive positioning himself for a top cybersecurity job in the anticipated Clinton administration. To spread this theory to the media and intelligence community, the executive and Sussmann "coordinated", Durham says, with Mark Elias, a colleague of Sussmann's at Perkins Coie and the top lawyer for Clinton's 2016 campaign.
Sussmann and Elias in turn coordinated with the private intelligence company Fusion GPS. Elias had already hired the firm — on Clinton's behalf – to produce the Steele dossier, the collection of fabricated reports by ex-British spy Christopher Steele alleging a longstanding Trump-Russia conspiracy/blackmail relationship. According to Steele, it was Sussmann, in a July 2016 meeting, who first informed him about the Alfa Bank server story. Elias kept Clinton campaign members informed as well, including the "campaign manager, communications director, and foreign policy advisor." In February 2017, Sussmann also met with a CIA official to push the Alfa Bank narrative.
Sussmann concealed this plot from the FBI, along with the fact that he was billing Clinton for his involvement. The meeting with the FBI's Baker, for example, was charged to the Clinton campaign as "work and communications regarding confidential project." In fact, according to Durham, "all or nearly all" of Sussmann's work on the Alfa Bank story prior to meeting Baker was "billed to the Clinton campaign."
(In Sussmann's orbit, hiding the money trail was established Russiagate practice. His law firm Perkins Coie and the Clinton campaign concealed that they had funded the Steele dossier, until a subpoena from the GOP-controlled House Intelligence Committee forced them to admit the truth in October 2017. The FBI also concealed Steele's Democratic funders from the FISA court when it used the dossier to obtain a surveillance warrant on Trump campaign volunteer Carter Page.)
Sussmann is charged for failing to disclose that he was acting on behalf of Clinton's team. But the indictment makes clear that Durham has uncovered a wider deception ….
* * *