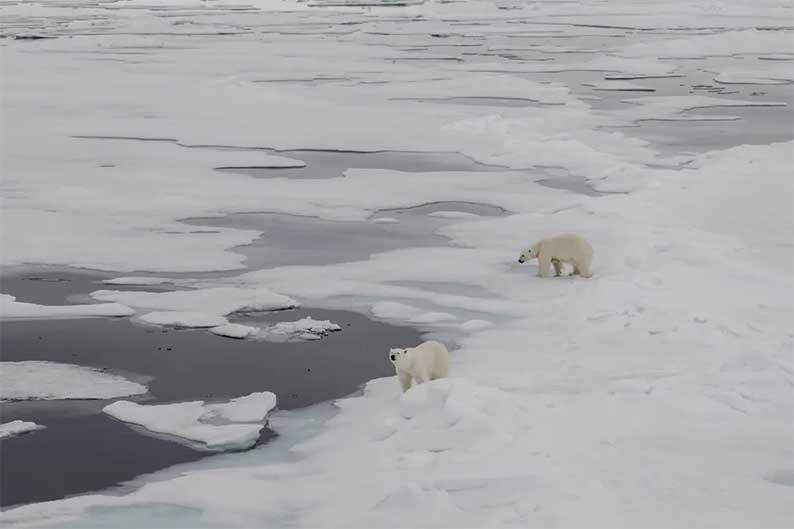 The biosphere is dying,
and we are hurtling toward nuclear war,
and it is so very, very heartbreaking,
and yet even in the midst of that heartbreak
nature shines as majestically as ever,
and some moments all you can do is take in the beauty
and take it as your solemn, sacred duty to appreciate it while it lasts,
and look at the trees and the bugs and the birds and the critters
who never had anything to do with this madness,
and bow as deeply as your body can bow,
and say I'm sorry.
I'm so sorry.
Caitlin Johnstone
Today I had a comment from my friend Bryan Gocke on my September 2 post, Broken: the implicit contract between the rulers and the ruled. Part 2 of 2. That post began by quoting from a piece on Bryan's website, OntheBrynk, about the funding of America's war machine.
Early in his comment this morning, Bryan writes:
… climate change  … seems to be wedged solid in the 'too difficult to deal with drawer.' This is despite a growing consensus that this is a very real problem – but a consensus that seems unable to effect much in the way of meaningful change – a clear indication, if we need one, that the power of our ruling elites is self-serving (even if they will be taken down with us all) and impervious to rational argument. The recent weaponizing of 'clean air zones' in England by a Conservative government tottering along on its last legs and picked up and run by a Labour opposition predicted to win the next general election underlines how difficult it seems to be to enact even the most obvious measures that would improve the health of the general population. Having said that I have to acknowledge that I am not a small trader trying to keep a business afloat with an old transit van that I can't afford to replace.

The only meaningful way forward, as your site has consistently argued, is to view climate change as essentially a product of a global capitalist mode of production – but then that consensus becomes a bit flaky and has even less potential to effect change ….. heigh ho!

Which brings us, rather downheartedly, to global economics and the decline of western imperialism as a system of super exploitation – an exploitation that has, in true 'crumbs from the table' fashion, provided many in the west outside of the ruling elite with a rather comfortable 'carry-on' in comparison to that experienced by the vast majority of the world's population. As you rightly point out these crumbs are becoming scarcer and more desperately fought over – the contract is no longer deliverable. So in that sense alone it is difficult to see anything but ongoing economic pain for the collective West, which, as always will be felt most keenly by the poorest and most disadvantaged.
"Even if ​our ruling elites will be taken down with us all…" ​  Bryan points to their criminal insanity. Criminal because they intend, as ruling classes always intend, to pass the bill for their excesses – which is to say, the excesses of a political economic system from which they most benefit – onto those least responsible and least able to pay.
Insane because some at least seem to think that buying bolt holes in New Zealand will save them.
Over to Media Lens, and an excellent piece of yesterday, September 14:
None of us has previously witnessed a barrage of extreme weather events of the kind that has been devastating lives across the globe this summer. Canadian wildfires the size of Austria, a Hawaiian town incinerated by a hurricane-fuelled firestorm, a Greek island devastated by three years of rainfall in a single day, a Libyan town washed into the sea after 40cm of rain fell in twenty-four hours leaving 20,000 dead, killer hurricanes fuelled by oceans overheated by climate change. And then there were the extraordinary heatwaves in Italy, Spain, France, Japan, China; the floods in Madrid, Barcelona, Bulgaria, Slovenia, Beijing, Manila, on and on, with temperature, wind and rainfall records shattered the world over.
Almost as astonishing has been the indifference of our leaders. The silence has been deafening. Where are they? Why is no-one joining the dots and demanding some kind of serious response?
Jeremy Corbyn, a rare exception, commented of Prime Minister's Questions (PMQs) this week:
'Not one mention of the catastrophic flooding in Libya at PMQs. Where is the concern for the victims of fires in Europe or the droughts across Africa? Where is the outrage at fossil fuel giants destroying our planet? Where is the hope for future generations? Wake up!'
Broadcaster and author Stephen Fry said on the BBC:
'Extraordinary that you can have a conversation with an economics minister in Labour who didn't even mention the climate catastrophe coming, that there's a tsunami coming towards us… yet everyone is talking about just doing the same thing only better. It's catastrophic.'
When asked about the Maui fire death toll in Hawaii, US President Joe Biden replied:
'No comment.'
Compare this silence with the prediction made this morning on Twitter/X by Professor Bill McGuire, Emeritus Professor of Geophysical and Climate Hazards at University College London:
'I hope I am wrong and others may see things differently, but I am expecting effective societal collapse by mid-century, and planning – for my partner and I and our kids – accordingly.'
Or compare with NASA climate scientist Peter Kalmus, previously arrested for defending the Earth:
'Dear journalists of the world: We are at risk of losing basically everything. This – what we're experiencing now – is how that process unfolds. The more fossil fuels we burn, the further in that process we go.

'You MUST begin to tell 5 critical truths. Civilization depends on it.'
The Limits Of Propaganda
Despite the overwhelming evidence that climate catastrophe is not just a looming threat, it is here; despite the desperate pleading for help from climate scientists; and despite the surreal silence and indifference of Western political leaders, a stubborn rump of opinion continues to insist that the climate crisis is a cynical scam promoted by vested interests.
We know from our own interactions with all kinds of people in all walks of life that many still hold this view. Indeed, it is a grim irony that our work has been used to bolster these claims. Because we have spent two decades emphasising how state-corporate media distort and omit the truth, critics regularly write to us along these lines:
'The BBC and the Guardian are a propaganda system serving elite power. They are focusing so intensively on climate change because doing so serves an elite agenda of increased taxation and control. How can you, of all people, not see this?'
I've experienced such boneheaded logic – a propaganda system must always and on all matters tell lies – myself, and am in full agreement with Media Lens's response:
But we have never argued that everything that appears in state-corporate media is an elite-serving lie. These media are indeed part of a propaganda system, and they do work hard to further the interests of power. But they are communicating to an audience of thinking people in a world where reality has a habit of interfering with even the most fanatical propagandist's best-laid plans.
If no weapons of mass destruction are found in Iraq, if the powers that be are either unable or disinclined to fake the evidence, then the media has to tell at least some of the truth. Why? Because they have to report undeniable, propaganda-unfriendly facts to avoid being exposed as completely brazen propagandists – a revelation that would undermine their ability to manipulate public opinion …
Indeed. I see this as a different but related aspect of a point I made myself, in the opening paragraph of my Two short reads … post of September 7
Despite its systemic duplicity, I often scan The Guardian. (Ditto Economist, NYT, WSJ, CNN and other media … whose business model and market niche – and the need to establish credibility with 'elite' audiences – require them to speak truth to power on issues which are less pivotal to it, yes, but not trivial either.)
But moving on from propaganda in general, to catastrophic and man made climate change, do we simply stop using fossil fuels? When? Tomorrow? This afternoon? How?
Pass. All I know is that a political economic system – capitalism in the age of imperialism as defined repeatedly on this site – which must prioritise the pursuit of private profit and accumulation over every other consideration  is intrinsically incapable of saving us.
Conversely, if anything can  save us it would be a system of wealth creation planned by and for humankind. (Which would mean, by the way and through the mechanisms of enlightened self interest, a much better deal for the animal 'kingdom' we so arrogantly disregard.) In a word, a system of socialism or, if you like, the socialising of the means of production.
But I'm ahead of myself. For now let's just stick with Media Lens and the grim silence of our leaders …
* * *