A friend posted on FB her admiration of the "hero" Volodymyr Zelensky. Yeah, the guy referred to by this White House reporter for CNN: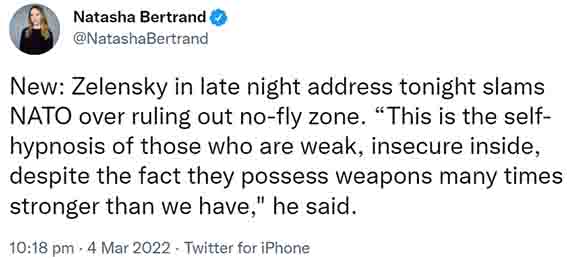 No Fly Zones imposed by the US Empire plunged Africa's richest country into over a decade and still counting of blood-soaked chaos, making it the world's premier exporter of jihadi terror and creating the warlord conditions in which slaves are openly sold on the quayside in Tripoli.
But grounding Libya's air force was nothing at the side of what "ordering" Russia to do likewise in Ukraine would set in motion. Need I spell out the chillingly simple chain of consequences?
Really?
Other friends take to social media to assure their echo chambers of how evil Putin and his cabal of Kremlin henchmen are. They know this because they've been told so, year in year out, by our free, independent-minded and truth serving media.
Oddly enough, they haven't been told by our free, independent-minded and truth serving media that for thirty years Russia has protested a situation – semi-encirclement by a hostile alliance, the like of which the USA would not tolerate for a second 1 – and got precisely nowhere.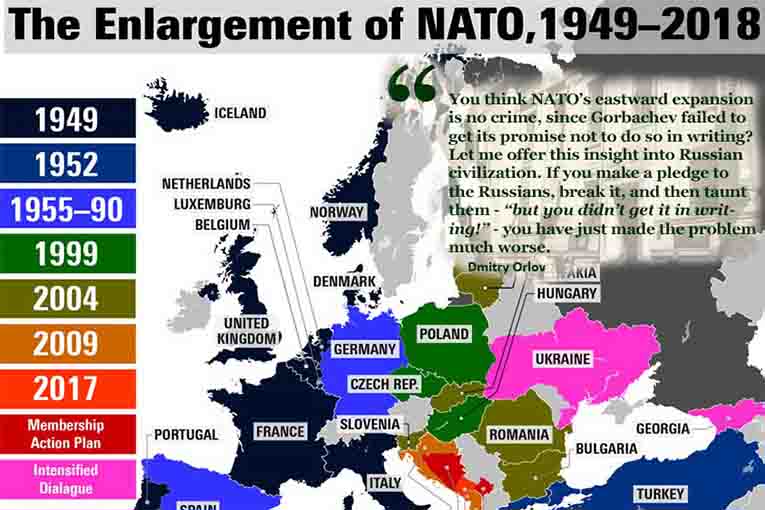 Oddly enough, they haven't been told by our free, independent-minded and truth serving media that in 2014 a US engineered coup ousted an elected government (corrupt, yes, but less so than what was to follow) to install a Washington friendly regime marked by fascism, anti-semitism – the real kind – and Russophobia. 2
Oddly enough, they haven't been told by our free, independent-minded and truth serving media that the 2014 coup, depriving forty percent of Ukraine of meaningful representation, led Crimea to vote overwhelmingly to join Russia – of which it had been a part until Kruschev 'gifted' it to the Soviet Republic of Ukraine in 1954 – while Donbass and Luhansk declared their autonomy and have been bombarded ever since by a miniature version of Russia's semi-encirclement; viz, by the artillery of the Ukraine armed forces, the only regular army in the world with an openly fascist Division in the form of the Waffen SS idolising Azov Battalion.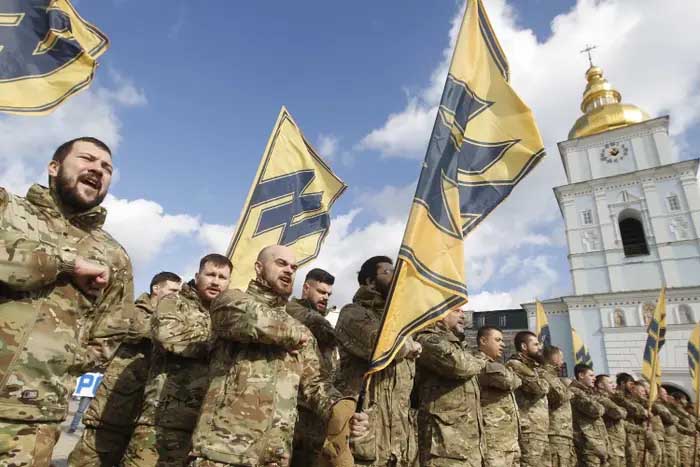 Oddly enough, neither have our TV screens and front pages been turned over, these past eight years, to war-porn images of corpses and fear crazed victims of atrocities – ten thousand ethnic Russians killed in Donbass this past eight years – less useful for empire propaganda purposes.
And oddly enough, our free, independent-minded and truth serving media have neglected to tell us – and, given the stakes, keep on telling us –  that Moscow's conditions for a complete withdrawal from Ukraine are not only simple and few, two to be exact, 3 but easily conceded by Kiev and Washington. But to do so would put the spotlight on the unavoidable truth that NATO does not want this bloodshed to stop. That would not suit the game plan of an empire in slow decline and horrified by the economic ascendance of Eurasia.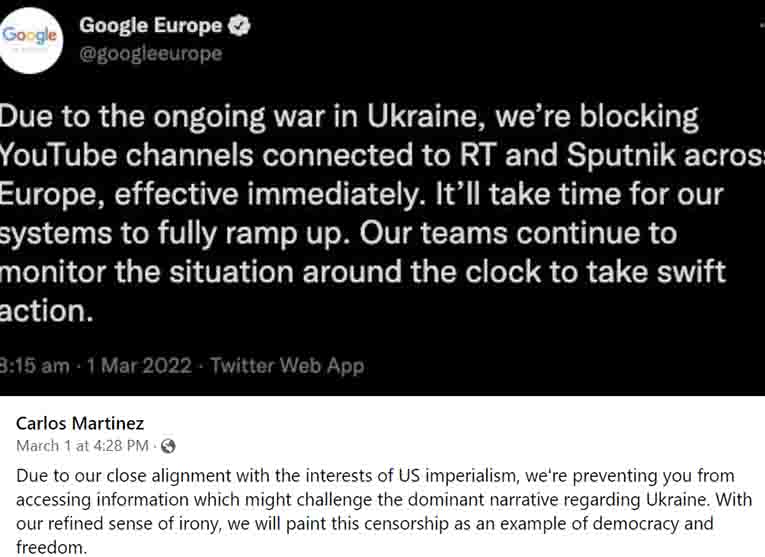 So in their profound ignorance, people I know as kind and decent souls pour out this terrifying, know-nothing drivel on Facebook and Twitter, in below the line comments in the Guardian and – since the wagons always form a tight circle on matters vital to empire – in every other outlet of our free, independent-minded and truth serving media.
There's nothing magical about human feelings. Even the noble ones, like compassion, don't come with Truth Fairy immunity from those who would corral and channel them to their own nefarious ends. Show The People a few pictures of child victims of evil Assad and evil Putin – and be sure to shield The People from those of children killed and maimed by British bombs in Yemen, US air strikes in Iraq, Azov Battalion incursions in Donbass – and the job's done, right?
Is This Russian Propaganda?
We're risking a very fast, very radioactive World War 3 to defend the "democracy" of a nation whose government bans opposition parties, imprisons political opponents, shuts down opposition media, and takes all its orders from Washington due to a US-backed coup in 2014.
"Defending Ukrainian democracy" makes as much sense as "Defending Mongolian seaports".
❖
The powers responsible for destroying Iraq, Afghanistan, Libya, Syria and Yemen are the same powers we're trusting to carefully navigate extremely delicate nuclear brinkmanship escalations without ending the world.
"Relax, nobody's gonna start a nuclear war" is a belief that is premised upon the assumption that the empire which laid waste those nations, while destroying our environment and making everyone crazy and miserable, is competent enough to walk that precarious and unpredictable tightrope.
❖
I keep getting comments like "You're saying we just can't strike Russia AT ALL, just because they have nukes??"
Yes. Fucking duh. What are you an idiot? What the fuck is wrong with people? Did everyone forget what nuclear weapons are? Did schools stop teaching this or something?
❖
It's getting so very creepy how aggressively anything besides the US/NATO narrative gets stomped down and how okay everyone is with it. You don't have to agree with the other side to see it as plainly destructive for it to be forcefully shut down all across the media spectrum. https://t.co/4763Nnzula
— Caitlin Johnstone  (@caitoz) March 4, 2022
❖
You can't fix a problem you don't understand. And right now with Ukraine the entire western political/media class is pouring a tremendous amount of energy into keeping people from understanding the problem.
❖
If they were telling us the truth about Russia they wouldn't be censoring Russian media.
❖
Kinda odd how defending freedom and democracy requires such copious amounts of censorship.
❖
Don't worry, I'm sure all those socialist and antiwar Americans that were platformed by RT America can just get jobs criticizing the murderousness and corruption of their government in the free press of the western mainstream media.
❖
I wonder if we should be concerned that the entire western world is propagandizing and censoring like it's on war footing?
❖
Socialists and anti-imperialists should never accept platforms on Russian media to get heard. They should wait until a respectable western mainstream outlet agrees to platform them, and keep waiting, and waiting, and just keep on waiting until we all die in a nuclear holocaust.
❖
People tend to overestimate the power of the US war machine and underestimate the power of the US propaganda machine.
❖
I wonder who put the idea in Zelensky's head that western powers might use military force to defend Ukraine in this war they talked him into fighting? Must be stressful learning your imperial buddies never saw you as anything other than a sacrificial pawn on the grand chessboard. https://t.co/ur8OuAQUIc
— Caitlin Johnstone  (@caitoz) March 4, 2022
❖
Remember when US officials kept saying "We're not trying to start a war, we're trying to prevent one" while refusing to make reasonable low-cost concessions that would have prevented a war, then, when war started, launched operations which serve the long-term goals of US hegemony?
Russia gets control of Kyiv with this war, while the US gets international consensus for unprecedented economic warfare and support for NATO, plus giving Moscow another Afghanistan. NATO powers could have prevented this war but chose to egg it on instead. Looks like a classic sacrifice a pawn to get the queen move.
❖
Choose one:
A) It's a coincidence that we were bombarded by hysterical anti-Russia narratives for five years before this started.

B) Bogus Russia scandals were cooked up by US intelligence to start manufacturing consent for a confrontation with Russia to preserve US unipolar hegemony.
❖
It would bring a lot of clarity for a lot of people if we replaced the term "no-fly zone" with "Directly Attack the Russian Military Zone".
❖
"Whataboutism" is a common misspelling of "Damning evidence that western powers are lying about their motives and values."
❖
Yes, Smart Internet Person, I love Vladimir Putin. Can't possibly be that I'm criticizing the known wrongdoings of the mightiest power structure in the world, it's that I fell in love with some random government official on the other side of the planet and want to suck his cock.
It's not like the US or its allies have ever done anything wrong, so they couldn't possibly have done anything to give rise to our current situation, therefore it must be that I'm just kookoo for Putin Puffs. We're very good thinkers, you and I. Let's go watch cartoons.
❖
Of course I am aware that Vladimir Putin is no girl scout. That's why I've been warning for years that the west's refusal to pursue detente could lead us to nuclear war. There'd be nothing to worry about if the guy was a cuddly wuddly snugglepoo.
❖
Having a shit fit about someone criticizing the most powerful empire of all time for actions which led to a fucking war is a great way to let everyone know you have an infantile worldview and a piss weak argument. If you say you hate this war but get upset when people talk about the known ways the US-centralized empire helped cause it, then your interest is not in peace, nor in freedom, nor in truth, but in loyalty to that empire.
❖
Learn more and think harder about the role NATO powers have played in starting this war.
Learn more and think harder about what sanctions are and what they do to people.
Learn more and think harder about what nuclear war is and what might cause it.
❖
Whenever I talk about the frightening escalation in censorship and propaganda we're seeing in the west I get people telling me that Russia is censoring and propagandizing even worse. Like "We're a bit better than Russia!" is a sane response to this assault on truth and freedom.
If you feel the need to restrict and manipulate people's speech, even if what they're saying is true, then your actions aren't based on truth. They're based on something else, like geostrategic conquest.
Everything the empire says it opposes Russia for is a lie. Everything the empire criticizes Russia for are things the empire itself does. Everything we're told is on the line in this showdown — freedom, democracy, truth, justice — are things the empire has been actively stomping out.
* * *
That Washington would "not tolerate for a second" the hostile encirclement it has imposed on Russia is not conjecture but enshrined in the Monroe Doctrine. As for the credulous souls who respond to that map of NATO enlargement by bleating that the post 1990 joiners were exercising the democratic will of their peoples, well now. If I can't convince you that this democratic choice is a chimera, how about the many Latin American countries – Allende's Chile, Lula's Brazil and Zelaya's Honduras to name a few – which found to their cost just how much Washington values democracy.
There are those slightly more sophisticated FB pundits who argue that (a) there are now few fascists in the Kiev government, (b) the Azov Battalion is a small part of Ukraine's military and (c) Zelensky is Jewish. On (a) there's a confusion of office with power, against a wealth of evidence – a point I'll return to in a future post – of fascist cabals behind the scenes.  On (b) the Waffen SS comprised fewer than 5% of Nazi Germany's war machine, so even before we get to the Azov having spearheaded Ukraine's atrocities in Donbass, it is childishly simplistic to argue that its relatively small numbers absolve Kiev of the f-charge. As for (c), Zelensky's high office no more clears Ukraine of the anti-semitic charge than Obama's presidency proved that the USA is not virulently and systemically racist. (This, by the way, is not to say that "all Ukrainians are antisemitic" – any more than it is to say that "all Americans are racist". Those who put two and two together to get five in this way are either stupid or don't care what mud they throw, so long as it sticks.) See this Mint Press offering.