January 2nd – Jackie, Jasper and I head for Stoney Middleton, twelve miles from home. We park on the aptly named High Street, a few yards down its one-in-three incline from the entrance to what in the fifties had been a small field where Aunties Ellen and Cissy owned one of just three rickety chalets and paid a peppercorn ground rent to the farmer. Three cows had grazed there, one for each chalet, and at the far end a barbed wire fence with skull and crossbones sign had told of 200 foot cliffs falling sheer to an A623 where lorries double declutched for the long haul to Stockport by way of Wardlow and Sparrowpit. Climbing over or crawling under that fence for a closer look would have got us – me and two younger brothers – the thrashing of our lives. Or drawn them to an abrupt and early close.
Like Castleton to the north-west, Stoney M stands on the cusp of the Peak District's two very different topographies, both featuring in the east-facing picture above. A mile to the east lie the millstone crags of Curbar Edge, one of five glacially formed edges running north to south a few miles west of Sheffield, in a Dark Peak of moorland and peaty bog whose acidity supports only the hardiest flora. Heather, sedge and the occasional stunted rowan, aka  mountain ash – not to be confused with the very different ash I'll come to in a moment – confer an austere beauty, but today we're not doing bleak. Instead we hop over a stile to head south into Coombs Dale, grid ref 225 747, before swinging west for a clockwise circular stroll.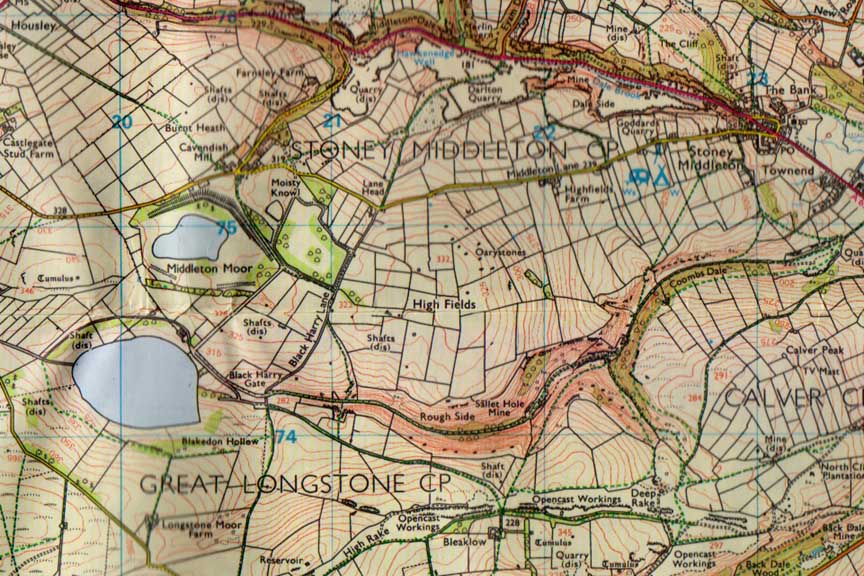 Coombs Dale, like the Wye at Monsal and Millers Dales and the Lathkill at Monyash and Over Haddon, lies in a White Peak of limestone verdancy. This country in some ways resembles the Sussex Downs. Both offer alkaline, aerated bedrocks – fissured limestone here; porous chalk on the Downs – conducive to lush, wold-like undulation.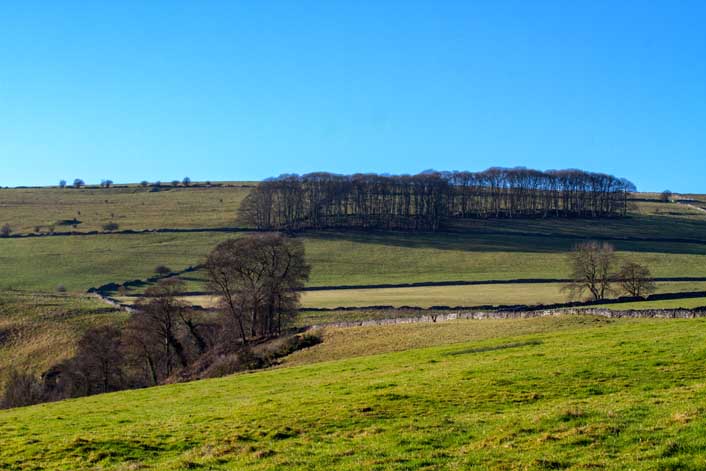 The above images are different takes on a copse, at GR 219 747 on the above map, looking east over a Coombs Dale only now recovering from despoilations I'm old enough to have seen. The coming of Hope Cement Works, in the face of concerted opposition defeated by the New Jobs card, intensified existing quarrying. Coombs Dale, its ecosystem exemplifying what biologists call islands,  its sub-species insulated from wider evolutionary change, was not directly hit. But aggressive limestone quarrying a mile to the north west did more than feed the cement works. It ensured that by the mid sixties the grasses, primula and orchids of this lovely valley choked beneath a carpet of chalky dust while nearby brooks, once gin clear, ran milky white, denuded of the water cress we'd harvested as small children. Only now, with most of the quarries spent and the rest further afield, has Coombs Dale recovered its beauty – though not, I'll hazard, all its wildlife.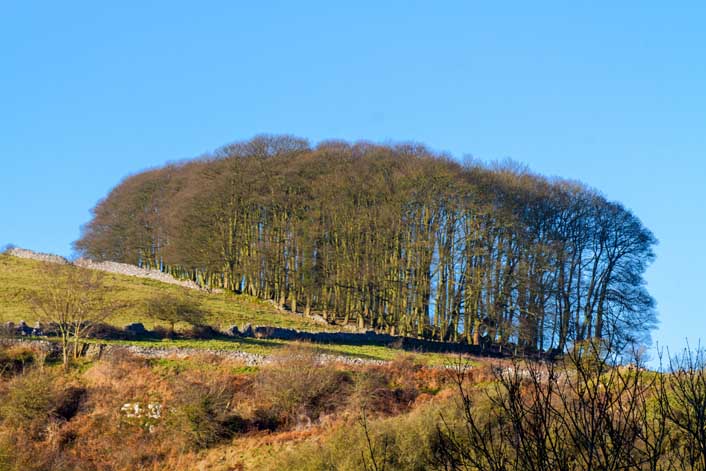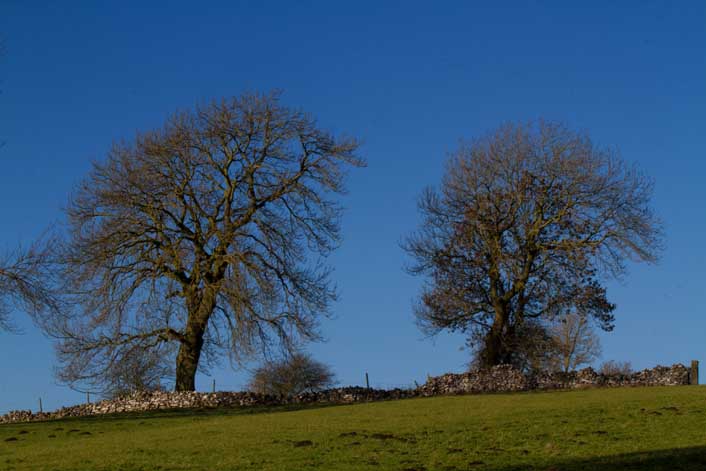 The dominant trees are hawthorn, blackthorn, hazel, some birch and above all ash, its elegant silhouette as definitive a White Peak feature as limestone outcrop and cave riddled dry valley, trout stream and lazy meadow. A myriad springs bubble up from subterranean courses, through honeycombed bedrock and caverns measureless to man, that this thirsty arboreal may thrive. A few years ago, recall, there was much doom-saying of a disease set to kill every ash in the land, just as another disease had in the seventies ravaged the once ubiquitous elm. All has gone quiet on that front, touch woods, and the many specimens we saw yesterday, splendidly detached on windswept ridge or clustered on hillside copse, looked to me in the very pink. Not that I'm fit to judge, I hasten to add, but we live in hope that no news is good news.
A quiet masterpiece, this; its undertones of supplication offset by sober stoicism as the gnarled branches of thwarted desire reach with outrageous non-expectation to skies azurely indifferent to earthbound suffering. An allegory on life's ultimate futility, I call it Hawthorn on Blue.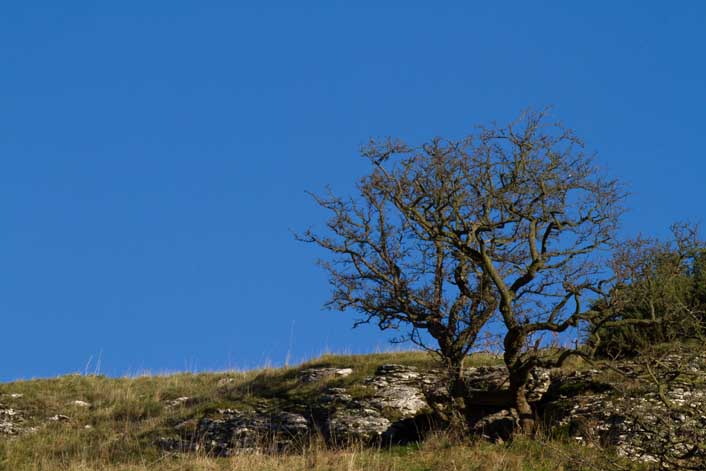 This is Bleaklow. Not the Bleaklow, north of Kinder Scout and the Dark Peak's wildest plateau, but a farm with Coombs Dale to the east, sweeping views out to Hassop and Great Longstone in the south and west. The farmhouse off camera is a construction site, deserted on this Bank Holiday Monday but with planning permission for commercial development. Later this evening I'll google, to find that it's destined to become stables and a riding centre.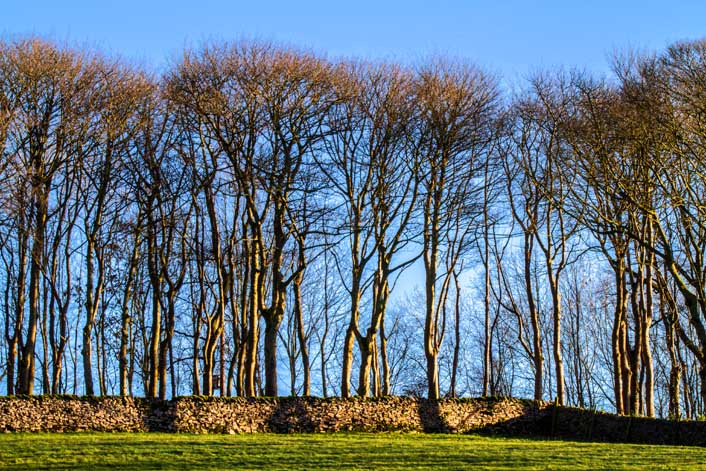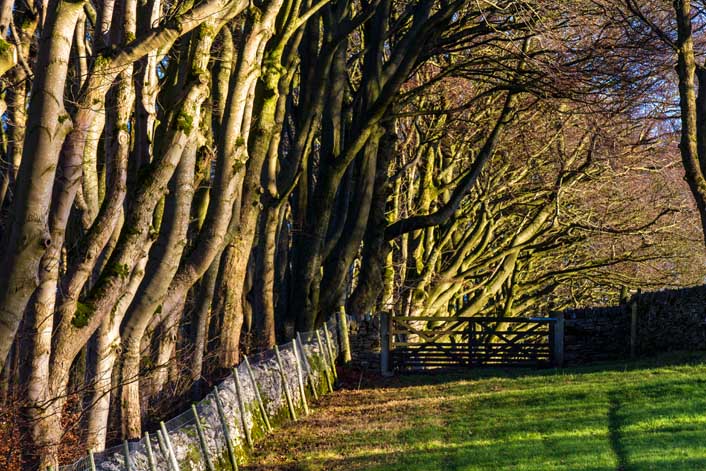 "Crammed with energy", commented my younger bro on a Facebook version of the above pic. Want to know why? It's not just my stunning compositional genius but the fact I took this shot at the kind of focal length – I'm too idle to check the metadata but it'll be pushing 200mm – that compresses distance, bringing the trees closer together: a huddled conspiracy of dryads the lone traveller should hurry past with ne'er a backward glance.
The lane from Bleaklow Farm, past the quarry at Rough Side – long, narrow and vertiginously deep; its sheer drops warranting more barbed wire, more danger of death warnings – to Black Harry Gate.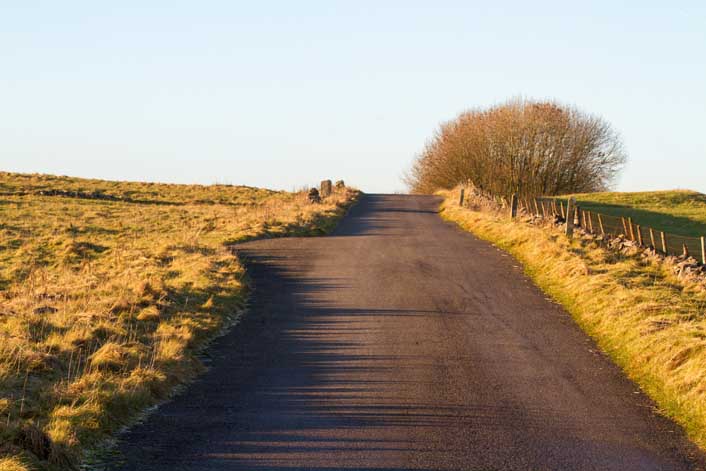 We swing right at Black Harry Gate for sweeping views of … Black Harry Lane. But as you can see, it's not a lane at all. A walkers' right of way, it once served as a mediaeval packhorse trail. We may think our countryside shaped by wholly natural forces but it isn't so. One day I'll write a book on man's impact on the Peak – existing texts tend to be academic tomes, worthy but dull – but for now just look at that path. Long ago, some guild or parish saw fit to part inter the trail and line it with hawthorn and dog rose, that pedlars might have some respite from inclement weather. But shelter from the elements also afforded cover to footpads and highwaymen.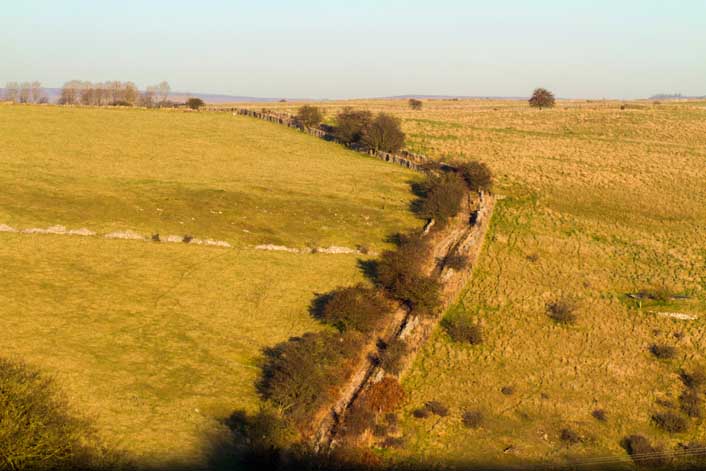 We don't know its name in Chaucer's day but do know that the M.O. of an eighteenth century cad, bounder and all-round bad egg going by the name of – yup – Black Harry was to waylay lonesome travellers here and lighten their loads. Says this site:
Black Harry had a very busy career until it was cut short after he was apprehended at Wardlow Cop by the Castleton Bow Street Runners under the command of Blue John. He was hung, drawn and quartered and his remains displayed in a gibbet at Wardlow Mires. Derbyshire vultures from Ravensdale picked his bones clean.
Black Harry, copped by Blue John at Wardlow Cop? Derbyshire vultures? A likely story! (And it's hanged  not 'hung'.) But I don't doubt that a Black Harry did operate hereabouts, and did end his days in a noose. 18th and early 19th century England had 222 capital offences on its statute books, a rise from fifty in 1700 that speaks volumes on ruling class response to crime driven by destitution as the enclosures and automations of agrarian then industrial revolutions vaporised livelihoods. Maps of rural England show a plethora of names along the lines of Gallows Green, Gibbet Hill and Hanging Rock, while a key factor in the 1830s reclassifying of erstwhile capital offences was juror reluctance to convict men, women and children – patently guilty of rustling, poaching, fence breaking or stealing goods in excess of five shillings – when to do so would send them to their deaths.
These next are on or from Black Harry Lane. Note the K9's tartan drape. I think it's soppy – air temperature never dipped below zero – but you know what lasses are like. My elder daughter's even worse. Right now she's freezing her tits off as Northern Iraq's night temperatures go into freefall but that won't stop She Who Must Be Obeyed insisting, next time the three of us walk the Peak, that unless it's at least twenty celsius Jasper must endure this McSilliness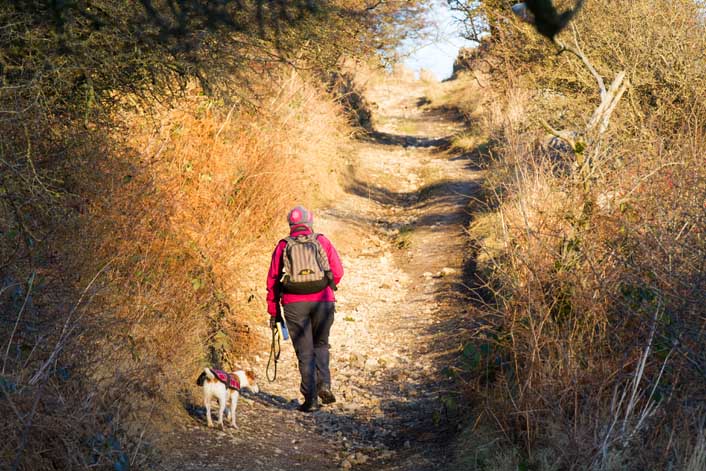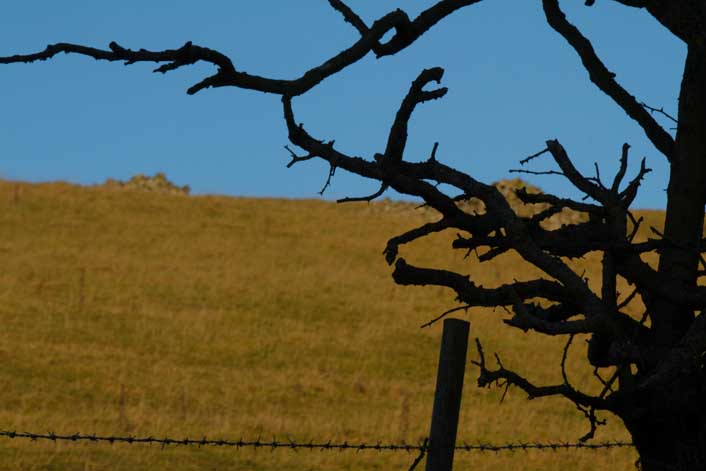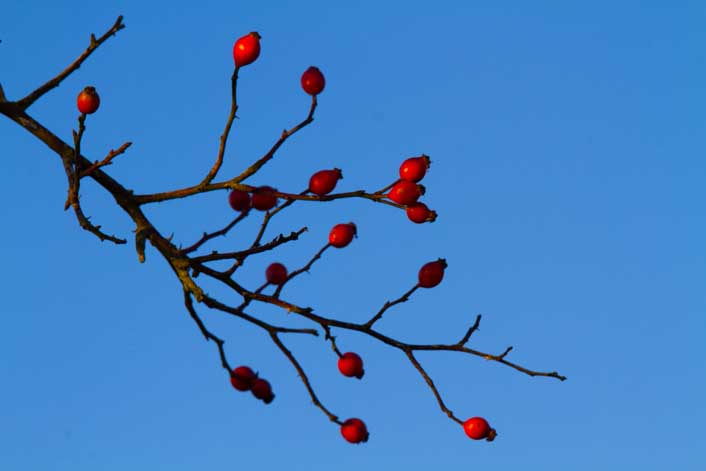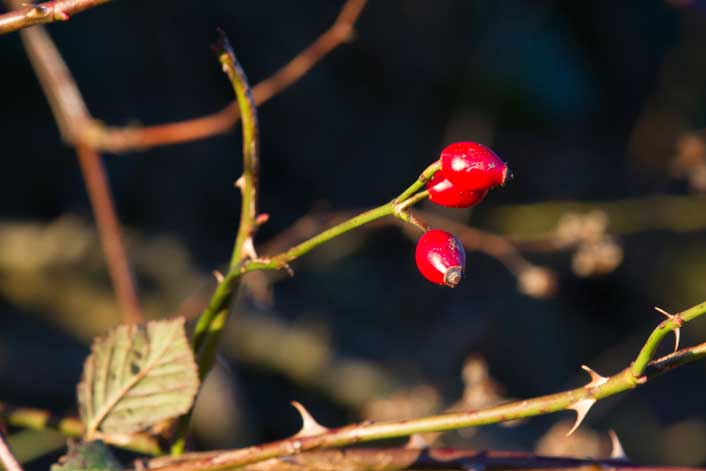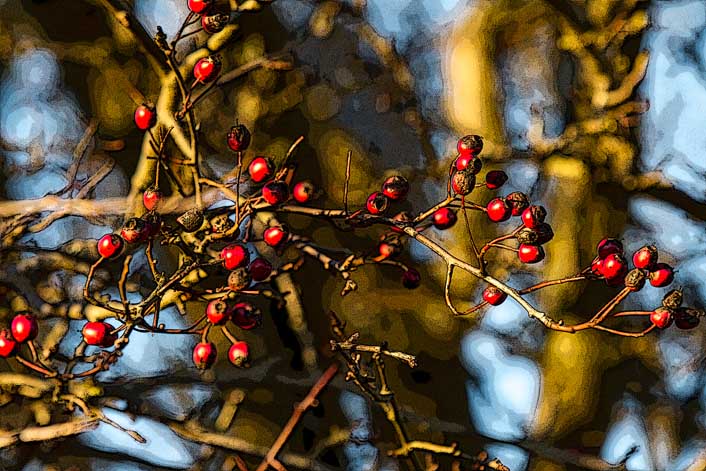 This is an ideal White Peak day. While Dark Peak delivers in all weathers – a purple haze when lit by summer suns, broodingly atmospheric in harsher conditions – limestone country always strikes me as lacklustre on gloomy days. It's at its best on sunlit June evenings. Or on days of crackling, icy brightness when your shadow's an elongated slant on the meadow and the micro details of hedge and dew pond leap out in crisp definition.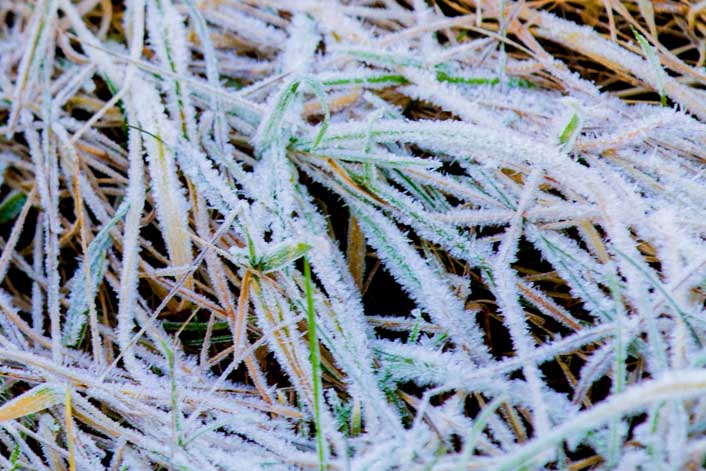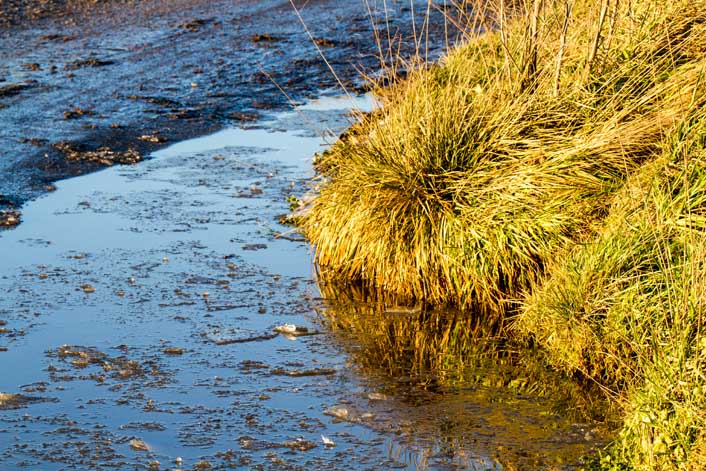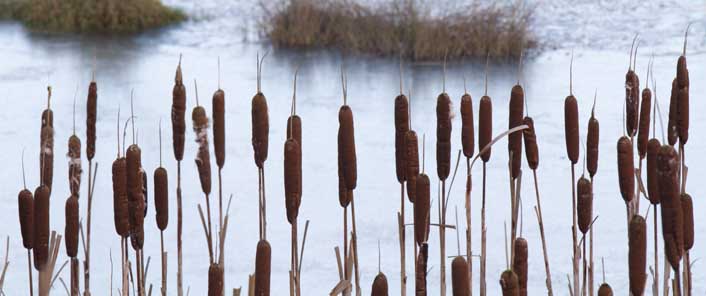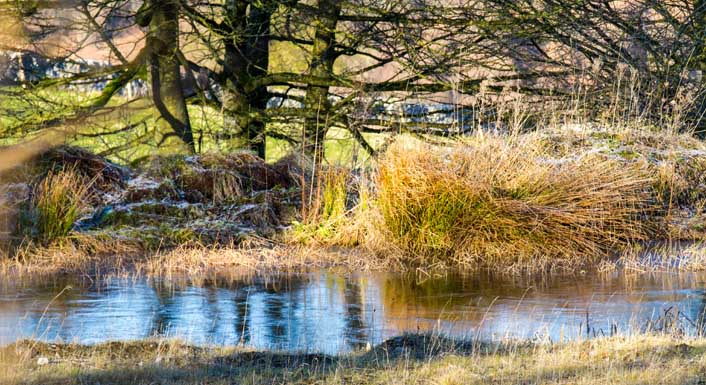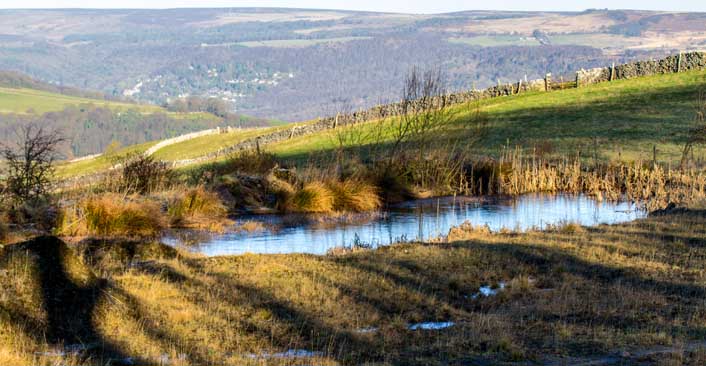 … but such days are short.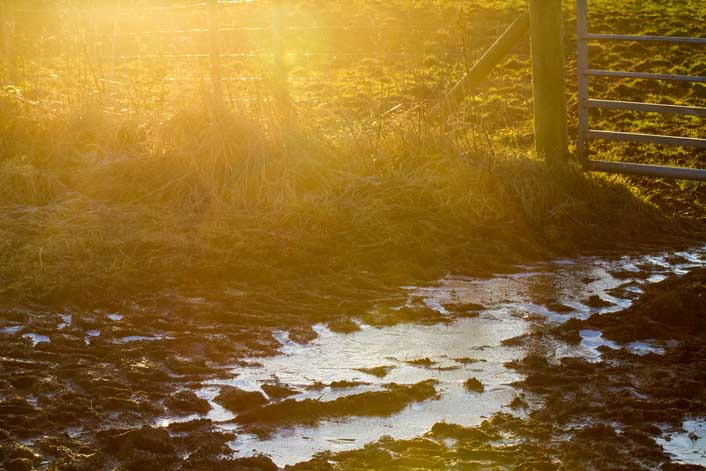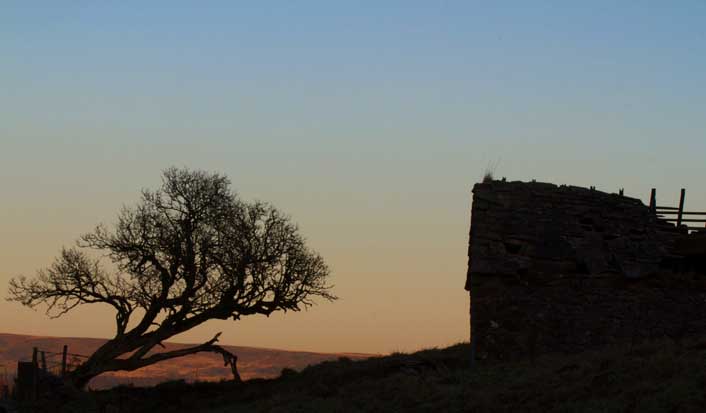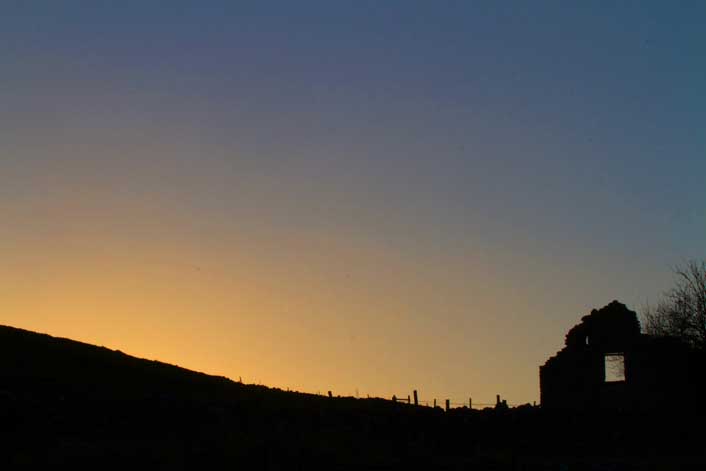 At its summit we exit Black Harry Lane onto Middleton Lane, its metalled surface slippery with ice and slush as light drains out of the western sky over our right shoulders. We follow it down to the outer limits of Stoney Middleton, where it morphs into the very same and very steep High Street we parked on. Just before the car I turn for old times' sake into what had been the fieldlet of three cows and three chalets but is now burdened by neither character nor charm. In fact it's no longer a field at all but a sterile blandness of porta-homes in rows with all mod cons. We cut through to the far end. The barbed wire's still there, ditto the sheer drop beyond, but the cows – Daisy, Buttercup and Clover – are gone. As is my Aunty Ellen; outlived by her elder sister Cissy, born in 1907 and drawing her last breath in 2009. May all sentient beings gain enlightenment.