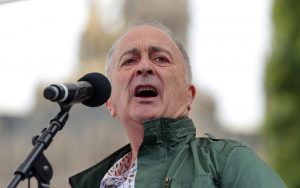 Celebrities are on my mind. My previous steel city scribbling was on Gwynneth Paltrow's keen advocacy of novel uses for coffee, mugwort tea and jade eggs. The post before that concerned celebrities less stratospheric – Jones, Mason and Monbiot – and the opposite of endorsement; rather, the traducing of all and any who question mainstream narratives on Russia and Syria.
Those two posts make clear my views. Celebrities are entitled to their opinions, as are lesser mortals to express dismay at denial of platform to counter-views. Especially when such denial by their Guardian employer goes unchallenged by Monbiot et al, and excludes those whose specialist knowledge, or close familiarity with facts on the ground, entitle them on moral and journalistic grounds to right of reply when its articles rubbish them.
Now comedian, documentary presenter and all round media star Tony Robinson – another man widely regarded, knighthood notwithstanding, as on the left or at least 'progressive' – is using his privileged position to denounce a Labour 'completely taken over by Leftist clique'.
He means Momentum, the group formed within a month (October 2015) of Corbyn's election as Labour leader. Few will need reminding of the ferocity of attack on his position from the get go, not least by liberal media, nor that Momentum's raison d'etre is to buttress his victory and the leftward turn it signifies. Indeed Momentum represents in its own right a force as renewing and exciting as that of Corbyn himself.
So what's Sir Tony's gripe? Let's be generous and assume he's not just miffed that the recent Party wide election, to Labour's National Executive Committee, did more than return all three of Momentum's recommended candidates: Jon Lansman, Yasmine Dar and Rachel Garnham. By that fact it also, with only those three positions up for grabs, failed to return Robinson's fellow celebrity, comedian Eddie Izzard. Under the 'business as usual' politics which have for decades turned people, young people especially, away from Labour in droves, Eddie's fame and leftish reputation would have made him a shoo-in.
But these are not normal times for Labour. Its leader boosted by June's general election, huge credit for that goes not just to Theresa May but the organising ability and energising capacity of a Momentum whose "takeover" Sir Tony – and of course Eddie himself, who yesterday took to the Graun to air his 'concern' at a 'new' divisiveness in the party – are so put out by. But let's set aside any idea that these two comics have stopped laughing simply because forces channelling public anger over neoliberalism have prevailed over the 'moderates', with results not even the magic touch of stardom can undo.
Let's just look instead – it won't take long – at the Robinson-Izzard allegation that Momentum somehow represents a dark and sinister corrosion of the body politic. Really? And there's me thinking hats off to Momentum for showing that, for now at least, its tight organisation – allied to a relatively left manifesto and leader who's overcome every attempt to blacken his name – has proved stronger than our corrupt media and their mockery of democracy in British politics.