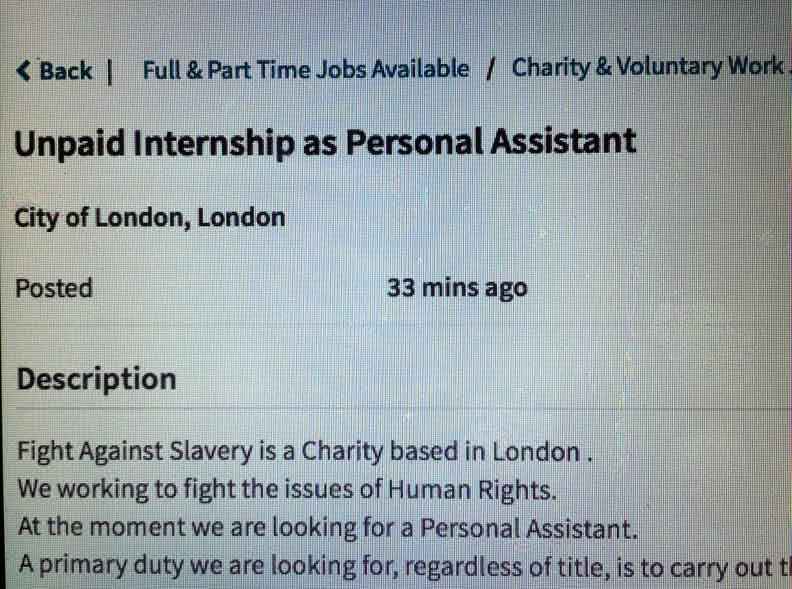 Nor does the irony end here. That tireless crusader for workers' rights and social justice, the Mail, weighed  in with this piece:
Oh the irony! Fight Against Slavery advertises for 'volunteer unpaid' staff to work for FREE and 'join the battle against worldwide poverty'
Group say they are battling against slavery in poverty around the world
Group shrugs off online derision that they cannot pay their own workers
An anti-slavery group has sparked outrage by advertising for a part-time PA to work for free … The advert says the successful applicant will meet with company boards to 'discuss ethical standards', oversee project management, set budgets and develop a strategic plan.
An organisation called 'Fight Against Slavery' has come under fire for hiring an unpaid intern.The worker – expected to work up to 10 hours a week – will also have responsibility for making 'strategy and cost decisions', despite being a volunteer.
The advert appears to have been posted by Fight Against Slavery, which describes itself as a 'new charity' based in the City of London. However, the group does not have a website and is not yet registered with the Charity Commission, as it required by all UK charities …
When asked about the ironic job ad, director Chiara Chiavaroli defended her advert and claimed neither she, nor her colleagues, are paid. She said: 'It is an unpaid position, it is completely different … an opportunity where a volunteer can do this unpaid and hopefully get paid in the future … None of us are paid at the moment, we are just looking for volunteers. We do not make any money as a charity, but when we do we can employ people of course. We set up the charity before Christmas and have applied for our charity number and we are waiting for it. We all have other jobs, I have another job, I need to live.'
I'm reminded of one of the first black guys – this would be mid eighties – to make a Coronation Street appearance. By the time the tune had struck up and credits rolled on his debut episode, we'd seen him burgling a house a few doors up from the Rovers Return. And who better to lead the cries of indignant protest at such racial stereotyping than that doughty defender of political correctness, the Sun?