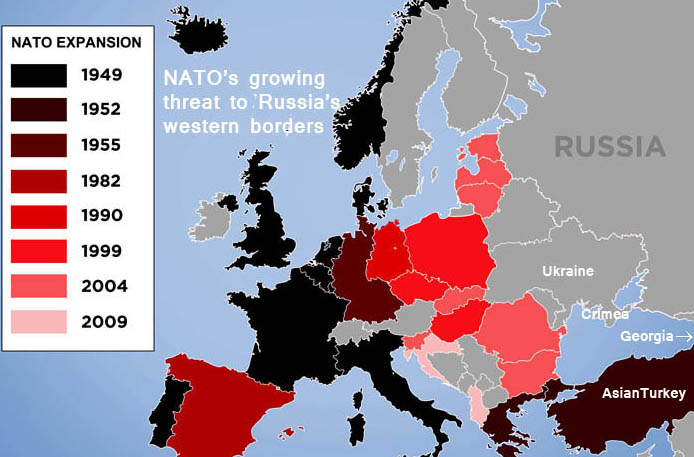 Trump's cave in on rapprochement with Putin shows the weakness and shallow worldview of this inept narcissist.  More importantly, it shows an American ruling class committed to war, cold for now, on Russia. To see why, we must set aside what we think we know about the old one.
Suppose the old cold war was not about 'defending our freedom'. Suppose it was instead about one sixth of the world's land mass – its vast resources and markets – being closed off to Profit. Why suppose any such thing? Because for reasons beyond my current remit, capitalism's inner laws of motion demand ceaseless accumulation, even as they drive a tendency to falling profits. I haven't the space here to prove these things, nor do I ask anyone to accept them on my say so. I ask only that for purposes of inquiry we suppose  them true. Things that don't otherwise make much sense suddenly snap into focus.
Like why there's still  a cold war on Russia.
The Reagan administration won the old cold war for western capitalism. It forced the USSR into ever greater arms-spend when every rouble on defence bled the Soviet economy whereas, such is the insanity of capitalism, every dollar the Pentagon spent boosted a $10trn for-profit arms sector, biggest driver of the US economy. By this and other means – sanctions, manipulating world oil prices, funding terror in Afghanistan – Washington, aided by the USSR's ossified leadership and brittle top-down economy, prevailed. Such was Reagan's vacuity, and such the figurehead nature of his office, he genuinely believed the cold war over.
And so for a while it seemed. As free-market capitalism sent Russia into a tailspin of chaos and gangsterism, Yeltsin did everything asked of him. He did his own rolling over on Yugoslavia, its dismemberment exposing Russia while unleashing the corrupt state of Kosovo. With touching faith he believed Clinton on NATO 'not advancing an inch', and opened up the economy. That's where things went off-script for the West.
I don't doubt that squadrons of glassy-eyed Chicago Schoolers really do buy their own voodoo economics. I'm even prepared to deem some at least of the IMF Taliban naive enough to toke the smoke on liberalisation as economic cure-all. But to believe the same of the wolves of Wall Street? Sorry, no can do. For them, liberalisation means nothing if not boosted bottom lines and eye-watering bonuses. Read Naomi Klein: a good writer who documents meticulously. In Chapters 10-11 of The Shock Doctrine she charts exactly what went down in Russia. The fruits of privatisation, you see, had been stamped 'for western hands'. Instead – this is funny if you're in a good mood – they were trousered by ex KGB; the now semi-feudal oligarchy that blossomed and flourished under Yeltsin.
In comes strongman Putin. He cracks down on corruption (but must play a long game, so is with breathtaking chutzpah accused of deeds done by his predecessor to nods in Washington). He fixes a torched economy, allowing him among other things to beef up defence – now why would he want to do that?  With Russia once more a global player, he stands up to NATO and effects his own rapprochement, with China, in part discussed in Perilous Days. All this, mind, coinciding with the slow economic decline – making it triply dangerous – of the most powerful and reckless nation on earth.
Still wondering why there's a cold war on Russia?
*