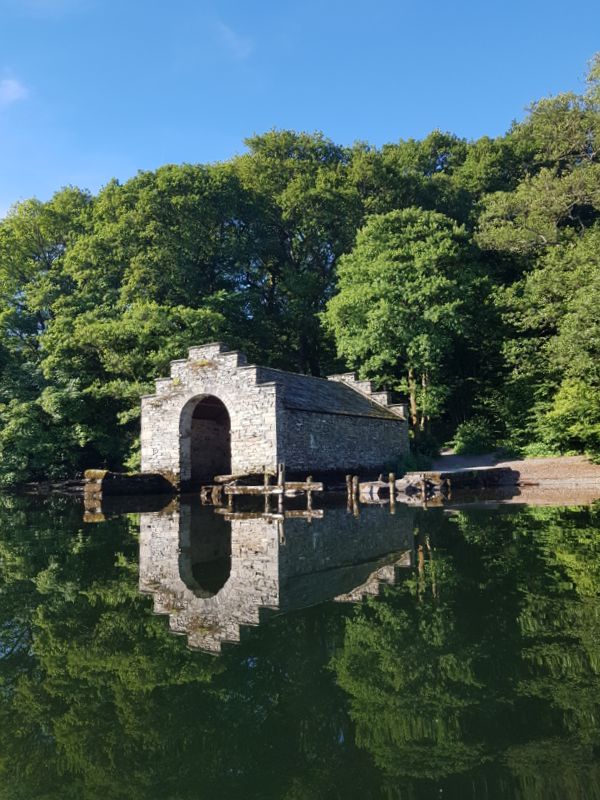 Monday morning around seven-thirty the sun is already strong. Windermere's more serene west bank, four metres from the shoreline on my right, is gin clear. A school of tiny perch – our handsomest freshwater fish, and thirsty for learning with it – glides below my kayak; average size, three inches. Perch, that is, not kayak.
But deflated and strapped to a repurposed shopping trolley, that kayak, though bigger than perch, accompanied me and a rucsack fuller than usual on the 09:11 to Lancaster on Sunday, change at Man. Piccadilly. By the time kit and I were aboard it was standing room only but I was thrilled. My decades old vision of wild camping by canoe, without recourse to car and all the downsides thereof, had moved into the realm of actuality.
In Lancaster, between rail and bus station, I show stern resolve in the face of the uncertainties ahead.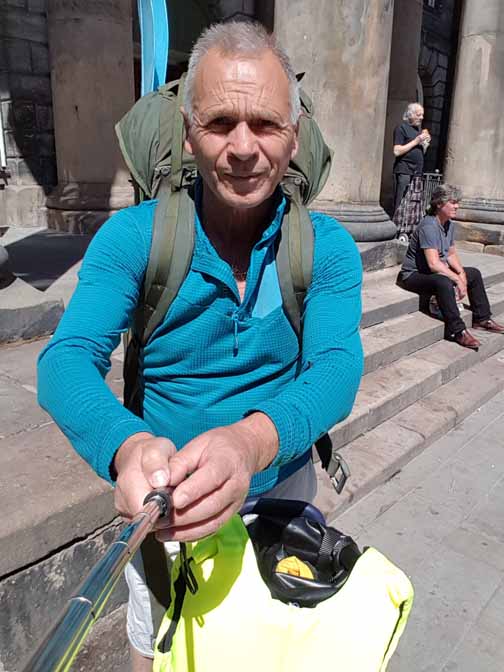 As I board the 550 to Keswick the driver, far from objecting to my gear as I flash the pass, calls me 'young man' and bids me happy paddling.
My goal is Ambleside but I alight at Bowness, a few miles earlier. Why? As we pull into its tiny bus station, overlooking England's largest lake, so does the 599, also stopping at Waterhead Pier, Ambleside. Difference being it sports an open upper deck, and this is a gorgeous day.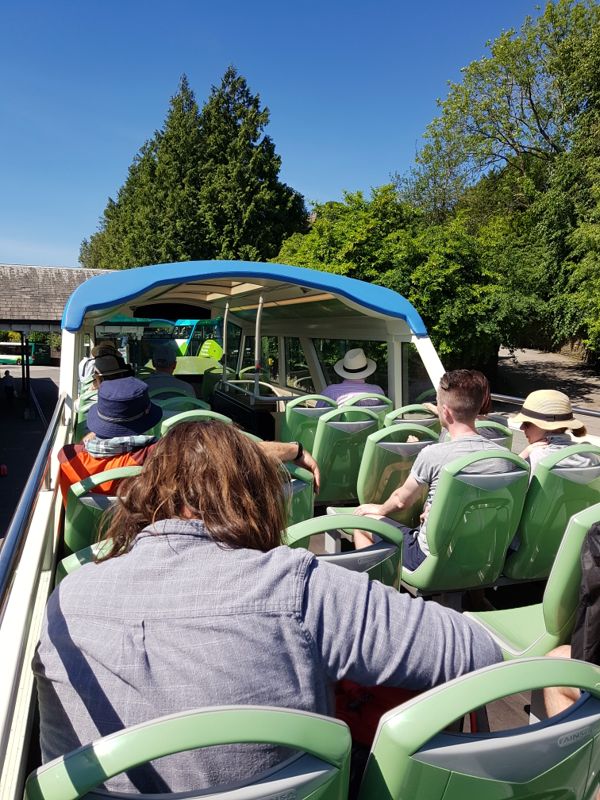 Outside Ambleside Youth Hostel, crowds enjoy sun, lake and – YHA ain't what it was – a drink at tables scattered over the waterside lawn. No one pays any mind as I foot pump my kayak, stow the trolley and emptied rucsack behind the seat, then follow suit with colour-coded dry-sacks.
I've done my homework you see. Though I've only taken to the water twice, afternoon affairs on a local canal, I've inflated the boat in the yard for – ha ha – dry runs, in search of the optimal way to get my kit aboard while leaving ample leg room.
Shoving off from Ambleside YHA. Time, 17:45.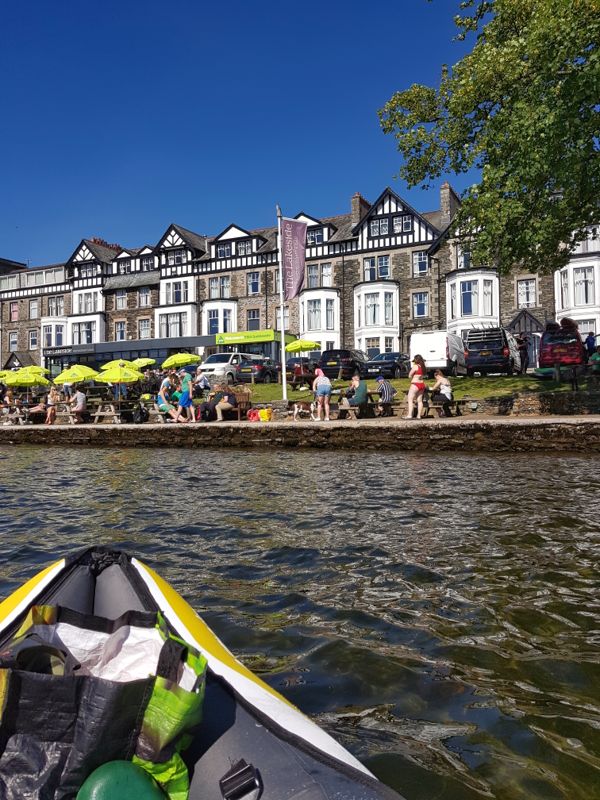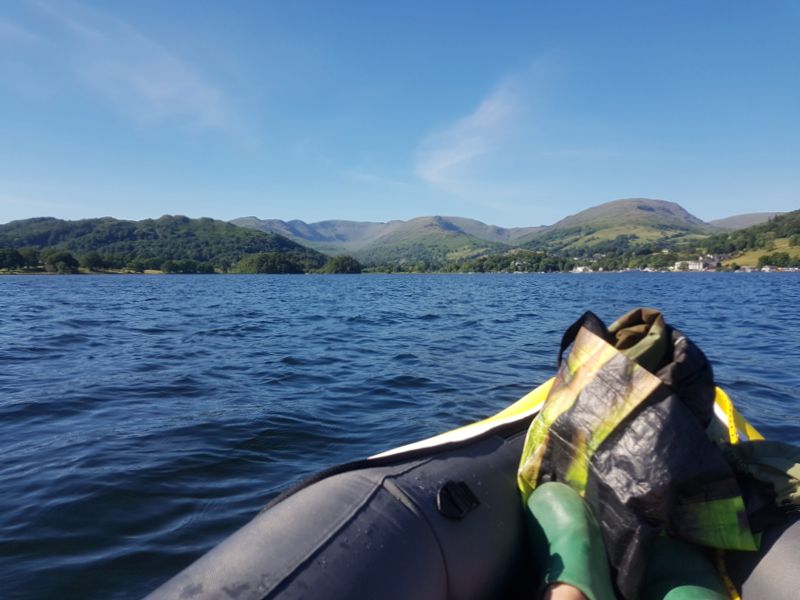 An hour later I find, across and a mile down the lake, my home for the night. A tiny harbour within a slightly larger one. I'm entering the latter, but see the small dark space in the quay wall, left of picture? That's the narrow entry to the smaller harbour.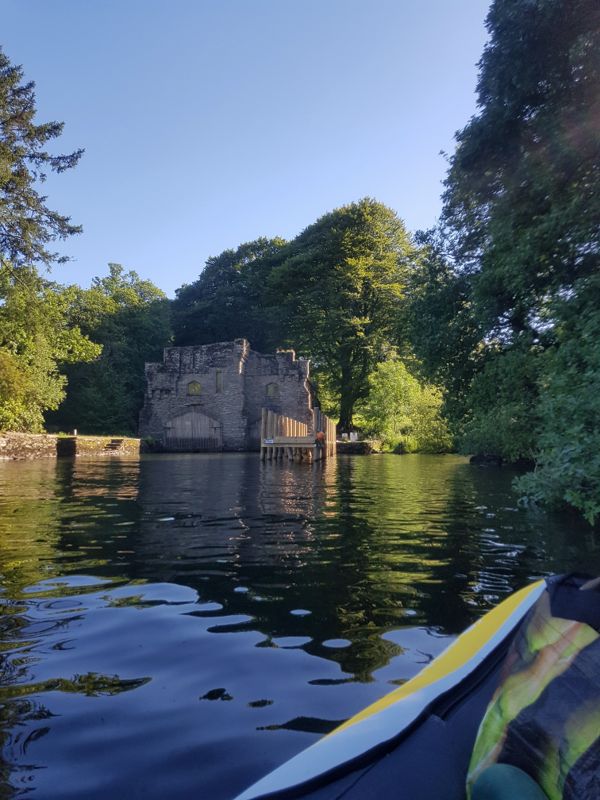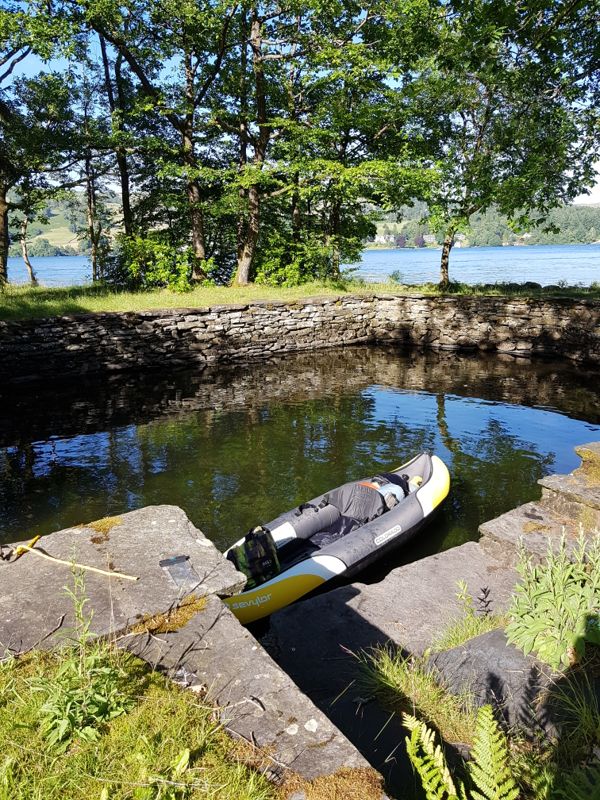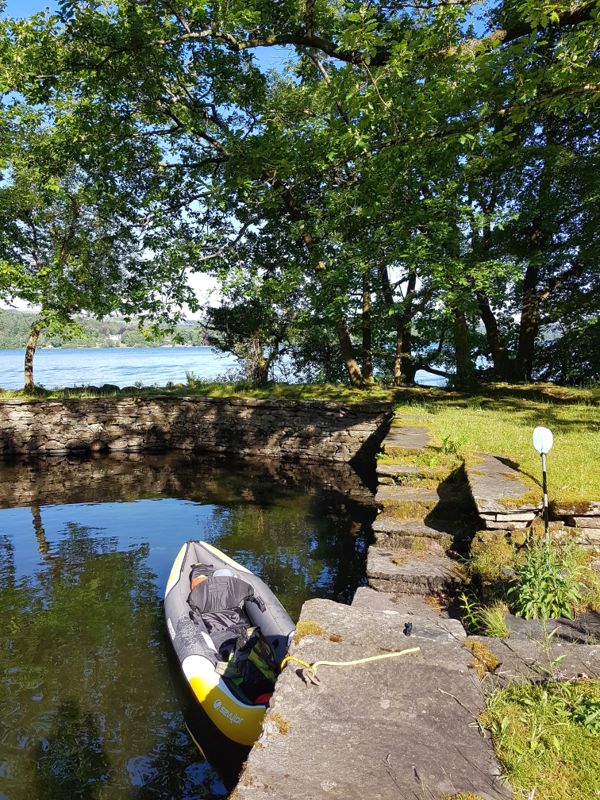 Those steps lead up to a grassy square with water on two sides (harbours), Windermere on a third side, separated only by a narrow strip of land. On the fourth side, hiding my designated pitch from the woodland path behind, stands a boat house the size of a chapel.
The place is eerily quiet, water still and clear as glass. The drop into deep water, without the slapping chop of muted ocean waves, is a little spooky but it's a great spot for all that.
I won't pitch till dark but am ready to eat.The night before I'd put two fillets of smoked haddock in the freezer. Even after a day of travel in blistering heat they're still chilly to the touch. Perfect. Into the pot! You don't get luxuries like this, you know, wild camping on foot.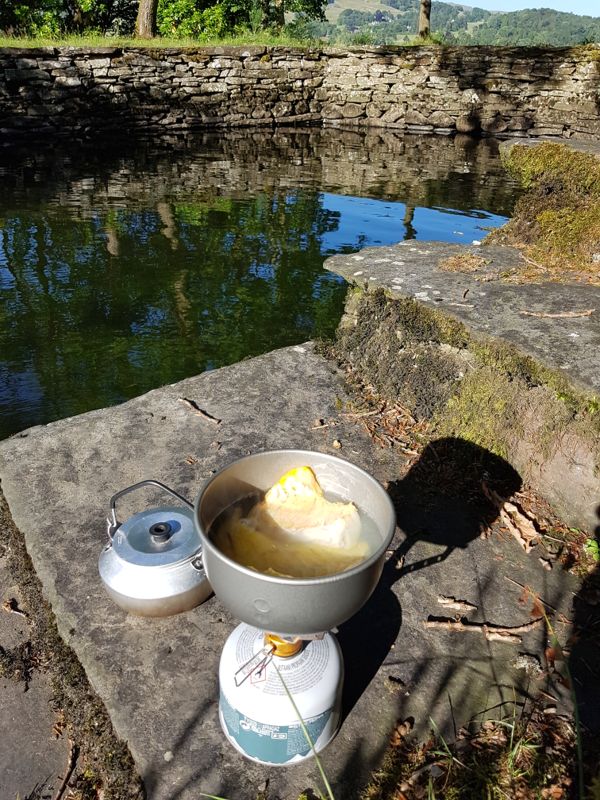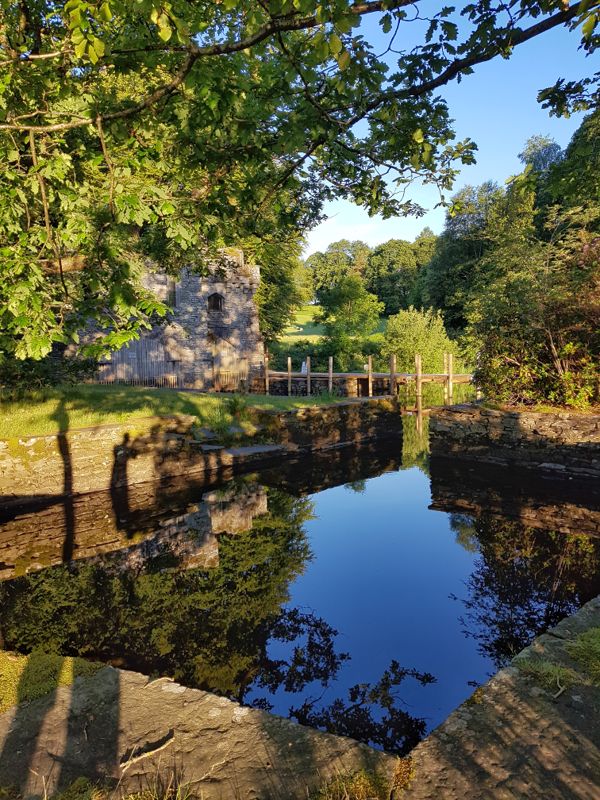 I'm re-reading Graham Swift's Waterland as the last rays filter through the trees. I keep shifting position to bask in the last of them till, long after sundown at 22:20, I pitch tent. It's barely dusk.
Here's my home at 07:00 yesterday, Monday.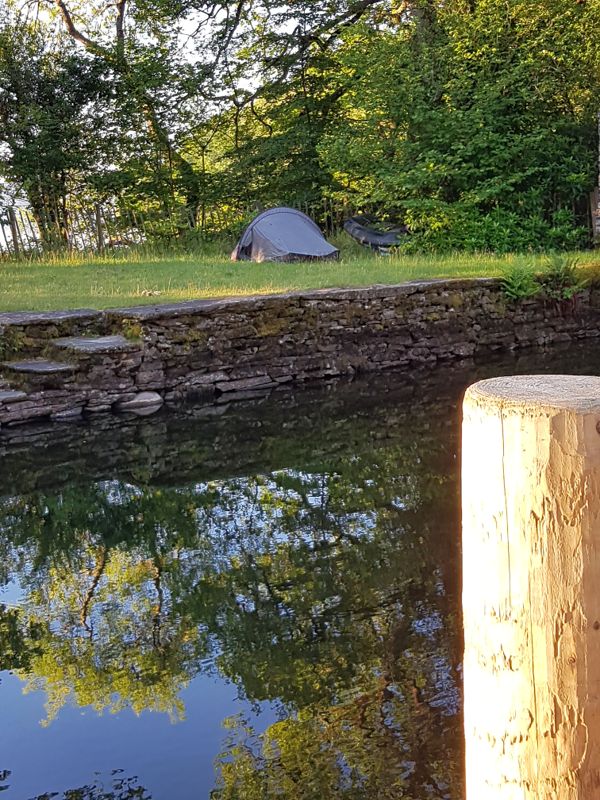 But that's for another day. Granted, these are the most benign conditions imaginable, but let me say now there's a magic to floating down Windermere's quieter side, not knowing where I'll spend the night but sure it'll work out.
No rush: stop as and when. I write now from scenic headland, 13:00 on Tuesday. I've been here hours, pulling kayak out of water and into shade. I've slid down a natural waterchute into deep cool water, dried off in the sun and made coffee.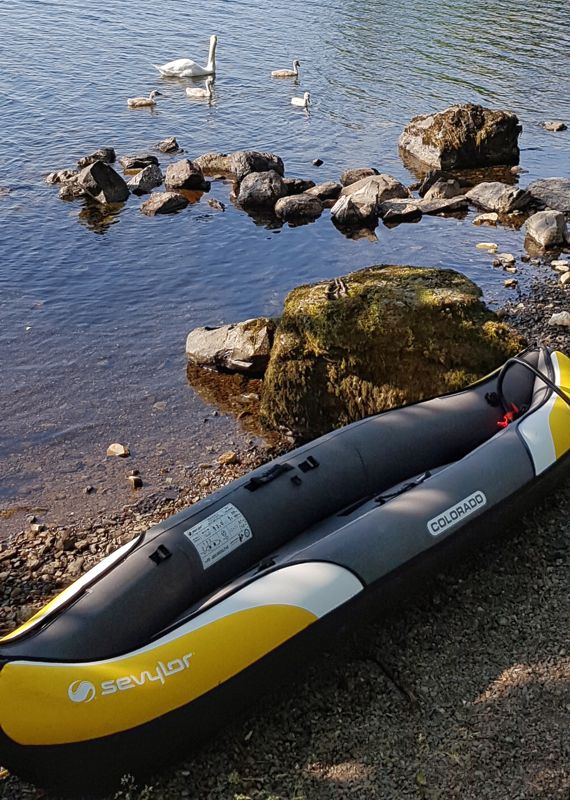 There's more to say on those cygnets but I'm way WAY ahead of myself. Here's the water chute I was bragging about.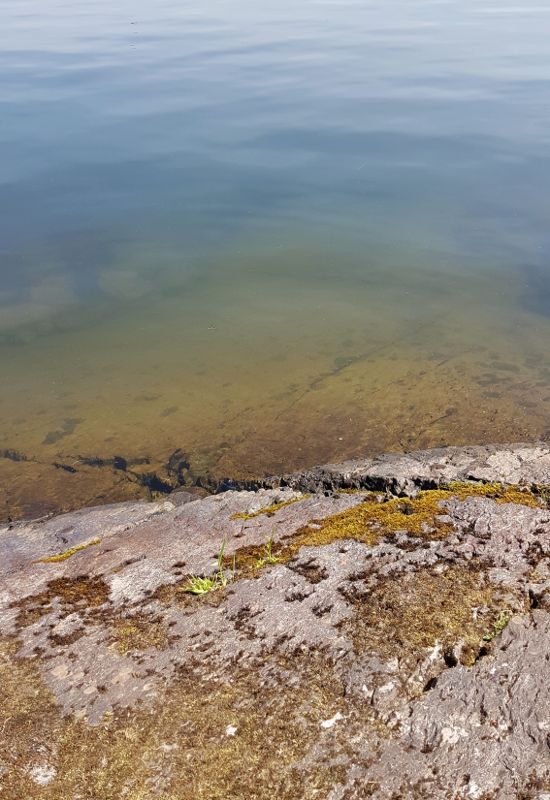 And here's me emerging from a fabulous swim. Note the t-shirt. Charis mocks my two-tone look with shirt off but no way am I exposing torso to these lethal rays.
Note too the way my selfies distort and shrink said torso – all of me from the neck down in fact. This despite lashing out nine quid on a selfie stick, expressly to document my days afloat. Bah.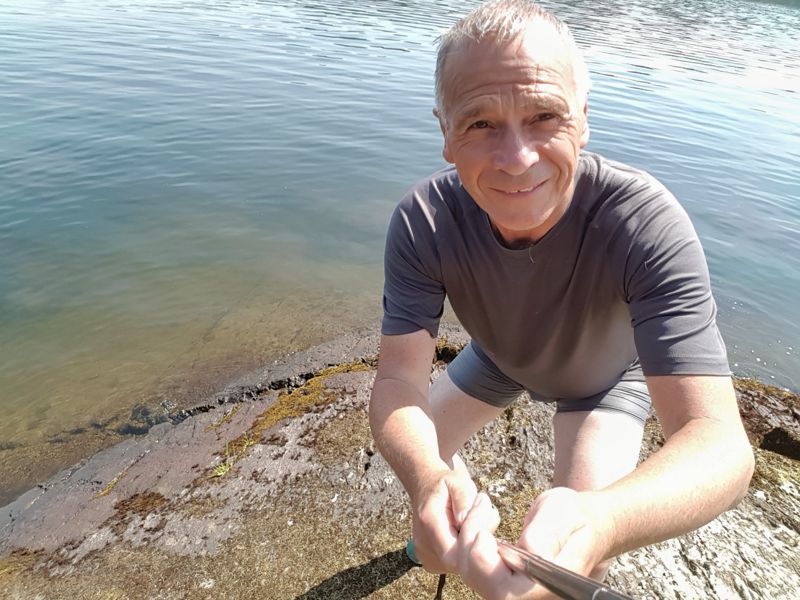 I tell no lie, a chap could get a taste for this. In fact, just between me 'n thee, I feel a lot like Huckleberry Finn.