In my nineteen sixties mid teens, when normal lads were out on the street playing togger and beginning to get interested in girls, I was reading such uplifting works as The Trial of Steven Truscot, about a Canadian fifteen year old sentenced in 1959 to hang after a murder conviction finally judged unsafe in 2008. Or Ludovic Kennedy's 10 Rillington Place, whose most horrifying aspect for me – sorry sisters – was not the lonely, meaningless deaths of so many women at the hands of a sexually inadequate and manipulative psychopath. It was that the testimony of said psychopath was pivotal to the hanging of an innocent man.
And now, as home secretary in a cabinet to the right of any formed by Mrs Thatcher, thanks to the coronation by 2 percent1 of the UK electorate of a lying, racist, Eton toff as prime minister, we have a pro hanging Priti Patel. Here she goes head to head with Ian Hislop on the subject:
Since my objections to the death penalty are more practical than principled, I note Ian Hislop's raising, at start of that brief clip, the issue of terrorist convictions. Some at least of seventeen men and women – Birmingham 6, Maguire 7, Guildford 4 – would have hanged had they been convicted just over a decade earlier.2 All were acquitted after years of incarceration and hard campaigning, not least by a man located time and again on the right side of history, where his More Responsible colleagues seldom set foot. A man who, decades later, would float through a maverick configuration of circs into  leadership of his party.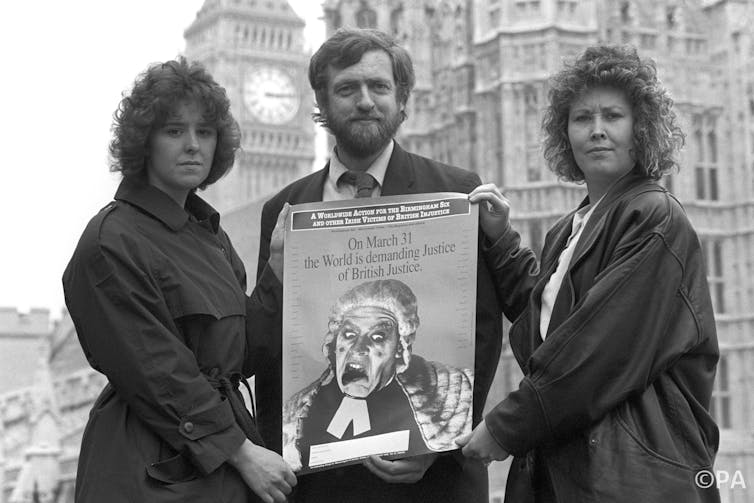 Patel's atavistic stance plays to the very same gallery of blood bayers which, forty-five years ago, created a climate – with Britain's Irish community at risk just as its Muslim community now is – of pressure on police and judiciary that made such miscarriages likely if not inevitable.
Nobody's fool, the new home secretary insists that only on the basis of what she calls 'ultimate proof' would anyone hang under her plan for striking terror into the hearts of criminals. But it's precisely because she's no fool that I feel such contempt for her. She surely knows that ultimate proof is a jurisprudential (and epistemological) impossibility. Or maybe – now there's a thought – she doesn't.
In which case I feel even more contempt – for her, yes, but more for the reckless narcissist who raised her to such high office.
Which takes me back to my opposition being on practical rather than principled grounds. If the death penalty could be shown to be a deterrent – and to date that just hasn't happened3 – and if there were some way to guarantee no innocent would receive it – there isn't – then it might be supported as a net saver of lives.
No?
No. Not if you're on the Left. Because as those tales from the Irish Experience demonstrate, you don't, and this is a matter of principle, surrender a scintilla of extra power to rule over the many by and for the few – be that extra power in the arena of state surveillance, censorship, inroads on habeas corpus or any of the other theatres of class war in which we've spent two decades sleepwalking into totalitarianism.
It really is that simple. But of course, you do have to peer through the veil of liberal democracy, and take in the true nature of the British State, to see this.
***
Early versions of this post put the figure at 0.14% but this was my bad. He was voted PM by 0.13 percent of all Britons, not the same thing. The New York Times tells us the tory membership comprises 3% of the UK electorate, and we know BoJo took 66% of that tory membership. Including some who loathe Boris but see him as insurance against loss of their seats to the Farage challenge.
The three groups were convicted in 1975 and 1976. Britain's last hangings were in 1964. The death penalty was abolished for murder in 1965 (1973 in the Six Counties) but not for treason. That remained a capital offence until 1998.
This cuts two ways. Some say murder rates fell after 1965. Usually the aim is to imply, the idea being too daft to come right out and say it, that hanging incentivises murder. Too often, apples and oranges are being compared. The only meaningful comparison is not overall murder rates before and after 1965. It is rates of that much smaller set of murders which, in the death penalty's final decades, still qualified as capital. Even then there are all manner of confounding variables to counsel caution over what we make of such small data sets.