When I think of "gamekeepers turned poacher" I usually mean former establishment figures like UK Ambassadors Craig Murray and Peter Ford. Or CIA men like Philip Giraldi 1 and Ed Snowden. Ditto UN Weapons Inspectors Ted Postol and Scott Ritter, and Reagan appointees Paul Craig Murray and the late Stephen Cohen. At a push I might throw in senior politicians like France's Roland Dumas and Iceland's Ögmundur Jónasson.2
Two things make such renegades valuable to those of us who see just how corrupt our Western democracies are. One is their credibility. That's why so much effort goes into discrediting them; most famously the hounding of Edward Snowden but also, barely below the radar, moves like the entrapment of Scott Ritter.
The other is their inside knowledge. Which brings me to a man I seldom include in my examples of gamekeepers turned poacher. That would be Jonathan Cook: former Guardian columnist and now a prolific blogger whose pieces occasionally appear on such as CounterPunch and ICH. His credibility stems less from his renegade status at the Guardian, more from the pristine clarity of his writing. But on that second criterion, knowledge of how things work at his former employer, he is at least as valuable as those listed above. See in this respect his masterful dissection – an application of Chomsky's point that media are big businesses in the game of selling privileged audiences to other big businesses – of the roles played by different writers at the Guardian.
(It's in this post, worth reading in its entirety but, if you're pushed for time, go to the section headed Mopped up by the Guardian.)
A few days ago, on February 13, another Cook piece appeared on the ICH site. It begins:
The Guardian Revealed Its True Face in Sacking a Columnist for Criticising US Military Aid to Israel
The revelation that a leftwing journalist, Nathan J Robinson, has been sacked as a Guardian US columnist for criticising Israel on Twitter – and that he was pressured to keep quiet about it by Guardian editors – should come as no surprise. He is only the latest in a long line of journalists, myself included, who have run foul of the Guardian's unwritten but tightly policed constraints on what can be said about Israel.
In the tweet below, I have listed a few of the more prominent – and public – examples of journalists who have suffered at the Guardian's hands over their coverage of Israel. The thread can opened by clicking on the tweet.3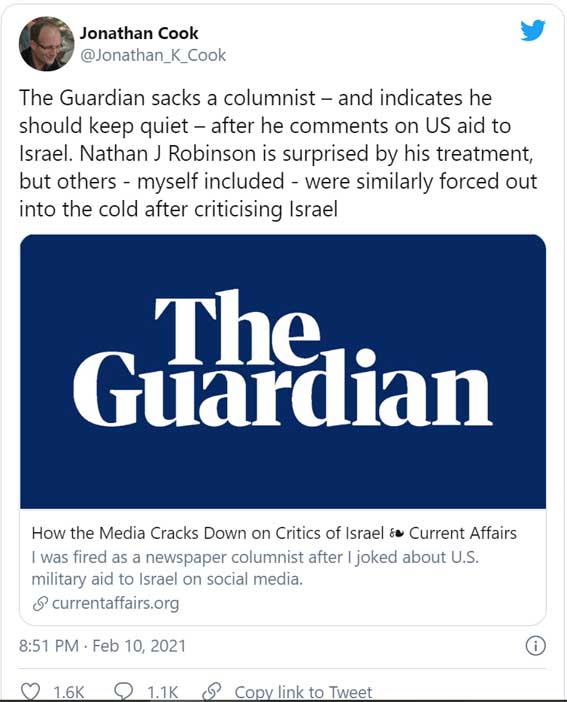 The unspoken Guardian rule we broke was to suggest one of the following: that there might be inherent contradictions between Israel's claim to be a democracy and its self-definition in exclusivist, chauvinist, ethnic terms; or that Israel's self-declared status as a militaristic, ethnic, rather than civic, state might be connected to its continuing abuses and crimes against Palestinians; or that, because Israel wishes to conceal its ugly, anachronistic ethnic project, it and its defenders might act in bad faith; or that the US might be actively complicit in this ethnically inspired, colonial project to dispossess Palestinians.
Equivocating editorial
Paradoxically, the Guardian is widely seen as the "mainstream" English-language publication most critical of Israel. It has long shored up its reputation with the left by publishing seemingly forthright, uncompromising material on Israeli-Palestinian issues.
Part of that is a historic credit it earnt. There was a time, long ago, when the Guardian's pages were, for example, the only place in the mainstream to host – if rarely – the late, great Palestinian intellectual Edward Said. The paper even once allowed its former South Africa correspondent, who had transferred to Israel, to compare in detail the two countries' systems of apartheid. It caused a furore – much of it instigated by the Israeli embassy in London – that made the paper even more shy of taking on the Israel lobby.
That is reflected in the perverse fact that today Israeli human rights groups are far more courageous in speaking plainly about Israel than the Guardian. When B'Tselem recently published a report stating that Israel operated an apartheid system oppressing Palestinians not just in the occupied territories but in the whole area under its rule – including inside Israel where officials falsely claim 1.8 million Palestinian citizens have equal rights with Jewish citizens – the paper published a mealy-mouthed editorial whose equivocations contrasted starkly with B'Tselem's passionate and clear critique of a racist system of separate rights.
Even then, the Guardian would never have conceded what it reluctantly did in the editorial had B'Tselem not forced its hand …
Here again is the link to the full piece.
* * *
I was recently critical of Giraldi's grasp of the true dynamics underpinning US-Israel relations. I see such criticism as part of my job. It does not make me hostile to a man who has shown moral courage.
Jónasson and especially Dumas aren't renegades like the others. Neither have broken with the establishment but both are refreshingly honest. On a matrix with 'Usefully Revelatory' on one axis, 'Honourable Intent' on the other, courageous whistleblowers like Assange and Manning belong in a different quadrant from smug braggarts like Karl Rove, Hillary Clinton and Mike Pompeo. Jónasson and Dumas are in a different quadrant again. Whistleblowing – be it courageous and intentional, the boastings of people who think themselves immune, or something not so easily categorisable – is a striking feature of our polarised times.
I've followed several of the links provided by Jonathan. All proved worth the effort but if I had to single out one it would that to Nathan Robinson's piece.