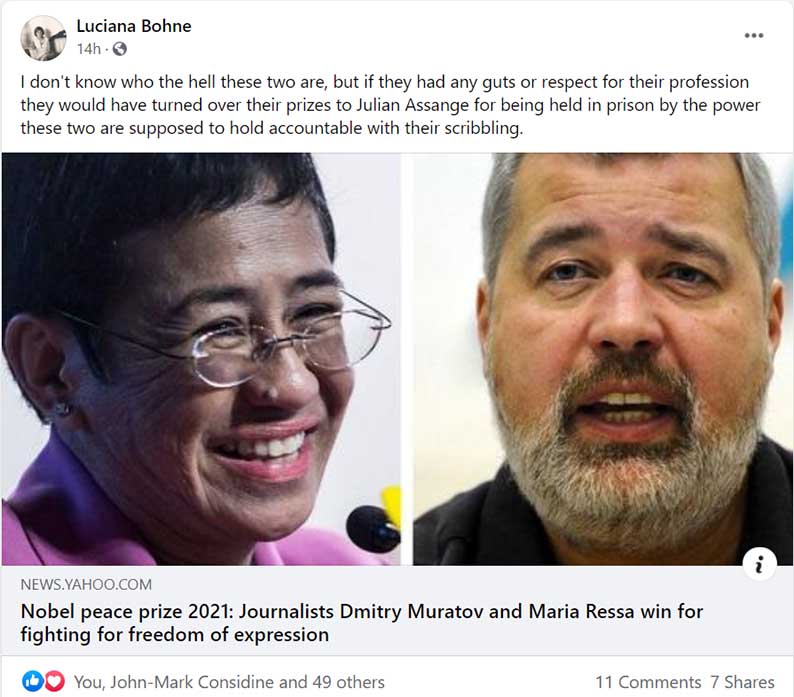 Click on image to see post and comments
Commenting on the post, Farhad Farzaneh cites this from the Yahoo article:
The pair, whose work has angered the rulers of Russia and the Philippines, were commended for 'their courageous fight for freedom of expression'.
He gives tongue-in thanks to Yahoo for spelling out how to win the award:
Anger governments deemed undesirable by the West.
Incidentally, here's Nobel Peace Laureate Mairead Maguire in 2019:
I nominated Julian Assange on the 8th January 2019 for the Nobel Peace Prize.  I issued a press release hoping to bring attention to his nomination, which seemed to have been widely ignored, by Western media.  By Julian's courageous actions and others like him, we could see full well the atrocities of war.  The release of the files brought to our doors the atrocities our governments carried out … this is the true essence of an activist and it is my great shame I live in an era where people like Julian Assange, Edward Snowden, Chelsea Manning [are] hunted like an animal by Governments, punished and silenced.  … This man is paying a high price to end war and  for peace and nonviolence and we should all  remember that.
No slight intended on the two winners. While I thank Luciana Bohne for pithily pointing out the hypocrisy and politicisation of Nobel awards, I leave room for the possibility that both – Maria Ressa in particular – have shown courage and commitment to truth in their work.
But Ms Bohne spoke not just of courage. Given both the enormity of the crimes he exposed, and the price he paid and continues to pay, more than a decade of failure to give the Nobel to Julian cheapens it beyond measure. On her second count – respect for the profession of journalism – she is spot on.
*