On December 9, one day before the London High Court delivered its ruling on Julian, and three after my two reads on Ukraine, Scott Ritter wrote a RT piece – Biden has successfully solved the Ukraine crisis he manufactured.
I do so like ironic praise in a headline. A central theme of the second of those two Ukraine reads a few days ago cited military analyst Andrei Martyanov on the reality of US/NATO impotence:
there is nothing in the U.S. arsenal now and in the foreseeable future which can intercept Mach=9-10+, let alone M=20-27, targets. That's the issue. Same analytical method applies to a situation in 404. 1 The only thing U.S. (NATO) can hope for is to somehow provoke Russia into the invasion of this shithole of a country and then get all SIGINT it can once Russia's C4ISR  2  gets into full combat mode.
Pepe Escobar, here citing Mr Martyanov, elsewhere speaks of the man as:
… in a class by himself. A third wave baby boomer, born in the early 1960s in Baku, in the Caucasus, then part of the former Soviet Union, he's arguably the foremost military analyst in the Russian sphere – living and working in the United States, writing in English for a global audience and always excelling in his

Reminiscence of the Future

 blog.
When Pepe recommends a source, I check it out. Andrei Martyanov is now on my BILF (bloggers I love to f-f-follow) list.
But I digress. In his more restrained tones, former UN weapons inspector Scott Ritter, one of the many gamekeepers-turned-poacher our polarised times have thrown up, echoes and augments Pepe's post of a few days ago:
Joe Biden needed an agreement with Vladimir Putin that would help reduce tensions in Europe over Ukraine and NATO expansion. So he manufactured a crisis as an excuse for putting a US position on the table.
The news coming out of Ukraine was dire – Russia had mobilized between 95-125,000 troops along its border with Ukraine, and US intelligence agencies were predicting that an invasion was imminent. NATO was panicking, and Vladimir Putin was insisting that Ukraine must never be allowed to join the transatlantic alliance.
Sarcasm alert – I can't for the life of me see why!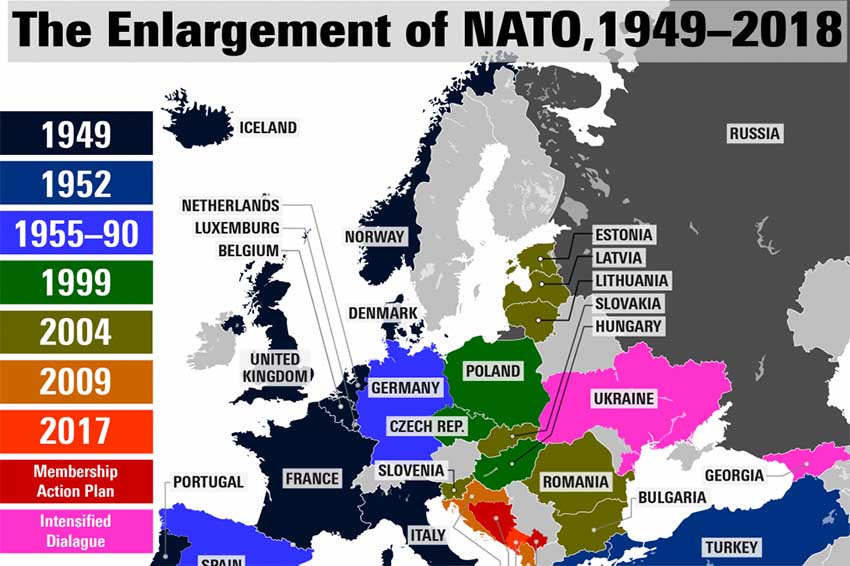 Scott Ritter continues:
Biden, to clear the air with Putin, agreed to a video conference with the Russian President, where he "looked him in the eye" and warned of serious consequences, including unprecedented economic sanctions and the threat of deploying additional US forces to Europe, should Russia invade Ukraine.
While much of the public reaction to the Biden-Putin video conference has centered on the sanctions threat, it is the threat to deploy military forces to Europe which provides the greatest insight into the thinking of the Biden administration on Russia today.
First and foremost, the US threat to reinforce NATO's eastern flank is empty; everyone knows it. The US Army is already stretched to the breaking point by maintaining the existing rotation of a single heavy armored brigade, some 5,000 troops, in Europe. By 2022 the US is scheduled to complete the construction of an Army Prepositioned Stock (APS) facility in Poland designed to store a brigade's worth of equipment (about 85 battle tanks, 190 armored combat vehicles, 35 artillery, and four armored vehicle launched bridges along with hundreds of supporting equipment sets and pieces). That will reduce the deployment time for the assigned brigade from the US to Poland from the 45 to 60 days associated with shipping the equipment into a European port to the four to seven days needed to fly in the troops and issue the equipment for operational employment.
But even with 10,000 troops backed by 170 tanks, 380 armored combat vehicles, and 70 artillery pieces, the US Army would be in no shape to take on a Russian opponent.
*
Calling Ukraine "404" is a dark and geeky joke referencing a cyber term – "code 404" – for a web page which no longer exists. This rambling explanation never quite gets to answer its own question but you get the general drift, I'm sure.
C4ISR  = Command, Control, Communications, Computers, Intel, Surveillance and Reconnaissance. Says Northrop Grumman – and who'd know better than this death-for-profit behemoth? – 'Advanced C4ISR capabilities provide an advantage through situational awareness, knowledge of the adversary and environment, and shortening the time between sensing and response.'