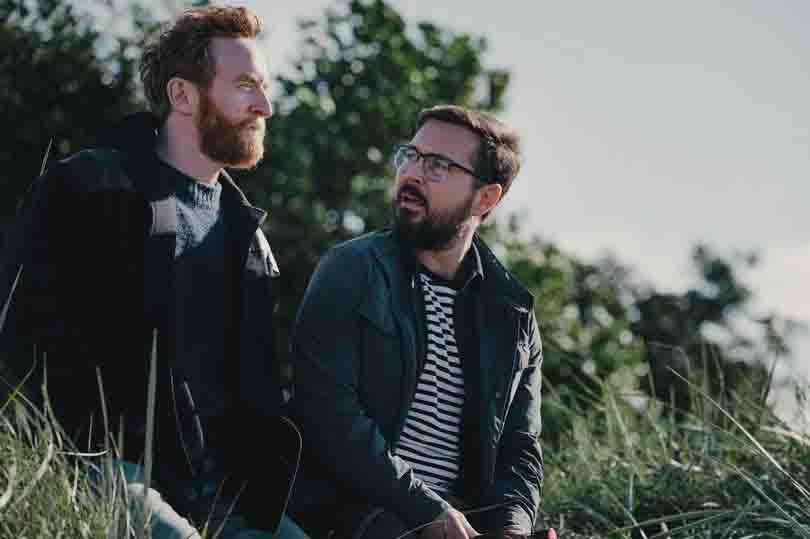 Too much to ask, even of a best mate? Tony Curran and Martin Compston in Mayflies
I should declare a personal interest. As one taken into care early in life – which is to say, as one who knows what it is to be a child in the power of people who do not love you – I've no desire to end my days in the 'care' of folks underpaid, underqualified and for good measure enraged at my generation for having had it so easy.
In short, I'm all for the Swiss option and shall soon be taking my first steps down that path.
Don't get me wrong. I'm not ready to throw in the towel just yet. While I sure could use a bit of the old strength, agility and above all vim, my life has never been more fulfilling. Speaking as one who clocked up seventy spins round the sun last Michaelmas, I've so far found it true that every age has its compensations.
Or to turn that on its head, that youth is wasted on the young.
It's just that assisted dying agencies – here's one such – apply pretty rigorous testing before accepting you as eligible for that one-way trip to Switzerland. To ensure the decision really is yours, they need to know that (a) no third party is applying pressure, (b) you are of sound mind and (c) not depressed. Given criterion (b) it makes sense not to procrastinate unduly.
With fulfilment of these criteria established, and a deposit paid (some £3-4k of a £6-8k total 1 ) you control the timing. You may leave it another seventy years if so inclined, subject to being physically able to press the button – that has to be you of course – and may change your mind at any point up to the release of those curtain-call chemicals.
How do I know such things? One, last month I had a cystoscopy 2 to check for bladder cancer. It gave me the all clear, as I'd expected, but I'd nevertheless had to consider the possibility of an inoperably malignant tumour. With the instantaneity of epiphany, leaving conscious reasoning in the dust, I knew I would not be going down the radio or chemo roads. Rational arguments – that I have little fear of death, great fear of pain, and a greater fear of ending my days 'in care'; moreover, that the two people I played a small but vital role in bringing into this world ceased long ago to be dependent on me – all had to play catch-up after the fact of lightning intuition.
The second reason? I have a good friend – a few years older but, like me, not ready to go quite just yet – who has been accepted and paid her deposit. She told me that reaction from friends has been mixed, whereas I was not only approving but picking her brains on the details.
And there you have it. My bias duly declared, let me turn to last week's BBC offering, Mayflies …
*
Whether nicking bent cops as DS Steve Arnott in the Line of Duty, a junior associate of Buster Edwards and Ronald Biggs on the Great Train Robbery or Hiding In Plain Sight – though not well enough to dodge the gallows – as fifties serial killer Peter Manuel, if Martin Compston ever delivered a less than riveting performance it passed me by.
What's more, he not only shows astuteness in choice of roles. He also has the useful knack of working alongside equally worthy actors. In Line of Duty that would be Adrian Dunbar, Vickie McClure, Craig Parkinson and a string of guest baddies 3 that takes in thespians of the calibre of Keeley Hawes, Daniel Mays, Stephen Graham, Kelly MacDonald, Mark Bonnar and a good few others: stellar actors queuing up to be part of so deservedly successful a series.
In Mayflies we have Tony Curran and Ashley Jensen as co-leads in early middle age, while Ryan Gordon and Tom Glynn-Carney play Compston and Curran in adolescence. All turn in bravura performances, with strong support from Tracy Ifeachor as Compston's wife.
The plot? Skip this paragraph to avoid mild spoiler but, in truth, Mayflies is less plot-driven than a character study of four people ensnared in tragedy. Curran has terminal cancer and wants the Swiss option. Best mate Compston agrees, with misgivings, not only to help but – unwisely – to conceal his pal's decision from Curran's wife. Who of course finds out. And – as well as being beside herself with rage – will never understand why the hospice route was not considered. 4
That's it. That's the plot.
As indicated at the outset, I'm biased. You may want to allow for that in judging the accuracy of my appraisal that, as heart-rendingly grown up TV drama goes, Mayflies is as good as it gets.
* * *