Whether we associate the song with Carole King or Aretha Franklin, the catchily named Trans Cultural Mindfulness Alliance is offended by it. This Norwegian outfit demands that it be taken down from Spotify and Apple Music.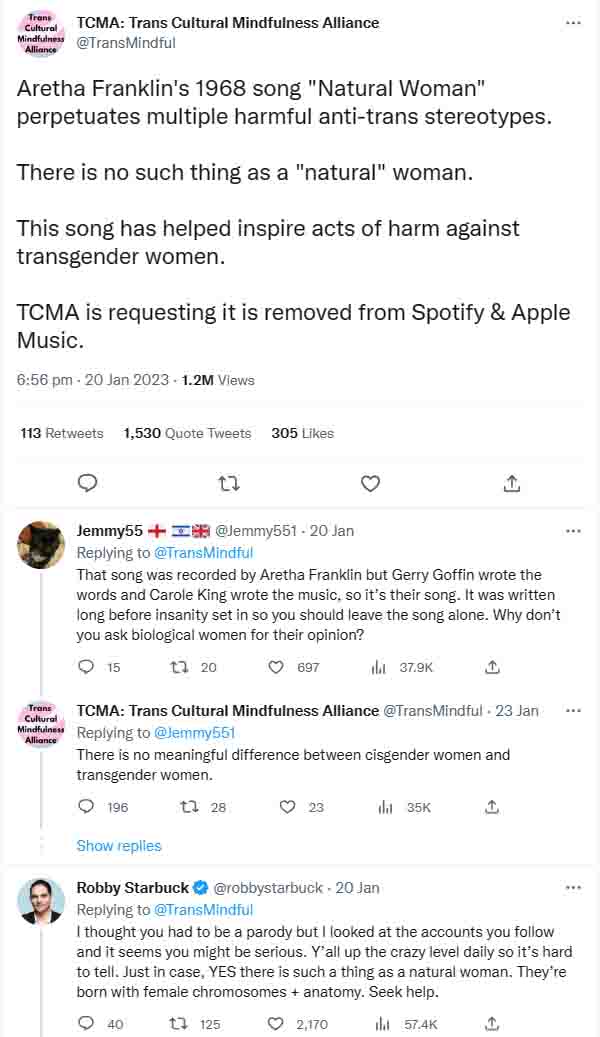 Alerted by a BTL comment on yesterday's post – More trans lunacy – my first response echoed that of Robby ahem Starbuck. It had to be a spoof, right? But the coffee magnate seems to have done his homework. In any case, that we both had that same immediate reaction shows how closely the paths of postmodernism, identity politics and what Tariq Ali calls the extreme centre entwine to create an Alice-in climate in which the satirical and the bonkers-but-sincere become increasingly hard to distinguish.
Update January 27. After writing about "the satirical and the bonkers-but-sincere becom[ing] increasingly hard to distinguish", I found this on Twitter: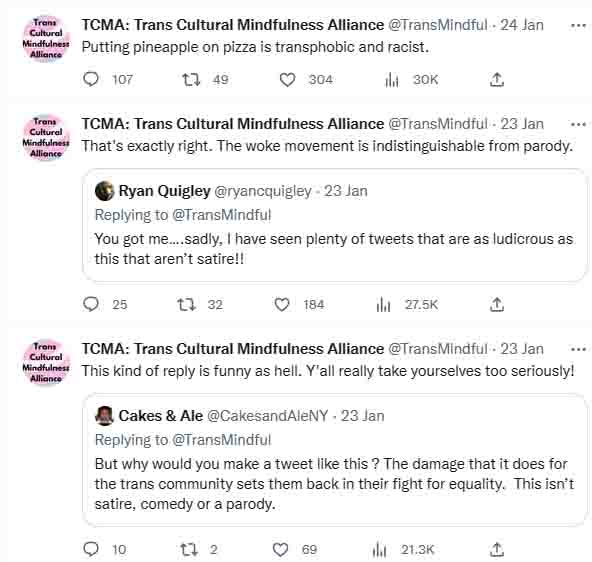 When a biologically male rapist can be sent to a woman's prison 1 because he "identifies as a woman", and a biologically female worker sacked for insisting that sex is biological and binary, why would anyone reading the TCMA tweet at face value have to be "taking themselves too seriously"?
(Even if both of my examples were subsequently reversed -: the one to save Nicola Sturgeon's skin; the other after a prolonged legal fight.)
* * *
A friend and  natural woman pointed out to me that, whereas my reaction to jailed male rapists in women's prisons was one of concern for regular inmates, the likelihood is that the rapist is the one most at risk. In the Cell Block H popularity stakes he'd likely be a few points below Rosemary West; moved at least once due to plots to do her in with billiard balls in a sock.