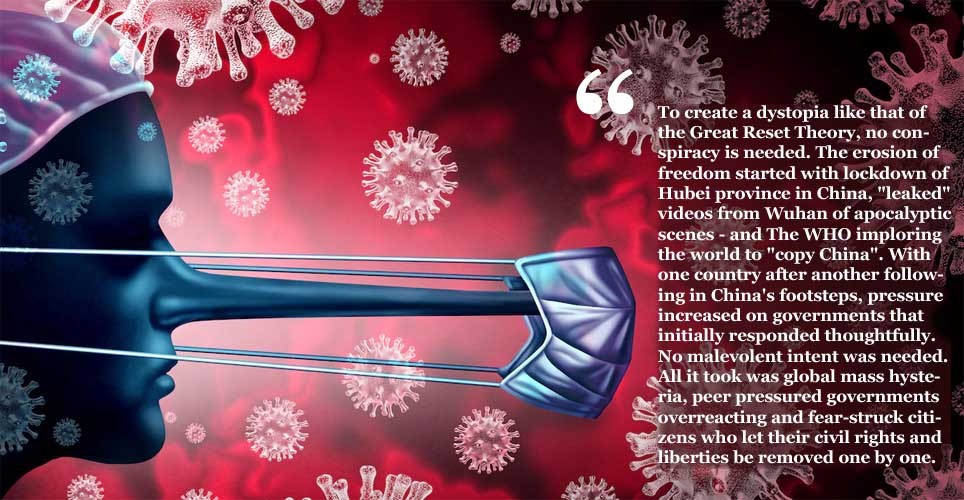 CV-19 as fictitious is not the only conspiracy theory in town.1 Just yesterday a fellow dog walker, a likeable bloke and seemingly sane, gave his view of the corona virus as unleashed by China. The "communists", he told me, are after – I quote verbatim here – "world domination". I could have asked how he'd arrived at that conclusion but didn't. Nor did I interrupt or argue. Why do that? One unforeseen benefit of blogging, I find, is a gradual fading of the impulse to rush into exchanges of baked air at the drop of a hat. In any case the barkings at the less savvy end of the dog leash at times go beyond light entertainment. As measures of the diverse forms that brain-washed opinion manufacture may assume – while remaining fully in sight through the Overton Window – they can also be ethnomethodologically instructive.
(Overexposure to Guardian and Beeb-wash can leave a chap under-exposed to Telegraph and Mail-wash. I recommend dog walking. It's good for mental wellbeing and can promote dialogue between the differently deceived).
Still, in my neck of the woods, for every home-grown who posits covid-19 as the evil fruit of evil China's evil bid to rule the world,2 there's ten will tell you the whole ghastly business was spun from thin air by Machiavellians near and far for the sole purpose of taking away our freedoms.
On March 25 I promoted an Off-Guardian piece, 12 Experts Questioning the Coronavirus Panic. In my post that day I wrote:
I'm resistant to the idea of covid-19 as a huge scam, cooked up for one or more of – introducing draconian curbs to liberty … tilting further the balance of class forces from labour to capital … covering up for a huge financial crash that was going to happen anyway … consolidating the grip of elite bankers, regardless of lost trillions in the 'real' economy. All of these possibilities and a few besides have been aired on social media.
But [some have been asking] how reliable is the evidence for covid-19 as unprecedented threat, hence for the extra-ordinary measures, their costs incalculable, we are now seeing? That's a fair question when the 'cure', it can be argued, may be worse than the disease. When the global economy takes this level of battering, lives will also be lost ... 
My response so far to those questioning the extent of covid-19's threat has been that:
I don't know, and neither do they. Because I oppose capitalism, its defects exposed as never before in my lifetime, more than I oppose authoritarianism I've been inclined to bend the stick of doubt in favour of accepting covid-19 as "a real and terrible" danger. But I've made clear I could be wrong, and suggested that time may swiftly tell. Nor, I hasten to add, do I offer anti-authoritarianism versus anti-capitalism as an objectively grounded either/or. Simply a framework, largely subjective, within which I make my leaps of faith where we haven't the luxury of certainty.

If this is a devilish plot, I'm struggling to identify the beneficiaries. Not just the small and medium capitalists – always expendable in a crisis – but big capital too are being hit as never before. The costs of global lockdown will be measureless to man.

If this is a devilish plot, how come China, Russia and Cuba are in on it too?
I broadly stand by that view, though my first bullet looks to have been too optimistic about time "swiftly" telling. But almost a year on, and notwithstanding my loss of a dear friend to the virus in May, it has become more clear that, as Eric Van de Beek claims below, it is "deadlier than flu, but not a killer like ebola or Spanish Flu". As for my second bullet, that was flat out wrong. Big capital has not been "hit as never before"; at any rate not evenly. Behemoths like Amazon, and lesser titans like Tesco, have seen profits soar under such exotic conditions. More generally the super rich, who do not sell their labour-power, have got richer.
And the professional castes, in many cases able to work from home, have so far been shielded from the worst economic effects. Indeed, with lower travel costs and less to spend money on, the biggest worry for this group is the threat to savings from looming negative interest rates.3
*
These days I don't write much about CV-19, or the responses taken by governments in the name of protecting us. One reason being that I've grown more confused, not less, as to what many sceptics are actually saying.
On that last I used to think I could distinguish those who say the disease is real, but overstated, from those who say it is imaginary – a 'shamdemic'. I thought too that I could tell those who say lockdown in its various forms is disproportionate and/or counterproductive, but not conceived in bad faith, from those who see the whole thing as cooked up – a 'plandemic'. And prior to the Great Barrington Declaration in October 2020, I thought I knew the difference between left libertarians – with whom I differed but whom I respected – and Free Enterprise zealots.
Now I'm less sure of any of these things but that doesn't leave me devoid of opinions. Take the conspiracy thesis of Gregory Sinaisky in Fabricating a Pandemic – Who Could Organize It and Why. In a footnote to my Great Barrington post, linked in the previous paragraph, I wrote:
Mr Sinaisky is fond … of unsupported generalisations. Some are flat out wrong, as when he says "media never compare the number of deaths caused by flu in recent years with Covid-19 deaths". Even the most cursory search online shows that they do. Often. And his answer to the argument that those who cry global conspiracy must account for Beijing, Havana, London, Moscow, Tehran and (Trump or no) Washington being in on it? Not at all, he retorts. Few states have the resources to ignore WHO advice, and WHO is US dominated. That last is true. WHO, like OPCW, IMF and other "independent" bodies is indeed US dominated. But parties capable of an independent line include Beijing, Moscow and Havana.
Ruling classes are very good at turning crises to their advantage – as with the financial crash of 2008, which I'm equally loth to believe was engineered – and at making those least responsible pay for their greed and ineptitude. But I don't buy the 'scamdemic' thesis and deplore the way committed and capable scourges – Jonathan Cook, Caitlin Johnstone and Media Lens spring to mind – of a criminal order are pilloried for not penning the covid-19 posts their detractors feel morally entitled, in many cases astoundingly given their own low input, to demand of them.4
In short, on some crucial aspects I remain agnostic. On others I've made up my mind. Pending convincing evidence to the contrary I don't believe CV-19 the Great Decimator we've been sold on by politicians themselves in the grip – not least because epidemiologists have been saying since SARS 2003 that such a catastrophe is a matter of when not if – of panic.
Nor, also pending evidence to the contrary, do I believe it a scam or, less confrontationally, "no worse than flu". I do believe some people are not only too sure of themselves on such points, but less interested in patiently winning others to their positions than in vilifying those who do not already share them. I also believe that a cacophony of the self righteous, with its damning of the infidel, diverts attention from the question of who will be saddled with the bill, and lets government incompetence and cronyism off the hook.
(Leaving criticism of said incompetence and cronyism to the likes of the Guardian, which would have us think the answer lies in a change of faces – in the corridors of what it calls power and I call office – and not in the demise of life-negating capitalism. But that's a bit of a stretch, so I'll back off a tad. While I'm setting out my CV Stall of Beliefs, here's one more narrowly germane: that my writings on CV-19, sparse as they are, have done more than their 'sceptical' critics ever did to give a hearing to relevant but dissenting and hence deplatformed experts5 who see the disease as overstated, government responses as wrongheaded.)
Let me add less contentiously that trends long in the making have been expedited. They include spiralling inequality, rising authoritarianism – some of it in the name of social inclusion6 – and a snitching culture. Less obviously problematic, they also include an accelerated shift to online shopping (further eroding social engagement) and, for the professional, to home working (more social erosion, plus further weakening of the ties between how we make a living and where we live). These trends, all promising knock-on effects, were already taking place but lockdown has acted as a catalyst and the changes look set to be either wholly irreversible or only partially reversible. The one thing all sides can agree on is that if and when this all ends we will not be going back to the way we were.
As I trust is clear from all this, my silence for more than three months has not been because I thought the matter of no importance. Rather, a mix of objective uncertainty with subjective and toxic 'certainty' on the one hand, on the other the existential threat of a US Empire enraged by the rise of Eurasia, has had me focus my limited energies elsewhere. It will likely continue to do so. But every now and then I've sought calm assessments of the covid/lockdown state of play; assessments which acknowledge differing views without hysteria, ad-hominem or triumphalism unwarranted, and leave room for what we we simply do not know. In a climate where nuanced reason on important aspects is easily drowned out, however, I've found such assessments few and far between.
Then the other day I read an Eric Van de Beek piece on the ICH site. Since Sputnik had run it on January 31, I post here in full. Make of it what you will. It comes close to my own thinking.
Fact or Fiction: The Great Reset Conspiracy
Due to the lockdowns, many people around the world are losing their jobs, businesses are going bankrupt and governments are indebting themselves to the hilt. Those who believe that the negative impact of the coronavirus measures are more damaging than the lives being saved have started asking themselves: Is there a hidden agenda behind it all?
Last week marked the 50th annual World Economic Forum in Davos, Switzerland. For the first time, the forum was held in a virtual setting, with no heads of state, captains of industry and others physically attending. The theme of this year's sessions: The Great Reset.
The Great Reset has become a buzzword in circles of conspiracy thinkers. Some think that it refers to global financial elites and world leaders that planned the pandemic, deliberately letting loose a coronavirus to cause conditions that will allow a restructuring of the economy, the financial system, politics and society. They refer to the pandemic as a 'plandemic'. Others refrain from any opinion about the cause of the pandemic and merely think the elites are just taking advantage of the virus. Many believe the main goal of the Great Reset is to take global control by instituting a totalitarian regime, and by extension, a so-called new world order. Such a regime would abolish personal ownership and property rights, send the military into cities, impose mandatory vaccination, and create isolation camps for people who resist.
Conspiracy thinking has become a derogatory term. And, in fact, there are many examples of conspiracy theories that are ludicrous. But at the same time, conspiracy theories have often turned out to be conspiracy facts. And so what to make of The Big Reset Conspiracy Theory?
A hidden agenda
It is understandable that people have started asking themselves why governments have taken such draconian measures to stop the pandemic. The virus may be deadlier than the flu, but it's not a killer virus like ebola or the Spanish Flu. To many, the cure seems worse than the disease. Due to coronavirus lockdown measures, many are suffering from severe physical and psychological stress. They have lost jobs or have gone bankrupt. Their governments are indebting themselves to the hilt. The World Food Programme (WFP) executive director, David Beasley, has warned that the world faces "multiple famines of biblical proportions" that could result in 300,000 deaths per day — a "hunger pandemic". Financial experts have warned we are bringing ourselves to the brink of a financial crisis, one that could be worse than the Great Depression of the 1930s. To an increasing number of people it seems that the lives that are being destroyed by the coronavirus lockdown measures outweigh the work of saving lives, by far.
Many therefore have started to think there's a hidden agenda behind it all. This agenda, to conspiracy theorists, is called The Great Reset, and in their view, it is being masterminded by the global elites via the World Economic Forum in Davos. Klaus Schwab, 82, who founded the forum 50 years ago and is still leading it, is sometimes depicted on social and alternative media as the character Blofeld from the James Bond films: a bald-headed villain, holding a white cat, who directs the international criminal organisation SPECTRE and aspires world dominance.
The influence of Schwab on world affairs is of course grossly overestimated. The WEF does not control its members and participants; however, it supports them, serves as a consensus machine and confronts them with societal issues like climate change and social inequity.
Schwab co-authored a book published in July 2020 entitled 'Covid-19: The Great Reset'. I've read this book and – to be honest – in the book I didn't find anything that substantiates the Great Reset Conspiracy Theory. Schwab and his co-author, Thierry Malleret, simply voice their concern about the economical, political and societal impact of the virus. They warn for incremental measures and ad hoc fixes. They fear the climate and social crises will deepen and that measures taken to contain the virus will leave the world even less sustainable, less equal and more fragile. To prevent this from happening the authors call on the world community to put into motion a Great Reset.
"It's about making the world less divisive, less polluting, less destructive, more inclusive, more equitable and fairer than we left it in the pre-pandemic era," the authors clarify.
In essence there's nothing new here. Schwab has been expressing idealistic ideas like these for at least two decades now. Naomi Klein, a well-known WEF critic, describes The Great Reset as "a coronavirus-themed rebranding of all the things Davos does anyway, now hastily repackaged as a blueprint for reviving the global economy post-pandemic by seeking a better form of capitalism." As editor Andrew Stuttaford of the National Review puts it: "COVID-19 is just the latest excuse for Schwab to renew his longstanding campaign to replace free market capitalism with stakeholder capitalism."
Moreover, many of the ideals expressed by Schwab and Malleret in their book, if not all, are inspired by the Sustainable Development Goals of the United Nations (UN) that were set in 2015 and are intended to be achieved in the year 2030.
The catch phrase "building back better" that was used in Joe Biden's election campaign and in speeches of Boris Johnson, Justin Trudeau and other world leaders does not stem from the WEF's Great Reset initiative as is often claimed by conspiracy thinkers. It's been part of the of the UN's vocabulary for at least 15 years. It was originally used in the context of offering help to countries that were struck by natural disaster like hurricanes and tsunamis. To make these countries less vulnerable to future disasters the UN helped them by rebuilding a more disaster-resilient infrastructure.
And so: Move along, nothing to see here? No conspiracy going on at the WEF in Davos?
Danger of totalitarianism looming
There isn't a shred of evidence the coronavirus was brought into the world on purpose. But at the same time it's a known fact that, with every crisis, the rich get richer and the poor get poorer.
"The 1,000 richest people on the planet recouped their COVID-19 losses within just nine months," NGO Oxfam reported last week on the opening day of the WEF. "But it could take more than a decade for the world's poorest to recover from the economic impacts of the pandemic."
Did wealthy actors take advantage of the coronavirus by pushing governments into taking draconian measures that would cause a worldwide economic crisis? As far as I know, there's no supporting evidence for this theory at all.
However, concerns about the development towards authoritarianism or totalitarianism need to be taken very seriously. Western governments have taken a set of freedom-restricting measures that are unprecedented in peacetime. As the Austrian-British economist Friedrich Hayek put it: "Emergencies have always been the pretext on which the safeguards of individual liberty have been eroded." Governments are always eager to take more control over society – and once they've taken it, they will never easily let go of it.
Will governments send the military into the streets to crack down on demonstrations? Will they impose mandatory vaccination and create isolation camps for people who resist?
In some European countries, including the UK and The Netherlands, politicians have already suggested to send the military to assist the police. In Germany, four federal states declared to have plans to detain repeated quarantine breakers in facilities that historically have been either detention or refugee centres.
To force people into taking a vaccination, governments do not have to make them mandatory. They can simply exclude people that aren't vaccinated from activities like travel. Such measures are already being prepared. The more people that have been vaccinated, the harder it will become for vaccination refusers to resist.7 
To create a dystopian world like the one embodied in the Great Reset Conspiracy Theory, no conspiracy is needed. The erosion of freedom in the West started with the lockdown of the Hubei province in China, "leaked" videos from Wuhan of apocalyptic scenes likened to Zombieland and The Walking Dead – and with The World Health Organisation (WHO), imploring the world to "copy China's response". With one country after another following in China's footsteps, pressure increased on governments that initially responded in a more relaxed or thoughtful manner. No malevolent intentions were needed to get where we are now. All it took was a global mass hysteria, peer pressured governments that overreacted or simply took the wrong measures, and – last but not least – fear struck, paralyzed citizens that – without offering considerable resistance – let their civil rights and liberties be taken away from them step by step, one by one.
* * *