As threatened sixteen days ago, I've resumed meditation – as a daily practice – after a gap of close to two decades. I sit for an hour each morning, very early, and let my thoughts – all with a greater or lesser emotional charge – rise and fall: not fixating on any, not pushing any away. It surprises me how swiftly and naturally I've picked up where I left off. It's like I never stopped.
To remain impassive as the mind-stream, with which I habitually identify and to which I attach the label, "me", burbles on in its highly inconsequential way – to detach from it as though from a conversation faintly overheard in the next room – would not be possible if its content really was me. To meditate in this way is to place on the table the biggest question of all.
Who am I?
I'll let you know if I get any answers. Meanwhile the peace is divine.
*
A week ago I took to the water for three days and two nights: my first ever multi-day canoe trip with a pal, as opposed to solo. Richard had no previous experience so I took the lead. A lapse of judgment – a fraction of a second's miscalculation – I made on night two, as we glided into my chosen overnight location on the Trent after battling head on winds for hours, could have cost me my life. Worse, since the friend I've known close to half a century moved with unhesitating courage into the danger zone to help me, it could have cost him his.
Since then I've dreamed, not every night but several, of being parted from my canoe and pulled down by the undertow. Some call it the washing machine effect, after the relentlessly turbulent roll of the rip below a weir.
But it isn't weirs that frighten me.
It's how easily a moment's lapse of attention – behind the wheel of a car … stepping into a busy road without looking … letting go of a paddle at the wrong moment – can end a human life.
It's me that frightens me.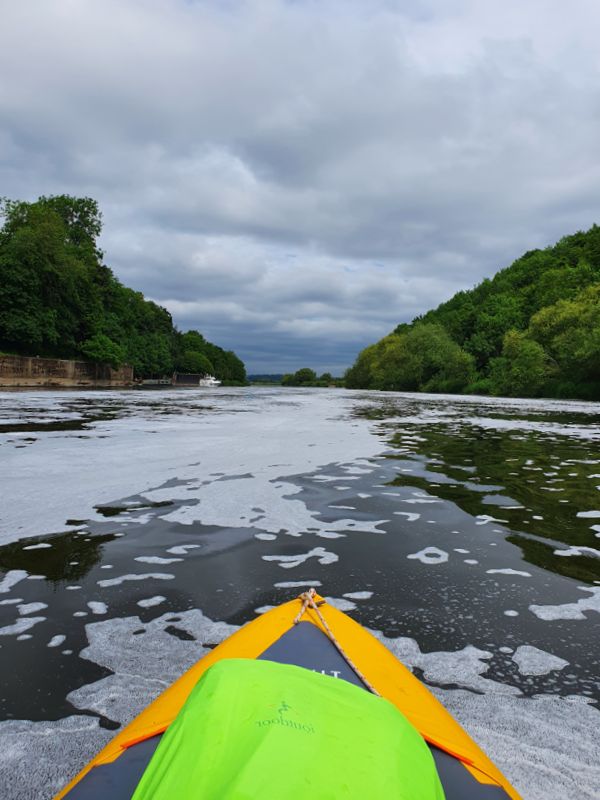 *
At a bus stop a friend tells of a Graun journo pal who knew Julian and found the man obnoxious. There are several responses I could make. For one thing, when these tales do the rounds – in a bar as the Johnny Walker wisdom runs high … at some Islington dinner party … via water cooler exchanges in a zillion office settings – such 'insider' titbits are invariably conferred at one step removed by someone who knows someone who Knows.
For another, the recipients seldom ask the key question; cui bono?  Whose interests are served by such unfalsifiable tittle-tattle? So credulous a failure on the part of a liberal intelligentsia which habitually confuses scepticism with cynicism – and its consequences for a very brave man (whatever else he may or may not be) deserted by what should have been his staunchest support base – are what make such bone idle gossip so toxic.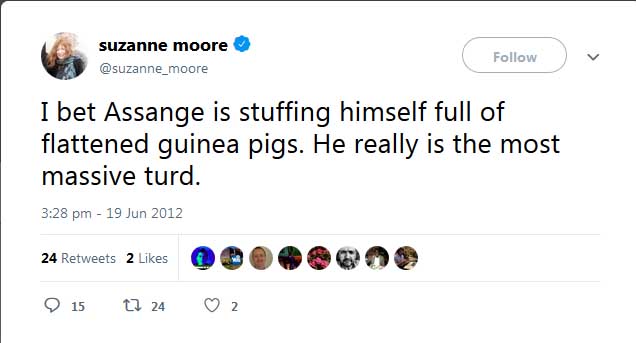 Most disturbing of all: for the Marina Hydes and Suzanne Moores of this world, and more to the point for their readers, the question of whether or not Julian is "an arsehole" counts for so much more than whether or not he spoke truly, and at great personal cost, about the appalling crimes of Empire and its servants.
(Spoiler alert: though all are highly specific, not a single Wikileaks claim has been refuted. But who cares? The single most salient aspect of Planet Guardian is that empire is invisible to its columnists and core readership alike. On the dark side of its moon, so to speak.)
But we'd had a couple of beers and I was in too good a mood to be baited. Just before our bus turned up I gave my blandly laconic response to this friend-of-a-friend sagacity.
"That's perfectly irrelevant."
*
So now the inflationary consequences – of a proxy war on Russia which Washington has craved since at least 2014, and responsibility for whose dangerous continuation I lay firmly at its door – are biting. The Puppet Biden has taken to calling those consequences, Putin's Price Hike.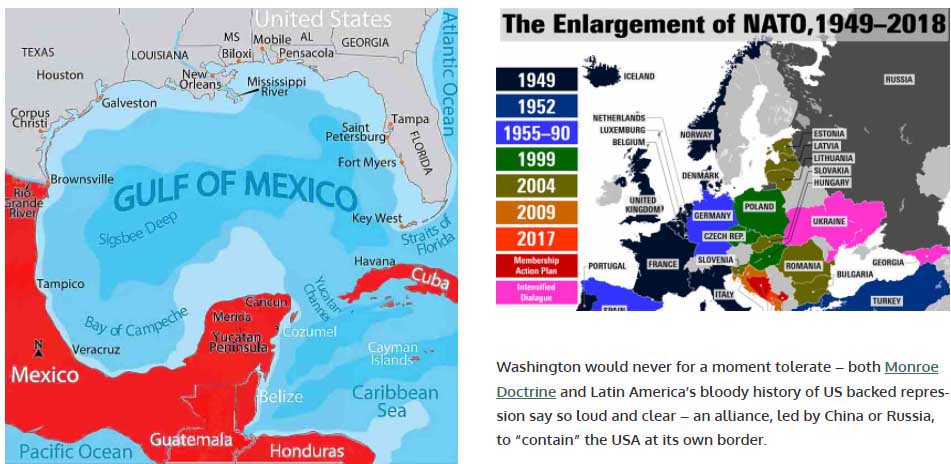 And those who deem it more important that Julian Assange has unpleasant habits (real or not) than that the planet is run by gangsters who will stop at nothing to shore up their assumed right to plunder the earth and all that's in it? Trust me, these are the very people who'll buy, in large part if not in its entirety, the reality-inverted twaddle about a Putin price hike.
*
Walking with my friend Sue two days ago I confided that I'm struggling with this site. Why do you do it, she asked. That's a good question. I'd like to say I believe it makes a difference, and that's not entirely baseless since a handful of people over the years have said they've changed their views on important matters – China, Russia and Syria – on the basis of arguments and evidence presented here.
For the most part, however, I doubt I make any major difference when, as I say so often in these scribblings, overarching narratives put out by the most powerful interests and deepest pockets on the planet trump reason and evidence at every turn. That seems to me an immutable truth of the human condition. How else explain those fatuous and monumentally ignorant yet dismally widespread judgments on Julian? How else explain on the one hand the sheer scale and ease of rebuttal of the lying, on the other its wholesale acceptance, in respect of Ukraine?
Instead I gave two reasons. One, I like to write and, while I may be deluding myself, believe I'm getting better at it due to the sheer frequency with which I practise the craft on this site.
(I've a ways to go, mind. I'm often too complicated: a consequence of thinking-by-writing – a tell-tale sign being my overreliance on bracketed or dashed asides like this – in contexts where I don't always have time for iterative revision. Simplicity comes at high cost, though those who write but occasionally seldom get that. I like the way Mark Twain allegedly closed a letter to a friend by apologising for its length on the ground he "didn't have time to write a short one".)
The other reason is that I don't know how to stop. Years ago, at start of my blogging 'career', I learned that knowledge, however ugly and however inconveniencing, cannot be ignored – not without a hit to mental wellbeing and intellectual sharpness – just because it would make life in some ways easier. There's a ton of stuff I didn't know back then, but that early discovery holds truer than ever now.
And since I can't unknow what I know, I'm driven to channel it on pain, given that gap between my perceptions and those of the majority of my fellows, of madness. I know therefore I write.
Even if I don't know who I am.
* * *