The hyperbolic language westerners use to describe fairly normal modern warfare in Ukraine suggests they've invested exactly zero thought in what their own governments have been doing in the middle east for the last two decades. 1
It's like, yes, killing, violence and destruction is what war looks like. You're describing the thing that war is. It's creepy that you're only just discovering this now. What did you think your government has been using to conduct its wars this whole time? Dank memes?
Before the Ukraine war I would've told you it's impossible for me to despise liberalism more than I already do and impossible for me to have less respect for its foam-brained worldview. But I would have been wrong. Very, very wrong.
If your understanding of world events doesn't account for the easily quantifiable fact that the US is the most tyrannical regime on earth by a massive margin, nothing else in your understanding of world events will be fact-based.
There's only one government that is circling the planet with hundreds of military bases, continually working to destroy any nation who disobeys it, and has spent the 21st century killing people by the millions. It isn't Russia. It isn't China. One must account for this reality.
Caitlin Johnstone, April 22 2022
I'm struggling for a way to penetrate the mass hypnosis my fellows have succumbed to over Ukraine. This war has been spun – by the most extensive, the most sophisticated and the most multi-dimensional propaganda system in history – as a gallant nation fighting for its freedom against a neighbouring tyrant.
In reality it is driven by one thing alone: US determination to maintain overlordship of a dollarised world.
"Well",  I hear my fellows reply, "that's very forward of you. Where's your evidence?"
Given what I and others have been presenting these past two months, that's hilarious. Once we drop the delusion that mass media business models permit the truth, the whole truth and nothing but on matters vital to power, 2 the evidence – of US crimes in this century alone … of NATO expansion … of Ukraine's post 2014 trajectory – points so decisively to my assessment of what is happening and why as to place burden of proof on those who dispute it.
It is a testament to the power of the most extensive, the most sophisticated and the most multi-dimensional propaganda system in history  that realities such as this …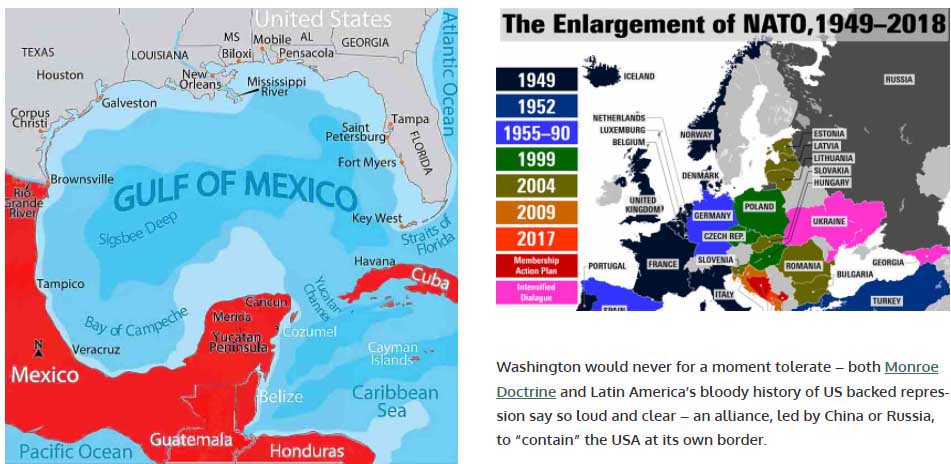 … scarcely register in the western mindset. Likewise that leaked phone call showing Assistant Secretary of State Victoria Nuland deliberating with US Ambassador Geoffrey Pyatt on who will, and who will not, lead a new Kiev regime following Yanukovych's 2014 ouster. Liberals even more than conservatives have bought without question – because barely conscious of doing so – the fact-defying fairy tale of a Washington-led west as a force for good in the world. 3 4
The crimes of the USA have been systematic, constant, vicious, remorseless, but very few have talked about them. You have to hand it to America. It has exercised a quite clinical manipulation of power worldwide while masquerading as a force for universal good. It's a brilliant, even witty, highly successful act of hypnosis.
Harold Pinter, Nobel Acceptance Speech 2005
On many issues, arguments against capitalism's central myths labour under the heavy burden of being abstract, lengthy and – given Slavoj Žižek's observation that it's easier to imagine the end of the world than of capitalism – hard to digest. Take that perennial phrase, "a fair day's pay for a fair day's work".  Exposing this for the sham it is – when capitalism, unlike slavery and feudalism, extracts its surplus value covertly and before wealth is produced (i.e. before value is realised in the markets) – calls for lengthy technical discussion, fraught with hazards for those seeking short cuts. 5
And while it's easy to pin our trashed environment on capitalism's insatiable need for 'growth' – with a trillion dollar ad industry insinuating with ever greater sophistication, and Borg-like co-option of oppositional currents, that happiness is the buying of more and more new stuff while dumping the old – it's a sight harder to show how Capital's inner laws of motion demand such 'growth' in constantly accelerating perpetuity. Here too the arguments are long. Not through intrinsic complexity, you understand, but because to the bourgeois weltanschaung  they are so devilish counter-intuitive. Swimming through treacle springs to mind.
In stark contrast, the Ukraine narrative is easily and simply punctured. The problem is not that the arguments are complex and non-intuitive. The problem is that no matter how ridiculous and evidence-defiant the mainstream narrative on Ukraine gets, its foundations have been carefully laid over years if not decades. The cornerstones being that:
Russia and China are truly scary entities despite having a record of invasion which pales into insignificance – whether reckoned by frequency, scale, duration or distance from their borders – at side of Britain's, France's and above all America's.
The USA is a force for good in the world, despite its having slaughtered – by invasion, bomb, drone strike, sectarian terror unleashed and murderous sanctions imposed – millions in this century alone, and despite the fact that in almost every case (I try to leave room for the exception though I can't for the life of me name one) Wall Street and America's bloated military-industrial complex have profited directly or indirectly from that slaughter.
These cornerstones of what we might call the meta-narrative are reinforced not just by news media whose systemic corruption I have been calling out for years. More diffusely they are deep embedded in the orientalist ideologies 6 which hold so powerful a grip on the western mind.
And this my friends is why the ludicrous narrative on Ukraine, despite being on the face of it far easier to refute than a fair day's pay for a fair day's work – despite too the exorbitant costs and existential perils attendant on that narrative – has swept the board. The emperor is naked but so what? Everyone has packed and gone to La La Land, a finger in each ear as they intone the mantra: Zelenski good, Putin baad …
* * *