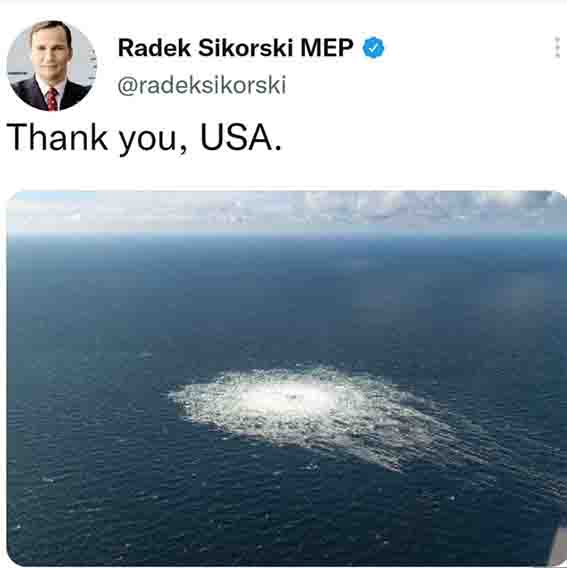 With regard to the reports in the [New York] Times and [Washington] Post, the notion that a massive, highly-sophisticated international undersea terror attack simultaneously destroying four separate pipelines would have been launched by Ukrainians operating from Germany without the knowledge of the Ukrainian government, Germany, or the United States is laughable. If the "pro-Ukrainian" group was in fact responsible, it was, at the least, carrying out the openly stated wishes of the White House, which vowed to "end" the existence of the pipeline

–
WSWS
*

… who lent their names to its byline mean something quite different.
Intelligence Suggests Pro-Ukrainian Group Sabotaged Pipelines, U.S. Officials Say
New intelligence reporting amounts to the first significant known lead about who was responsible for the attack on the Nord Stream pipelines that carried natural gas from Russia to Europe.
WASHINGTON — New intelligence reviewed by U.S. officials suggests that a pro-Ukrainian group carried out the attack on the Nord Stream pipelines last year, a step toward determining responsibility for an act of sabotage that has confounded investigators on both sides of the Atlantic for months.
U.S. officials said that they had no evidence President Volodymyr Zelensky of Ukraine or his top lieutenants were involved in the operation, or that the perpetrators were acting at the direction of any Ukrainian government officials.
The brazen attack on the natural gas pipelines, which link Russia to Western Europe, fueled public speculation about who was to blame, from Moscow to Kyiv and London to Washington, and it has remained one of the most consequential unsolved mysteries of Russia's year-old war in Ukraine.
Ukraine and its allies have been seen by some officials as having the most logical potential motive to attack the pipelines. They have opposed the project for years, calling it a national security threat because it would allow Russia to sell gas more easily to Europe. Ukrainian government and military intelligence officials say they had no role in the attack and do not know who carried it out.
U.S. officials said there was much they did not know about the perpetrators and their affiliations …
"We have evidence" is not evidence. When journalists use the "intelligence suggests"  construct – through mendacity or, more likely, self serving credulity – they not only leverage a chronic but widespread inability to disentangle the two things. (An inability itself borne of understandings, shaped by the most comprehensive propaganda systems in history, that West is Best and "our" truth-bound governments act to advance your interests and mine rather than those of a tiny but powerful oligarchy.)
No, when said muppets use the "intelligence suggests"  construct in this  context, they also flag to anyone paying attention that:
the fantastical denial of US involvement, with its even more fantastical variant that Evil Putin is the culprit – he being too stupid to figure out that, should he wish to disrupt gas supply to Europe, he had only to turn off the taps – has finally foundered on the reefs of reality in the form of Seymour Hersh's report last month;
the waters must be re-muddied by invoking – here's where that "intelligence suggests" phrase so beloved of lazy and craven journalists comes in handy – a bunch of lone actors with a boat;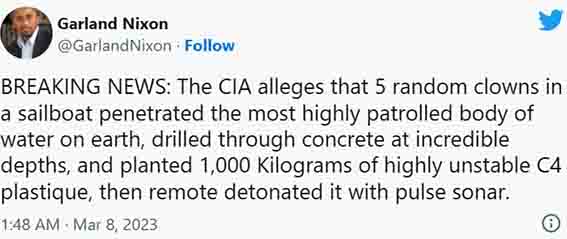 No. You do not dive down to 80+ meter for an industrial size job, involving the placement of hundreds of pounds of explosives in eight individual charges on very sturdy pipelines, from a sparsely manned sailing boat. Such deep dives require special gases, special breathing equipment, special training, a decompression chamber for emergencies and lots of well trained people to maintain all that stuff.
the NYT, with its long history of imperialist war apologetics, is perfectly happy to run such drivel on behalf of its masters. Presumably because it and they think its readers will lap it up and call for more.
Says Caitlin Johnstone today:
According to NYT's anonymous US government sources, the pipelines were blown up by a "pro-Ukrainian group" who had no known connections to any military or intelligence agency, but somehow had all the information, skills, diving equipment and military explosives necessary to carry out such an attack.
It's actually insulting how stupid it is. It reads like a small child lying about who broke the lamp in the living room; "Uhh, some bad guy came in and broke it, then he left. He was wearing a black cape and had a twirly mustache."  At least respect us enough to make up a better lie than "Yeah it turns out it was just some random people with a boat, man! It's crazy I know!"
Heigh-ho.
* * *