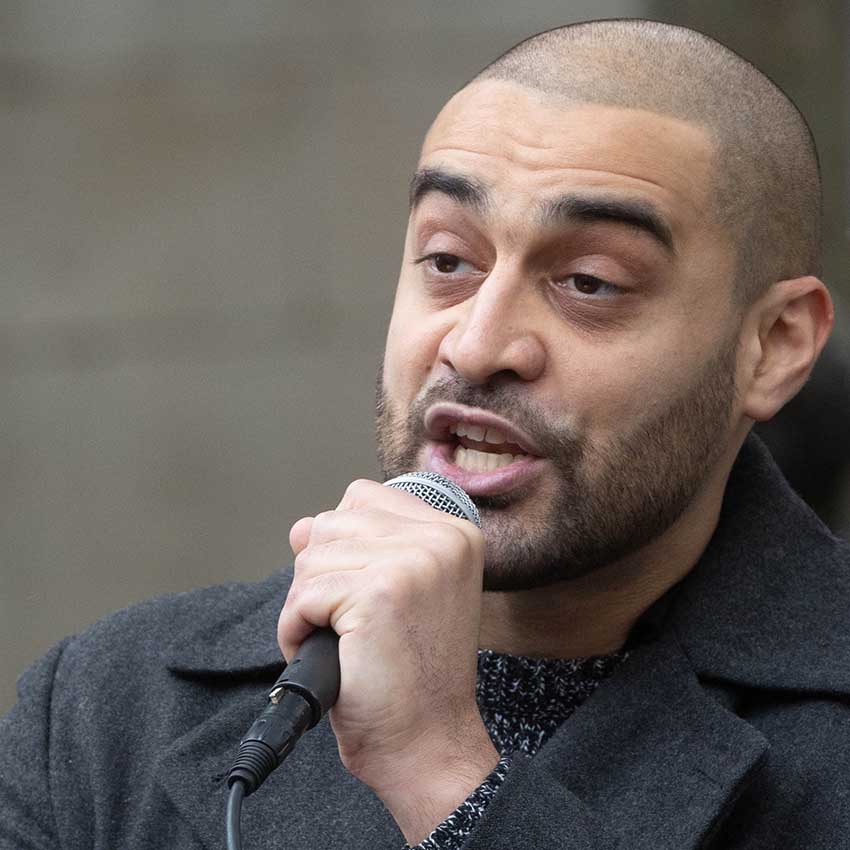 Lowkey addresses a Free Julian Assange demo in London, October 2021
I've seen and snapped Lowkey twice at rallies for Julian Assange but, not being a rap fan, 1 paid little heed beyond noting with approval that, as with Roger Waters and Vivienne Westwood, here was a celebrity on the right side of history.
Anyone who incurs the ire of Britain's formidably well funded Israel Lobby gets my sympathetic if not my full attention. But when that lobby bays for his removal from Spotify – presumably a key source of his livelihood – on account of his "problematic songs", I sit up and take notice.
Which has led me to see him differently. More than an icon for the rebels of a generation much younger than mine, he is a journalist outside the corporate sphere of that degraded profession.
And one in remarkably full possession of the facts.
Judge for yourself. The first video runs for 21:18 and shows Lowkey interviewed by sympathetic anchors for America's Breakthrough News, founded in 2020 by NYC journalists Ben Becker and Eugene Puryear to:
… tell the untold stories of resistance from poor and working-class communities – because out of these stories we will construct a different narrative of the world, as it is.
The second runs for 14:42 and has Lowkey interviewed by a more adversarial but, to give him his due, polite Piers Morgan. Predictably, the latter seeks to pin down his guest on the narrow question: will he or will he not condemn the Hamas attacks of October 7?
Lowkey's response is a masterclass in the importance of doing your homework, 2 but also in how not to be caught in reductive traps. 3
* * *
I don't mean I dislike rap music – rappers like Eminem (whose dark ballad, "Stan", made this site's hallowed Tune of the Day slot) and Dr Dre amaze me with their wordplay – but I don't know the form or its artists well enough to claim to be a fan.
As Norman Finkelstein, one of Israel's most effective scourges, has pointed out, the key to remaining unruffled in exchanges with defenders of the apartheid state is – and this is generalisable to other adversarial exchanges where we sense our interlocutor is wrong but, lacking the information, lose our tempers – is to know our facts. To which I would add that it is equally important to not lose sight of the bigger picture: in this case of Israel as a beachhead in the middle east.
'Reductive traps' are as old as the hills – would the Nazarene,  the Pharisees demanded, have his followers pay their taxes (and thereby support the Roman occupier)?   Fast forward two millennia: would Arthur Scargill condemn the violence of striking miners?  What they share, besides simplistic reductivism, is a damned-if-you-do/damned-if-you-don't invitation to dance to the tunes of abusive power. Same day update: I've just seen Yanis Varoufakis interviewed yesterday on Al-Jazeera. See his reply to the "why won't you condemn Hamas?" trap at 10:50.(Also noteworthy is his assertion at 05:05, apropos the ridiculous Queen Ursula's Gaza comments, that "we have a duty, as Europeans, to not take this person seriously".)