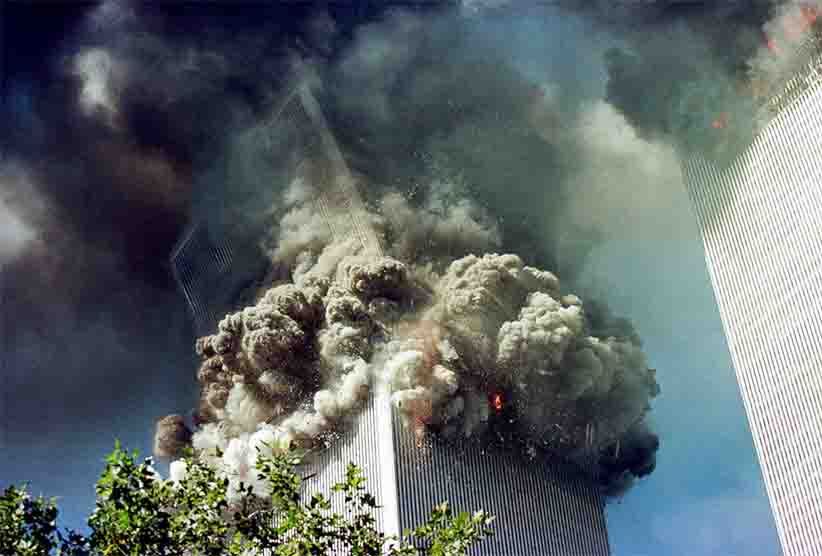 .
Between 2016 and 2018 my take on 9/11 changed. On the fifteenth anniversary I had derided the 'truther' idea of 9/11 being a false flag operation, by or on behalf of the US 'deep state', but the seventeenth saw me eating my words. Too many holes and howlers – too many questions left not so much unanswered as unacknowledged – in the official narrative meant I could no longer dismiss the false flag thesis.
Since then I have moved from 9/11 agnosticism to acknowledgement that, of available accounts of what happened that day, the false flag thesis is the least problematic.
I repeat: "least problematic".  No Truther 1 has explained to my satisfaction how parties to mass murder and cover up – how many is anyone's guess – have held their tongues for so long with no breaking of ranks or deathbed confession. As I said in a caveat to my 2018 recantation:
The only safe number for a conspiracy is one. Since that's an oxymoron, let's move to two. At least you'll know, if you didn't blab, who did. But when we move to three, boy, that's when the problems really kick in. But here? Here we're talking hundreds if not thousands of conspirators …
I don't see this as insurmountable though. For one thing, some participants – and certainly the "Islamist" patsies sent to their deaths that day – would have been kept in the dark as to the full extent of any false flag op. (Indeed, most would have had no inkling of what was afoot.) What if those fully in the know were a tiny fraction of  my "hundreds if not thousands" ?
(A tiny fraction bound, by an unforgivingly omerta  culture, to perpetual silence.)
For another, my caveat is one of plausibility. As such it is outweighed by a wealth of evidence devastating – if not singly then cumulatively – to the official narrative but consistent with a false flag thesis. 2
This evidence includes but is by no means confined to the facts that:
The alleged hijackers were neither devout Muslims nor pilots capable of executing the lethal moves witnessed in New York City, far less the one described at the Pentagon.
We now know the USAF contracted Raytheon to develop the technology to override cockpit controls and send a plane on a pre-programmed flight path. 3
Official accounts, of why the military jets on permanent standby were not scrambled the instant it was known a transcontinental plane had been hijacked, were changed no fewer than four times in the face of contradictions both extrinsic and intrinsic. 4
Accounts of how WTC 7, which no plane struck, collapsed several hours after WTC 1 and 2 fell have been threadbare, unconvincing and circular. 5
9/11 legitimised – at least in the eyes of the uncritical whose name, especially in times of moral panic, is legion – both arms of the "War on Terror". At home it allowed repressive laws and mass surveillance to be implemented with barely a murmur of protest. In the middle east it green-lighted carnage and a trail of chaos which, according to a study by one of America's most prestigious universities, cost $8tn and 4.5 million deaths. That's a weighty cui bono?  given that a truth not easily seen in 2001 is now better appreciated. Here's David Morrison (abridged) in a Labour and Trade Union Review piece of 2003:
In September 2000, the Wolfowitz vision 6 of 1992 saw light of day again in the PNAC [Project for a New American Century] report, Rebuilding America's Defenses, Strategy, Forces and Resources For a New Century.  Its conclusions begin:
"… America should extend its global leadership by military force. Today, the USA has an unprecedented strategic opportunity.  It faces no great-power challenge; has wealthy, powerful and democratic allies in every part of the world … its political and economic principles are almost universally embraced. At no time has the international security order been as conducive to American interests and ideals …

 Yet unless the USA maintains military strength, this opportunity will be lost. Failure to establish a security strategy responsive to new realities has placed the American peace at growing risk."
… The report proposed a revolution in US military capabilities "to provide a secure basis for U.S. power projection around the world" and create a new service, US Space Forces, with the mission of space control.  This "process of transformation … is likely to be a long one, absent some catastrophic and catalyzing event – like a new Pearl Harbor". [Emphasis added.]
It's hard to envisage any event more "catastrophic and catalyzing"  than what the world saw on its screens, both in real time and in the days after 9/11. As with Biden's and Nuland's promise to "stop Nord Stream", advance notice had been served – and promptly buried.
That's my input done. Thanks are due for the second time in as many days to a steel city reader; this time for alerting me to a crisply authoritative presenting of the 'truther' case by Kevin Ryan. It too is a video podcast but, as with my offering yesterday, is in the main a talking heads affair. You can do other stuff while you listen, though you'll miss a few non essential visuals.
* * *