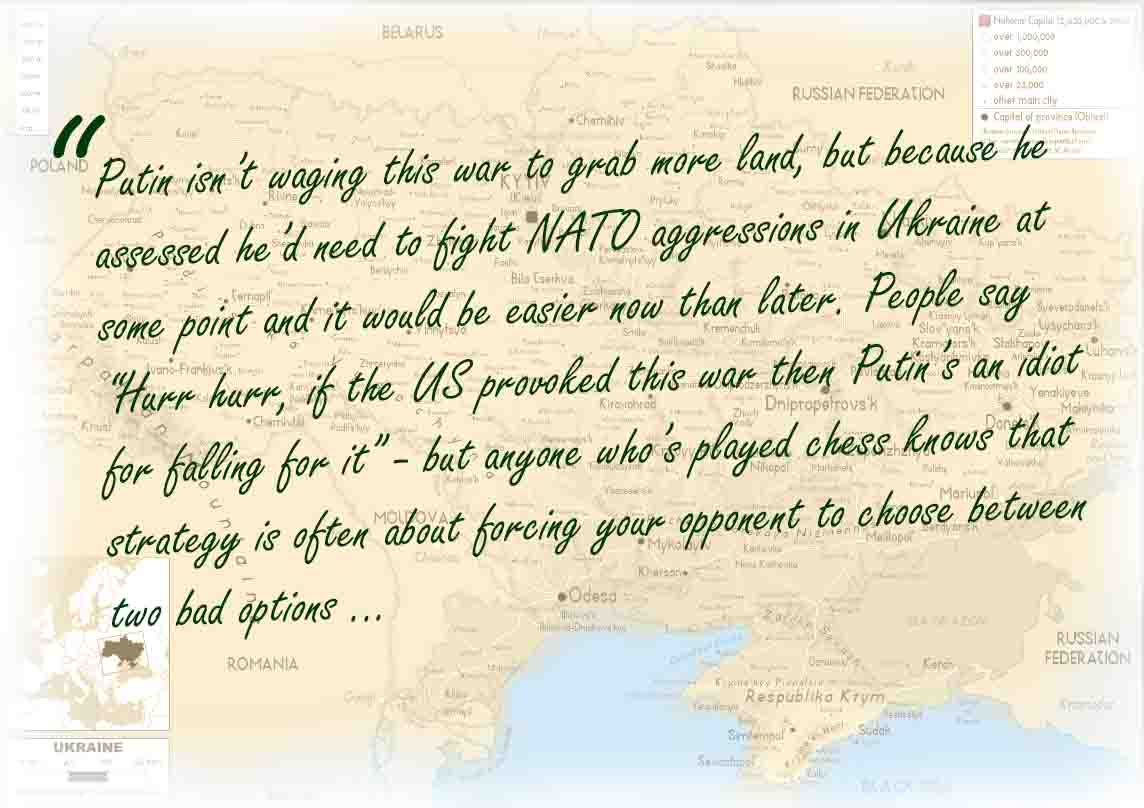 A few days ago, in a post replicated here, Caitlin Johnstone followed the above with this:
There's still this notion in some anti-imperialist factions that Putin is a strategic wizard outfoxing the empire at 5D chess, but really he's just fighting on the back foot against a far wealthier, far more powerful foe, and it's costing his nation dearly.
Whether Ukraine "wins" is irrelevant to the fact the US empire was for relatively little cost able to create a massive sinkhole for Moscow to pour energy and attention into, freeing up the imperial machine to turn the screws on China.
Ukraine Take 1 critiqued the most evidence-defiant and most widely held view (in the West) of the Ukraine War; viz, that Russia is the unprovoked aggressor. That view requires blindness to the reality of the US Empire, an affliction daily reinforced by the silence of media systemically incapable of being truthful with us on matters vital to power.
The subject of Ukraine Take 2 does not make that error. He regards the USA as imperialist but says that so too are Russia and China. I disagree, as I do with the corollary that socialists can defend neither side but must organise for international revolution.
*
In Ukraine Take 1, I said this of a reference by Richard Murphy to "just-in-time capitalism":
… just-in-time capitalism is the product of a globalised economy run by and for the rentiers who captured Western governments forty years ago … Those rentiers  – the latest in a 500 year line of supremacists whose greatest fear has always been of the rise of a united Eurasia  1 – are determined to crush Russia and ultimately China for one reason alone: the threat those two powers pose to their own licence to exploit the 'developing world' …
In an attached footnote I added that:
… the mere possibility of alternative funding, from such as Asian Infrastructure Investment Bank or Shanghai Cooperation Organisation, gives the global south leverage in the face of IMF and World Bank loan conditionality.
I claim – as one who, for reasons given many times, pays little heed to the predictable smears by Western corporate media – that Eurasia rising has moral and historic legitimacy. (I could be wrong though, and even if right today that's no guarantee of what tomorrow may bring. 2 )
In other posts – this for instance – I've given my reasons for cautiously welcoming China's rise. On the one hand I've followed assessments of humanity's grim predicament with the claim that none of the West's main currents of resistance – social democracy, trade unionism, 'vanguard' revolutionary sects, direct action – is capable, though all have merit, of effecting change of the kind, scale and timeliness needed. On the other I've said that China's capitalists (a) have been instrumental in lifting hundreds of millions from poverty, (b) are subordinate to the state – in the West it's the other way round – and (c) exist precisely because the failure of the West's Left to make its own revolutions obliged China to adapt to globally entrenched neoliberalism. 3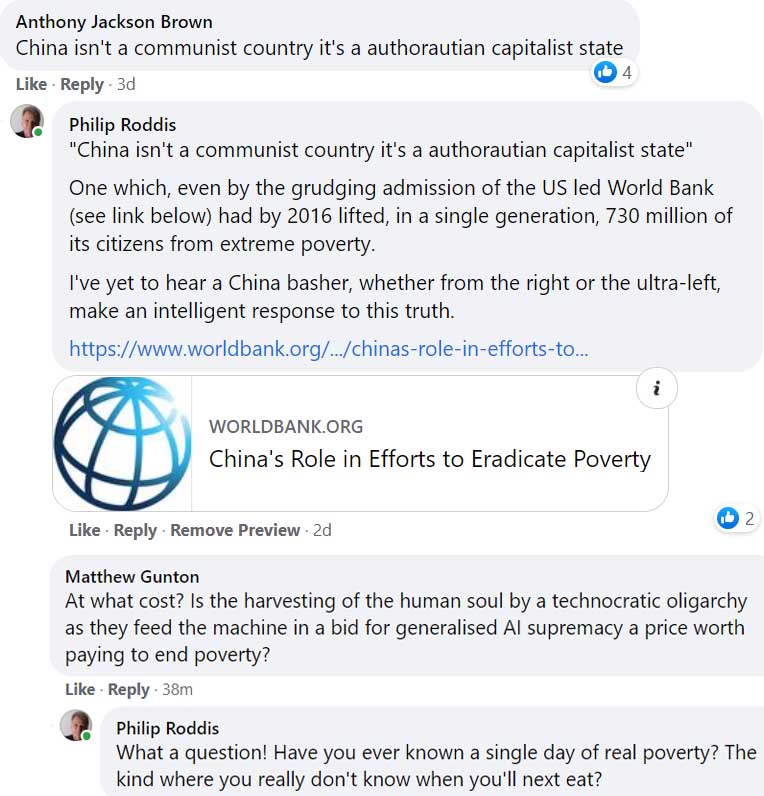 But that's China. Isn't this post meant to be about Russia and Ukraine? Re-read Caitlin's words:
Whether Ukraine "wins" is irrelevant to the fact the US empire was for relatively little cost able to create a massive sinkhole for Moscow to pour its energy and attention into, freeing up the imperial machine to turn the screws on China.
She might have added that whether Ukraine "wins" is also irrelevant to further and equally low cost goodies for Washington. I refer to the cutting off of EU trade with Eurasia, binding Europe more tightly to its imperial orbit. Also to the weakening, as Europe's energy-starved businesses go to the wall or relocate in the US, of its transatlantic rival. These things are addressed in other posts, such as this.
While I say Russia has right on her side, there's a bigger picture. That's where Stephen Gowans, author of my second take on the Ukraine War, comes in. His analysis is way ahead of Professor Murphy's, the latter adrift on a sea of delusions fed by failure to see the US as hub of the most powerful empire ever – hence by failure to locate the source of Washington's hostility to Russia and China in its fear of imperial decline. 4
But that's a very low bar.
Before I move to the substance of Steve's take on Ukraine, let me set the scene. In early 2019, I was approached by the publishers of his recently launched, Israel: a Beachhead for Imperialism in the Middle East. Would I care to review it? I would and did, giving the book a resounding ten out of ten. But why was I asked in the first place?
Possibly because I'd more than once – this 2018 post for instance – cited Steve approvingly on the West's dirty war in Syria. Of which I'll say this. While Israel: a Beachhead … is a diamond of perspicuity, Palestine has long been an easier cause to sell – other than in Israel itself 5 – than Syria; the propaganda blitz against Damascus far more intense.
This has had consequences not only for liberals and left reformists, but also the far left. Many Marxist groups have fled for cover over Syria (as forty years ago they did over the Provisional IRA) and for this reason those who refuse to do so, like Stephen Gowans, have my respect. 6
The scene duly set, let's turn to Steve's position on Ukraine, as expressed in numerous posts. Of which I have selected his What's Left?  blog entry of December 27:
The Multipolaristas' Theory of Ultra-Imperialism Doesn't Fit a Multipolar World
Recently, The Wall Street Journal reported that "Mr. Putin" is "convinced Russia's Western enemies" are "seeking to yank Ukraine from Russia's orbit." Clearly, the United States and Russia are locked in a struggle over Ukraine; each wants the territory in its own orbit—that is, in its own empire. US efforts to yank Ukraine from the Russia orbit have been largely successful. Russia is yanking back, but it's unlikely to win the tug of war.
The US and RF are indeed locked in a struggle over Ukraine. (Given the fog of war – and attendant propaganda – I'll pass on who will prevail.) But Steve is priming us for a moral equivalence I reject. A regional power seeking to contain a neighbour within its sphere of influence – and this is me being ridiculously generous given Ukraine's history 7 – is not to be likened to a global empire which views the entire planet as its fiefdom. Where Ukraine membership of NATO crosses a red line for Moscow, Washington draws its own red lines wherever it sees fit, typically thousands of miles from its coasts and borders.
Elsewhere Steve has dismissed Russian fears of NATO semi-encirclement as baseless, on the ground she can incinerate all her neighbours. I find this a remarkable argument. Why, we might ask, does Washington move unfailingly – and with far less cause, strategic or moral – to remove or isolate Latin American governments which prioritise the needs of their peoples over US 'security concerns'?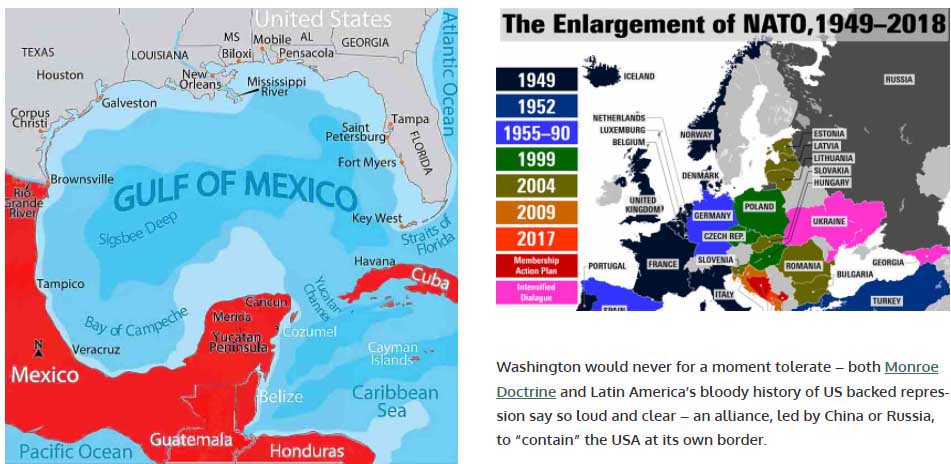 To be sure, Steve is not in the game of defending Uncle Sam but the question merits an answer, and the fact Washington has many non-nuclear ways of controlling its southern neighbours serves only to underline the point I'm making. Could it be that, when one's sole means of response to a hostile alliance on one's doorstep is to trigger world war three, one might feel a shade underinsured?
The idea that the war in Ukraine is but one battlefield in a larger war between two empires is difficult to grasp for people whose understanding of imperialism is influenced by dependency theories developed in the immediate post-WWII period.
Yes, the Ukraine War is indeed "but one battlefield in a larger war".  No, it is not a "war between two empires".  
We can argue this in "common sense" terms. The USA rings the planet with 800 military bases, outspends on weaponry the next ten spenders put together, has been at war for almost its entire history and has slaughtered millions – by bombs, invasions, murderous 'sanctions' and terror unleashed – in this century alone. Mostly in far off lands.
In what universe can anything remotely similar be said of China or Russia?
Or we can argue it in terms of dialectical materialism. We can point out that neither Steve nor those other Marxists (like WSWS) who say China and Russia are empires have backed with empirical analyses their view of either as defined by the export of monopoly capital and repatriation of profits. For more on this I recommend two essays. One is The Myth Of Russian Imperialism: in Defense of Lenin's Analyses, by Roger Annis and Renfrey Clarke. The other is Stansfield Smith's, Is Russia Imperialist?
That Moscow would be so foolhardy as to launch for imperial motives an unprovoked attack on Ukraine beggars belief. The truth – evidenced often on this site, 8 accepted by Western scholars before things got so hot that many ran for cover, 9 and corroborated by Angela Merkel's boast, ignored by Western media, that Minsk was a decoy – is that war came after years of reasoned argument had fallen on deaf ears in Washington. Caitlin is correct in saying Moscow took the least unattractive of two terrible options: fight now, or fight later in worsened circumstances. President Putin's domestic approval ratings are at levels no Western leader may dream of because Russians believe – and with good cause – that they are engaged in an existential struggle.
Steve follows with a few hundred words (here again is the link) on multipolarity, taking in questions – such as dependency theory and the work of Karl Kautsky – beyond the scope of this post. They conclude with this:
… Continuing to see Russia and China as socialist powers that lie outside the metropolis, when they are now large capitalist powers with unconcealed projects of integrating regions into their own economies, is tantamount to applying the geology of the desert to the rainforest, and on this basis, declaring that trees (i.e., an imperialist Russia and an imperialist China) don't exist.
Steve doesn't say who sees Russia as a socialist power, and I can't imagine who'd take so outlandish a view. But then, I'm not obliged to try. It suffices that there are other grounds for defending Russia in Ukraine. These being that:
The US Empire poses, for reasons given many times on this site – reasons I do not suppose Steve would contest – a threat to humankind which is very concrete and very 'now'. Any future threat from Russia (or China) is a matter of speculation, and Steve's' speculations do not strike me as backed by serious empirical engagement, though burden of proof falls decidedly on him.
(A US ruling class no longer divided on this has recognised there is zero prospect of sowing discord between Moscow and its more serious economic rival, Beijing.)
Under her current management, Russia's recent superiority in hypersonic missiles – neutralising US ability to launch with impunity a first nuclear strike 10 – has met with fury in Washington. Likewise and more generally her leaders' refusal to bow, as Mr Yeltsin had, to US diktat. To be sure, being the target of Washington ire does not of itself merit approval by progressives. In general I'm not big on my enemy's enemy being my friend. But on this specific question, yes sir! What the Empire of Chaos finds unacceptable – a fiercely independent Russian Federation – should indeed be embraced as wholesome. The option of neutrality (with or without the fantasy of a "third way") is illusory.
(Washington's fury is laced – and here too I doubt Steve would gainsay me, given that we see eye to eye on the nature of the West's war on Syria – with desire to punish Moscow for thwarting regime change in Damascus. And so put the world on notice as to what happens to all who would defy its imperial writ.)
The specifics of the situation in Ukraine make Russia the victim of aggression, the USA the perpetrator. It is incumbent on those who disagree to say why, and equally incumbent on those who agree – but insist Russia should not have taken the bait – to set out in detail the alternative options she could and should have pursued.
As to whether China (Steve having bundled it with Russia) is a socialist power; that too lies beyond my scope here but the case for calling it imperialist has not been made. To those interested in this question – and if not, why not? – I commend Michael Hudson's 2022 book, reviewed here, The Destiny of Civilisation: Industrial Capitalism, Finance Capitalism or Socialism.
That, and a reminder of what I said earlier:
… I've followed assessments of humanity's grim predicament with the claim that none of the West's main currents of resistance – social democracy, trade unionism, 'vanguard' revolutionary sects, direct action – is capable, though all have merit, of effecting change of the kind, scale and timeliness needed.
Emphasis added. If the socialist response to coming barbarism is that rabbit-from-a-hat call for the workers of the world to unite and throw off their chains – and I'm not even sure Steve is saying this when he rightly, unlike most of the revolutionary left, avoids so fanciful a remedy for Syria – you'll forgive my being underwhelmed.
Meanwhile I'm standing by Russia.
* * *