A few months after the Maidan Coup of 2014, a professor of Russian and European Politics at the University of Kent wrote a book I see as the best single source on the complex history and culture of a country few were interested in at the time, though now virtually everyone has views on; views rarely backed by an iota of actual knowledge, and by that fact highly susceptible –
"weak opinions strongly held"
– to manipulation by the greatest propaganda machine in history.
I didn't read Frontline Ukraine until 2016. By then – see perilous days – I'd come to regard Russia's west and southwest borderlands as, alongside South China Sea and Middle East, one of the three likeliest flashpoints for WW3.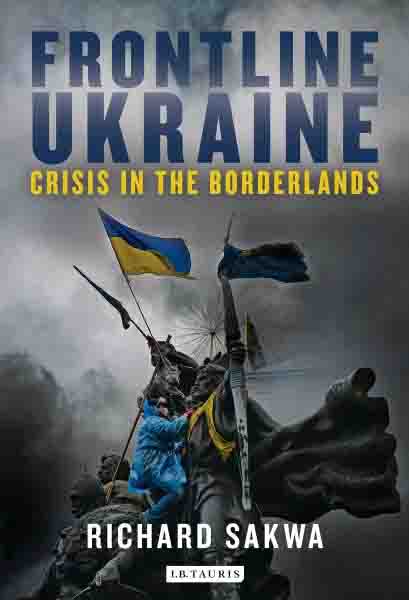 Ominously, Richard Sakwa's book is no longer available in e-format. I say ominously because, even if its 2022 audience has not been deliberately narrowed as part of the wider information war waged by the US-led west, the fact it is now only available in hardback at thrice the price must have a similar effect, regardless of intent. 1
Frontline Ukraine, whose author, wiki informs us, "has published on Soviet, Russian and post-communist affairs, and has written and edited several books and articles on the subject", drew instant plaudits. An LSE review of 2016 welcomed its:
 … fine-grained, well-sourced analysis of the background to the 2014 upheavals in Kiev, the violent course of the events in the Maidan, Russian annexation of Crimea, rebellion in the east of Ukraine, the present state of play and the prospects for a resolution of Ukraine's increasingly perilous division.
"At last", proclaimed the kicker to a Guardian review a few weeks after the book's release, "a balanced assessment of the Ukrainian conflict – the problems go far beyond Vladimir Putin".
Columnist Jonathan Steele continued:
When Arseniy Yatsenyuk, Ukraine's [then] prime minister, told a German TV station recently that the Soviet Union invaded Germany, was this just blind ignorance? Or a kind of perverted wishful thinking? If the USSR really was the aggressor in 1941, it would suit Yatsenyuk's narrative of current geopolitics in which Russia is once again the only side that merits blame …

… Even today at this late stage, a declaration of Ukrainian non-alignment as part of an internationally negotiated settlement, and UN Security Council guarantees of that status, would bring instant de-escalation and make a lasting ceasefire possible in eastern Ukraine.

The hawks in the Clinton administration ignored all this, Bush abandoned the anti-ballistic missile treaty and put rockets close to Russia's borders, and now a decade later, after Russia's angry reaction to provocations in Georgia in 2008 and Ukraine today, we have what Sakwa rightly calls a "fateful geographical paradox: that Nato exists to manage the risks created by its existence".

The third crisis, also linked to the Nato issue, is the European Union's failure to stay true to the conflict resolution imperative that had been its original impetus …
The Guardian can be relied on to speak more or less truthfully before and after the heat is on. It's the bit in between that merits – if you'll excuse my harsh language – contempt. 2 Be that as it may, on the final point of the above, we can say with confidence that the EU caved – against the long and short term interests of its constituency – under Washington arm twisting.
*.
I knew Paul Mason long before he achieved celebrity status. In the eighties he and I were in the Trotskyist sect, Workers Power, though unlike me Paul sat on its National Committee, elected by 'democratic centralism'. Since then he has become one of the best known of today's crop – alongside such as Baroness Claire Fox, former leading light in the RCP – of ex revolutionaries who embrace reaction. See this WSWS profile. As with other WSWS pieces I cite, I baulk at full endorsement – but it gets more right than wrong.
*
That's background enough for this sixteen minute video on what Paul said about Ukraine, and how Richard Sakwa responded. It's dated February 1, when tensions were high but hostilities had not begun. While I find the interviewer irritating – too full of herself and too wrong on too many important things – that hardly matters. Focus on what the prof is saying. 3
* * *
Happily, a reader emailed to say that the book can be had in e-format after all. Better still, it's free. Here's the link.
Not that the Guardian is exceptional in this regard. In a recent post I spoke of media – BBC and NYT as much as Guardian – which had done useful investigative pieces on the power wielded by Ukraine's Nazi tendencies; now not only in flat denial of what they themselves had uncovered, but ridiculing those with better memories as – wait for it – conspiracy theorists and Putin apologists.
Since I've made caveats to other sources in this post, I note that Richard Sakwa voices muted criticism of Russia's move on Ukraine. This is not a red line  for me but I've yet to hear those with whom I broadly agree, yet call Russia's move "aggressive" and a "war crime" (Media Lens) or "strategically imbecilic" (WSWS), set out an alternative course Russia might have taken given provocations they and I see eye to eye on. (The only attempt I've seen – and I do read, view and listen widely on this – was by Paul Street in CounterPunch. It fell lamentably short of convincing since it hinged on Russia applying economic pressure which Washington (with glee) and Europe (with heavy but subservient heart) are prepared to ride out.) My view on this is set out more fully in a March post, Ukraine: the left is almost right.