"The safest, most redundant, least courageous thing anyone can do right now is condemn Vladimir Putin" –
Caitlin Johnstone
The Guardian yesterday, March 17, 2023.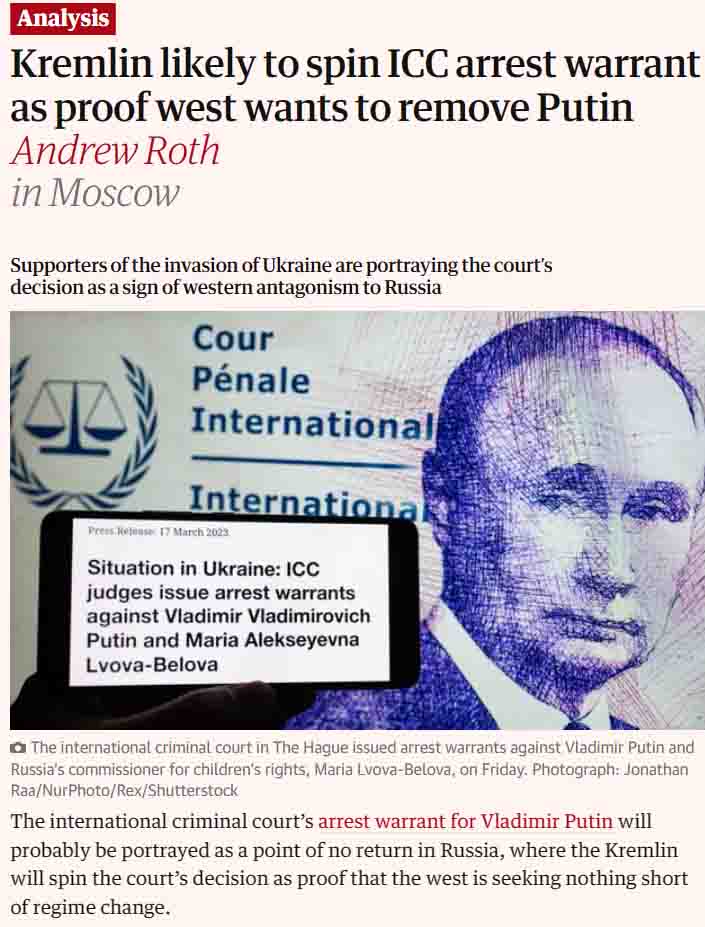 Sarcasm alert: how perverse of the Kremlin and its Putinbot pals! What on earth could put such an idea in their paranoid heads? Don't they know the ICC is fiercely independent?  End sarcasm.
It's true of course that America, like Russia, does not recognise the ICC. It's also true that Sleepy Joe has voiced his approval of this warrant. For all that Uncle Sam is not a signatory, whenever did the ICC show a scintilla of indifference to his will?
Still, every cloud and all that. At least I got me a masthead quote from so surreal a moment …

More seriously, even the Putin-critical – too much so, I say – anti-imperialists at WSWS have rightly called this out for what it so patently is:
The move is transparently political. It takes place as the US and NATO powers are orchestrating a massive escalation of the war against Russia over Ukraine, and amidst ever more open statements from government officials that the aim of the war is regime change in Moscow.

The specific allegations filed against Putin and Lvova-Belova are listed under Article 8 of the Rome Statute, adopted in 1998, which includes "grave breaches of the Geneva Conventions" and "other serious violations" of international law. The arrest warrants specifically allege "the war crime of unlawful deportation of population (children) and that of unlawful transfer of population (children) from occupied areas of Ukraine to the Russian Federation."

The official filing of warrants were approved by judges in the ICC and announced by Karim A. A. Khan, a British lawyer and the ICC's chief prosecutor. It follows months of propaganda, spearheaded by the Biden administration, alleging "crimes against humanity" and "genocide" on the part of the Russian government.

While the existence of the warrants was made public, the supposed evidence underlying them was not. The specific claims of the "unlawful deportation" of children have been promoted in the US media, including the New York Times, based on unsubstantiated allegations by the Biden administration and the Ukrainian government.
* * *