I'm sure that in the dying days of 2022 there were hundreds if not thousands of assessments of what is happening in Ukraine and why. I've selected three, each reflecting a worldview sharply distinguishable from the other two, and each the subject of a post this week.
Today I start with the most simplistic yet most widely held understanding. 1 Because it can't be aired too often, given its graphic refutation of the lie that Russia launched an unprovoked attack – and because repeat postings of an image don't eat up my bandwidth – I'm for the umpteenth time showing this: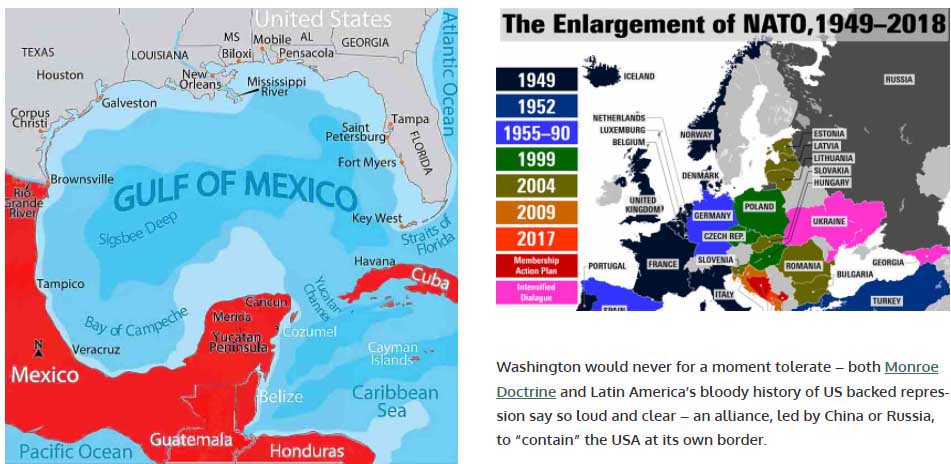 I should stress that I regard Richard Murphy – the tax specialising, modern monetary theorising Quaker I often cite with guarded approval (here for instance) – as a man of integrity. Moreover, his assessments – not only of twelve years of Tory government in the UK, but of Labour refusal to challenge the homely but specious likening of a sovereign economy with a fiat currency to a household or business on its uppers 2 – have been witheringly on target.
On America's proxy war on Russia in Ukraine, however, Professor Murphy's ignorance of highly salient facts is as telling as the shallowness of his grasp of realpolitik. Like others who do one thing very well, he should either stick to his home turf or extend his new year's reading list.
Here's what he wrote on December 28:
Few, myself included, really thought Putin would invade Ukraine. Those that did had little doubt that Ukraine would crumble in the face of the onslaught and before any assistance might be provided to it.
But, Putin did the unimaginable and launched a war of aggression in Europe. In the process, he showed that he, like almost everyone else, got all his calculations wrong. His army was much weaker than he thought. Ukrainian resistance was much stronger than he expected. The demands of the war on Russia were much bigger than he anticipated. As I write the war continues. No one wins from that. Almost universally the demand is that Russia withdraw.
Three comments on that second paragraph. First and most obviously, it is childishly empiricist to say Putin launched a war of aggression in Europe. 3 Many have argued, backed by a plethora of evidence including but by no means confined to the above map, that Washington and junior partners did all they could – lies, broken promises, insults and provocations America would not for a second tolerate in its own back yard – both to provoke this war, and to prevent its being averted through diplomacy.
Second, though not a Quaker, my lack of military knowledge has made me wary of pronouncing on the war's progress. That seems not to trouble Professor Murphy, possibly because the one thing I am  sure about – that, as with the war's causes, it is naive to suppose corporate media capable of being truthful on who is winning – is beyond his ken. But these things aside, a child of ten can see that if "Putin" underestimated anything it was not "Ukrainian resistance" but the ease with which planet earth's most militarised economy could pump tens of billions of dollars in armaments to the corrupt regime in Kiev, and thereby not only fight Russia down to the last Ukrainian but make a tidy profit along the way.
Third, in saying that "almost universally the demand is that Russia withdraw …"  the prof again reveals sharp limits to his competence. His words echo those of Western corporate media in their invoking of an "international community" depicted on this map of the, ahem, world: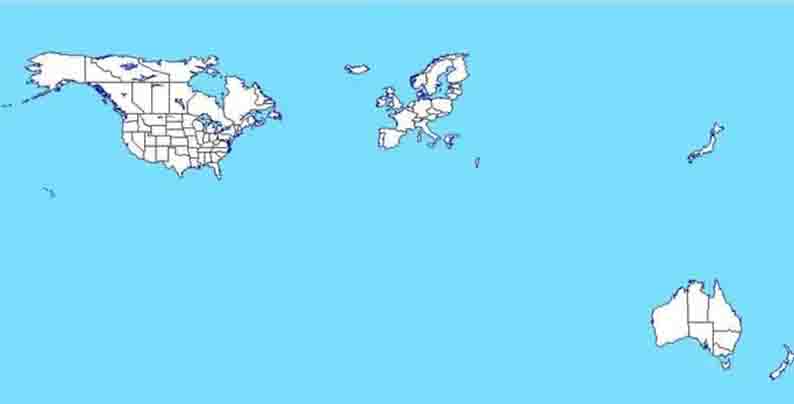 Neither of Asia's superpowers, India and China – 36% of the world's population – is making any such demand. And it is far from self evident that the peoples of the global south, as opposed to comprador ruling classes in cahoots with the West's exploitation of their natural resources and cheap labour, want to see Russia defeated. 4 As I wrote in a footnote to a December post:
A renascent Russia, and China's Belt & Road, open up the possibility (for now I'll put it no more forcefully) of a prosperity denied the global south for centuries under colonial rule, and for decades under the debt-trap controls of modern imperialism. IMF conditionality makes development loans (to bring recipient states into the global value chain as semi-colonies) subject to 'market reforms' which open up nationalised sectors to the investors of Frankfurt, London and New York. And should such financial discipline not suffice? Or, in the oil rich Ba'athist economies of the Middle East, be inapplicable? Then other means may be called for: infanticidal sanctions and, ultimately, the casus belli  by which armed intervention is given a veneer of 'humanitarian' or 'self defence' legitimacy. But the rise of a multipolar world, led for now by a China whose approach to prosperity rests on a very different model to that of Wall Street – see Why read Michael Hudson? – offers a ray of hope to the global south even as it threatens to call time on the West's larceny.
Richard Murphy goes on to speak of:
… Putin's rediscovery of economic warfare. He might have underestimated the power of the human spirit when faced with tanks, but he did appreciate the dependence of the west on Russian oil. The result has been economic chaos.
Having confused 'the human spirit' with Ukraine becoming a lucrative arms dump, the professor does the same with cause and effect. It was not the Kremlin which elected to bring chaos to the German and other European economies. 5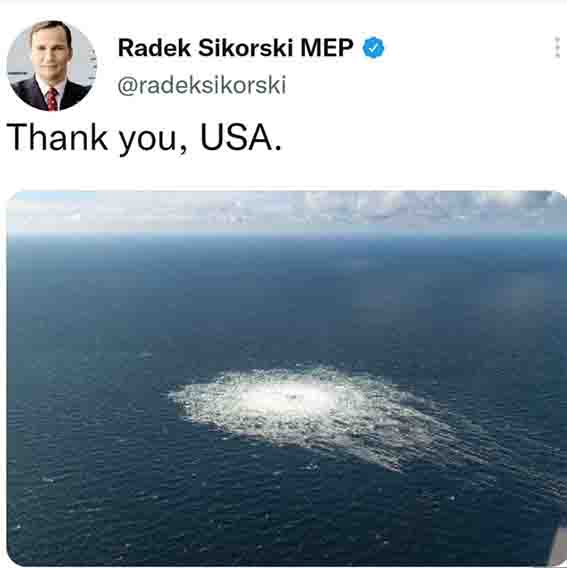 See last month's post on the EU oil price cap.
The professor continues:
After Covid and the lessons it imparted, Russia's behaviour has provided a stark reminder of three things. One is that dependence on those who are not political allies is dangerous. The second is that extended supply chains are easy to disrupt. The third is just-in-time capitalism is deeply vulnerable to deliberate disruption. Chaos resulted from the realisation of these essential truths. That in turn suggests that globalisation has decided limits.
To the three statements in that paragraph I have three off the cuff responses:
"Dependence on those who are not political allies is dangerous"
Professor Murphy takes as read who is and who is not an 'ally'. The more comprehensive and sophisticated assessments of Michael Hudson (also a professor, also an economist 6 and to a degree also an MMT sympathiser) shows clearly that the interests of Europeans as opposed to their leaders not only diverge sharply from Washington's. They also point to the advantages of economic co-operation with Russia and through that with China.
"Extended supply chains are easy to disrupt"
True, yet he has nothing to say about European reliance – much to the advantage of US exporters, and much to the loss of Europe's shivering citizens and plummeting business competitiveness (again, see my post on the EU oil price cap) – on LNG from across the Atlantic. Should this war broaden (a terrifying possibility I blame entirely on Washington and its puppet governments across the West) that ocean has a history of becoming a war zone with merchant shipping the prime target.
"Just-in-time capitalism is deeply vulnerable to deliberate disruption"
Agreed. Actually, vulnerable to any  disruption. But if Professor Murphy were to apply his sharp economic mind to this, he would see that just-in-time capitalism is no accident but the product of a globalised economy run by and for the rentiers  who captured Western governments forty years ago. He would further see that those rentiers  – the latest in a 500 year line of supremacists whose greatest fear has always been the rise of a united Eurasia – are determined to crush Russia and ultimately China for one reason alone: the threat those two powers pose to their licence to exploit the 'developing world' 7 even as they ponder ever more extreme solutions to the 'problem' of domestic populations now surplus to the requirements of profit.
Finally:
This war will end. I hope it does soon. I hope Russia is forced to withdraw. Re-creating sustainable supply chains with resilience built in will take a lot longer. Economic chaos is not over yet.
Ukraine take 2 will be out soon, and will feature a more sophisticated but still flawed analysis. 
* * *