A couple of things are exercising me, one of them read recently. I've long thought hubris an occupational hazard for bloggers. Without the support and discipline of a party – and I see none I could join – we may exaggerate our importance. The more so when gripped, as I am twice a week on average, by fear that we aren't doing enough and Must Work Harder!
My recent read, its source forgotten, is that bloggers are not solo sprinters but baton-passers in a relay team. It was good to be reminded of that. It can get lonely doing what I do. And this way of viewing what I do – which is insist that Western capitalism poses an existential threat on two fronts; chaos and insecurity, immiseration and psychotic violence on several others – snaps into focus a truth I've long sensed; that my most useful work is not the production of original copy. It is the promotion of commentators more eloquent or knowledgeable, their voices side-lined by the false pictures necessarily on offer from corporate media whose objective role, regardless of the subjective sincerity of most journalists 1 – regardless too of their protestations, also for the most part sincere, that they report on the worst aspects of our world – is to normalise the insanely abnormal.
The link just given is to one of my most widely read posts. Its overall theme, the systemic nature of media corruption, is universal but the immediate context is Britain and that brings me to the second thing now exercising me. My country, of which I write relatively little – preoccupied as I am with China and Russia rising, and the response of those who rule the West – has entered a stage in which tendencies more than a century in the making are finally finding expression in a sharp economic decline …

Guardian, April 25 2003
… and with that decline all the signs, for those with eyes to see, of a ruling class tooling up to deal with dissent and rebellion through erosions of even the semblance of democracy.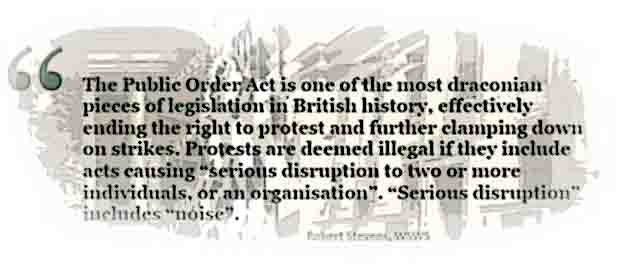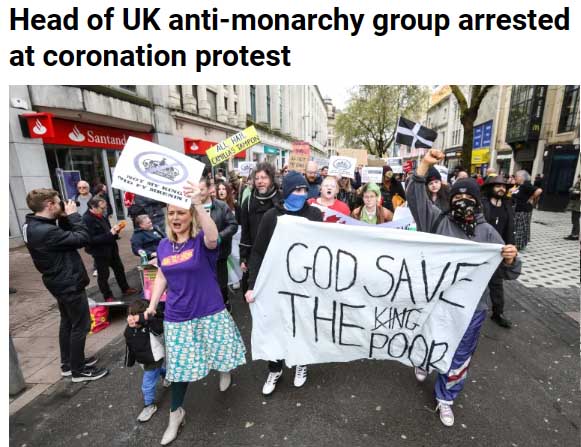 Al Jazeera, May 6 2003. All  have been released without charge but the arrests served their purpose, while grounds included the sinister and newly created offence of "conspiracy to cause a public nuisance".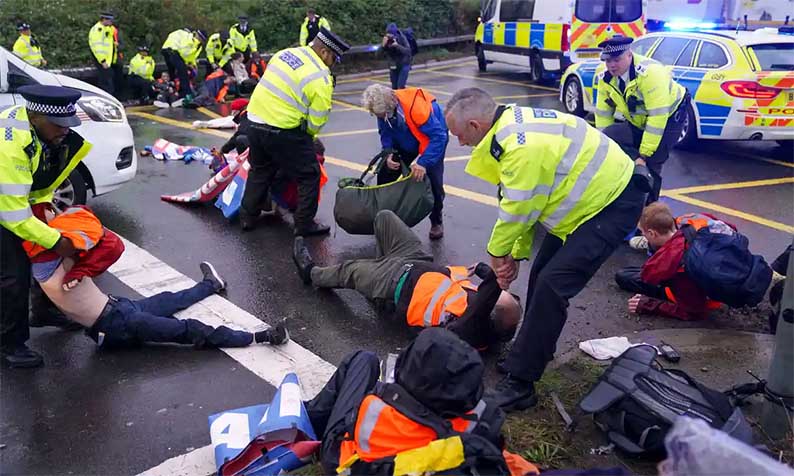 Insulate Britain activists, October 2021 – analysis here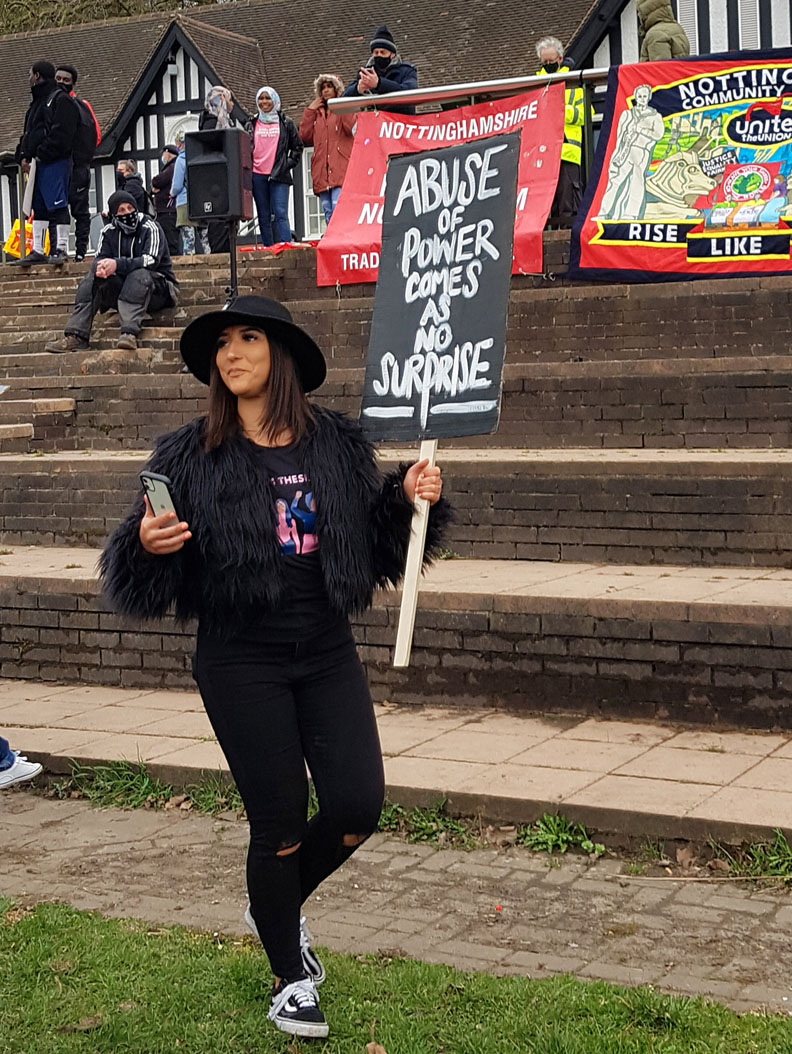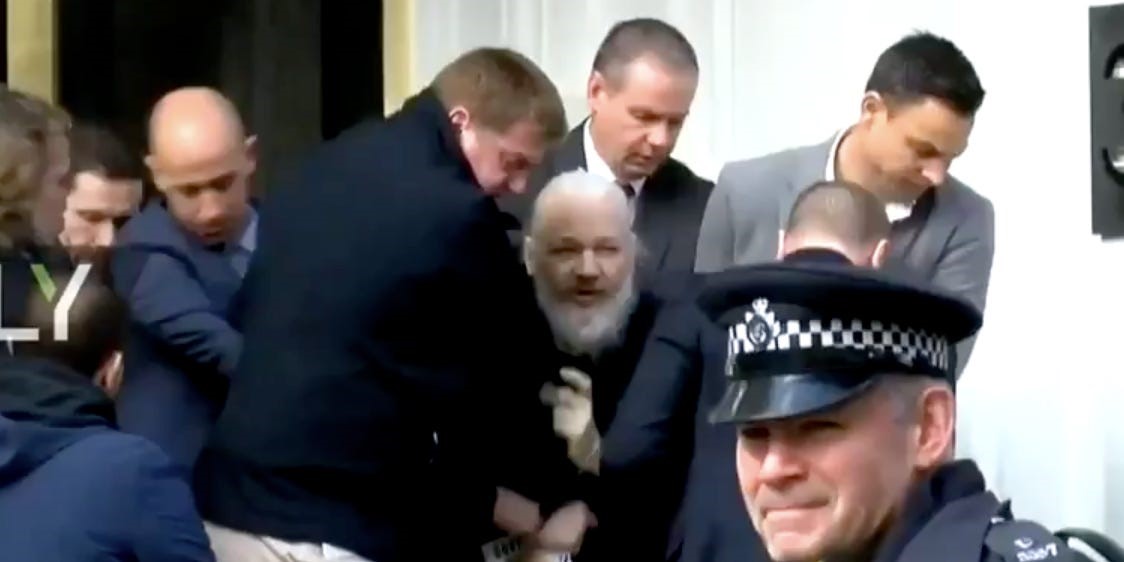 The 2019 arrest of Julian Assange – see The greatest journalist of all time – of which liberals and much of the left said as little as possible and did even less
*
Economic decline, and curbing of freedoms tolerated in inverse proportion to their meaningful exercise, 2 are not peculiar to Britain. They are manifesting themselves across a Western world whose five centuries of ascendance are drawing to a close hastened by reverberating financial crises and, in Europe, by the subordination of its interests to those of Washington in the war the latter avidly sought in Ukraine. Economic decline is nevertheless exacerbated in the UK by specific factors which include the likely break-up into its constituent nations, a car crash Brexit, and more fundamentally a deeper embracing of financial as opposed to industrial capitalism. 3
On which note let me hand over to three writers. The first and, at 600 words, briefest read is by a modern monetary theorist often cited with guarded approval on this site. Writing yesterday, May 9, on his Tax Research blog, Richard Murphy responds to the impending attack on the right to strike:
The Strikes (Minimum Service Levels) Bill  gets its third reading in the House of Lords today.
The Trade Union Congress estimates about 5.5 million public sector workers will lose the right to strike as a result of this bill. They include nurses, teachers and a whole range of other public servants who will, under the terms of the bill, be capable of being ordered to work or to face the sack.
I suspect this law will pass. After all, Labour likes draconian laws these days. Even if it opposes it will make sure it has not got enough members in the House to defeat the government. That's easy to do.
And then around 20% of all workers in the UK will have lost the right to strike. Their ability to force their employer to take their pay claims seriously will have gone.
What is the inevitable outcome of this?
Professor Murphy goes on to answer his own question by invoking the need of Britain's ruling class – not that this Quaker and social democrat uses that term – to run down what remains of the public sector, welfare provision in particular, prior to the monetising of its services. 4
*
My second read is from a Marxist economist critical of modern monetary theory, though MMT is not his target here. (Nor is the coronation of Charles III, though Michael Roberts subsequently addressed that subject in a trenchant May 6 piece, Britain's royal rip-off.) In the April 27 post I offer as my second perspective, he has inflation and its competing explanations in his sights:
Last week, the Bank of England's chief economist, Huw Pill, doubled-down on the argument that the current inflationary spiral affecting the major economies was the result of excessive wage demands.  He said that workers should just accept that price rises will hit their living standards. 
Somehow in the UK, someone needs to accept that they're worse off and stop trying to maintain their real spending power by bidding up prices, whether through higher wages or passing energy costs on to customers etc.
At least this time, Pill vaguely mentioned that firms hiking prices to sustain (or even increase) profitability might also be contributing to inflation.  But it remains the orthodox mainstream theory that accelerating inflation is being caused by 'excessive' money supply growth over output growth (the monetarist theory) and/or by 'excessive' wage demands forcing prices up (the Keynesian theory).
In a similar message, Ben Broadbent, BoE deputy governor, said there was "no getting round the impact on real incomes of . . . jumps in import prices", which he said had "led to second-round effects on domestic wages and prices".  But how does hiking interest rates stop import price inflation from increased energy and food prices introduced by the multi-nationals that control these necessaries?
I and others have spent much ink in showing that both these theories do not explain inflation in prices, either now or in the past.  And it's not just leftists. For example, economists at the Bank for International Settlements (BIS), hardly a leftist body, found that:
by some measures, the current environment does not look conducive to such a spiral. After all, the correlation between wage growth and inflation has declined over recent decades and is currently near historical lows.
Read Michael Roberts's piece (1750 words plus graphs) in full …
*
My third and, at over 4,000 words, longest read is not by an economist of any stripe. It comes from a "UK-based freelance journalist: working on the intersections between politics, culture, and economics". As ever I'm in the debt of Dave Hansell, who alerted me to this assessment by Samuel McLlhagga in a comment on a recent post about Keir Starmer.
Mr McLlhagga begins his piece, also written on April 27, as he means to go on:
Every decade or so, the UK finds itself in crisis. These are the moments that open up rare and brief periods of reflection on the decline of the country's geopolitical relevance and of the British state. Then the gates close, the crisis diminishes, and an overpowered financial services sector—combined with the prestigious longevity of British institutions—cushions the downward trends until the next crisis. The British governing and commercial classes may well vampirically draw on financial and institutional soft power for at least another century. But the cumulative effect of these moments makes it increasingly difficult to deny the British elite's profound inability to prevent national decline.
British institutions exert impressive amounts of soft power for a tiny island nation. One can think of the country as playing the role of an Italian city-state in the fourteenth century: it capitalizes on historic cultural prestige, educates the children of elites from its former empire, and serves as a playground for wealth and status games while not really producing anything of hard value.
The overall trajectory becomes obvious when you look at outcomes in productivity, investment, capacity, research and development, growth, quality of life, GDP per capita, wealth distribution, and real wage growth measured by unit labor cost. All are either falling or stagnant. Reporting from the Financial Times has claimed that at current levels the UK will be poorer than Poland in a decade, and have a lower median real income than Slovenia by 2024. Many provincial areas already have lower GDPs than Eastern Europe.
While all of Europe is getting poorer and weaker as the twenty-first century progresses, the UK is unique in its relative incapacity and unwillingness to find solutions in comparison to peer nations like Germany and France. This is a process that has been gathering pace for centuries, stretching back to trends that began in the 1700s even as its empire was still expanding.
I deem Samuel McLlhagga's the most important of my three chosen pieces by virtue of its depth and breadth of scope, and fusing of flair with gravitas. Read in full here…
* * *