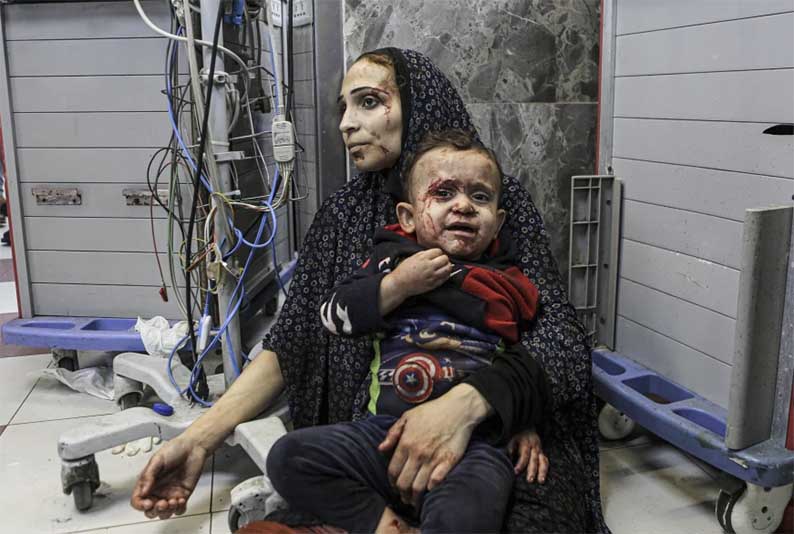 Here's Seymour Hersh, of My Lai/Nord Stream renown, writing two days before yesterday's strikes on Gaza Baptist Hospital:
AS REFUGEES CROWD THE BORDER WITH EGYPT, ISRAEL PREPARES TO HIT GAZA CITY WITH US-SUPPLIED BUNKER BUSTERS
It's been one week since the horrific Hamas attacks on Israel took place. The shape of what is to come from the Israeli armed forces is clear, and uncompromising.
Over the past week Israeli jets have conducted around-the-clock bombing of non-military targets in Gaza City. Apartment buildings, hospitals, and mosques were torn apart, with no prior warning and no effort to minimize civilian casualties.
By the end of the week Israeli jets were also dropping leaflets telling the citizens of Gaza City and its surrounding areas in the north that those who wished to survive had better start going south—walking if necessary—25 miles or more—to the Rafah border crossing leading to Egypt …
Let me fess up right away. My initial reaction to yesterday's atrocity in Gaza was not horror or sympathy. Maybe the work I do comes with its own anaesthesis – we can go into that another time – but, no, my first response was: is this another Shatila/Sabra moment?  1
For reasons I'll get to, I'm loth to stick my neck out too far on the basis of what is known so far. These things seem salient though:
Even Western corporate media, habitually given to scepticism of Palestinian claims while far more open to Israel's on such matters, are presenting this as an Israel Air Force attack.
Former senior advisor to Netanyahu, Mark Regev, is out there telling anyone who'll listen that "Israel does not bomb hospitals"  and the deaths are due to Hamas rockets falling short of their targets in Israel.
Israel has form (but no monopoly) on lying about such things. Witness the months it took to come clean on the killing of Palestinian-American journalist, Shireen Abu Akleh.
To date Hamas has shown no sign of having ordnance capable of yesterday's carnage. Such loss of life is not consistent with a rocket or two falling short of the mark, but is consistent with aerial delivery of the US-supplied 'bunker-buster' bombs as referred to by Seymour Hersh and deployed to destroy the concrete-lined tunnels riddling Gaza.
A slam-dunk then, with Seymour Hersh once more on the nail?  Occam's Razor says yes, 2 but one thing bothers me. In the Mark Regev interview I saw, besides the predictable vehement denial and  blaming of Hamas – and promise that Israel would soon be releasing intercepted Hamas communications by way of smoking gun proof 3  – he asked rhetorically:
Why would Israel do this on the eve of President Biden's visit?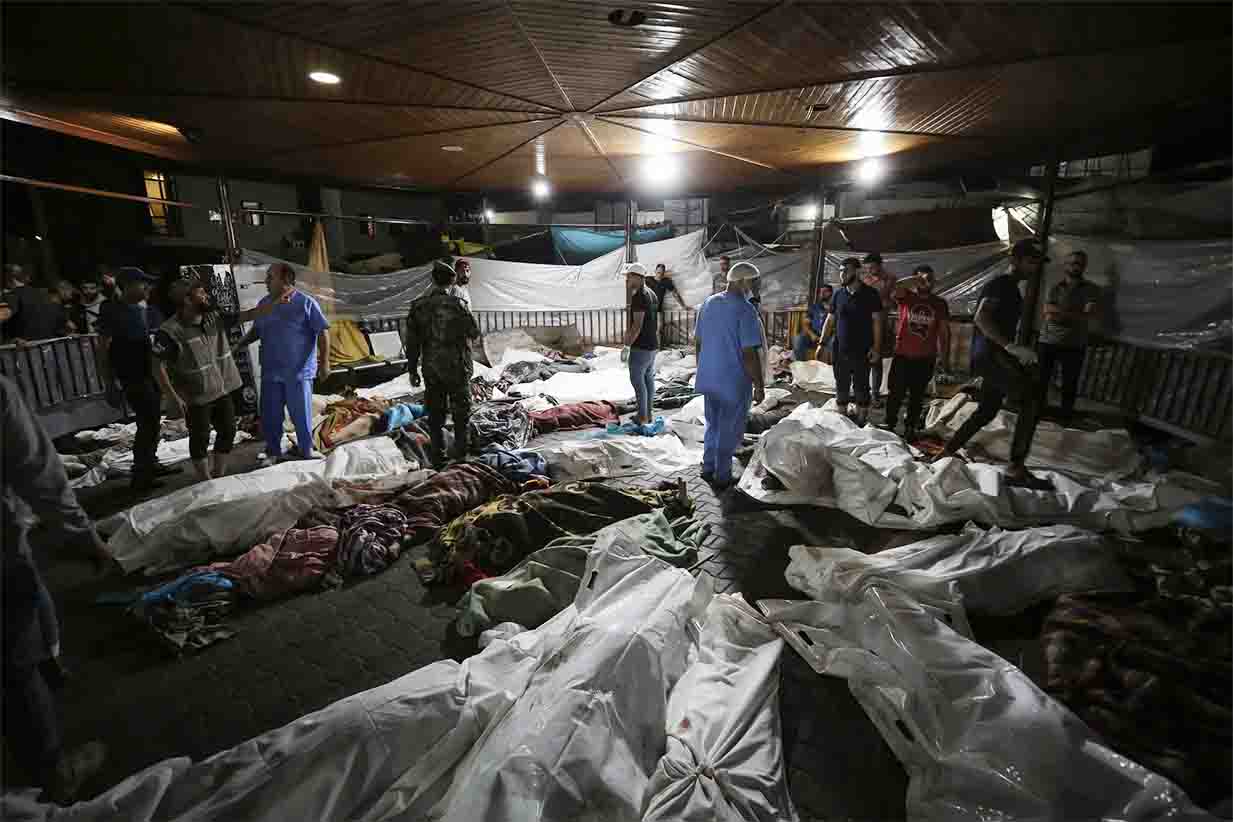 It's no clincher. It could be double bluff or, more plausibly, that Israeli pilots got carried away or were misled by bad intelligence to leave Tel Aviv on the back foot in a way not seen since Suez '56.
But Mr Regev's rhetorical question is not easily dismissed, least of all by those like me. I mean those who asked why President Assad would gas kids on the eve of a UN weapons inspection in Syria. Later revelations, most importantly that the UN OPCW was coerced by Washington into doctoring its report on the Douma incident, showed how right we were to do so. 4
It's only fair then – or more importantly, rigorous – to ask a similar question in this context. But until we get further information, the smart money is on an Israel guilty as charged. Even if, as seems likely, it did not intend or want yesterday's outcome, the guilt of that systemically racist state is immense and inerasable.
As is that of the west at large.
* * *
Most liberal progressives gave Israel a free pass on many things due to the Holocaust, and to potent mythmaking on 'making the desert bloom' and David v Goliath derring-do. That began to change in the 80s, after the 1982 massacre at Shatila and Sabra.
Since we're talking Occam's Razor, let's not discount the possibility not only that Israel did this, but that it did so on purpose. This indeed is the thrust of WSWS today:

There is nothing accidental about the Gaza bombing. It is only the latest, and most heinous, in a string of dozens of attacks on hospitals, residential buildings and other civilian infrastructure over the past 10 days. It is entirely in keeping with Israel's strategy for the war, which is to terrorize the population by inflicting massive casualties and deaths.

On October 13, Israel dropped leaflets demanding that 1.1 million people leave northern Gaza. Israel has created a "free fire zone" in northern Gaza in which every man, woman and child is a target. The Atlantic Council, a pro-war US think tank, noted that Israeli bombings, which have killed over 3,000 people over the past 10 days, have targeted "specifically protected locations, including hospitals, markets, refugee camps, mosques, educational facilities, and entire neighborhoods."

To the Very Very Very Trusting – a club that includes the ever-perspicacious Joe Biden, who today told Netanyahu that "based on what I have seen, it appears it was done by the other team, not you" – Israel has already made good on Regev's promise to release 'intercepted Hamas communications' . Amazing! It minds me of my own post of October 13, which began:

If Superman is so clever, how come he wears his underpants outside his trousers? And if the combined efforts of IDF, Shin Bet and Mossad gave no inkling of the impending Hamas attacks, how are they now mysteriously able to "target" every Hamas hide-out in Gaza?

Writing today, Caitlin Johnstone asks similar questions before posing some deftly Boolean logic:

… Israel' …is now releasing "intercepted conversations" of Hamas fighters talking to each other about matters of high importance … Where was all this eaves-dropping capability while Hamas was preparing a massive assault that wound up killing over a thousand people?  It's possible that Israeli intelligence services are phenomenal at spying on Hamas communications, and it's possible that Israeli intelligence services had no idea Hamas was preparing its attack. It's also possible both are false. But it's very difficult to believe they're both true.

Another parallel, drawn today by Larry Johnson, is Ukraine. Under the header – Israeli bombing of Baptist hospital — intelligence failure, a mistake or deliberate? – he notes Israeli propagandist Hananya Naftali's claim that:

As the IDF does not bomb hospitals, I assumed Israel was targeting one of the Hamas bases in Gaza. It is known that Hamas is using civilians as human shields, it is a war crime and a crime against humanity. This should be the focus.

Unlike Mark Regev then, Hananya Naftali accepts that these were Israeli strkes, but Larry Johnson has other fish to fry …

We know from ample video evidence in Ukraine that Ukrainian troops routinely used hospitals and schools to hide military personnel and equipment. So it would not be something unique to Hamas. It is pretty clear that the Russians took care to ensure there were no civilians when they hit those Ukrainian military positions. If there had been dozens or hundreds of civilians inside those buildings when they were hit, social media, egged on by Western intel, would have been flooded with videos and photos of dead women and children. That did not happen.

… before concluding his piece with words …

Israel's only hope of defusing this tense, dangerous moment is to produce rock solid intelligence proving that the missile/bomb did not come from Israel. This is the kind of event, like the death of George Floyd, that can ignite a regional war. It does not matter now whether Israel actually is culpable. The determining factor is the belief among the Arab and Muslim nations that Israel did it. I do not think a herculean diplomatic offensive can stave off the march to war. I pray to God I am wrong.

… which point to the biggest questions of all arising from this loud-ticking timebomb:

What will Iran do?
Why is Moscow – once we set aside the western media bubble risibly known as 'international opinion' – outscoring Washington and leaving the EU a perfect irrelevance on the world stage in this as so many other matters?
Why is a second US carrier group steaming toward the Eastern Mediterranean right now?