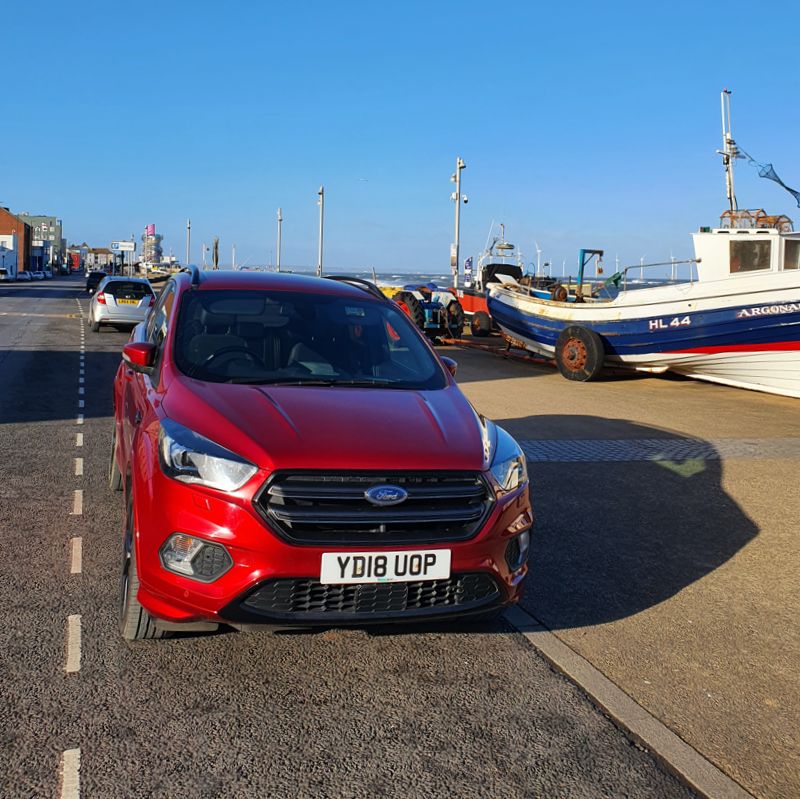 Redcar
There's only one shower at Durham Services. It's kept locked but you get the key from the W H Smith's next door, surrendering car key pending its return. The shower is hot with a good flow, the room basic but well maintained. Wetherby Services by contrast, 63.2 miles down the A1(M), has three shower rooms which aren't locked. These too are spotless.
How do I know? I used Durham's on Thursday evening and eyeballed Wetherby's the next day, on my way home. Showers at motorway service stations (their provision a condition of gaining the lucrative concessions) aren't much use to the canoe or backpacking wild camper, but a few weeks ago I became a rubber tramp – buying a 2015 Citroen Berlingo Multispace for just shy of £9k.
Removing rear seats is a three minute job that creates a flat space long enough for me – 5'8″ – to sleep in without the hit to my back when sleeping in the Skoda, whose front seats leave me in a shallow 'V' even when lowered fully.
NB – my Berlingo is the L1 version. Taller types would need the L2, longer by 35cm.
*
On Tuesday night the wind gently rocked me, as on a boat. I slept on the southeast bank of the Tees Estuary four miles northwest of Redcar. A mile or so further – for those able to fly, or swim the icy waters and lethal estuarine currents – lay oil stores, power station, British Oxygen and, beyond those, Billingham and Hartlepool. For lesser mortals, getting to such places is a good thirty miles by road.
The scene on Wednesday morning, winds having dropped to allow doors flung open with what used to be called gay abandon …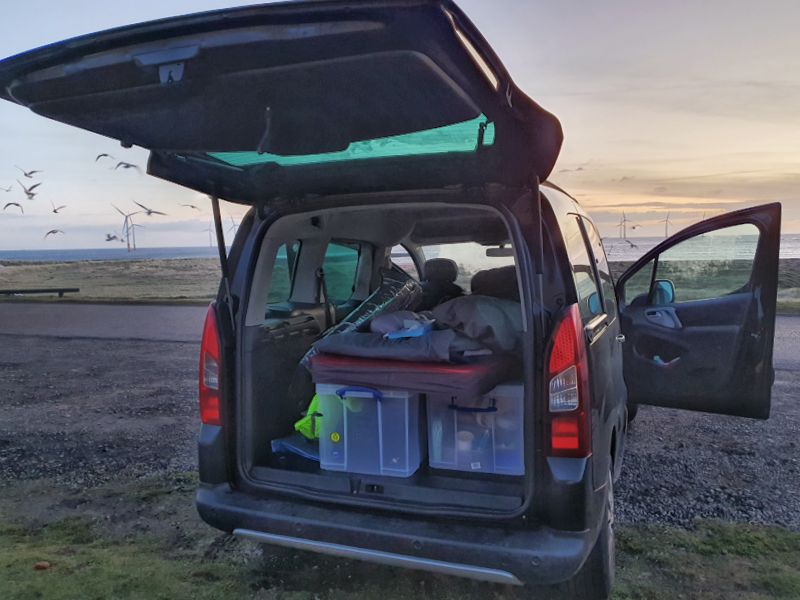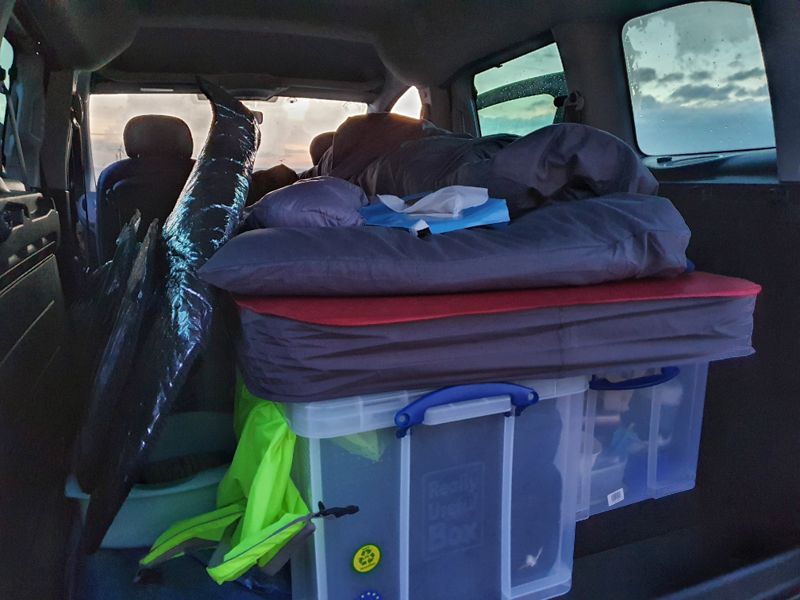 My kit? One Berlingo Multispace, aka Bertie, 1 with rear seats removed. Also:
Four "Really Useful" boxes with lids, the 84 litre size. These don't come cheap. (After further enriching Jeff Bezos to the tune of £132, imagine my horror at seeing them at £25 each in Asda.) They give storage and, robust enough to ferry books and papers in office settings, my bed base.
Exped Mega Mat self inflating air mattress (shown partly deflated). I was advised not to skimp on this item so lashed out £150. It's a joy. I've slept nine nights on it, two outside Steel City House in sub-zero temperatures to test other kit. (Down summer sleeping bag topped by 13.5 tog double duvet proved more than enough.) The comfort is outstanding.
Stick-on window blinds/insulators. Brilliant. £126 got me a set tailored for the Berlingo's eight windows. They're a spongy material, 1 cm thick, with one side matt black, the other silver. In summer it's silver side out, in winter the reverse. They're ultra light, fold neatly into a compact storage bag, and fix easily to the windows by suction disks. They afford privacy, warmth (or coolth) and reduced condensation, including on the windscreen – no small thing should you need a speedy getaway.
Most of the other kit I already had. I am now a fully fledged micro campervan driver.
*
At noon on Monday I left Steel City House, direction northeast. I took my time, holding revs at 15-17k, roughly equating to 50mph on open roads. I've long been in the habit of cruising at 20k/ 60mph for fuel economy. The downside being that sixty's the speed trucks do so you're forever at brake and accelerator, else shifting lanes. At 50, these irks and ires vaporise. Now it's for the truckers to overtake you. (Between the rock of the tachometer, and hard place of neoliberal task goals, they hate to drop below that statutory sixty when regaining speed is one long battle with 150,000 kilos of inertia.) Plus you no longer need pull out for slip-roads. Incoming traffic, at the point of merging, is already going faster than you.
Trust me. If not in a hurry, driving the freeway at 50 is sweet.
It was close to dusk when I arrived at Caroline's. She and I go back to the early seventies, when she tried to teach me philosophy at Sheffield University. By the early eighties I'd lost track of her as she holed up for decades in the States (where a daughter and granddaughter were born and still reside) before moving back to England and a flat in picturesque Saltburn-on-Sea.
She'd looked me up close to twenty years ago, since when we've kept in touch.
We drank red wine, then went out to a good Italian. Back at her flat we drank more and talked, mainly politics with some reminiscing and filling of gaps in one another's life stories. Around midnight, late for me these days, she headed for bed. Though Bertie stood just outside, the faff of blowing up the Exped (too bulky to keep fully inflated on the move) and fitting those blinds – three minutes tops when sober – had me taking up her offer of the spare bedroom.
In the morning I bade Caroline and Saltburn farewell …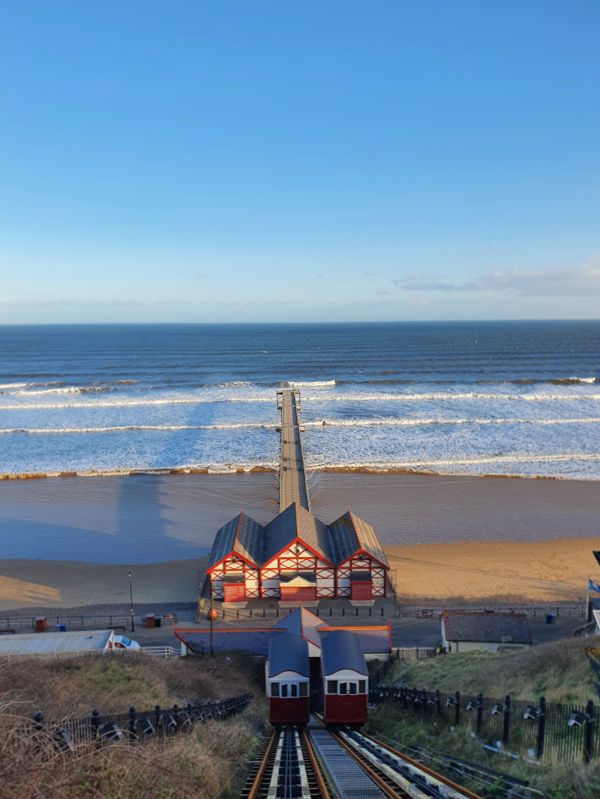 … to point Bertie at nearby Redcar, with no fixed plan in mind. Just a desire to see a part of the world – the coast north of Saltburn and south of Newcastle – as yet unknown to me.
(Much of the Yorkshire coast I've known since childhood, while I've been exploring the beautiful coast north of Newcastle – Alnmouth, Holy Island, Berwick and over the border to Eyemouth – this past quarter century. The gap in between – a coastal Durham where dirty old town, derelict coalfield and condemned steel mill slide back into hill and heath, beaches scintillatingly scenic and beaches forlorn and forbidding – has long been on my bucket list.)
After a Wetherspoons breakfast at The Plimsoll Line in Redcar, followed by coffee and an hour of writing, I headed to the sea front, a minute away. Though the sun shone brightly, sky a deep azure, the wind blew mightily. I was glad of down jacket beneath windbreaking cagoule.
Thinking to stroll the prom for twenty minutes I didn't bother returning to Bertie, on a street a few hundred metres away, to stow the old leather school satchel housing my laptop. Just slung it over my shoulder.
In the event I was out four hours, walking, snapping, and pondering the industrial heritage – mainly steel – all around me. My route, clockwise from The Plimsoll Line: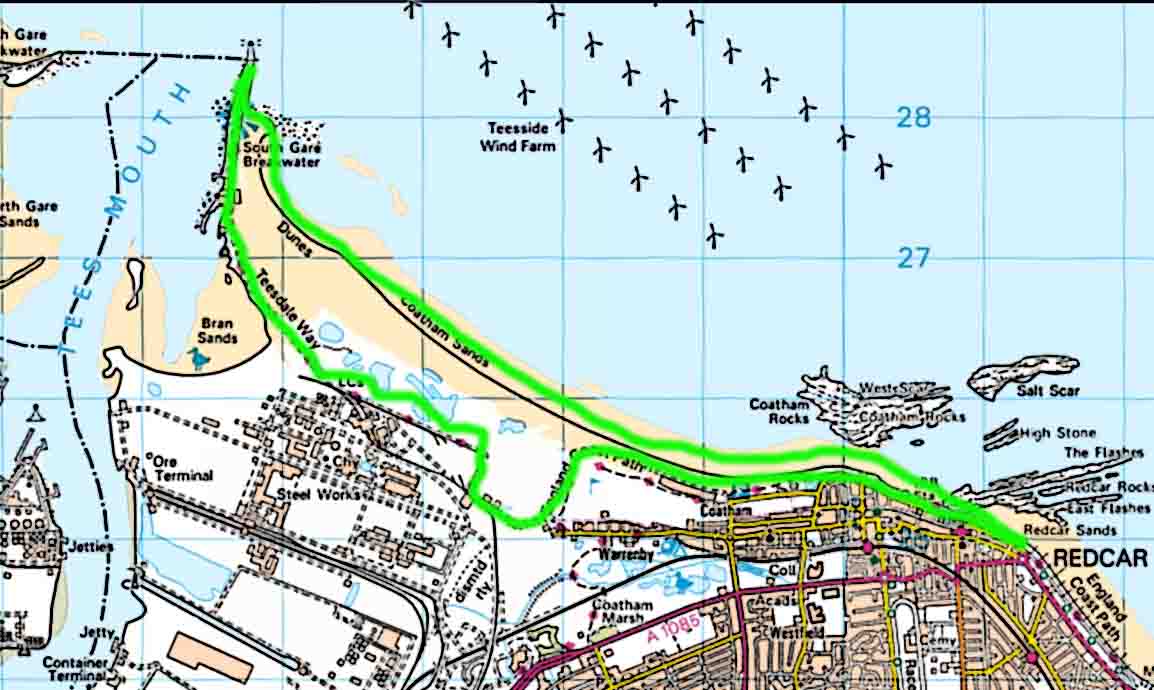 A few of the sights: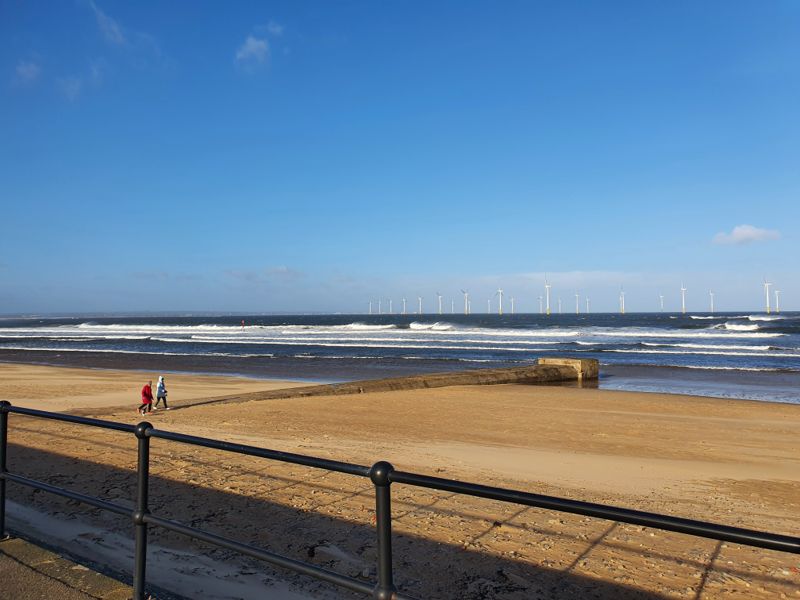 Redcar Sands with Teesside Wind Farm looking closer than it really is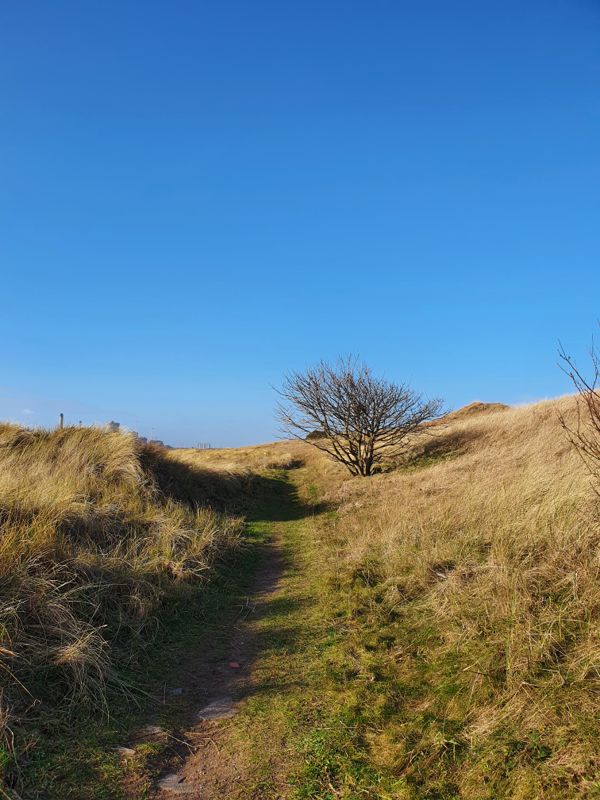 To my left, Coatham Golf Course. To my right, dunes and sea. Ahead, the ghosts of Redcar's steelmaking past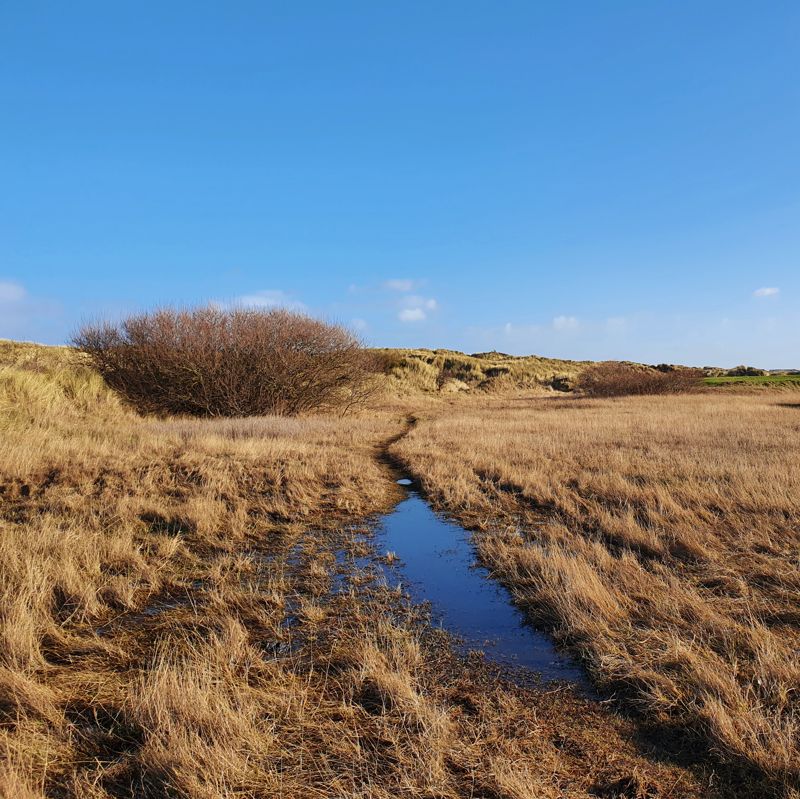 Steelmaking at Redcar didn't disappear overnight. It dwindled for decades before extinction. The parts longest gone are now marshes much used by resident and migrant birds.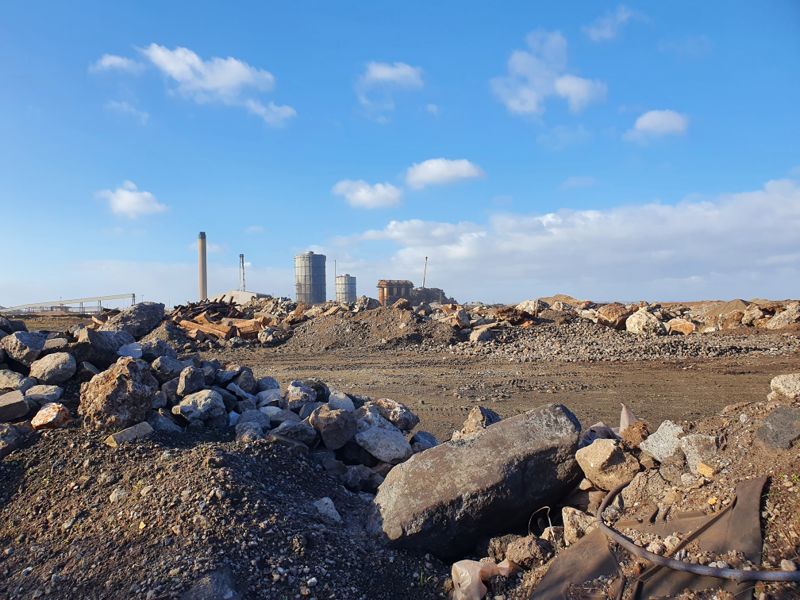 Steelmaking died in 2015. In 2022 the Basic Oxygen Steelmaking Plant was demolished in one huge explosion.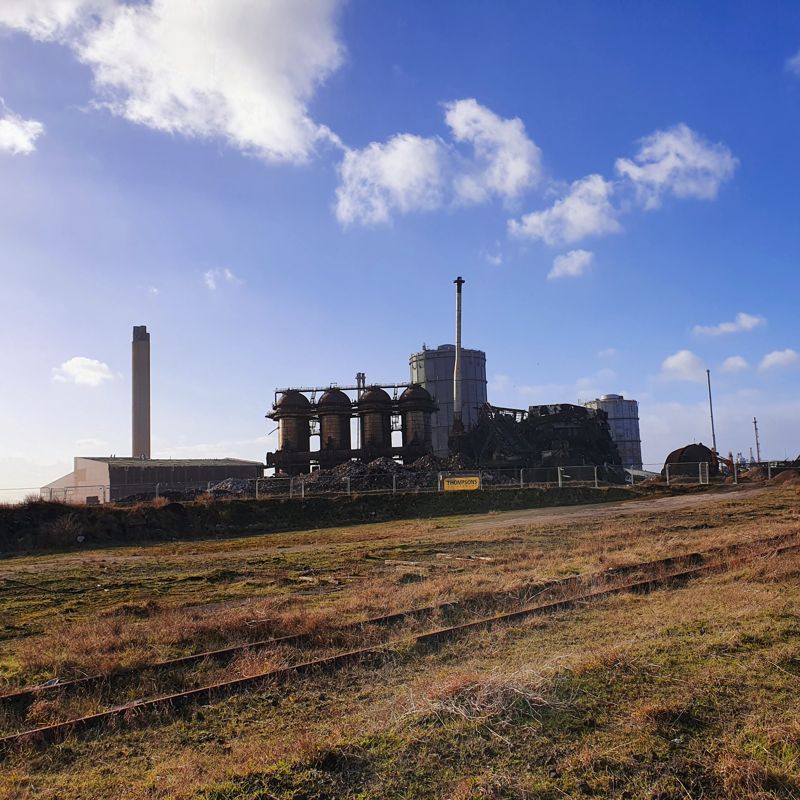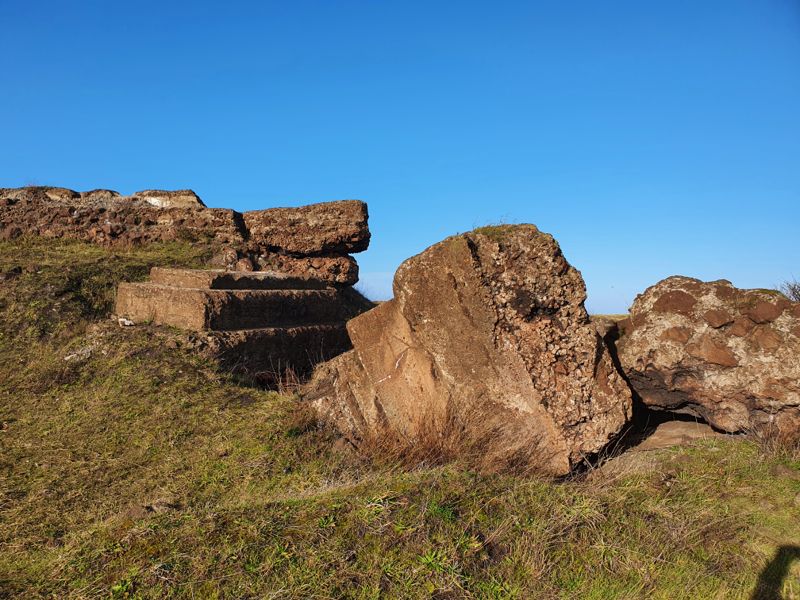 A portrait of the artist's left arm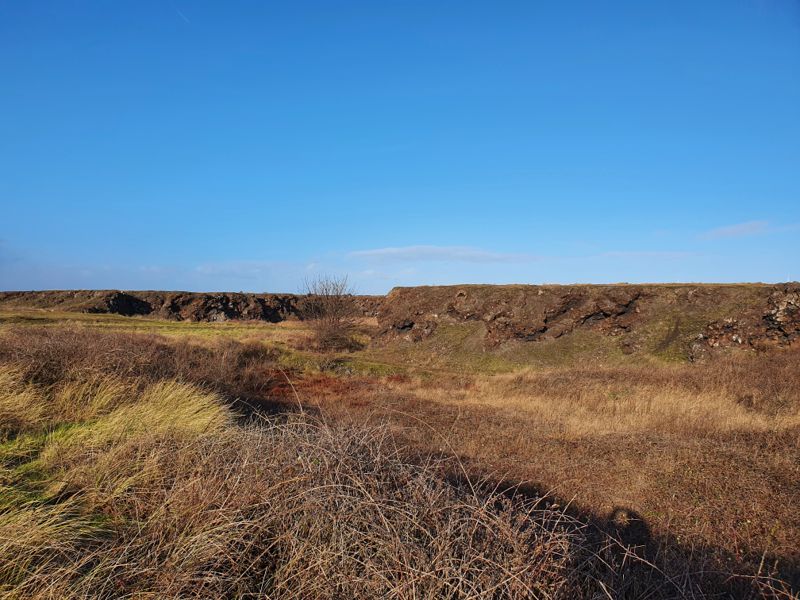 In silhouette this man made landscape echoes the peat groughs, also man made when we get down to it, of the Peak District.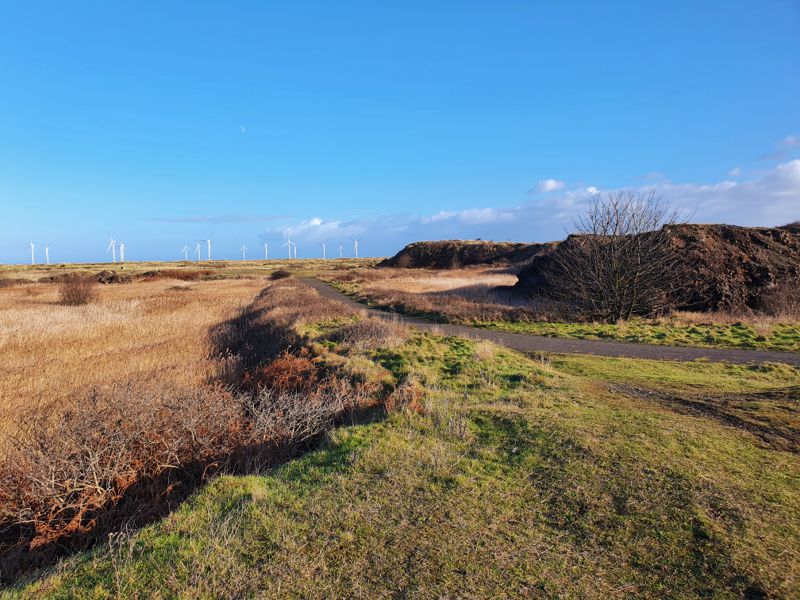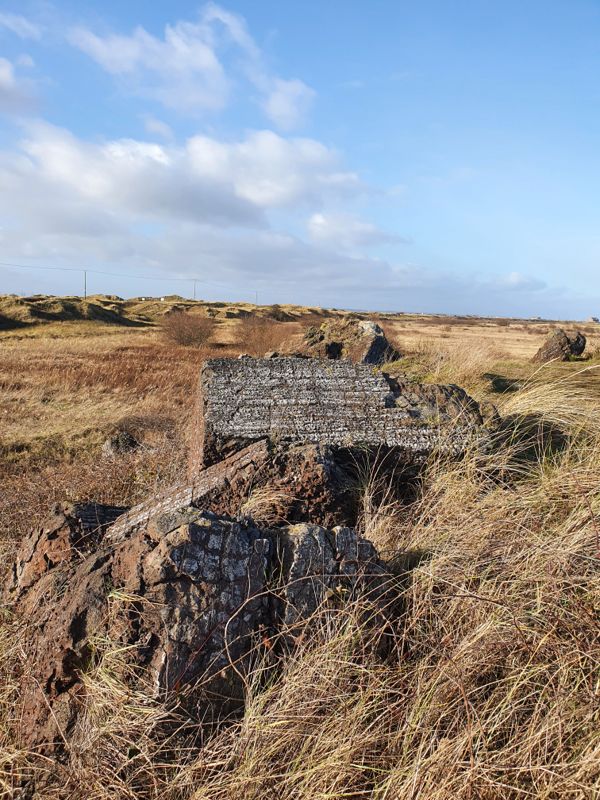 Having gone wild, satchel to shoulder, through marsh and thorn, I was glad to ascend the steep embankment to join the decaying metalled road of South Gare Breakwater, above. The parked cars and vans, a few with occupants sipping tea and gazing out over the estuary, sparked one of those lightbulb moments known to all wild campers, whatever their mode of T.
Here's where I will lay my head tonight.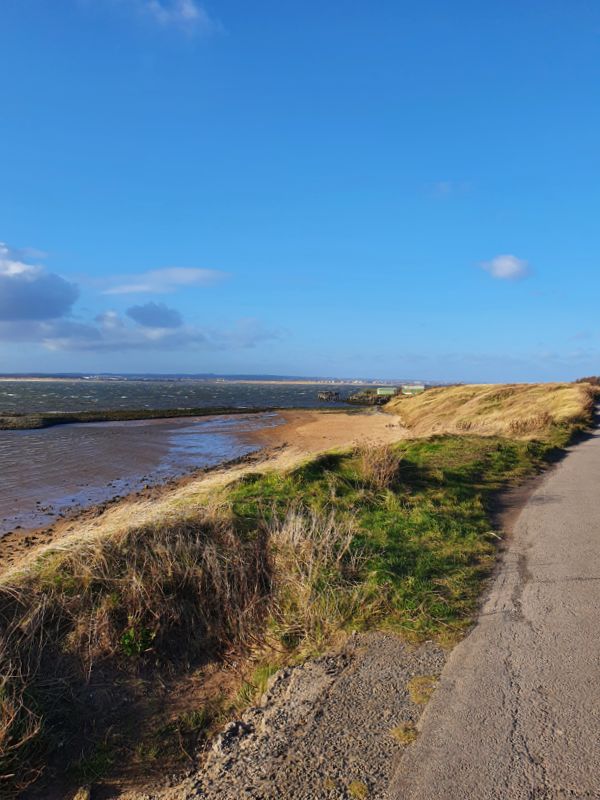 Hartlepool on a slanting horizon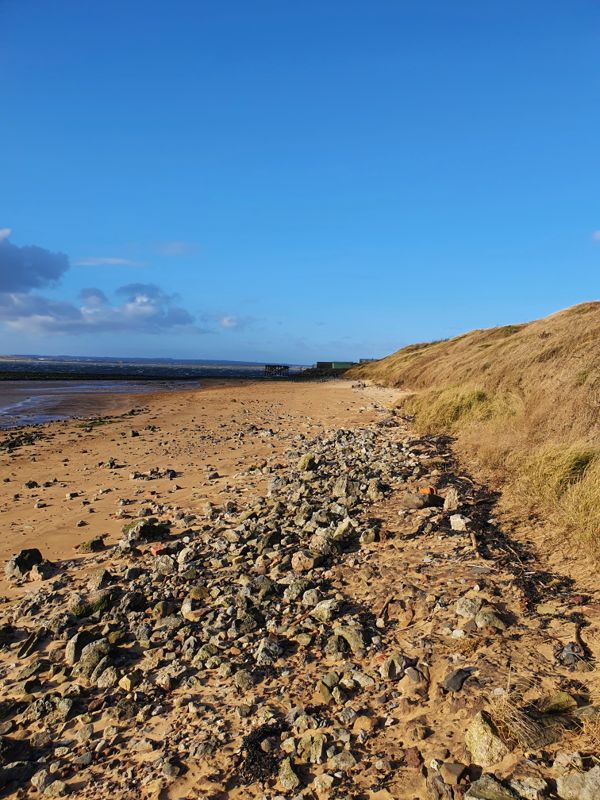 Bran Sands, on the Tees Estuary
A mix of past industry and present fishing on the estuary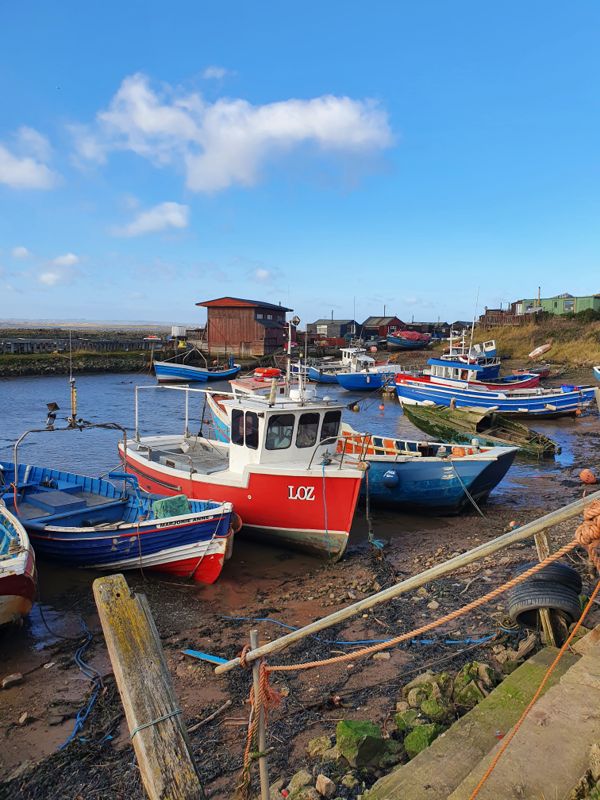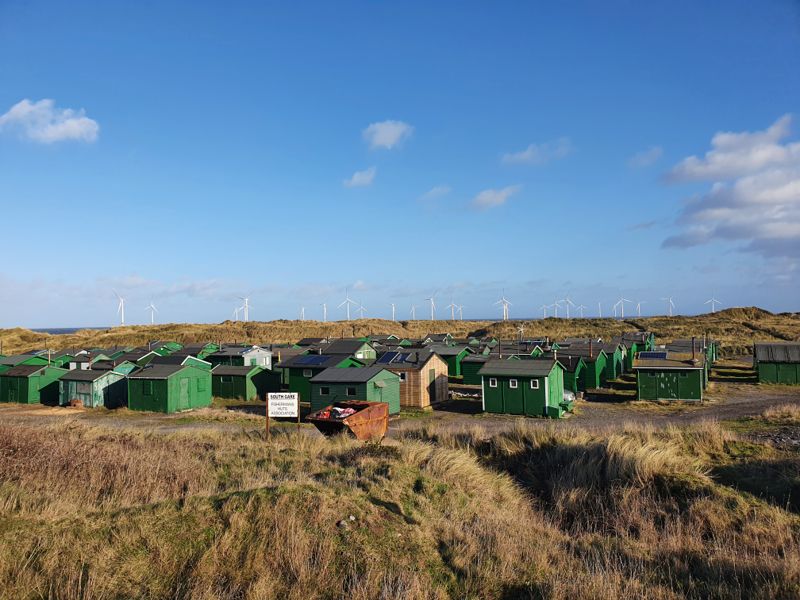 Home from home: fisherman's huts in the lee of dunes and breakwater, 200 metres from boats moored in the small harbour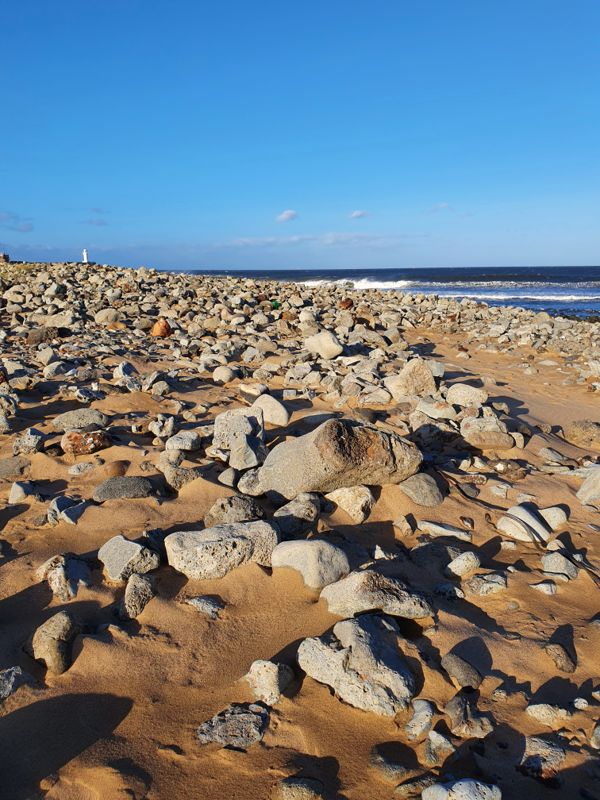 Around the corner from the estuary, the North Sea is proper bracing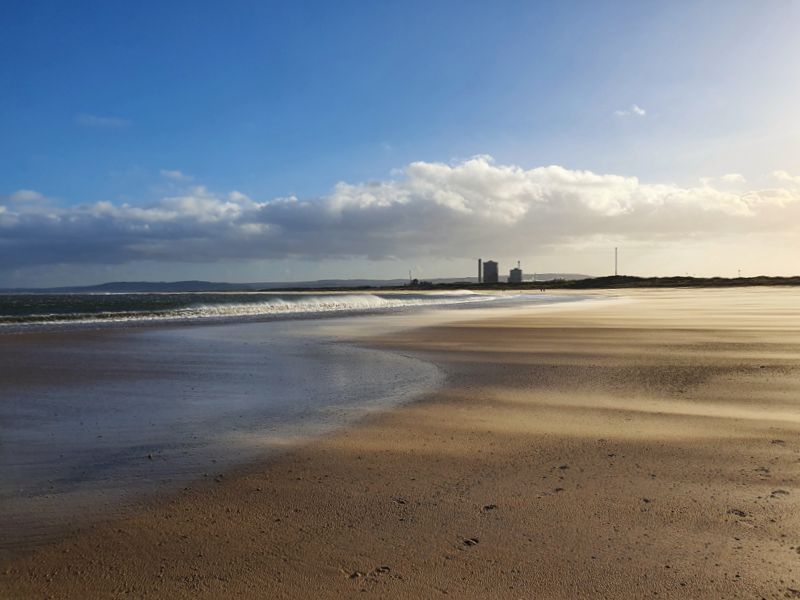 More steel skeletalia as, helped by an ebbing tide, I take the firm sands back to Redcar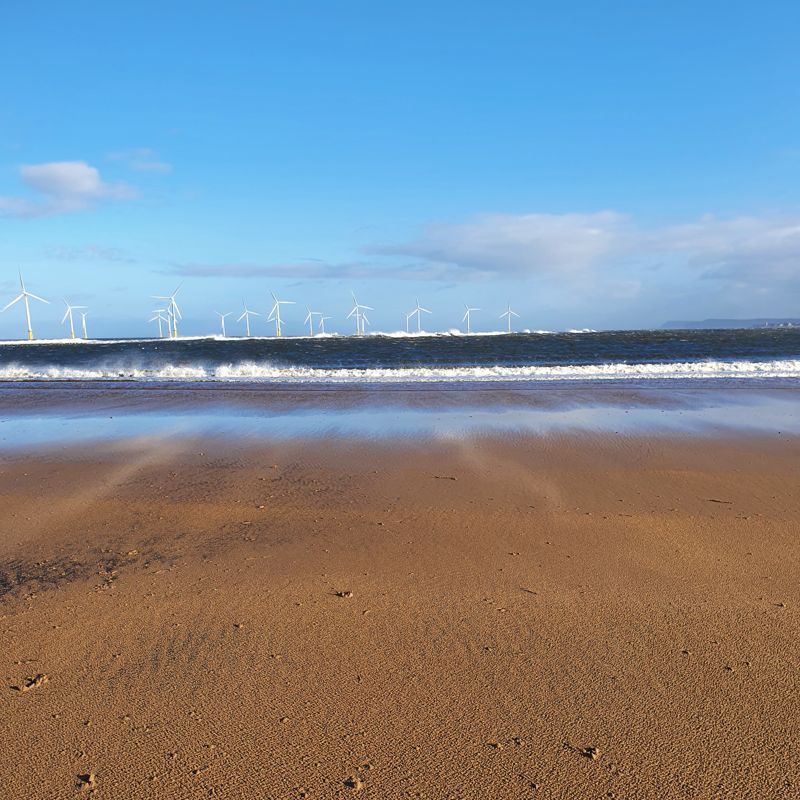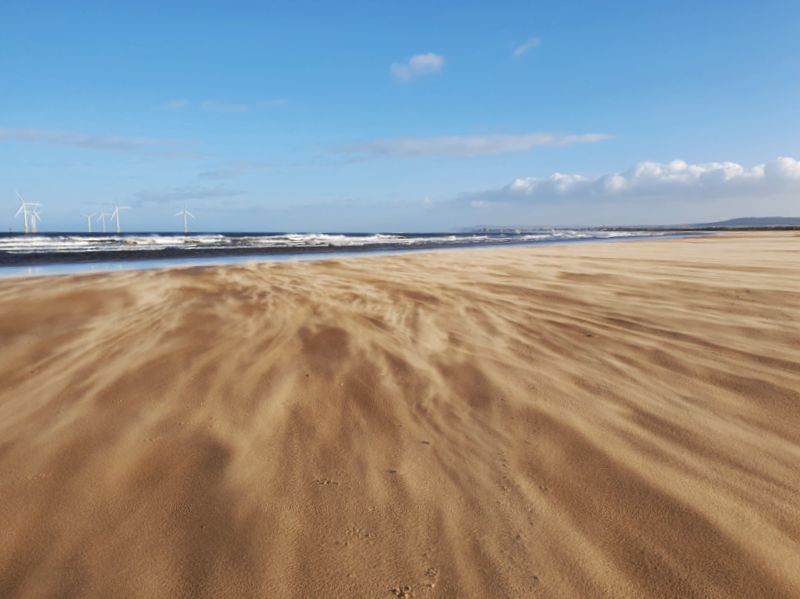 Ribbons of blown dry sand snake across the firmer stuff. Not easily caught on a Galaxy S10. Shoulda brung my mirrorless kit.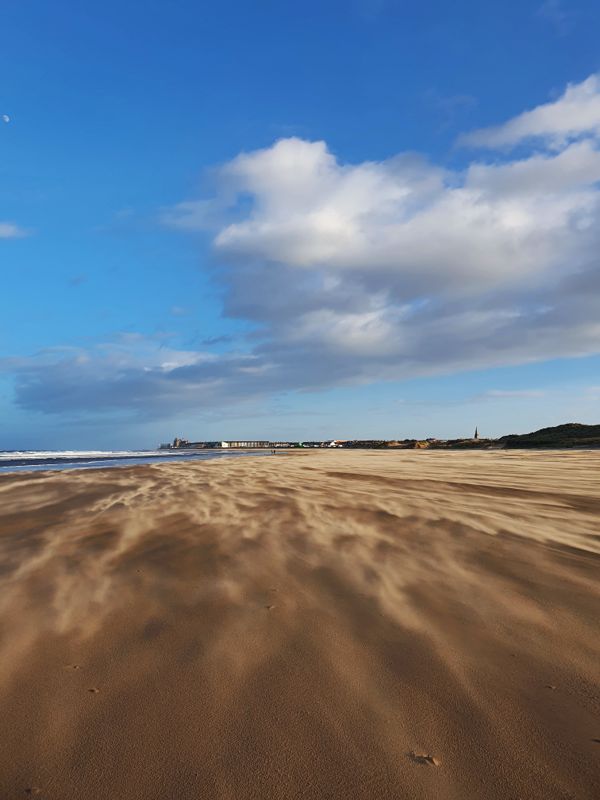 Near the end of The Fabelmans a young and scantily fictionalised Steven Spielberg, still just a promising amateur, is granted two minutes with the legendary John Ford. The walls are graced with posters: stills from The Searchers, The Quiet Man, Stagecoach, The Grapes of Wrath  …
Ford – a gnarled, cigar-chewing man of few words and a baseball hat – barks at the boy.
"Look at that poster – waddya see?"
"Er … two men on horses, sir …"
"Nah, not that! The horizon – where is it?"
"Er … top of the picture"
"That's right. Now look at this one. Waddya see?"
"Mountains …"
"Nah! The horizon – where is it?"
"At the bottom, sir."
"Damn right it is. Horizon at the top is interesting. Horizon at the bottom is interesting. Horizon in the middle is boring. Now fuck off outa my office!"
"Yes sir. Thank you sir." (Beaming with adulatory gratitude, the tyro exits left.)
Me, I say rules is made to be broke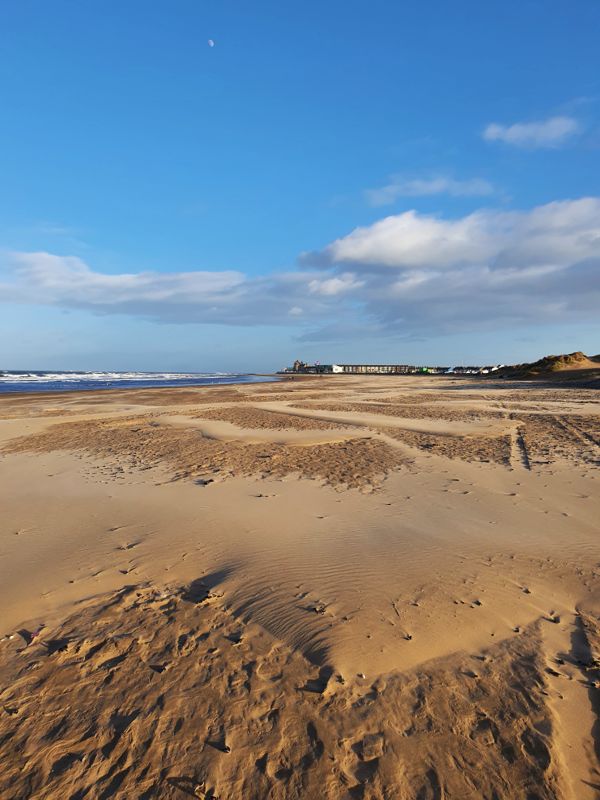 I'm close now to Redcar, fascinated by wind-sculpted sand formations.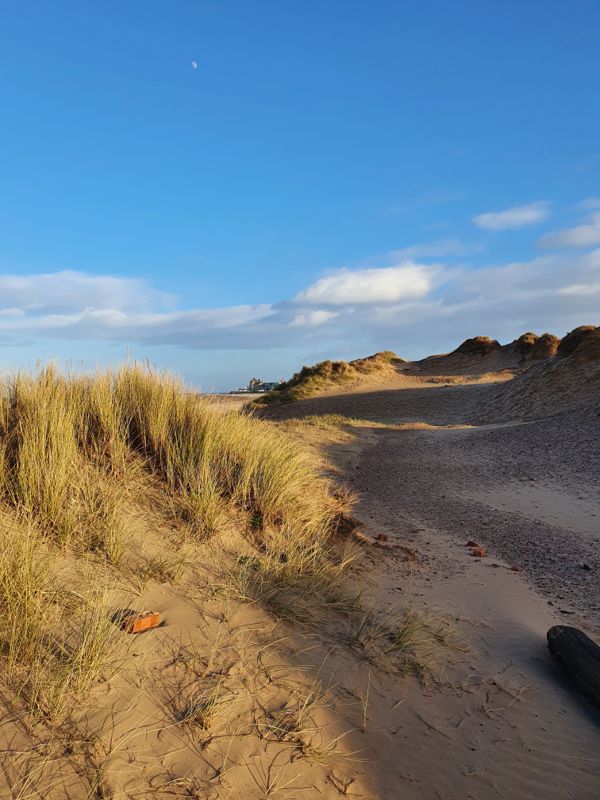 A short cut through dunes and then backstreets will get me back to Bertie
After a few purchases in Morrisons I navigate the outskirts of Redcar. Hand-held by that nicely spoken lady at Google Maps, I follow lanes now cracked and eerily lit, but once the throbbing thoroughfares of men of steel.
I recall the pallid faces and sunken eyes of the men I'd seen at nine that morning in the Plimsoll Line, supping lager at Wetherspoons prices. Had they once taken these lanes, night and day, by bus or car share, to clock in for their shifts before the jobs all went to Asia? This past week or so I've sensed a post incubating, on the implications not only for hundreds of millions of western labour-sellers now surplus to the requirements of private profit, but for the social and welfare infrastructures it once suited capital to maintain, but are now being dismantled.
From the Monongahela valley
To the Mesabi iron range
To the coal mines of Appalachia
The story's always the same
Seven hundred tons of metal a day
Now sir, you tell me the world has changed
Once I made you rich enough
Rich enough to forget my name
Bruce Springsteen: Youngstown
At the very end of the spit, three or four campervans are already in situ. I park my more modest vehicle in the vicinity, in the lee of a building forlorn and grimy. Such spots are chicken soup for my northern, once working class soul.
There's space aplenty. Although it's still January, just, a few more will turn up before I turn in.
I heat minestrone, throw in croutons and grated cheddar, and from the driver's seat gaze out to sea. Here are the hazard lights on the wind farm, distorted by low ambient light and consequent longer exposure time.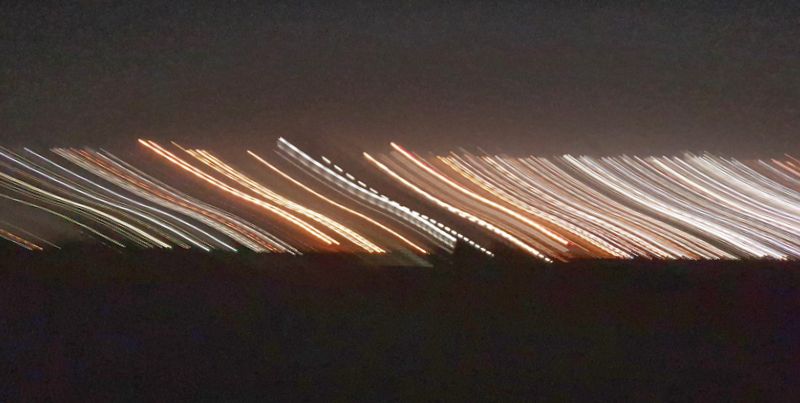 Teeth brushed, I push the driver seat as far forward as it will go. The mattress now fits. I undress and slide under the duvet. Hartlepool tomorrow.
* * *
Update February 5. After writing the follow up to this, I decided to speak no more of 'Bertie'. Troublesome women in my life insisted my wheels must have a name, and I was bounced into that particular one. Well I've tried it, and it just doesn't sit right with me. Call me prosaic. Tell me I've no poetry in my soul. But henceforth it's 'the van'; end of.