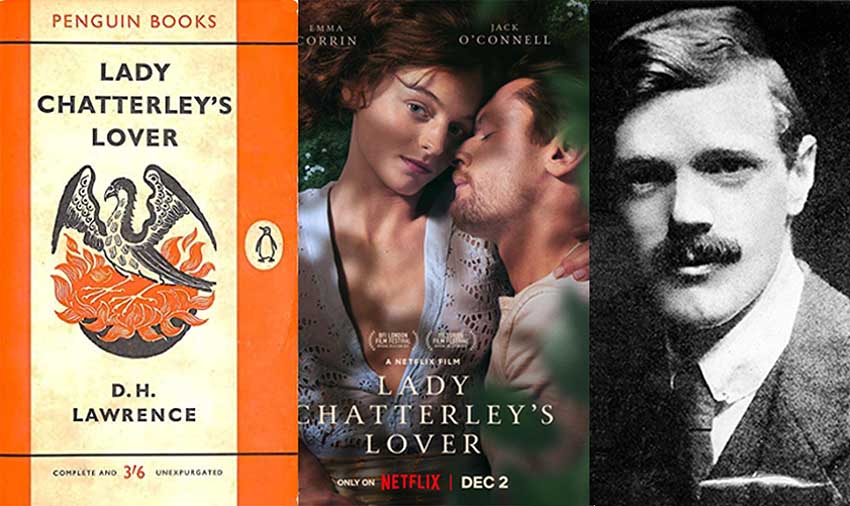 … body without mind is brutish; mind without body… is a running away from our double being …
Richard Hoggart, Introduction to the 2nd Edition, 1961 1
Lady Chatterley's Lover is the last novel by English author D. H. Lawrence, first published privately in 1928 in Italy, and in 1929 in France. An unexpurgated edition was not published in the UK until 1960, when it was the subject of a watershed obscenity trial against Penguin Books, which won, and quickly sold three million copies. The book – also banned for obscenity in the USA, Canada, Australia, India and Japan – soon became notorious for its story of the physical (and emotional) relationship between a working-class man and an upper-class woman, its explicit descriptions of sex and its use of then-unprintable four-letter words.
Everybody knows Lady Chatterley's Lover is a tango between sex and class. (Isn't this, a variant on forbidden fruit, the timeless source of its erotic appeal?) Even its parallel theme of infirmity and impotence v strength and lustful masculinity is, when we get down to it, also about sex and class. The war-wounded and then cuckolded Sir Clifford Chatterley – mine-owner and baronet, and by that fact as much new money as old – represents a hybrid class which Lawrence, who'd flirted with fascism in his despair at bourgeois decadence, loathed as the enfeebled product of life lived all in the mind.
D H Lawrence – whom I discovered in my late 'sixties teens, around the time I also discovered Barstow, Sillitoe and all those other Angry Young Men who owe him so much – has long been out of fashion. If this year's offering by Laure de Clermont-Tonnerre, 2 released December 2 on Netflix, does its bit to change that – and it might, given that it pushes at the opening door of a rehabilitation well overdue – it will have made a significant artistic contribution.
And if it doesn't? No matter. Nor that the dialectics of class are more taken as read than truly explored. This is a film about sex and love, the latter's perilous impossibility not overlooked but coming a distant second to a sumptuously erotic celebration of feeling and physicality. What if it did take a woman, a French woman, and a few liberties along the way to make it so? If Emma Corrin's Lady Chatterley dancing naked in a downpour with Jack O'Connell's fit Oliver Mellors doesn't bring a smile to the lips and song to the heart – as a fully clad Gene Kelly once did in similar weather conditions – well, you'd better have a doctor check you over for signs of life from the neck down.
Oh, and I'm with the French – and Emma Corrin – on one small point. The female underarm, au naturel,  is such  a turn on …
* * *
Richard Hoggart, best known – not least through his ground-breaking Uses of Literacy – as a pioneer of the Cultural Studies backlash against Art-For-Art's-Sake Leavisism, was an 'expert witness' at the 1960 Trial, Crown v Penguin Books. He would later say he'd overegged the literary status of Lady C. His motive was anti-censorship but "Great Art" was the only defence then permissible under UK obscenity law. (Many take Sons and Lovers to be DHL's true opus magnum.) That said, class did get a look-in at the trial when prosecuting counsel put it to the jurors, three of them women: "would you let your wives or servants read this book?"  It was an own-goal to which the defence would repeatedly and gleefully return, as evidence of the outdated and out of touch nature of the case for the prosecution.
Followers of the sublime Call My Agent will remember Laure Clermont-Tonnerre on the other side of the camera lens as the lustfully lesbian, pushy but heart-warmingly human Camille of its Paris based thespian agency. No they won't. Once again steel city scribe wipes egg from face, this time apropos a case of mistaken identity. Compounded by the fact that Camille (Cotton) is the name not of the character (Andrea) in Call My Agent but of the actress who played her.