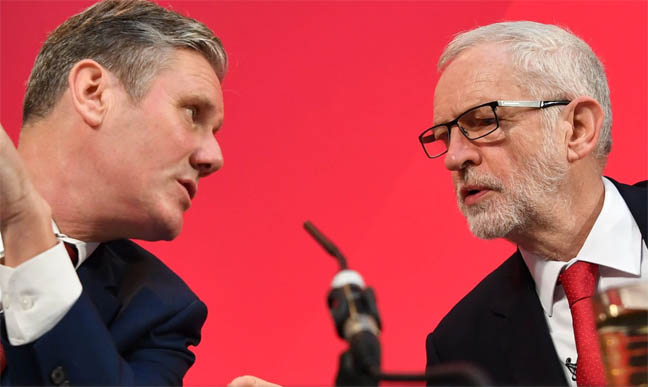 Even the mildly socialist policies put forward on Jeremy Corbyn's watch were too much for Britain's rulers. Aided by the most vicious campaign ever waged against a party leader, in which every wing – liberal as much as conservative, 'quality' as much as tabloid – of corporate media played its part with gusto, Corbyn was ousted and Labour returned to safer hands, as befits its role as Her/His Majesty's Loyal Opposition. Which is to say, a party to which Britain's ruling class may turn without fear when its A-team has so royally fucked up as to need a spell on the benches.
Jonathan Cook, writing yesterday on his blogsite
Starmer is paving the way for the triumph of dark politics
By waging an all-out war on the left and its ideas, the Labour leader is strangling hope of change in a time of crisis – and risks driving voters towards right-wing authoritarians
There is a reason – and not the one given – why Labour Party leader Keir Starmer has announced that he is banning his predecessor, Jeremy Corbyn, from standing as a candidate for the party at the next general election.
Corbyn has been sitting as an independent since Starmer exiled him from the Labour benches in late 2020 – after Corbyn observed that it was for "political reasons" he faced years of evidence-free accusations the Labour Party was beset by antisemitism on his watch. He called the accusation "dramatically overstated".
The official grounds for Corbyn being permanently barred from returning to the parliamentary party are that he has refused to apologise for his comment.
Announcing Corbyn's exclusion as a candidate, Starmer said Labour would "never again be brought to its knees by racism or bigotry. If you don't like that, if you don't like the changes we have made, I say the door is open and you can leave".
The establishment media – from right to supposed left – are trying to bolster Starmer's claims about Corbyn and his supporters by continuing to weave a web of misrepresentations about the former leader being depraved and unhinged.
Antisemitism in Labour is apparently being kept at bay only because of Starmer's vigilance, in contrast to Corbyn's supposed indulgence. And, were Corbyn to be serving as prime minister today, we are warned, he would be taking "cranky" foreign policy decisions, like encouraging a diplomatic process to end the bloodshed in Ukraine.
No other political leader, not even Tony Blair, has haunted the thoughts of his successor – or the airwaves and pages of the billionaire-owned media – in quite the way Corbyn continues to do so.
Even a disastrous, if brief, prime minister like Liz Truss quickly faded from memory. Boris Johnson stays in the British public's imagination only because the scandals and dramas he presided over are still playing out, and because in the crisis-plagued Conservative Party, he might yet manage to claw his way back into Downing Street.
So why the perennial concern about Corbyn, even as he languishes on the backbenches, outside the two-party chokehold on British politics, with no evident path back to power? Why does his shadow loom so large?
Read Jonathan's answer to those two questions …
* * *