Not even her worst enemies could call Caitlin Johnstone a Pollyanna. She is never other than terrifyingly forthright on a US aggression as easy to ascertain and quantify – by the few willing to set aside meta-narrative in favour of facts – as it is to debunk the wall to wall propaganda of China and Russia being threats to world peace. As I've said more than once:
The USA rings the planet with 800 military bases, outspends on weaponry the next ten spenders put together, has been at war for almost its entire history and has slaughtered millions – by bombs, invasions, murderous 'sanctions' and terror unleashed – in this century alone. Mostly in far off lands.
In what universe can anything remotely similar be said of China or Russia? 
In her blog post today Caitlin continues in this vein, noting that:
The US war machine is making it more and more explicit that its position on Taiwan is very different from its position on Ukraine, in that it will directly commit American troops to fighting a hot war with China over Taiwan. This is especially concerning because US military encirclement and provocations with Taiwan are making that war more and more likely, in the same way western provocations made the war in Ukraine more likely.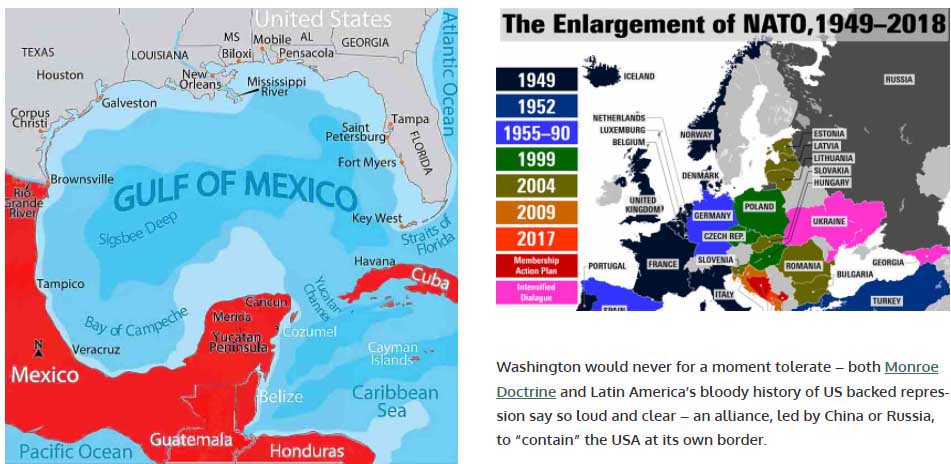 It makes grim reading when an unshifting tangible – a hyper-financialised and plunder-reliant US empire (though not its peoples) under threat from a weakening of dollar rule – co-exists with the crazies having captured US government.
Yet today Caitlin – again, no Pollyanna – finds a glimmer of hope. Have the crazies overreached themselves? Is the thought stirring within slightly less deranged wings of the US ruling class …
In an article titled "Who Benefits From Confrontation With China?", none other than the New York Times editorial board taps the brakes with a wildly US-biased but still-welcome argument that "America's increasingly confrontational posture toward China is a significant shift in U.S. foreign policy that warrants greater scrutiny and debate."
"Americans' interests are best served by emphasizing competition with China while minimizing confrontation. Glib invocations of the Cold War are misguided," NYT argues.
In a Washington Post article titled "Democrats and Republicans agree on China. That's a problem.", Max Boot (yes, that Max Boot!) argues that the bipartisan foreign policy consensus on escalations against Beijing are a sign that something dangerously ill-advised is in the works.
"The problem today isn't that Americans are insufficiently concerned about the rise of China. The problem is that they are prey to hysteria and alarmism that could lead the United States into a needless nuclear war," Boot writes.
CNN's Fareed Zakaria echoes Boot's criticism of the Washington foreign policy orthodoxy, saying that "Washington has embraced a wide-ranging consensus on China that has turned into a classic example of groupthink."
A new Financial Times piece titled "China is right about US containment" acknowledges that Xi Jinping's comments about encirclement are "not technically wrong," and says that betting on China's submission in the new cold war "is not a strategy."
… that, as Barry McGuire warned back in '65, we stand on the eve of destruction?
It's hardly time to embrace your own inner Pollyanna. Caitlin's glimmer of hope may, as she notes in an obligatory caveat, be fools' gold. But as we dialectical materialists often say, the darkest hour can come right before the dawn.
* * *