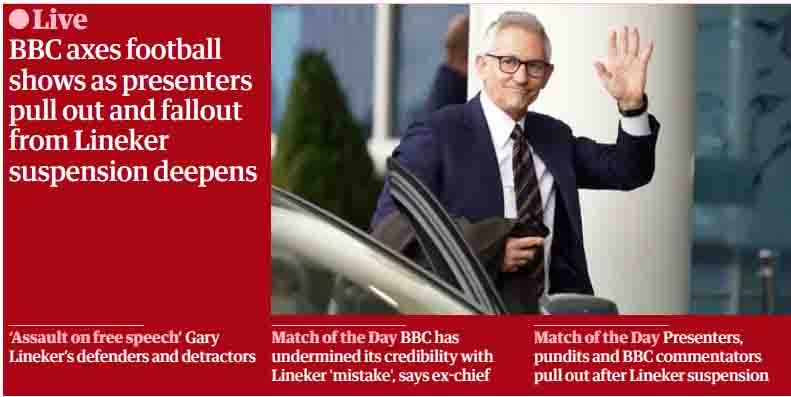 Guardian writer and former Independent editor Archie Bland today says:
Linekerology is only prominent because, even if you think his comparison of Suella Braverman's rhetoric to that emanating from Germany in the 1930s is excessive …
(Not sure I do, but that's by the by.)
… it is obviously the product of a moral clarity that has eluded the actual opposition.
Most people are now clearer on where a television presenter stands on the small boats crisis than where the Labour party, which has largely confined its critique to a managerialist argument about Home Office asylum application backlogs, does. If you'd rather people didn't view every story through the prism of celebrity, you have to offer them a more compelling alternative.
Indeed. But Caitlin Johnstone's incisive assessment of democracy – which contrary to Leonard Cohen's promises has not yet come to the USA – on that side of the pond applies equally on mine:
The US doesn't have political parties, it has narrative control ops disguised as political parties. One of them overtly promotes capitalism and imperialism by appealing to Americans' worst impulses, the other covertly diverts their healthy impulses back into capitalism and imperialism.
An elephant and a donkey fight in a puppet show and the crowd cheers for one or the other while thieves pick their pockets. And when people start to notice their wallets are missing, they're told they can stop the pickpocketing by cheering louder for their favorite puppet.
People ask why the Democrats never codified Roe vs Wade into law, and the answer is, because that's not their job. Their job is not to enact the policies you elected them to enact. Their job is not even to win elections. Their job is to keep you staring at the puppet show.
Even Mr Bland's observation that …
BBC director general and former Conservative council candidate Tim Davie has acquiesced to a vision of the corporation's responsibilities that is wholly the creation of those who would rather it did not exist 
 … applies equally to a Labour Party safely returned to Blairism by Starmer and the victory of dark politics. But Mail, Express and their ilk are out of step with cannier currents in the British establishment. Not for the first time – see Labour won't save Britain's public sector– I'll end with this observation from steel city reader, bevin:
The natural political division in the UK right now is between Blairism and Socialism. The Tory 'brand' is no longer fit for purpose – Blairism serves the ruling class far better. And when it is opposed by Toryism it is unbeatable because the only alternative is a clumsier version of itself.
* * *