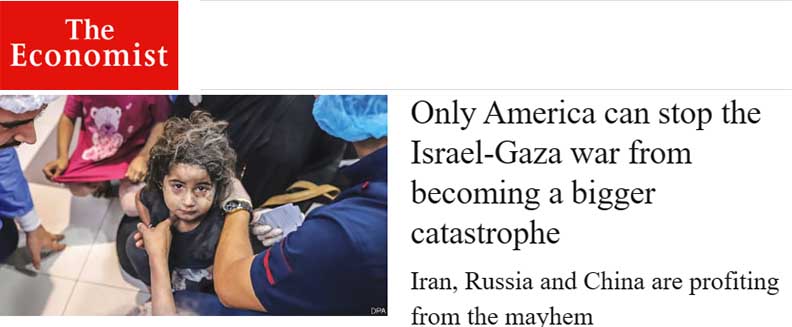 So deeply and for so long has British newzine, The Economist, descended into self-caricature that I've come to suspect it's in reality a cunning false flag operation by dissident elements to make a fast waning Western Empire look ridiculous.
Take the above specimen, screen-grabbed just minutes ago. Calling the genocide now in full swing an Israel-Gaza war is like calling the Holocaust a Nazi-Jew war. It implies a preposterous equivalence of forces. Here's how Caitlin Johnstone opens today:
The premise behind this current onslaught and those which preceded it is that you can bomb people into consenting to oppression and apartheid. That you can abuse them into accepting abuse. The whole entire argument is that if you bomb and shoot and teargas and beat and imprison enough Palestinians with enough aggression, eventually they will see the error of their ways and accept the status quo you are trying to impose upon them.
This is of course stupid, and it is of course a lie. The idea was never really to abuse Palestinians into accepting abuse, that's just the cover story; the real goal has always been to abuse them to the point where you can justify eliminating them. To push an inconvenient people into an impossible corner and then when they push back hard enough say "Well, we did all we can and we learned you just can't help these savages. They're going to have to go." 1
But back to the Economist, which – like a stopped clock, twice a day – gets one thing right. The USA is pivotal to Israel's ethnic cleansing of Gaza. Pivotal too to the war in Ukraine and the one impending in the South China Sea.
Just not pivotal the way the apologists at The Economist mean. It's simply the common thread, inter alia, in all three of those WW3 flashpoints. 2 3
In Broken: the implicit contract between rulers and ruled,  I wrote:
500 years of western ascendance are drawing to a close. Compounding this is the West's financialisation and de-industrialisation. Should it lose its financial stranglehold on the global south – an outcome synchronised by the US dollar's loss of global reserve status as the BRICS economies grow in number, confidence and clout – its immediate prospects are bleak.
This is the overarching context for Gaza, for Ukraine and for Taiwan. "Only connect", urged E M Forster. Has ex US Marine turned empire critic Brian Berletic read Howards End? Concluding his podcast yesterday he issues, at 31:18, a plea EMF would in principle approve:
Just remember the bigger picture and how none of this would be possible without US support.  Without US support Ukraine would never have even wanted to provoke this conflict with Russia. Without US support Israel would be utterly incapable of pursuing this policy of belligerence against the Palestinian people. They would have to resort to rational and humane diplomacy and the same goes for Taiwan, America's proxy of choice within Chinese territory. Taiwan as it exists today would be impossible without US sponsorship for decades so the common denominator in all three areas is the US and its ambitions to use these proxies against its adversaries in the region and toward a greater global policy of trying to reassert the sort of hegemony it enjoyed at the end of World War II and again at the end of the Cold War.
Canny words. See what preceded them as this highly informed and effective communicator turns a military analyst's eye on the ongoing disaster for Ukraine, before doing the same with both the Israeli strike on the Al-Ahli Baptist Hospital – as Tel Aviv makes absurd attempts to 'prove' it was Hamas wot dunnit 4 –  and IDF boots-on-the-ground plans for Northern Gaza.
* * *