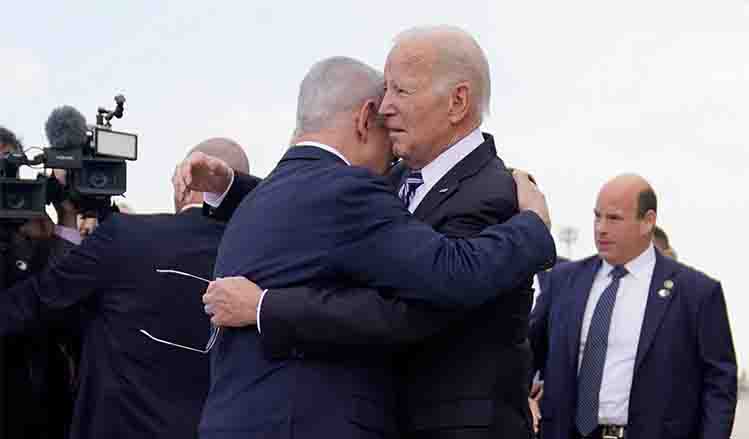 Joe Biden (who dislikes and is loathed by Netanyahu) may be buying it …

… I mean, what other option would a US President have, even if fully compos mentis?
But for now at least, upmarket corporate media are making a show of scepticism over IDF 'evidence' that Tuesday night's carnage at Gaza's Al-Ahli Baptist Hospital was the result of Hamas rockets falling short of their targets in Israel.


They can hardly do otherwise. Here's the said 'evidence' – an alleged phone call Tel Aviv (which claims to have had no forewarning of the October 7 attacks) says its intelligence services (now restored to world-beating acuity) picked up between two Hamas operatives: 1
On Mint Press yesterday, Sayantani Biswas wrote:
The IDF claimed that the voice note was of Hamas fighters discussing the 'failed rocket launch' that hit Al Ahli hospital, killing Gazans. The IDF's tweet attached transcription to the voice note.
The IDF's transcription reads:
Hamas Operative #2: I'm telling you this is the first time that we see a missile like this failing and so that's why we are saying it belongs to the Palestinian Islamic Jihad.
Hamas Operative #1: What?
Hamas Operative #2: They are saying it belongs to Palestinian Islamic Jihad
Hamas Operative #1: It's from us?
#2: It looks like it
#1: Who says this?
#2: They are saying that the shrapnel from the missile is local shrapnel and not like Israeli shrapnel
#1: What are you saying (name)?
#2: But God bless, it couldn't have found another place to explode?
#1: Nevermind, (name), yes they shot it from the cemetery behind the hospital
#2: What?
#1: They shot it coming from the cemetery behind the Al-Ma'amadani Hospital, and it misfired and fell on them
#2: there is a cemetery behind it?
#1: Yes, Al-Ma'amadani is exactly in the compound
#2: Where is it when you enter the compound?
#1: You first enter the compound and don't go towards the city and it's on the right side of the Al-Ma'amadani Hospital.
Yes , I know it.
Joe "the-other-team-dunnit" Biden aside, 2 is this just common-or-garden clunky? Or bone-head-unbelievable clunky? Caitlin Johnstone thinks the latter. Here she is today, with her take on the 'transcript':
Picture a recording of me doing two blokey-sounding voices going,
"Hello my evil friend!"
"Hello!"
"Did you hear that Caitlin definitely did not bomb that hospital?"
"She didn't?"
"No! It turns out it was we, the Evil Bad Guys!"
"We did it?"
"Yes, it was us!"
That would look pretty silly, right?
If Israel is making itself look this ridiculous, then it's no wonder the western press are not lining up to help it cover up this particular misdeed. They've got to maintain some credibility if they're going to keep manufacturing consent for other wars, after all.
Bear that last sentence in mind when we come to Owen Jones. Meanwhile, here's Caitlin's post today in full …
*
For those who prefer their Zionism undiluted, here's a cute little story from Britain's famously rabid Daily Mail: 3 Though the "luvvies" in the headline make clear the Mail's stance, as does the final paragraph of the extract given below, the piece is by Mail standards light touch, and worth a scan for the open letter co-signed by Coogan, Peake and other 'luvvie' celebs: 4
Luvvies under fire for failing to condemn Hamas' brutal terror attacks in open letter signed by 2,000 people including …
An open letter signed by famous people in the UK has come under fire for failing to condemn Hamas' brutal terror attacks.
The letter was signed by more than 2,000 actors, musicians and artists in the UK, including Steve Coogan, Tilda Swinton, Miriam Margolyes and Maxine Peake.
It states: 'Our governments are not only tolerating war crimes but aiding and abetting them.'
The artists condemn 'every act of violence against civilians and every infringement of international law whoever perpetrates them'.
The letter has been criticised for not mentioning the terrorist group Hamas or its assault on Israel on October 7.
*
Now here's Media Lens, with the IDF's ethnic cleansing operation in full swing but the Baptist Hospital atrocity still a few hours away:
The 'Absolute Right' To Commit War Crimes? Gaza, Israel And Labour 'Opposition'
The attacks by Hamas fighters in southern Israel on 7 October, and the Israeli air attacks on Gaza that have followed, and now the unfolding humanitarian disaster there, once again expose fundamental bias in the state-corporate news media. Does news coverage really convey the impression that all lives – Palestinian and Israeli – are of equal value? After all, they surely deserve the same level of humanity and compassion. Do the news media present heart-wrenching stories of individual victims and their grieving families from both sides? And is the full context and history explained in order for audiences to arrive at a proper understanding of events?
As Jack Mirkinson, an interim senior editor at The Nation magazine, wrote:
'Who is allowed humanity, and who is not? Whose deaths are tragedies worth paying concerted attention to, and whose deaths can be dealt with in a matter of seconds? Whose children are worth learning about? Whose heartbreak is worth lingering over? And which people, when confronted by bloodshed, deserve to have the world put everything on hold and rush to their side? The answer is clear. Palestinians are killed by Israel all of the time, including when they peacefully protest. But the world never puts itself on hold to bear witness to their heartbreak.'
On BBC Newsnight, host Kirsty Wark listened to Husam Zomlot, head of the Palestinian Mission to the UK, describe how six of his family members had been killed by Israeli air strikes. Wark reacted oddly:
'I'm sorry for your own personal loss. I mean, can I just be clear, though, you cannot condone the killing of civilians in Israel, can you?'
This captures an essential element of western media coverage in the region: the death of Palestinians might be noted, but attention is swiftly brought back to the suffering of Israelis …
Read the Media Lens piece in full …
*
Finally, Owen Jones in yesterday's Guardian with a decent piece. But at risk of coming across as sour – I take bigger risks in the interests of truth! – let me make three observations.
First, a general remark I made in a recent post:
… the quantitative trumps the qualitative. A content analysis of Guardian coverage of Palestine this past week will show … that for every Guardian word in support of the Palestinian case there'll be a thousand trashing or covertly denying it. 
As this week has progressed, and the enormity of what Israel is doing becomes harder to deny or pass over in silence, the quantitative bias has lessened as a second factor kicks in. From the same steel city post:
It's vital for two reasons that upmarket liberal corporate media show willing to take on power. One is the boardroom reality that they must avoid losing market share to more daring media – or to put it another way, losing more readers than they draw in. (Did Guardian Media Group calculate that its trashings of Corbyn and Assange passed this test?) The other is the more diffuse reality that a hallowed ideal, which does hold a grain of truth, of media able to hold power to account despite an advertising and sponsorship model at least as corrosive as oligarchic ownership, is vital to the appearance of democracy.
Third, here's a more specific observation made two paragraphs down from the previous:
This applies not just at the level of liberal media like the Guardian, but when we drill down to left figures like Owen Jones and George Monbiot. Both have been atrocious on Syria and in Jones' case on Russia too. Their willingness to speak out on causes more popular on the left, like ecocide and Palestine, gives them the kudos to be believed on Assad and Putin. In this they are their employer in miniature.
Or as I put it – see Monolothic control at the Guardian? – some two years ago:
As the Guardian confers liberal respectability on a rotten status quo, so do writers like George Monbiot (excellent on linking ecocide to big money, dire on Syria) and Owen Jones (author of such worthy tomes as The Establishment, useless when his employer was trashing Corbyn) give left cover to the Guardian. 
Jaundiced, moi?  I call it necessary context. Regardless, Owen's is a decent piece which begins:
UK politicians have got it wrong on the Israel-Hamas war. We must hold them to account
Tory and Labour reluctance to criticise the Israeli government could make our leaders complicit in war crimes – the public needs to speak out.
What value a Palestinian civilian life? For Britain's political establishment, the answer is precious little. Revulsion at the slaughter of Israeli civilians – partygoers, kibbutzniks, children, elderly people – at the hands of Hamas is a moral imperative. Tragic, then, that the righteous consensus over the sanctity of life ends at Israel's borders. Both the Conservative government and Labour opposition have become supporters of wanton violations of the Geneva conventions, war crimes and ethnic cleansing.
As Rishi Sunak offers Israel "unequivocal" support, it is worth unpacking what that means. In the last nine days, at least 2,750 Palestinians have perished under Israeli bombs, about a quarter of them children, according to the Gaza health ministry. Not a word of grief or regret from our prime minister: their slaughter, presumably, is subsumed into what he describes as Israel's "every right to defend itself". No condemnation of the bombing of ambulances and electricity-deprived hospitals, or of the killing of medics, journalists and UN officials.
Sunak's only words of caution were to call on Israeli forces to "avoid harming civilians". A useless gesture: the Israeli state he has declared full support for is hardly being subtle about its intentions. "The emphasis is on damage and not on accuracy," say the Israel Defence Forces. Sunak will be aware that the Israeli defence minister, Yoav Gallant, proclaimed: "We are fighting human animals" as he ordered a "complete siege" of Gaza with "no electricity, no food, no fuel", adding that Israel intends to "eliminate everything".
Now is the time for Sunak to familiarise himself with article 33 of the Geneva conventions, on collective punishment …
* * *