I had this email today from Dave Hansell, a frequent Steel City commentator:
During the UEFA Europa League Round of 16 second leg football match between Red Star Belgrade and Glasgow Rangers at the Rajko Mitic Stadium, in Belgrade, Serbia, on March 18 2022, thousands of Serbian soccer fans displayed five huge banners listing over 20 countries which have been invaded by the US and NATO.

Can't remember seeing this on any of the sports reporting in the UK.

Very odd.  They are usually very gung ho about virtue signalling.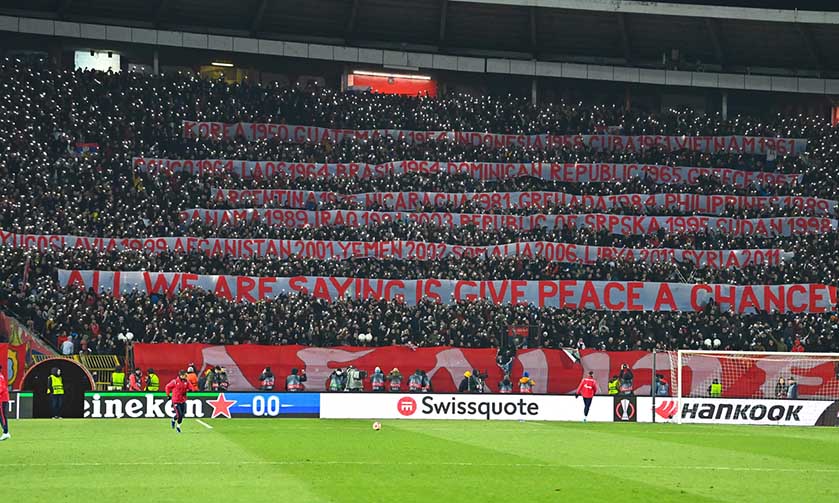 Photo: AFP
While we're on the subject of the oddly selective, Anthony Blinken has suddenly noticed human rights abuses in India, declaring last night that:
we are monitoring some recent concerning developments in India including a rise in human rights abuses by some government, police and prison officials
Gosh, really! Whodathunkit? Narendra Modi and his right wing Hindu nationalist chums have always struck me as the last word in pleasantly accommodating.

You don't suppose this sudden frosting of DC-Delhi relations might be related to India declining to join the lynch mob sanctions alliance against Russia, do you? Caitlin Johnstone's post today cites this Bloomberg offering from last week:

President Joe Biden's top economic adviser said the administration has warned India against aligning itself with Russia, and that U.S. officials have been "disappointed" with some of New Delhi's reaction to the Ukraine invasion.
"There are certainly areas where we have been disappointed by both China and India's decisions, in the context of the invasion," the director of the White House National Economic Council, Brian Deese, told reporters at a breakfast Wednesday hosted by the Christian Science Monitor.
The U.S. has told India that the consequences of a "more explicit strategic alignment" with Moscow would be "significant and long-term," he said
Nah. Pure coincidence. Nothing to see here – move along please.
* * *