You've likely spotted the typographic error in this post's title. WW3 hasn't happened yet, has it?
My bad. But I should warn you now: this post descends at times into heavy irony; second lowest form of wit.
We know from our fearlessly independent media that every one of the endless wars waged by a US empire which doesn't actually exist – since, unlike the democratic and freedom loving US of A, empires are a Bad Thing – has been sold to us on the back of lies.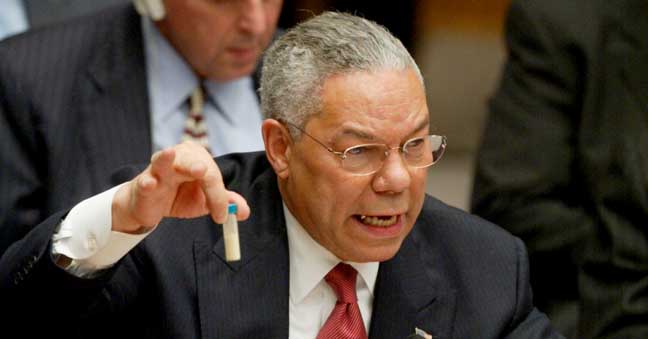 Trouble is, in almost all cases (two exceptions are shown below 1 ) those fearlessly independent media do their exposing, and picking up of plaudits and Pulitzers, after  the wars they backed – here with shows of reluctance, 2 there with unabashed jingoism – have served, or signally failed to serve, their imperial purposes. 3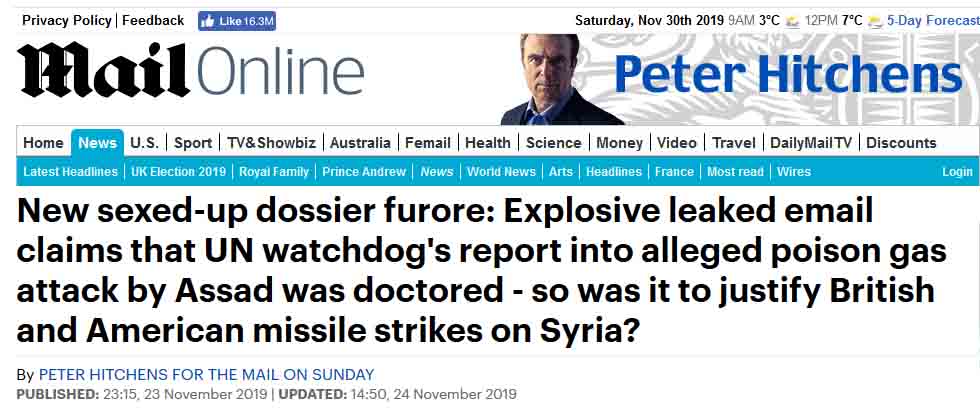 See my post of ten days ago, The propaganda blitz on Bucha, for the why of that. Meanwhile here's the right honourable Jeremy Hunt, currently Britain's Chancellor of the Exchequer but previously its Foreign Secretary …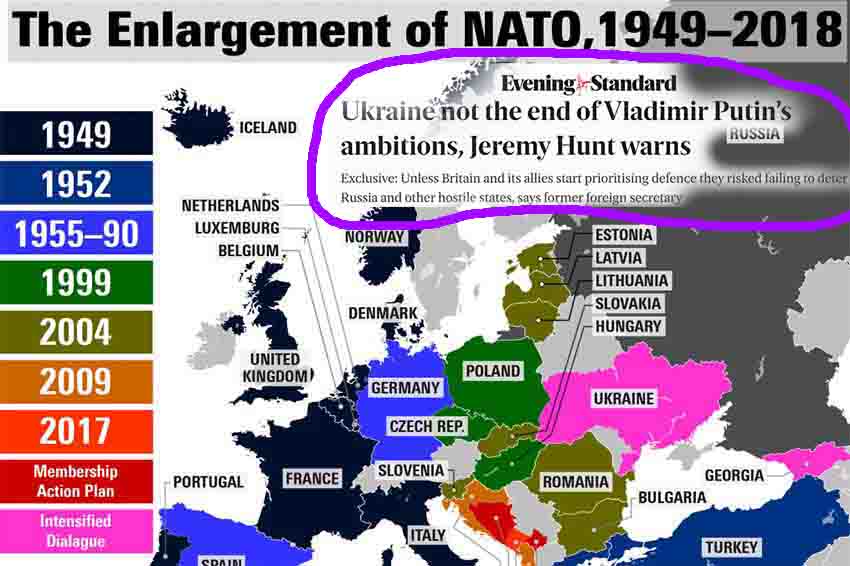 While here – yes, again! – is one of the many aspects too trifling for Mr Hunt to mention: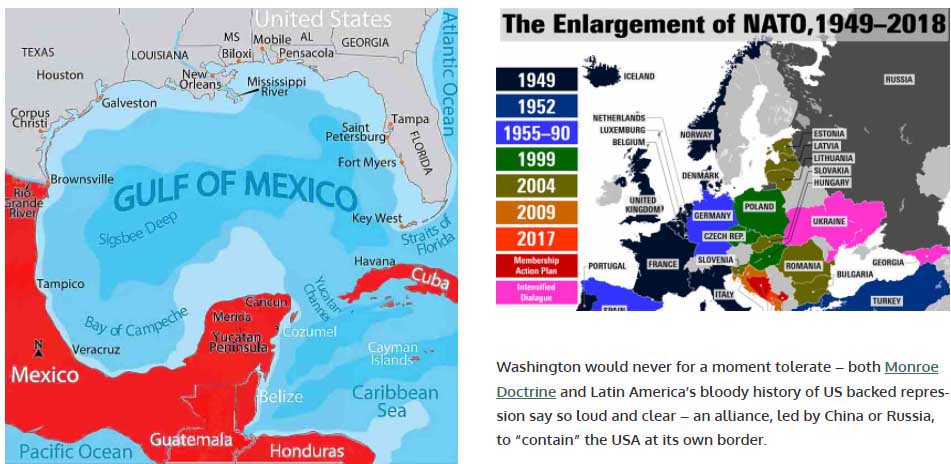 Which brings me to the lies which may indeed trigger WW3. But there's a twist to those in last week's episode of Washington's nine months eight years of proxy war in Ukraine: not only on Russia – with China and Iran next in line if all goes to plan (which it plainly isn't doing 4 ) – but on its European 'allies' too. With friends like Uncle Sam, who needs enemies? The husband of neoliberal Russophobe Anne Applebaum, Poland's Radek Sikorski, may be a huge admirer …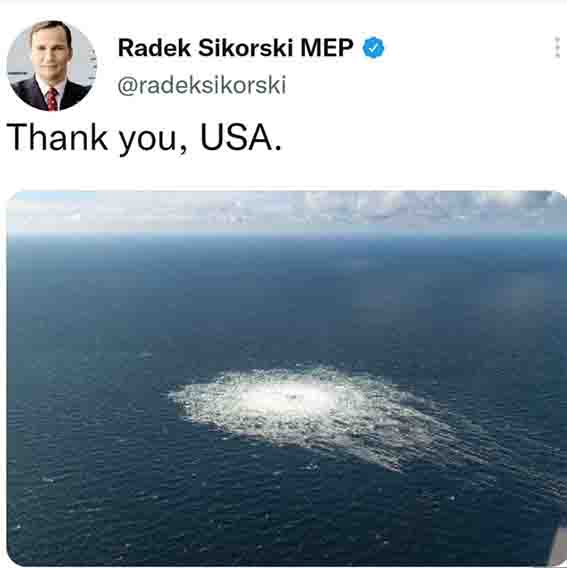 … but the same can't be said of Germany's shivering householders, and workers laid off as its industrial competitiveness plummets thanks to the dearer LPG they must now import from – you got it – their kindly old Uncle Sam.
I haven't time to construct a Venn diagram of where Kiev's interests, and those of Washington, do and do not intersect. But long before February 24, 2022, we were seeing signs of divergent agendas; a divergence which resurfaced last week after that November 15 missile strike on Poland.

Says Volodymyr Zelensky to Interfax-Ukraine:
I have no doubt that it was not our rocket. I believe that it was a Russian missile based on the credibility of the reports of the military.
Says his Foreign Minister, Dmytro Kuleba, on Twitter:
Russia now promotes a conspiracy theory that it was allegedly a missile of Ukrainian air defense that fell on the Polish theory [sic]. Which is not true. No one should buy Russian propaganda or amplify its messages
Says NATO Secretary-General Jens Stoltenberg, a notorious Putin apologist and peddler of conspiracy theories to promote Kremlin interests:
Our preliminary analysis suggests that the incident was likely caused by a Ukrainian air defense missile fired to defend Ukrainian territory against Russian cruise missile attacks.
Poland's President Duda agreed, as did the remarkably unremarkable Stoltenberg's paymasters in Washington. National Security Council spokeswoman Adrienne Watson – another Putin troll – said on November 15 that the US had.
Seen nothing to contradict President Duda's preliminary assessment that this explosion was most likely the result of a Ukrainian air defense missile that unfortunately landed in Poland.
My conclusions? One, that Ukraine was either executing an inept false flag op – which doesn't preclude its doing similar in future, but with greater ept – or that it was ineptly making a virtue of necessity following its ineptly targeted missile strikes.
Those who know about such things say strikes going so far astray as this are unlikely, given the way surface to air missile systems are programmed. For his part Gilbert Doctorow, writing late afternoon on November 16, offers this:
The latest statements from Poland and the U.S. in the past hour or so are saying the missiles which landed in Poland were Ukrainian air defense missiles, not downed Russian cruise missiles. Since the US has recorded the trajectory of the missiles by one of its spy planes on location near the border, they know from where the missiles were launched and whether air defense units were there. They also have the missile fragments from the crash site and can identify exactly what type they were if they so wish. For their part, the Poles are indicating that they will not activate Article 4 provisions of the Alliance after all. 5 We may assume that knowing what they do, they would prefer to remove this whole incident from public discussion as quickly as possible. The Russians say their attack on infrastructure came nowhere near the Ukrainian border with Poland, and that is completely believable: they want to avoid precisely what happened yesterday. So what is the chief lesson of this event: that the Americans understand it was a provocation by the Zelensky regime and they were quick to snuff it out because they absolutely want to avoid any possibility of the conflict going out of their control and escalating to nuclear war.
Which leads naturally to my second conclusion. That "the Americans" do indeed "want to avoid any possibility of the conflict going out of their control and escalating to nuclear war". But as I noted three days ago, in my own post on the matter:
Wanting to avoid thermonuclear war does not preclude recklessly provoking a nuclear adversary in ways that up the likelihood of getting precisely that, Dr Strangelove style.
* * *