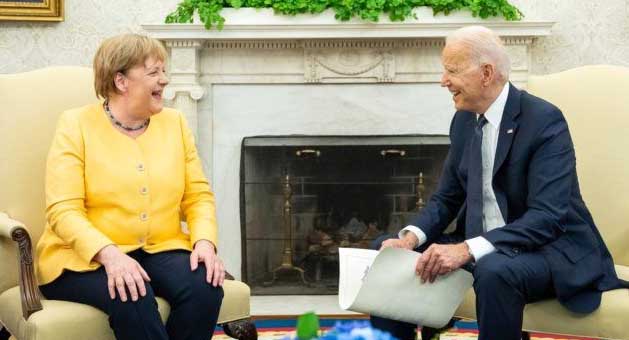 Instead of a real military threat from Russia and China, the problem for US strategists is the absence of such a threat … What worries them is NATO nations and countries along the Belt & Road seeing the benefits of peaceful trade and investment. With no Russian or Chinese plan to invade or bomb, 1 what need of NATO? What need for heavy purchases of U.S. military hardware by affluent allies? And why would foreign countries sacrifice their trade and financial interests by relying on U.S. exporters and investors?
.
Writing in the Guardian four days ago on the Ukraine standoff, Bernie Sanders called Vladimir Putin "a liar and a demagogue". This interested me. I've had two exchanges this past week with friends who damned the Russian President. 2  You can follow one of those exchanges here – or, speaking more broadly, check out my post, "We have evidence"  is not evidence.
Here's what the BBC said of Mr Putin in 2018:
Over successive terms as president and prime minister he has overseen an economic boom, military expansion and the re-establishment of Russia as a major power. Living standards for most Russians improved, and a renewed sense of stability and national pride emerged. But the price, many say, was the erosion of Russia's fledgling democracy. 3
I'm not, of course, given to taking as gospel the BBC's word on anything to do with Russia. But it is a time-honoured principle of jurisprudence that the words of an otherwise dubious source gain credibility when they speak against that source's own interests and agendas.
In any case a wealth of unimpeachable data (some of it used in that BBC page) shows that life has indeed improved for most Russians following the chaos and gangsterism, the plummeting living standards and life expectancy, into which that country was plunged by shock therapy IMF 'reforms' – amply aided by the pliant drunkard, Boris Yeltsin. 4
My own view, drawing on sources including but not confined to such mainstream offerings as that BBC web page, is that Mr Putin is one smart cookie who has been extraordinarily good for Russia and her people. On this I may be wrong, but it's time to fess up. I haven't been entirely honest about Bernie's depiction of the man. Here's what he actually said in his opinion piece of February 8:
Putin may be a liar and a demagogue, but it is hypocritical for the United States to insist that we do not accept the principle of "spheres of influence". For the last 200 years our country has operated under the Monroe Doctrine, embracing the premise that as the dominant power in the western hemisphere, the United States has the right to intervene against any country that might threaten our alleged interests. Under this doctrine we have undermined and overthrown at least a dozen governments. 5 In 1962 we came to the brink of nuclear war with the Soviet Union in response to the placement of Soviet missiles in Cuba, 90 miles from our shore, which the Kennedy administration saw as an unacceptable threat to our national security.
And the Monroe Doctrine is not ancient history. As recently as 2018, Donald Trump's secretary of state, Rex Tillerson, called the Monroe Doctrine "as relevant today as it was the day it was written". In 2019, Trump's former national security adviser, John Bolton, declared "the Monroe Doctrine is alive and well".
Here's another confession. This post isn't about whether Vladimir Putin is a demon or a good egg. It's true I deplore the way evidence-free, and even evidence-defiant, accusations against him are made by those with undeclared axes to grind, and by intellectuals whose confidence in their critical reasoning power is not always justified. But what got my attention in Bernie's piece wasn't what he did and – the biggest whoppers being those of omission – did not say about the Russian President. It was this:
The sanctions against Russia and Russia's threatened response to those sanctions, could result in massive economic upheaval – with impacts on energy, banking, food and the day-to-day needs of ordinary people throughout the entire world. It is likely that Russians will not be the only people suffering from sanctions. And, by the way, any hope of international cooperation to address the existential threat of global climate crisis and future pandemics would suffer a major setback. (My emphasis.)
Bernie being Bernie, 6 and the USA being the billionaire run duopoly dressed up as a democracy it actually is, he of course followed with this:
We should be clear about who is most responsible for this looming crisis: Vladimir Putin. Having already seized parts of Ukraine in 2014, the Russian president now threatens to take over the entire country and destroy Ukrainian democracy. In my view, we must unequivocally support the sovereignty of Ukraine and make clear that the international community will impose severe consequences on Putin and his associates if he does not change course.
Which tells me, having spent a few score hours getting up to speed on Ukraine and its history, 7 either that what Bernie Sanders knows of the subject can be scratched on the back of a nickel, or that he's a liar and a coward. I'm charitable enough to go with the first reading.
Especially since what he wrote in the Graun was, for all its gaping flaws, tantamount to treason on the Beltway.
But as with Putin, Ukraine isn't the prime focus of this post. Its real focus, with Ukraine merely an especially alarming angle on it, is Europe's relations with the Empire Centre. At issue, with Nordstream 2 a highly visible aspect, is a question of seismic import: in the context of Eurasia rising, under what circumstances is Europe likely to break – or by slow degree wriggle – free of the US Empire?
Here's a piece by Michael Hudson: the man Paul Craig Roberts, frequently cited in these posts, calls the world's greatest living economist. Personally I think that damns Mr Hudson with faint praise. More than an economist, he's a man with an unusually comprehensive grasp of global realpolitik. Here he is, writing in CounterPunch, February 11, on Western Europe's relations, 8 fraught and set to worsen, with a fading and by that fact frightening Empire. If you read nothing else this week, do read this. Coming at the subject from many angles – most notably oil, arms and dollar hegemony – he sets out a remarkably lucid and coherent case for concluding that …
America's Real Adversaries are its European and Other Allies
The U.S. aim is to keep them from trading with China and Russia
The Iron Curtain of the 1940s and '50s was ostensibly designed to isolate Russia from Western Europe – to keep out Communist ideology and military penetration. Today's sanctions regime is aimed inward, to prevent America's NATO and other Western allies from opening up more trade and investment with  Russia and China. The aim is not so much to isolate Russia and China as to hold these allies firmly within America's own economic orbit. Allies are to forego the benefits of importing Russian gas and Chinese products, buying much higher-priced U.S. LNG and other exports, capped by more U.S. arms.
The sanctions that U.S. diplomats are insisting that their allies impose against trade with Russia and China are aimed ostensibly at deterring a military build up. But such a build up cannot really be the main Russian and Chinese concern. They have much more to gain by offering mutual economic benefits to the West. So the underlying question is whether Europe will find its advantage in replacing US exports with Russian and Chinese supplies and the associated mutual economic linkages.
What worries American diplomats is that Germany, other NATO nations and countries along the Belt and Road route understand the gains that can be made by opening up peaceful trade and investment. If there is no Russian or Chinese plan to invade or bomb them, what is the need for NATO? What is the need for such heavy purchases of U.S. military hardware by America's affluent allies? And if there is no inherently adversarial relationship, why do foreign countries need to sacrifice their own trade and financial interests by relying exclusively on U.S. exporters and investors?
These are the concerns that have prompted French Prime Minister Macron to call forth the ghost of Charles de Gaulle and urge Europe to turn away from what he calls NATO's "brain-dead" Cold War and beak with the pro-U.S. trade arrangements that are imposing rising costs on Europe while denying it potential gains from trade with Eurasia. Even Germany is balking at demands that it freeze by this coming March by going without Russian gas.
Instead of a real military threat from Russia and China, the problem for American strategists is the absence of such a threat. All countries have come to realize that the world has reached a point at which no industrial economy has the manpower and political ability to mobilize a standing army of the size that would be needed to invade or even wage a major battle with a significant adversary. That political cost makes it uneconomic for Russia to retaliate against NATO adventurism prodding at its western border trying to incite a military response. It's just not worth taking over Ukraine.
America's rising pressure on its allies threatens to drive them out of the U.S. orbit. For over 75 years they had little practical alternative to U.S. hegemony. But that is now changing. America no longer has the monetary power and seemingly chronic trade and balance-of-payments surplus that enabled it to draw up the world's trade and investment rules in 1944-45. The threat to U.S. dominance is that China, Russia and Mackinder's Eurasian World Island heartland are offering better trade and investment opportunities than are available from the United States with its increasingly desperate demand for sacrifices from its NATO and other allies.
The most glaring example is the U.S. drive to block Germany from authorizing the Nord Stream 2 pipeline to obtain Russian gas for the coming cold weather. Angela Merkel agreed with Donald Trump to spend $1 billion building a new LNG port to become more dependent on highly priced U.S. LNG. (The plan was cancelled after the U.S. and German elections changed both leaders.) But Germany has no other way of heating many of its houses and office buildings (or supplying its fertilizer companies) than with Russian gas.
The only way left for U.S. diplomats to block European purchases is to goad Russia into a military response and then claim that avenging this response outweighs any purely national economic interest. As hawkish Under-Secretary of State for Political Affairs, Victoria Nuland, explained in a State Department press briefing on January 27: "If Russia invades Ukraine one way or another Nord Stream 2 will not move forward." The problem is to create a suitably offensive incident and depict Russia as the aggressor …
The full piece is 4,361 words. 9 Here again is the link.
* * *