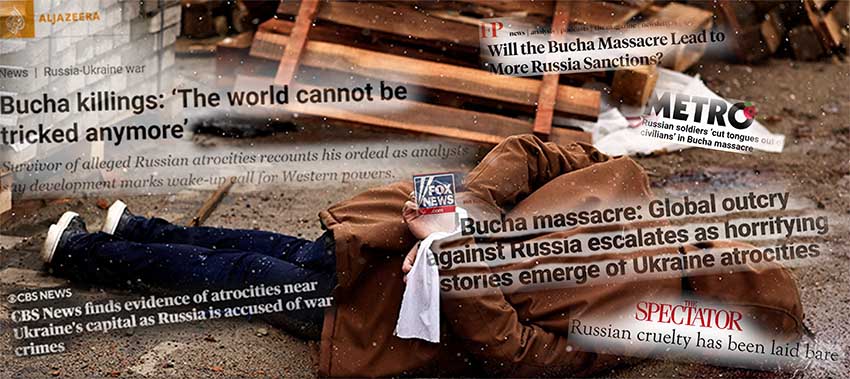 I don't know a way of saying this that won't sound egotistical so I'm not going to try. One of the most decisive differences – there aren't many – separating me from most of my fellows is that they think our corporate media can more or less be trusted, especially on matters where those media speak with one voice 1…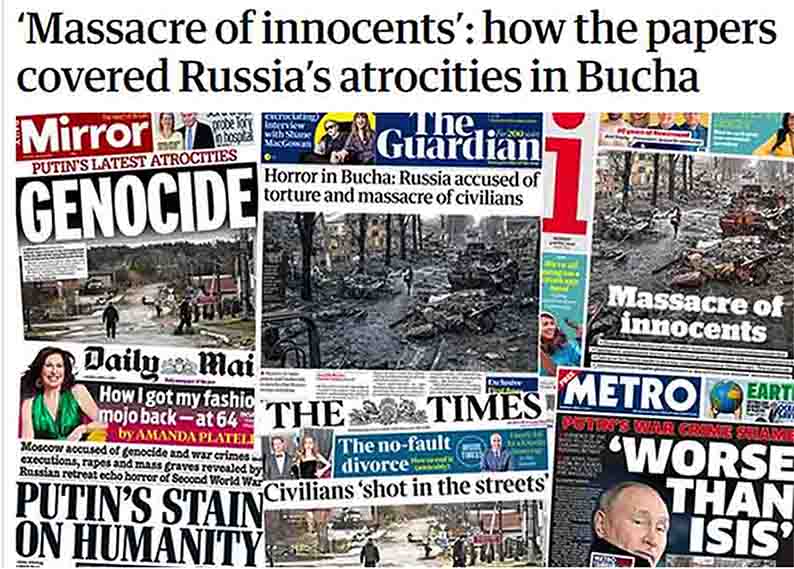 … while I know they can't. These are the very issues, of non-negotiable concern to the plutocrats who beneath a veneer of democracy rule the West, where the business models of those media render them not only systemically incapable of speaking truth to power but make them – in ways which may include but do not necessitate conspiracy and mendacity 2 – dependable aids to the agendas of a US-led empire whose existence they seldom if ever acknowledge. 3
Four years ago I reviewed the Media Lens book, Propaganda Blitz. (If you can't spare the time or cash to read it, you might at least read that review.) I concluded by saying that it:
… makes the ideal gift for those whose healthy mistrust of capitalism is compromised by an excess of faith in liberal media
Like many socialists, of far left as much as liberal stripe, I'd laboured under that blinding excess of faith myself. It took the propaganda blitz on Assad to open my eyes to the extent of media corruption. By 2016 I was writing on the West's dirty, premeditated war on Syria – and drawing flak from liberal and revolutionary alike for my pains. In a post of May 2016 I wrote:
I've had fellow academics – who routinely and rightly take their students to task for failing to substantiate assertions in their essays – trot out naively pro-imperialist claims without a shred of evidence. I've had a seasoned leftwing activist of proven courage tell me, when asked to back up a claim that Assad is as bad as ISIS, that she'd see what she could "dig up" – then lose her temper when I said that smacked of cherry-picking evidence to prop up an a priori conclusion. And I've had a Jewish friend tell me the dirt on Assad "can't all be made up". Lesser chaps might fall into the slough of despond when such as he – kinsman to folk who do know a thing or two about industrial scale smear – talk like this

A core example of this authentication-through-repetition is Assad's putative use of sarin nerve gas, elevated by repeat airings to the status of accepted fact. On this and related matters I've seen too many manifestly biased parties pronouncing Assad's guilt on zero or vanishingly thin evidence; too many gullible groups and individuals relaying such judgments on Facebook and Twitter. I've also heard intelligent friends who should know better say there's no smoke without fire, a dangerously complacent axiom when the combined weight of western media speaks with a single and singularly uncritical voice.
Am I labouring this small point? That we should be wary when media whose business models render them handmaidens to power speak with one voice?  That instead of suspending our critical faculties at such times, we should place them on heightened alert? Media Lens – whose courtesy, when asking journalists for evidence of claims with real world consequences, is often as not met with abuse or deafening silence 4 – set out the hallmarks of propaganda blitzes:
They make highly specific claims: Assad gasses children! … Gaddafi: "We will kill them like rats!"  … Putin bombs Mariupol hospital! … 400 Ukrainian civilians executed in Bucha …
The claims are even more highly emotive.
Their specificity, turbo-emotionalism and blanket repetition across all Western media – to create a ferocious climate for those brave enough to query their accuracy 5 6 – serve knowingly or not to disguise a paucity of reliable evidence from trustworthy sources. 7
Though whipped up with overnight fury on the basis of a "shock finding", such claims take root in soil carefully prepared. They are instantly believed, despite the paucity of factual evidence or even reason. Why? Because we have been drip-primed over years and in some cases decades – each dubious claim lending credence to the next – to so believe. These specific claims form the nuts and bolts from which more general ones are built. Those leaders who most incur the wrath of Wall Street, hence Washington, are likened to Hitler; the few who oppose that designation to Chamberlain.)
(There's another reason why the blitz – or rather, blitzkreig – analogy is useful. Hitler's literal use of it was devastating in Denmark, France, Holland and other relatively small countries. It failed against the USSR for two reasons. One is that, while Nazi rule posed a mortal threat to certain minorities in non-Slavic Europe, it did not existentially imperil entire nations. This was not the case for the Soviet peoples, who found themselves fighting a war not just for terrain or freedom but for racial survival. The other, more relevant here, is that the vast snowscapes of the USSR slowed then reversed the German advance. In the same way, propaganda blitzes rely on speed, shock and awe. When the momentum slows, sceptics have time to come to their senses and fight back with evidence and reason, though often too late to shift the manufactured public opinion, far less alter material outcomes. So it was with Saddam and his WMDs. So it was with Assad's Ghouta, Khan Sheikoun and Douma. So it is with Putin's Mariupol and Bucha.)
Ah, Bucha …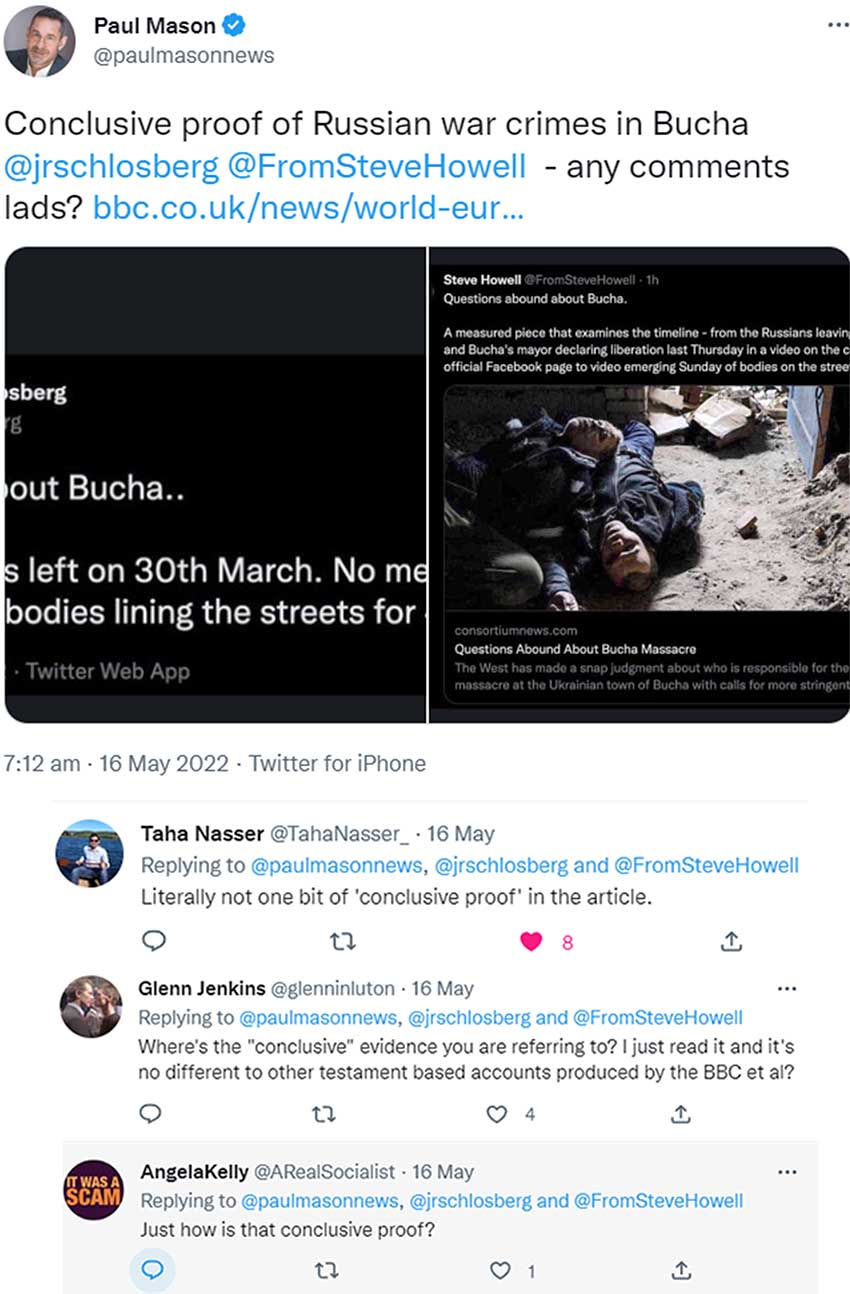 The replies are a curated and biased sample. Click the image to see Paul's tweeted 'proof', and all responses
A few days ago my friend and former Sheffield Hallam colleague, Peter Jones, emailed me a link. It's to a video by Brian Berletic at New Atlas, a vlogger featured before on this site as a forensic dissecter of corporate media fake news and, indeed, propaganda blitzes. At just over twenty minutes I recommend it not only for light on the Bucha allegations – which, as with other such claims about Empire's enemies, stand an outside chance of being for once accurate 8 – but as a textbook case of how propaganda blitzes work.
* * *