Eric Kraus is one of many FB friends I've never met – in his case because he lives in Moscow and I don't. Today he posted this: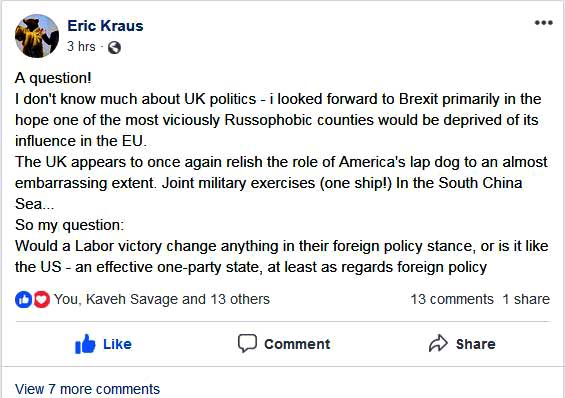 Good question Eric but regrettably easy to answer. No it would not change UK foreign policy to any significant degree, and the reason has nothing to do with Jeremy Corbyn – an honourable man – but with limitations not confined to Britain's Labour Party but to parliamentary socialism itself.
(In The Eighteenth Brumaire of Louis Bonaparte, Marx – never one to mince words – coined the term, 'parliamentary cretinism', for taking at face value the trappings of bourgeois democracy in believing a capitalist ruling class would allow socialism through that route. A novel by a British Labour politician sets out a highly plausible account of what would happen should a left-led Labour Party gain office. See the film, A Very British Coup, based on Chris Mullin's book of the same name.)
Nowhere are those limitations more in evidence than in foreign policy. There is too much at stake, given (a) Wall Street's need – hence Washington's – to demonise your country and (b) the British ruling class's need (for the foreseeable future) to stick with its 'special relationship' across the pond, for any UK government to strike a truly independent note here. Some will recall the 1997 Labour Party's return to office, after thirteen tory years, with a commitment to 'ethical foreign policy'. That commitment swiftly ran aground: initially in pathos when Foreign Secretary Robin Cook resigned in disgust at being constantly undermined by number ten, then in farce as Blair called time – in a fiat without precedent – on a costly police investigation into arms company bribes to the House of Saud.
In short, parliamentary democracy is largely illusory. That's why I've referred twice in this post to office rather than power. They aren't the same but there's nuance here – which is why I say largely illusory, and that brings me to the secondary aspect of your question: "… or is it like the US – an effective one party state, at least as regards foreign policy".
Corbyn's victory poses a real headache for neoliberal rulers who – turning a 2008 crisis of their own making into an ideological asset – grew richer in absolute terms, and richer still in relative terms, through years of attacks on wages, job security and public infrastructure in the name of austerity. That victory shows that while parliamentary democratic fundamentals are the same the world over, secondary differences matter. As the fate of a Bernie well to the right of Jezza shows, Corbyn could never have won the leadership of the Democrats.
In sum we need calibration in these matters. Was Marx right? Yes – as he so often is. Is Britain a one-party state? Not quite, not yet. But that's slender consolation for a Russia which in my view has bent over backwards to pursue good relations with the West. And if years of being rebuffed in those efforts have served only to throw it into deepening ties with Beijing, well, some of us in the West know where the blame lies.